Today, many Americans celebrate Labor Day by barbecuing all of the meat, shopping till they drop, or soaking up the final rays of sun at the beach. This national holiday signals the end of summer, the beginning of the school year, and the last long weekend (sigh) until Thanksgiving.
American workers have fought to improve working conditions since the Industrial Revolution. The overworked masses of underpaid workers laid the groundwork to create this national holiday. Their sacrifices helped guarantee rights workers enjoy today, including Labor Day — a break from, well, working.
Benefits we take for granted were borne out of the efforts of these individuals. Flexible policies like remote work and paid family leave, as well as promoting diversity in the workplace, can be attributed to these efforts. Furthermore, innovations were made possible by these early pioneers. Companies now rely on technology like workforce management software to improve the efficiency and productivity of their workforce by accurately forecasting labor demands and managing employees' schedules and performance.
A history of Labor Day
By 1900, the United States contained 50% of the world's manufacturing capacity. As industry boomed, the growing abundance of industrial work drew the labor force from rural farming towns to cities. By 1916, 50% of Americans lived in urban areas, many in extreme poverty. The poor and recent immigrants worked in factories, mills, and mines. Many experienced 20-hour days, 6–7 days a week, for an average pay of 20 cents an hour (just shy of $5 an hour by today's standards). People of all ages often faced unsafe working conditions, insufficient access to fresh air, no sanitary facilities, and no breaks.
As manufacturing became the primary source of employment for Americans, workers became more vocal. They organized strikes and planned rallies to protest poor conditions and negotiate hours and pay. From this, the eight-hour workday movement was created. It focused on workers' rights to eight hours for work, eight hours for recreation, and eight hours for rest.
Some scholars hypothesize the earliest recorded labor strike in history dates back to ancient Egypt. Tomb workers and artisans, the highest-paid and most respected people in the country, lay down their tools and marched toward the city shouting, "We are hungry!"

Timeline of events leading up to the United States government proclaiming Labor Day a national holiday:
1768 — The earliest recorded strike in the United States occurred in New York when journeymen tailors protested a wage reduction.
1794 — The Federal Society of Journeymen Cordwainers (shoemakers) is formed in Philadelphia, marking the beginning of sustained trade union organization among American workers.
1866 — The first meeting of the National Labor Union took place. Their major goal: reducing the work day from 10 hours to 8.
1867 — Illinois passed a (largely ineffective) law that guaranteed workers in the state an eight-hour workday.
Sept. 5, 1882 — An estimated 10,000 American workers attended the first Labor Day parade, marching from New York City Hall to a giant picnic at an uptown park.


May 4, 1886 — A public assembly gathered during a general strike to fight for a uniform eight-hour workday in Chicago's Haymarket Square. Roughly 175 police officers arrived to disperse the crowd when a bomb was thrown. The violence following the explosion killed 11 people. President Cleveland called in the military resulting in 30 additional deaths, 57 injuries, and $80 million in property damage.
1887 — Other regions began holding Labor Day parades. Meanwhile, Oregon, Massachusetts, New York, New Jersey, and Colorado adopted legislation to recognize Labor Day as a state holiday.
1888–1894 — 23 states enacted a Labor Day holiday. The celebrations alternated between the first day of September, the first Monday of September, and the first Saturday of September, depending on the location.
May 11–July 20, 1894 — The Pullman Strike, which began in Pullman, Chicago, expanded to a nationwide railworker strike. This eventually led to intervention by the United States government and federal troops.



June 28, 1894 — President Cleveland signed a bill into law declaring Labor Day a national holiday to fall on the first Monday of September.

May Day celebrations around the world
Workers' rights are celebrated not only in the United States but around the globe. May Day (alternatively, International Workers' Day or Labour Day) is celebrated on May 1. The United States government chose to celebrate Labor Day in September to avoid May 1, and New York's unions had already picked the first Monday in September.
May Day is celebrated in many countries around the world, including: Argentina, Bolivia, Brazil, Chile, China, Costa Rica, Cuba, Ecuador, Finland, France, Germany, Guyana, Italy, Mexico, Norway, Panama, Peru, Poland, Russia, Slovakia, Slovenia, Spain, Sweden, Thailand, Uruguay, Venezuela, and Vietnam.

In France, trade unions and other organizations celebrate La Fête du Travail by organizing parades and demonstrations for workers' rights, human rights, and to highlight current social issues. This is also typically held on May 1.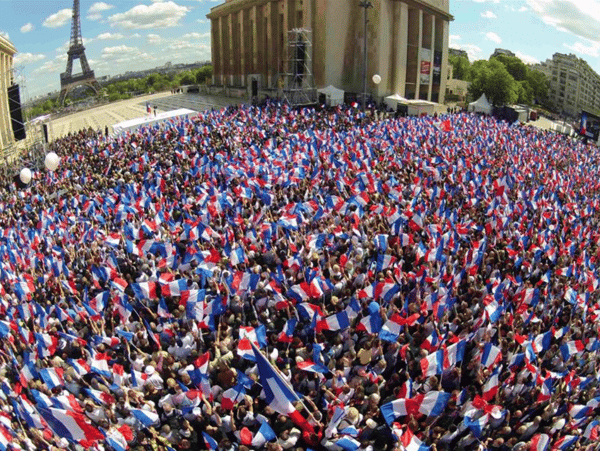 Development of United States labor laws
Labor Day did not become law along with the passage of improved labor rights laws. Dedicated organizers, unions, laborers, and progressive companies forced the passage of many laws that workers still benefit from today.
Although President Cleveland declared Labor Day a national holiday on June 28, 1894, it took until Sept. 3, 1916, for our modern 8-hour workday and 40-hour work week to become law. Congress didn't regulate the employment of children under 16 years old until 1938. Progress was slow, but without the tenacity of everyday Americans we might not be where we are today.

Timeline of events leading up to the passage of improved labor laws:
1900 — The census counted 1.75 million workers aged 10 to 15.
1904 — The National Child Labor Committee was formed and dedicated to the abolition of child labor.
1902-1907 — The International Association of Factory Inspectors created an unofficial journal, The Factory Inspector, in which muckraker journalists focused on exposing terrible working conditions.
1907 — In an investigation of the steel industry, journalist William B. Hard reported that roughly 1,200 men (10% of the steel industry's workforce) were killed or injured each year on the job.
1909-1911 — International Ladies' Garment Workers' Union organized of roughly 80,000 New York City garment workers to protest working conditions and low wages. Working conditions improved after the Triangle Shirtwaist Factory fire of 1911, which claimed 146 lives.


1914 — Ford switched to an eight-hour workday. Most of its competitors soon followed.
1916 — Congress passed the Keating-Owens Act establishing child labor standards, including: a minimum age of 14 years old for workers in manufacturing and 16 years old for workers in mining, a maximum workday of 8 hours, prohibition of night shifts for workers under 16 years old, and proof of age required to work.
September 3, 1916 — The Adamson Act passed creating the modern 8-hour workday and 40-hour work week.
1920 — The total number of child laborers was cut in half from that of 1910.
1938 — Congress passed the Fair Labor Standards Act regulating the employment of children under 16 years old.

While there is some dispute over who first proposed Labor Day as a national holiday (read fact No. 3), there are many facts regarding America's favorite end-of-summer holiday. Read on for 10 fascinating Labor Day facts throughout the United States (and China too!).
10 fascinating Labor Day facts
The National Hot Dog and Sausage Council claims that between Memorial Day and Labor Day, Americans eat 7 billion hot dogs. That is an astounding 818 hot dogs eaten every second.
Goodbye pig meat, hello pigskin! Labor Day is the unofficial end of hot dog season and the beginning of the football season. The NFL usually plays its first official season game on the Thursday following Labor Day.
There is some dispute over who first proposed Labor Day as a national holiday. Some sources claim Peter J. McGuire, an American labor leader and cofounder of the United Brotherhood of Carpenters and Joiners of America. Others say Matthew Maguire, a New Jersey machinist and VP nominee of the Socialist Labor Party of America, as the true father of Labor Day.
The tradition of not wearing white after Labor Day goes back to the late Victorian era, where it was a fashion faux pas. The tradition isn't really followed anymore. The Emily Post Institute explains that white indicated you were still in vacation mode, so naturally when summer ended so did wearing white.
According to the Bureau of Labor Statistics, in 2017 there were 14.8 million union members. In 1979, there was an estimated 21.0 million union members.
The National Education Association is the biggest union today with roughly 3.2 million people, including inactive and lifetime members.
Labor Day is one of the biggest United States sales weekends, forcing retail industry employees to work some of their longest, toughest workdays.
In China, Labor Day was extended to three days during the 1990s. The Chinese government made it a seven-day holiday by moving the prior and upcoming weekends together with these three days. This holiday allowed millions of Chinese people to travel during this period. In 2009, the Chinese government reduced this holiday period down to one day while reviving three traditional Chinese holidays: the Dragon Boat Festival (occurs near the summer solstice), Tomb-Sweeping Day (the 15th day after the Spring Equinox) and the Mid-Autumn Festival (late Sept. or early Oct.).
Canada also celebrates Labor Day on the first Monday of September. The origins can be traced back to December 1872 when a parade was staged in support of the Toronto Typographical Union's strike for a 58-hour work week.
In 1955, the first Waffle House opened on Labor Day in Avondale Estates, GA.

Defining a new purpose for the corporation
A recent survey conducted by New Paradigm Strategy Group for Fortune found that 64% of Americans believe that a company's main purpose should be making our world a better place. On August 19, 2019, the Business Roundtable (BRT) redefined the purpose of a corporation.
According to their revised statement, hard working Americans deserve an economy where they can lead a full life. BRT addresses the role of a corporations' investment in employees as it relates to fair compensation, benefits, professional development and an inclusive work space, as well as respecting communities in which they work and protecting the environment.
This Labor Day weekend, let's celebrate the workers that fought hard for the protections and rights we enjoy today, and the continued push for corporations to focus on society's needs.
G2 was created as a place for people to find joy and meaning in work. As such, it is important for us to continue cultivating this passion by hiring driven, talented people who thrive in a dynamic, entrepreneurial environment. Learn more about careers at G2.