Many businesses have a difficult time establishing effective strategies and setting essential goals.
If your company is struggling to set objectives, it might be time to start setting some KPIs.
What is a KPI?
KPI stands for key performance indicators, and is the metric goals set by businesses that progress toward the overall success of the company.
KPIs are critical to a company's growth as they provide it a succinct strategy and help create an analytical foundation for decision-making. Once a company establishes KPIs, it can measure progress and analyze the data to push toward higher goals.
A company can use accounting software to measure KPIs such as gross margin, net profit, current ratio and debt-to-equity ratio to help users track costs and revenues, as well as determine the profitability of products and services. This will translate into higher revenue and more effective strategies for your company.
KPI definition
A key performance indicator is a measurement of performance. KPIs evaluate the success of an organization or of a particular activity in which it engages.
TIP:

To learn more about the debt to equity ratio and how it can help increase your company's revenue read our article on what is debt to equity ratio?
---
Metrics and key performance indicators
Metrics are the basis of KPIs. They're quantifiable measures used to track and assess business processes.
Companies use metrics to measure sales revenue, website traffic and even customer happiness. When metrics are used to measure performance, this is referred to as a performance indicator.
In your company, some metrics and performance indicators are going to be more important than others. For example, car sales aren't important to every business. But for businesses in the automotive industry it's one of the most important metrics, because the company's success and reputation are directly tied to it. Car sales would then be a key performance indicator for the automotive company because of how valuable that particular metric is. Metrics must always be at the core of measuring KPIs.
KPIs and business strategy
Business strategies can be a direct byproduct of your company's key performance indicators. So take these steps to determine your company's key performance indicators:
What is your objective?

Can your objective be measured?

What team or teams in your company can achieve this objective?

What is your metric goal and it is achievable?
KPIs and business objectives
Defining your company's business objectives is the first step in identifying key performance indicators. This can be a tricky process because there are so many goals wrapped up in a company's business strategy. This is why there are two different types of KPI: high KPIs and low KPIs.
Related: It's important to understand the differences between goals and objectives to set realistic KPIs. Learn more here!
High KPIs vs. low KPIs
High KPIs refer to your company's overall goals. For example, if your company is a public works group concerned with reducing pollution in a city, your high KPI would be pollution reduction. That's because the best way to measure your company's success would be analyzing if pollution in the city has decreased.
But there are many KPIs that factor into reducing pollution. For example, your marketing team must produce awareness of the issue. That means printing pamphlets about how pollution can be reduced and ways people can help. The marketing team might set a goal of mailing out 10,000 pamphlets per week. The metric of how many pamphlets to send out could be the marketing department's KPI. While sending lots of pamphlets contributes to the high KPI of reducing pollution, it's a low KPI because it's concerned with one department only, and concerns a completely different metric.
Configuring effective departmental low KPIs is critical to a company meeting its goals, and the main question when starting out mapping low KPIs is, what is the main objective our company is trying to achieve? The answer will influence each team's strategy.
TIP: Strategic planning software can help you construct a KPI dashboard and aid in setting objectives and visualizing your goals.
Can your KPI be measured?
Making sure your KPIs can be measured is an important aspect of identifying company goals. When it comes to choosing KPIs, make sure every goal can be measured by a metric. It's easier to measure progress toward a goal when there's a number involved.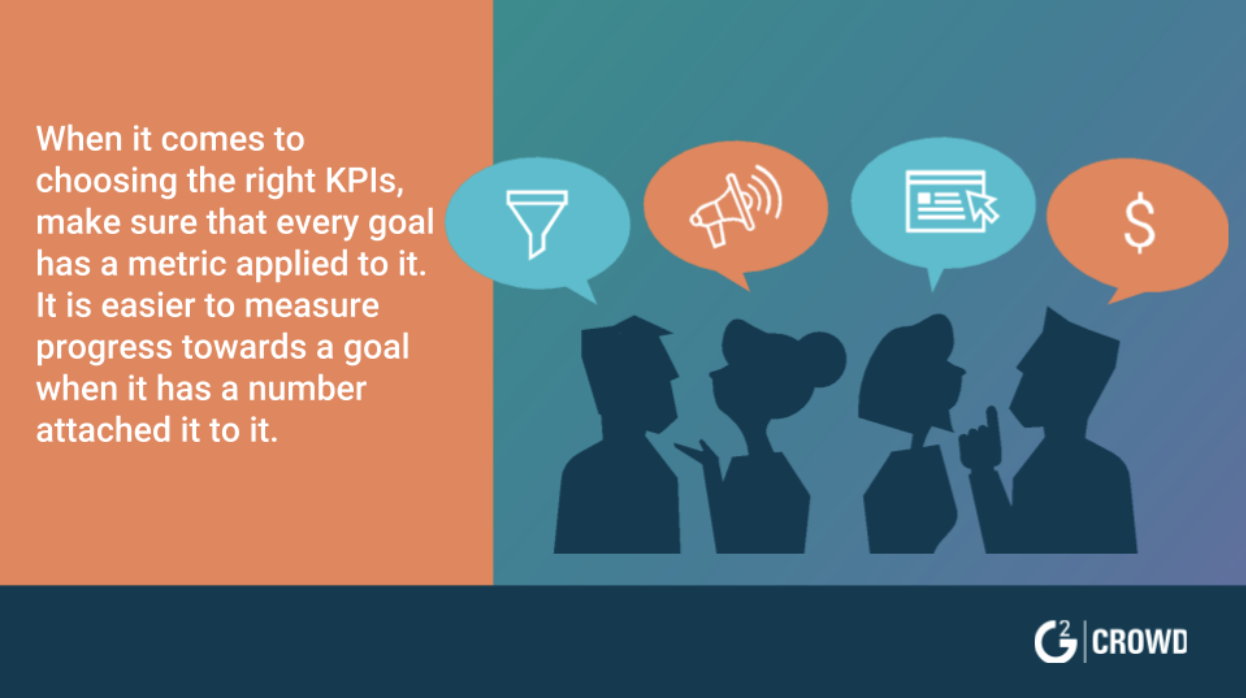 If you construct a KPI related to customer satisfaction, it wouldn't be helpful to set a KPI of, "Improve customer satisfaction over the next calendar year." A more effective KPI would be, "Achieve a minimum rating of 4.5 out of 5 stars on our company reviews." As you can probably tell, goals are more effective with metrics attached. They help you clearly visualize your goals and see how close you are to achieving them.
TIP: Business intelligence platforms can help you measure your KPIs by transforming data into reportable data sets and visualizations.
---
KPIs by departments
It might be difficult to understand how valuable certain teams are to your company unless you assign KPIs that help your company achieve its overall goal. Here's a list of ways teams can help progress toward certain goals and objectives:
Sales KPIs
— Increase sales by X percent over next month
— Increase annual revenue by X
— Improve average deal size by X
— Improve the average time to close a deal by X
Marketing KPIs
— Increase annual inbound marketing ROI by X
— Increase annual outbound marketing ROI by X
— Increase annual marketing qualified leads by X
— Increase sales annual qualified leads by X
Research and development KPIs
— Increase annual deployment frequency by X
— Increase annual deployment speed by X
— Decrease annual failure rate by X
Accounting and finance KPIs
— Increase operating cash flow by X
— Increase current ratio by X
— Decrease burn rate by X
Across most companies, sales teams tend to get the most glory because it's easy to apply a metric to their success. If they close a deal, it's clear how much revenue they've brought in. However, looking at the KPIs above, it's clear there are ways to attach metrics to every department's goals that can contribute to the overall success of the company.
TIP: Project management software can make it easier to manage each department's goals and provide deadlines to complete tasks that contribute to your high KPIs.
---
Setting realistic metric goals
Assigning realistic targets for KPIs is a process that takes time for companies to master. The best strategy is to strive for high goals, but ones that are realistic, both your company's budget as well as workforce capacity.
The best way to figure out if your KPIs are achievable is to break them down to a day-by-day measurement. For example, let's say you have a KPI of "Increase sales revenue by $100,000 over the next month." The best way to determine if you can achieve this goal is to divide the overall KPI into the number of days you have to work with. In this case, there might be 20 working days in a particular month, which would equal $5,000 of revenue needed each day. This is a perfect number because a good rule of thumb is it takes about 20 measures for a statistic to become statistically relevant.
The next step would be to measure how close you can come to achieving your daily KPI and consider if it's a realistic goal. Let's say you measure your daily KPI and it comes out to an average of $4,000 per day for a week. This would be a good indicator your KPIs aren't realistic and there's a strict level of resistance in your KPI. If a certain measurement cannot be achieved after a certain amount of time, it might mean you don't have the necessary workforce to complete the task.
---
KPI dashboard example
Now that we've detailed the best ways to construct KPIs across your company, here's an example of what a KPI dashboard looks like. A KPI dashboard is an extremely helpful tool for measuring the progress of your company's overall goals. The dashboard below provides graphic and numerical data to apply to your KPIs.
This is a great mix of the high-priority objectives your company might have. Visualizing them in an easy-to-read dashboard can be a great way to keep effort high as you can monitor how close you are to achieving your goals.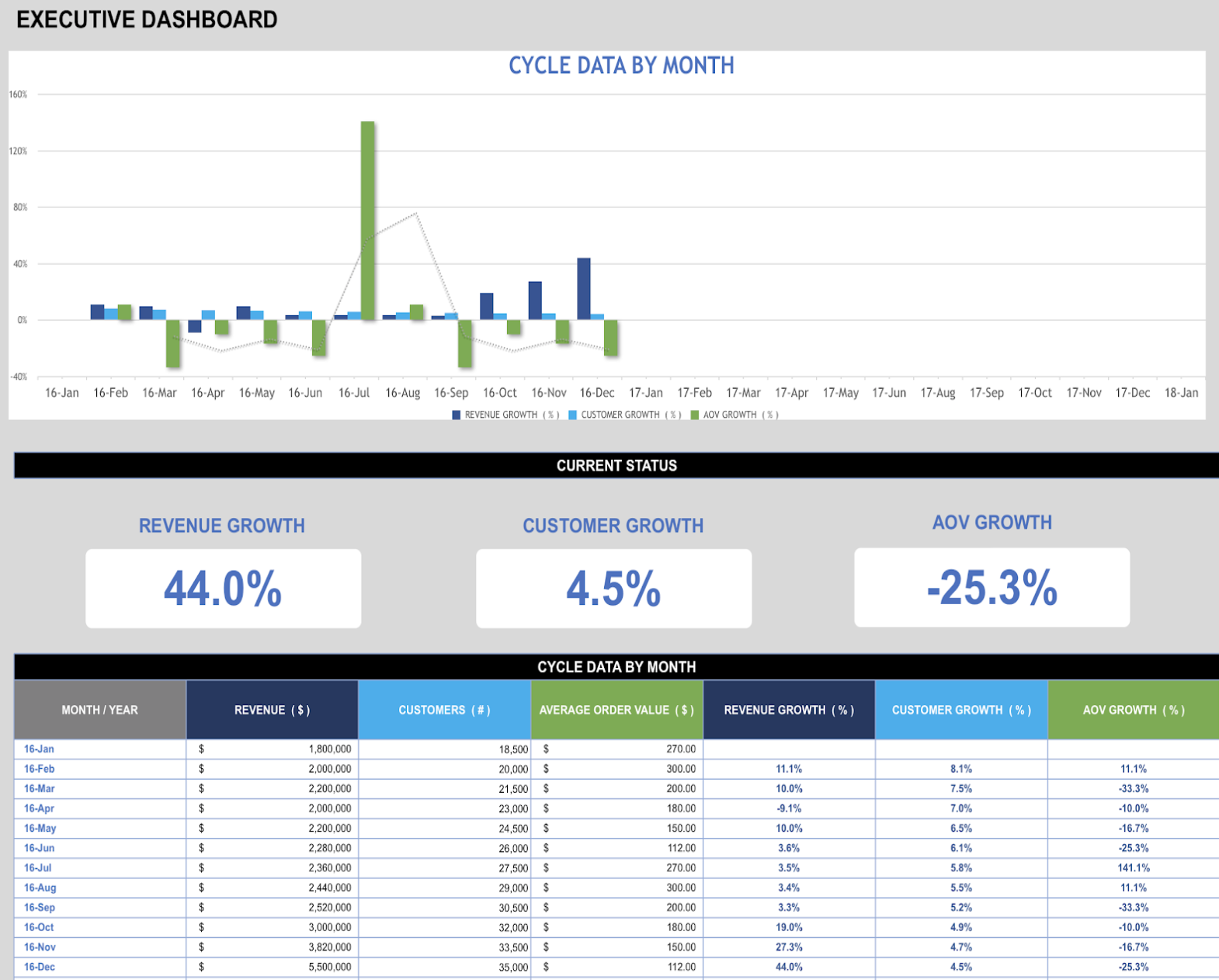 ---
KPI dashboard template
Now that you understand what goes into making a KPI dashboard, it's time to create your own and start tracking your KPIs. To get started, download a free KPI template below:
---
Next steps for setting your company's KPI goals
Your company's KPIs are the driving force behind achieving your goals. As your company grows, shifting your KPIs will be a top priority in ensuring you're always supporting your agenda and striving toward higher goals.
Ready to learn more? Discover how a free accounting software can help your financial department become more efficient in 2019.