Combat police brutality with a can of Pepsi. Sounds like a joke, right? Well, it wasn't.
Although the since pulled Kendall Jenner Pepsi ad, titled "Live for now," went live two years ago, it feels like yesterday when the internet exploded with public relations backlash about this distasteful and misguided commercial.
After the ad was released, there was no going back. They couldn't change the spokesperson, the messaging, or do what many suggested– hire an out-of-house agency to create the campaign. Pepsi and Kendall Jenner were facing a major brand crisis and PR teams suddenly felt the pressure, knowing their brand's reputation was on the line.
Two years later, Pepsi and Jenner have made a comeback but that wasn't magic. Public relations professionals had to put in the hard work of crisis communication in order to recover these brands' reputations.
So what can other brands learn from the Kendall Jenner Pepsi ad?
Kendall Jenner Pepsi ad: what went wrong?
More aspects of this ad went wrong than went right. Above all, the message trivialized the Black Lives Matter movement, making the protest seem like a fun block party that Kendall Jenner randomly joined.
As famous brands, Pepsi and Kendall Jenner don't have strong affiliations with fighting for justice. Kendall Jenner can't diffuse tension by handing a cold Pepsi to a police officer. It's insensitive and doesn't align with these brands' personas.
Photo courtesy of YouTube
No one is exempt from making these mistakes, even if you know you're incredible at what you do. Mistakes happen, but luckily we can learn from this PR crisis.
Prioritize market research
Pepsi failed in understanding their target audience and the protest movement it was trying to embody. They needed to do a deep dive into social trends at that time and figure out what this activism really means to people.
They've targeted millennials for years now, and probably were holding onto the fact that their target demographic appreciates diversity and togetherness. This, of course, was lost in translation.
Pepsi needed to reach out to people involved with the protest movement and gather data. Marketers and advertisers have access to tools that assist them in social listening and market research. Instead of hanging onto a general idea, vetting their idea through the proper channels is necessary for avoiding this misstep.

And then there's Kendall Jenner. Is she involved with social activism at all? No. The celebrity brands use must fit within the brand and its messaging. Through market testing, Pepsi would've determined that she was not the celebrity for this movement. Believe it or not, a white supermodel and reality star cannot end racism in America with a Pepsi.
Tread lightly with political messages
As a brand, there is little to no need to get involved with controversial topics unless your product or service directly relates. It polarizes your audience and you'll always lose out on customers.
If you're going to take the risk and go in the direction of political messaging, then you have to be clear and take a stand. In the Pepsi Kendall Jenner ad, the protest sign said, "Join the conversation." What conversation? What was that perfectly contrived group of diverse individuals protesting?
So either take a stand or don't get involved at all. My advice if you choose to do so, research better be your best friend.
Respond immediately
Pepsi responded immediately with a statement that was released on all of their social media platforms. This is step one in crisis management, and they nailed it. They were clear, showed empathy, and promised action.
Quick and effective responses help reduce long-term effects and decrease the odds of backlash spiraling out of control.
Martin Luther King Jr.'s youngest daughter tweeted about the ad as well, calling out Pepsi. Pepsi replied that same day with an apology, further showing responsibility for their misstep.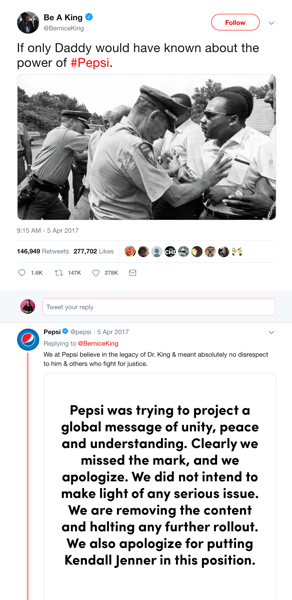 Photo courtesy of Twitter
Make no excuses
Often times when faced with a crisis, or PR nightmare, brands tend to shove responsibility onto others and make excuses for mistakes. Pepsi did not do that, they showed the right way to react when facing a brand crisis.
Of course, if they had taken the right steps to avoid publishing this "tone-deaf" ad, then they wouldn't have to apologize, but they can't take back what's already happened. In the above statement, you see that Pepsi mentions their intent, that they were wrong, and that they are going to do everything they can to remove the ad.
They could've blamed the creative director on the project, the strategist, or the director of the film, but they simply owned up to the glaring mistake without making excuses.
Take action
Having worked in advertising, it's really hard to kill a project, like… extremely hard. With all the money and time spent making that ad, I can imagine there were thoughts of riding it out. But Pepsi ultimately made the right call and pulled the ad within 24 hours of releasing.
This action proves that Pepsi was remorseful for their actions and are doing anything they can to solve the problem at hand. The "wait and see" method does not work in crisis communications or reputation management.
Promptly removing this ad from rotation showed the world that they were taking the backlash seriously and the quicker you act, the better.
Where are they now?
Effective crisis communication strategies and reputation management helped Pepsi and Kendall Jenner avoid lasting backlash. Pepsi's bottom line wasn't negatively impacted in the long run, and Kendall Jenner continued doing all that she does.
Pepsi
Pepsi has since taken a step back to their roots. Most recently, they created a Super Bowl LIII ad called "More Than Ok," with Steve Carrell, Cardi B, and Lil Jon. This spot received positive attention and returned to Pepsi's typical approach of being light-hearted, bold, and playful, plus featuring celebrities we all know and love.
They also poked fun at a human truth– that when ordering a Coke, restaurants who don't carry it reply, "Is Pepsi OK?" It seems like they learned from their mistakes and moved forward doing what they know works.
Kendall Jenner
Where isn't she? She's on Keeping Up With the Kardashians, on the cover of every gossip magazine, on fashion ads, and one of the most followed people on Instagram.
Although she's had a few more PR nightmares than most (Proactiv and Fyre Festival), she still manages to keep her followers engaged and likeability high.
Lesson learned
Don't use cultural movements to sell soft drinks. You may laugh, but seriously, don't do it. Simply apply these lessons to your PR strategies so you can avoid being in the middle of a social media storm.
Looking for more? Learn the top public relations tips from crisis management professionals to ensure industry best practices are in your PR strategy.