Do you live for the road? Does a restless night of sleep far from home beat a good night's sleep preceding nine hours in the office?
If you answered "yes" to those questions, then this is the career guide you're looking for.
With the advent of bleisure and other recent business travel trends, business travel has emerged as a perk of a job as much as a requirement.
For those inclined to the road, we explore some industries and positions in which you can spend a significant portion of your time away from home for business.
9 Jobs that require travel that are perfect for the lifelong voyager
These jobs, while diverse in responsibilities and required skill sets, all have a singular commonality: they require frequent travel. If you're itching to start a job that puts you on the road for a large portion of your time, consider exploring a career related to one of these positions:
Management consultant
Perhaps the most popular job for business travel is that of a management consultant. As a consultant, you'll work for a firm that advises other companies on how to solve specific issues that arise over the course of operating a business.
Consulting schedules involve constant travel typically at a client's site from Monday-Thursday of a particular week. Clients could be a few hours away by car or a cross-country flight. While the exact amount of travel in this position varies depending on the type of industry your clients are in and how they want to maintain their relationship with your firm, a management consulting role is a surefire way to break into a career that involves frequent travel.
Public accountants/auditors
A similar role that involves constant travel is that of a public accountant or auditors. The type of travel in this role is similar to that of consultants, as accountants and auditors travel to client sites on a regular basis to help investigate and analyze company activity as it relates to finances.
To be a public accountant, you'll likely need to earn a bachelor's degree in accounting and pass the proper Certified Public Accountant accreditation. From a travel perspective, this is not necessarily the career for you if you want to spend time exploring the cities you'll be sent to for work. Accountants typically work long hours, and the years of experience you'll need to prepare you (and your resume) for this role might not be worth your time unless you are passionate about the actual work you'll be conducting.
Product buying/merchandising
Managing merchandising or product buying for retail requires traveling to different trade shows, conventions, and vendor sites to consistently be in the loop for any upcoming products that could benefit your sales goals. A role in product buying could be a great fit for anyone already interested in sales and looking to take an upper management type of position in their big-picture plan.
The travel in this position tends to be offered to more senior-level employees entrusted with making high-level decisions about merchandising and the right products to buy. Getting involved with merchandising and working your way up to this type of traveling position could be a great fit for a wannabe-traveler who is particularly sales-inclined.
Sales
Speaking of sales-inclined, the glory of the traveling salesman has been restored in modern times—there are plenty of sales opportunities in the current age of tech that require a substantial amount of travel. If you're a smooth talker capable of forming meaningful relationships with customers, a sales position could be a great fit.
With the explosion of the SaaS market in recent years, the current sales market is largely based on intangible products that don't have to be based in any specific region. This means that there are opportunities for salespeople to get out across the world and sell products that can be used by anyone, anywhere. This opportunity in a global sales economy is great for anyone interested in traveling along with a career in sales.
Travel agent
In order to be an expert travel agent, you'll need a wealth of experience in the actual travel industry. As an agent, your job is to take control of a customer's itinerary to make sure that they are getting the best and most cost-effective plan possible for what they desire on a particular trip.
Travel agents can be hired by companies looking to organize a trip for their employees, families searching for an efficient touring plan for sightseeing, or solo travelers embarking on a unique excursion. Even if you don't travel a ton as a travel agent, you'll get to have a career firmly in the travel industry where you can use your travel expertise to create great trips for others.
Event marketing
A role for the marketer that desires a consistent time on the road is centered on events. From trade shows to conferences to all of the planning involved in setting up one's own event, an event marketer gets to spend time on the road representing a company.
Event marketing can carry added benefits, as although putting on events can require lots of time and effort, the gratification of putting on a successful gathering where employees can feel rewarded for their work within a company is a feel-good position. The type of travel in this position typically includes scouting out venues and hotels for future events, traveling to conferences and trade shows to represent the company, and meeting with clients who are assisting with event set-up.
Flight attendant/airline industry
Seemingly self-explanatory, a job in the airline industry has a clear appeal to anyone who wants a job that requires them to travel. If you have good communication skills and an inclination toward providing quality customer service, a flight attendant role is perfect for the travel lover. Getting to experience cities around the world as part of your everyday job is a natural draw for anyone who wants to travel for work. Plus, it's an excuse to rack up the miles for an impressive showing on some of the most recent mileage-tracking software.
Other jobs in the airline industry will also often supply you with employee credit or discounts for travel. Although not all corporate jobs with major airlines require travel for work, there is a good chance that with these types of roles you'll be able to travel frequently and cost-effectively. For example, Southwest's internship program allows "free, unlimited space-available travel to any location to which Southwest flies." Sounds like a nice benefit!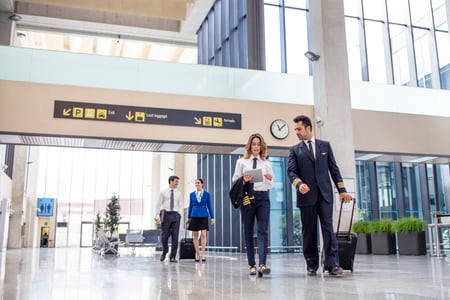 Hospitality industry
A hospitality industry job with a hotel chain that has properties in multiple locations is another way to both travel for work and operate within the travel industry. High-level hotel management employees travel between properties to ensure that the guest experience aligns with the standards set by corporate policies.
Other roles, such as in marketing or sales, can also lead you to travel between hotel properties in different regions. A specialized degree in hospitality is a plus for anyone looking to get into this type of position, however other business and customer service experience can also be leveraged into a traveling role in hospitality.
Construction manager
Engineering-inclined construction managers are overseers of the building process for buildings, bridges, tunnels, and roads. They also manage aspects of construction such as deadlines, worker performance, and budgets. There is no shortage of demand for construction, as renovations and new projects are always needed, and therefore many construction managers travel between multiple ongoing projects over several weeks.
For this position, you'll need a specialized degree in engineering or construction management and to become an expert, working your way to a high level where you'll travel most of the time. However, this is a high-paying position that will always be in demand and always require travel.
Ready to apply?
Finding yourself already plotting your next trip? Start working toward a career in one of these roles—your job might eventually help do that for you and you'll get paid on top of it.