Let's say you presented information about a new project during your weekly team meeting.
Later on, when you ask a colleague about their thoughts, they seem confused at first and then pretend to know what you are talking about. You quickly realize they weren't listening when you first presented your idea, which is a shame. Maybe it is partially your fault for choosing the wrong internal communication method.
Just like there is more than one way to skin a cat, there are a lot of ways to communicate internally. Choosing an online or in-person form of internal communication can affect the reception of your message and your audience's reaction.
Two types of internal communication methods
Thanks to technology and the emphasis on productivity in the modern-day workplace, there are more internal communication methods than ever. There are a few in particular that you should be familiar with when participating in workplace communication, and they all fall under one of two categories: in-person or online.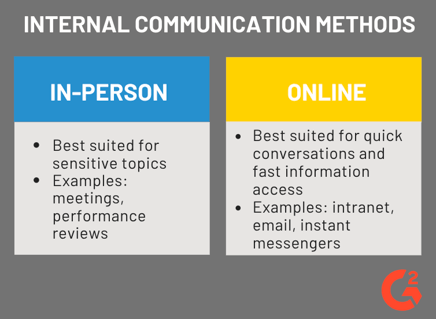 In-person internal communication
In-person communication will never go out of style. In business, there are certain things that aren't appropriate to discuss online. Nothing beats an interaction with a friendly face. Let's go over a couple of examples of in-person internal communication methods.
Meetings
I didn't mean to bash meetings earlier. They really are a useful internal communication tool.
A business meeting is a prearranged event where people come together to discuss a topic that is relevant to all participants. Whether they happen in large groups or between two people, meetings help make decisions, resolve conflict, and fuel collaboration.
Learning how to lead a meeting is a valuable skill for all team members, not just leaders. If you have an original idea, it might be up to you to present it to the team, and leading a meeting might be your best bet.
Performance reviews
Another topic of discussion that calls for in-person communication is a performance review. Because they include conversations about sensitive topics, such as firing and promotions, it is best to conduct performance reviews face to face.
Individuals can feel either ashamed or proud of their performance. No matter the case, you do not want to negate anyone's performance to the convenience of a phone call or email. If you do, someone might think their promotion is nothing to be proud of, and another person might assume their poor performance is no big deal.
Conducting performance reviews can be a daunting task, especially when discussing less than acceptable work. Don't fret. Using a performance review template will help make the process more efficient and less stressful.
However, a lot more goes into performance reviews. Leaders must also prepare by observing their team, asking others for input on another person's performance, and looking at cold hard data.
Communication tips for any business
There are a lot of different ways to communicate in the workplace, but no matter which one you use, use these etiquette tips to be heard -- without being offensive.
Online internal communication
Thanks to communication technology, a great deal of online internal communication methods exist to make the process of sharing information even more convenient. While certain topics should be discussed in person, others are perfectly fine for online communication.
Intranet
Your company intranet is the perfect place for storing company knowledge. It doesn't matter if the information is urgent or collecting dust. If it is important for your employees' productivity, it can't hurt to have a duplicate version on your company intranet.
Email
Although it has been around for a while, email isn't going out of style anytime soon. New features are continuously being added to email platforms that are constantly boosting efficiency, usability, and convenience.
When distributing a large amount of important information, only using verbal communication to share it can result in people forgetting or not fully paying attention in the first place. Email is a great tool for situations where a written version will benefit receivers.
Tip: Inboxes can fill up pretty quick. If there is information for employees that will require them to take action or observe new changes in the office, consider learning how to write a memo for an extra internal communication method.
Instant messengers
Some people would call instant messengers the biggest time waster of all the communication channels. Professional conversations can easily get off topic and turn into people talking about their weekend plans.
When used correctly, however, instant messengers provide coworkers with an outlet for immediate and informal communication. It is perfect for quick questions and clarifications, as it doesn't require a greeting or salutation.
Internal communications software has become increasingly important as remote work has grown in popularity. Because they are not physically in the office, remote workers can start to feel isolated, under appreciated, and out of the loop. Making them feel as if they are still a part of the office with effective internal communication is necessary for engaging remote employees.
Pick your poison
Choosing the right internal communication method to share information in the workplace is everybody's responsibility. Whether you are chatting with a coworker about a project or asking your boss for a promotion, it helps to rethink the method you will use to communicate it.
Want to learn more about some unconventional internal communication methods? Check out our resource on ghostwriting for your company's CEO.