An influencer has the goal of converting followers to become advocates or make a purchase from whichever brand an influencer is promoting.
When you hear the term "instagram influencer" you're probably picturing exactly what I was.
What is an Instagram Influencer?
An Instagram influencer is a person or group who has a passionate follower and fanbase on the social networking platform Instagram with the ability to influence the opinion of their following.
A 25-year-old blogger or a celebrity preaching about why you need to buy the latest "fit tea" or teeth whitening product. Yes, of course, that's a type of influencer marketing, but not the most effective one. A powerful influencer understands their core audience and delivers content that resonates with them. Kind of sounds like the goal of any marketing department, right?
An Instagram influencer is not just limited to being a person - it can also be a brand. In a world where 500 million people are actively scrolling through the platform every day, there's a lot we can take away from successful influencers. As businesses, this can help us better understand and take advantage of Instagram marketing and learn how to sell on Instagram with success.
TIP: Learn how to use Instagram Shoppable posts to sell more in 2019.
How to become an Instagram Influencer
Let's highlight five characteristics that successful Instagram influencers and influential brands have, and how to apply them to your own brand.
Show Some Emotion on Instagram
Why?
When prompted to "be an emotional brand" why do most immediately go to sadness? Or we deflect, and say, hey, I'm a tech company, I can't be emotional? Instead think, human. We're all human (hey, nice to meet you, I'm Hannah) and we are naturally attracted to brands with human elements.
Emotion also triggers our purchases, so much so that the Advertising Research Foundation found that likeability is the most predictive variable for an advertisement to increase a brand's sales. You can apply these theories of emotion to any form of marketing, but it's particularly actionable on Instagram.
The best thing about the platform is that you are not limited by words or even pictures. You can tell your brand story through images, short "story" videos, longer form "IGTV" video, videos in your posts, and even links in your bio. Now, it's just realizing the type of content that is most enjoyed by your followers.
Examples of Influencer Brands Doing This Well
Who's doing it well?
Ballet Opera de Paris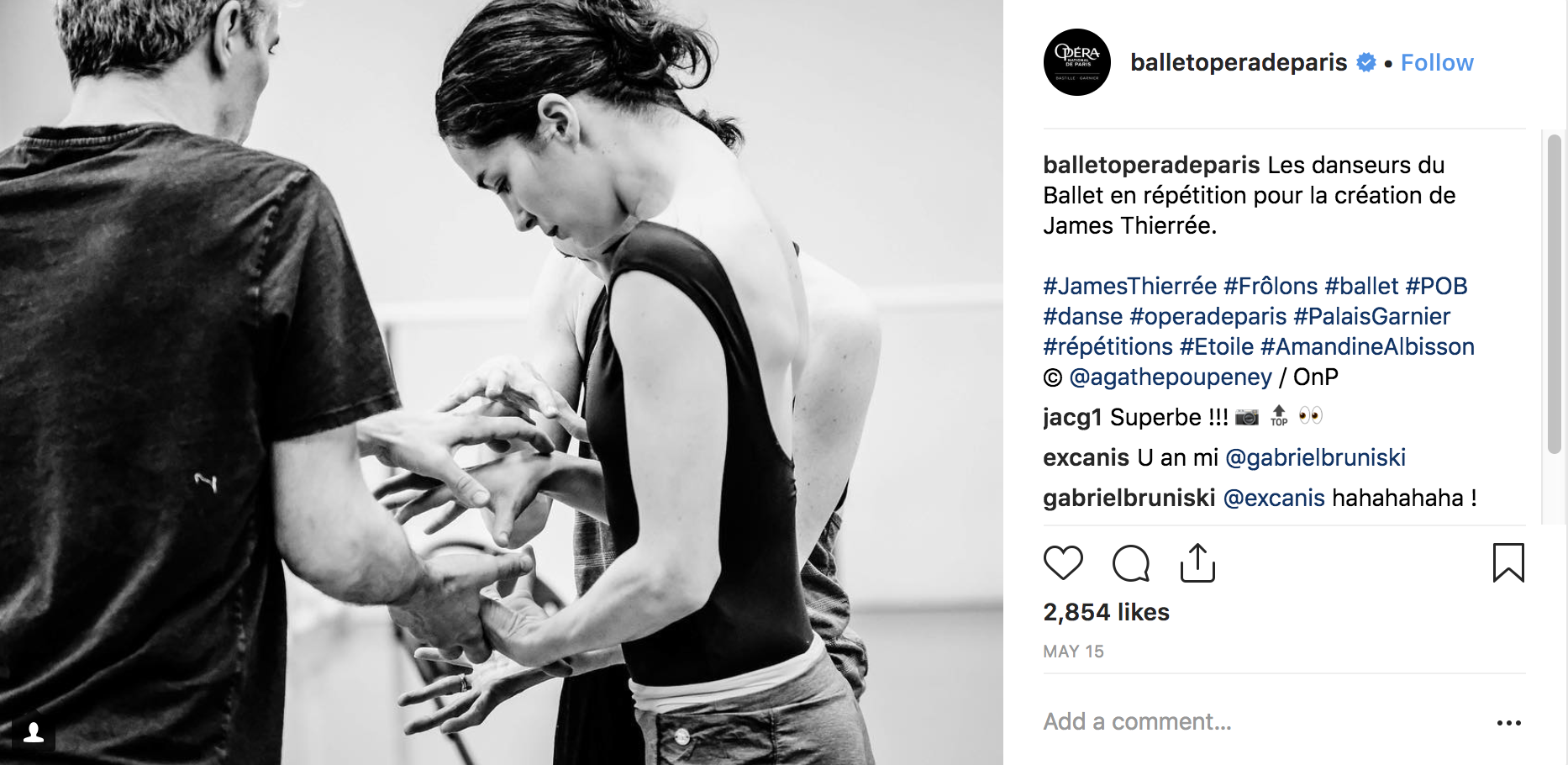 This account perfectly expresses the beauty of ballet, while shining a light on the resilience and stress of the dancers. They weave the reality of training through behind the scenes shots with highly produced shots of performances. It shows all of the work that goes into putting on such a performance, to create an emotional connection with their audience.
Taylor Swift
Love her or hate her, Taylor Swift's brand is one that has morphed into an artist that's able to release a platinum-selling album from a new genre every few years. Her brand is based on her relationship with her fans. To do this she surprises them with meetups, care packages, and simple appreciation posts.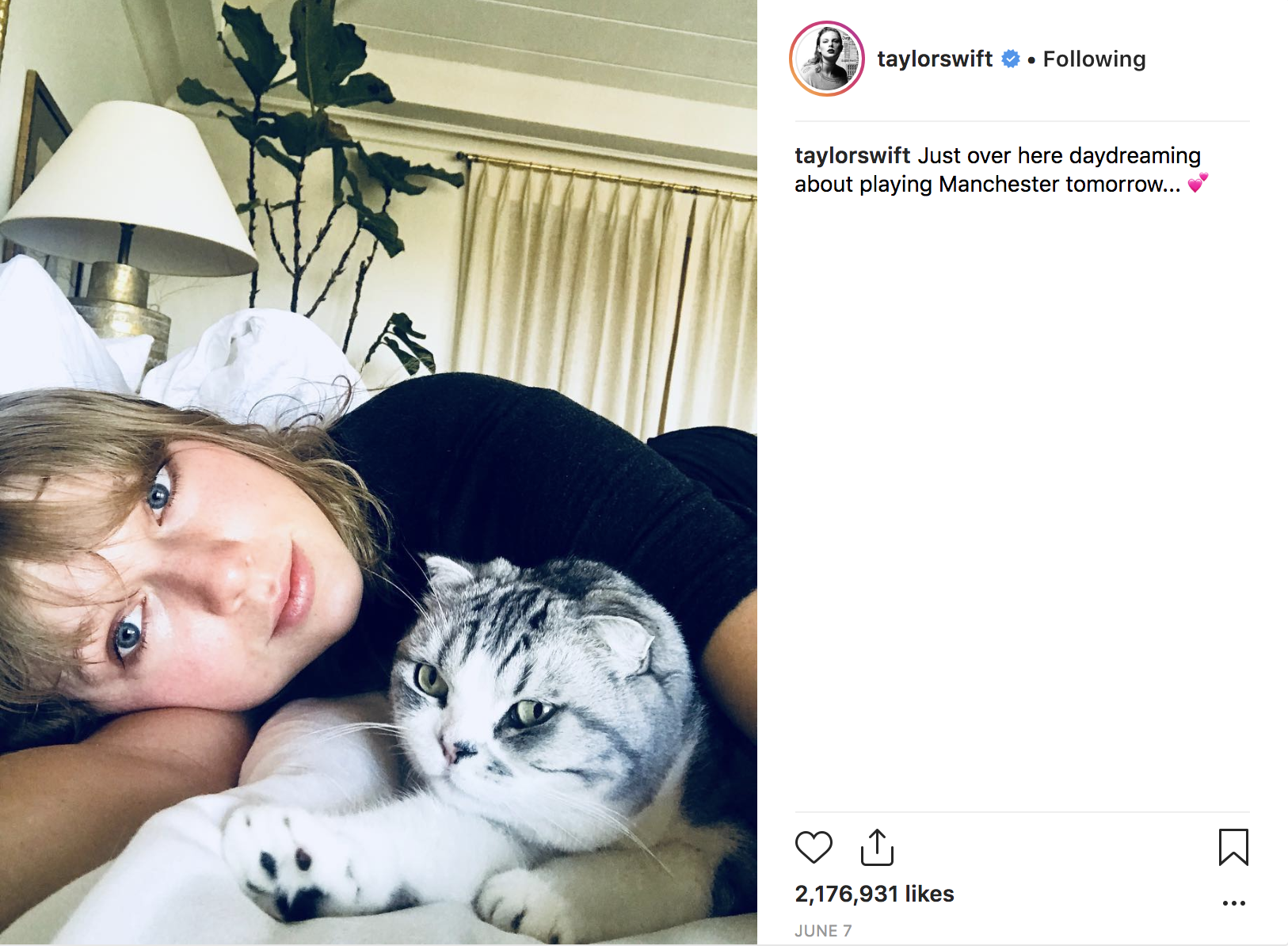 How this can work for your brand:
No matter what emotion your brand draws, highlight this on Instagram. Don't hold back just because this is for business and not a personal use. People like people and they want a brand that "gets them."
Both of these brands know their target audience, so they don't try to please everyone. Once you have your target, show them how you're developing, the stories behind your brand and your people, and how this will benefit them.
Your Instagram Audience is King
Why?
Featuring your followers is a win-win for both you, and them. I mean who doesn't want 5 minutes of fame? When you feature content from your fans, not only do they feel special but it makes your job of sourcing content easier. Doing this also projects to potential customers your close relationship with your current fans.
If your business is targeting millennials, the idea of sharing user-generated content should be a major part of your content strategy. This generation trusts user generated content 50% more than any other type of media.
This is because they typically trust peers over professionals, with 20% of millennials saying content from their peers is more influential when it comes to actually buying the product, and 35% more memorable than content produced by the company.
Examples of Influencer Brands Doing This Well
Who's doing it well?
Airbnb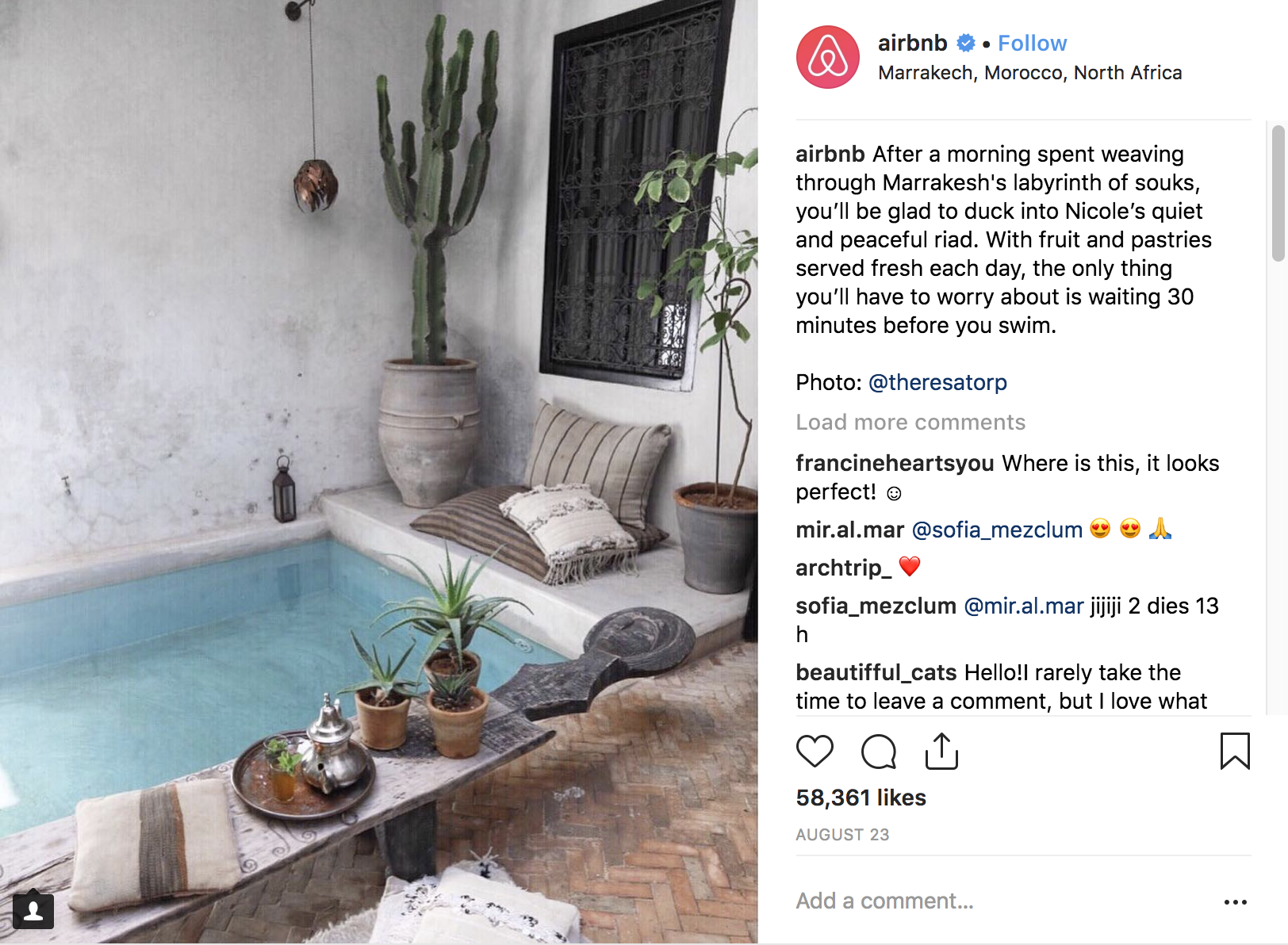 Airbnb shares photos and videos from its customers that showcase their experiences while staying in exotic locations. They could easily just share pictures of different accommodations, but instead, they tell stories.
They use descriptive words to paint a picture of what their audiences time would be like if they rented this accommodation. This is an example of how user-generated content can be enhanced to better convey the message you want your brand to communicate when reposting.
Amazon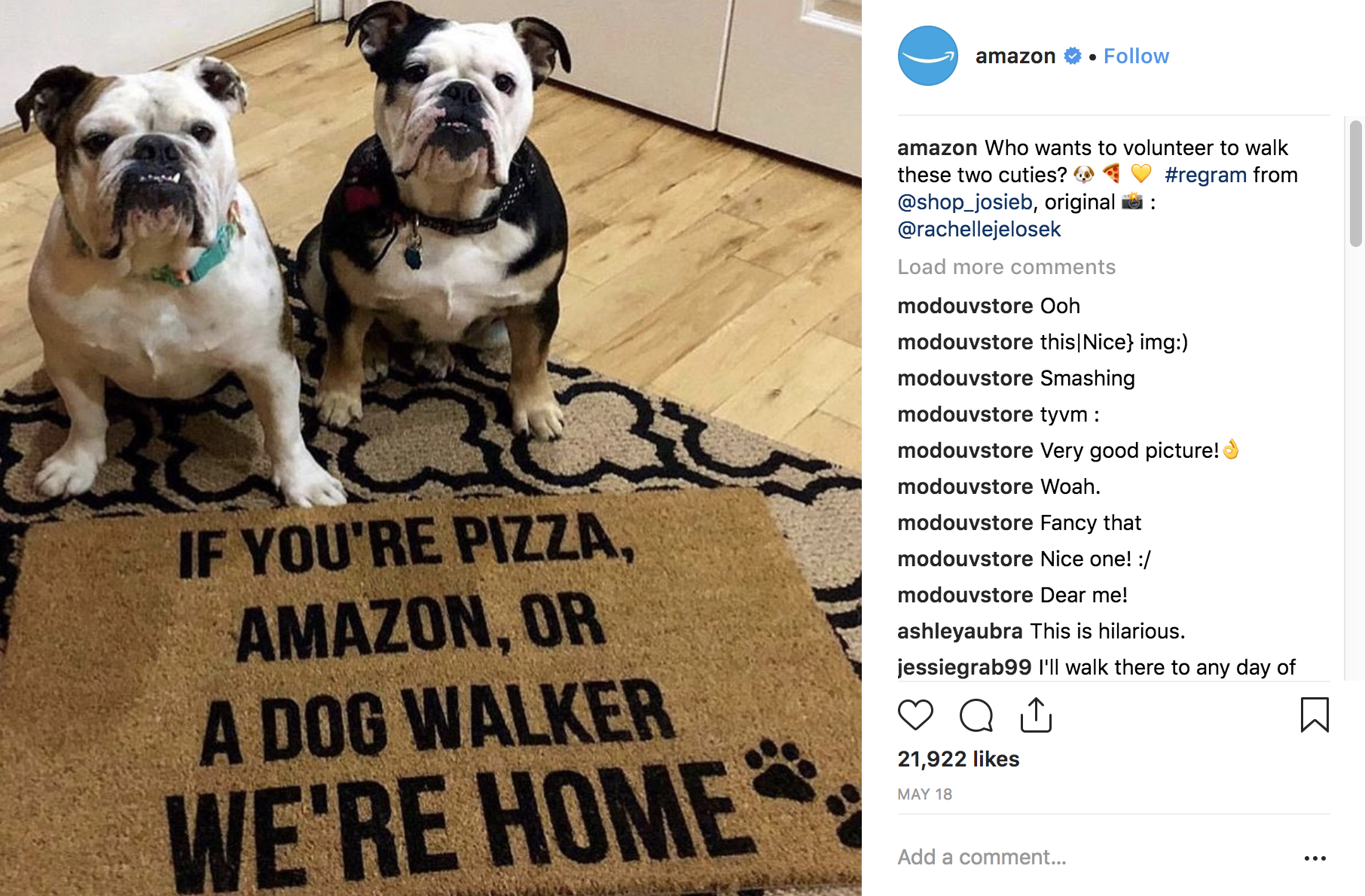 If tech giant Amazon can show some humor and personality on Instagram, we all can. Amazon's Instagram account is sprinkled with user-generated content that shows the different ways customers enjoy their products.
Amazon's Instagram account is mostly a mix of inspirational quotes, products, promotions, and animated shorts. They selectively share user-generated content to enhance their brand but don't fully rely on it. It's a good example if you're just starting to share content from your audience, and testing to see how it works with your brand.
How this can work for your brand:
The first step to sharing user-generated content on Instagram is finding the content. I'm sure you're monitoring brand mentions for other social media platforms, but this can be harder to do on Instagram. Instead, create a hashtag for your brand and feature it in your bio. Once your audience starts using this tag, you'll be on your way to finding and selecting fan content to share.
After collecting content from your fans, think about how to best use the content to benefit your brand. Remember the Airbnb example. They enhanced every post with a description to explain and entice their product. Think about what can be added to these posts to be the most impactful in developing your brand.
Ready to take your Instagram to the next level?
Download The Beginner's Guide to Instagram and get started 🚀
Be Consistent on Instagram
Why?
If you're working to be a thought leader in your industry, focus on that conversation. Why change who you are on Twitter, Facebook, and on your website, to who you are on Instagram? Keep a consistent message so you don't confuse your current and future fans. Younger audiences scroll through Instagram 2 times faster than people in their 60s.
Since speed is a major factor in our ability to consume and understand content, when your brand has the same look and feel everywhere, your chances of recognition can increase. Being consistent on Instagram does not just involve the images you're posting, but also the way you communicate with your fans and how you direct them to your website.
Examples of Influencer Brands Doing This Well
Who's doing it well?
Julia Engel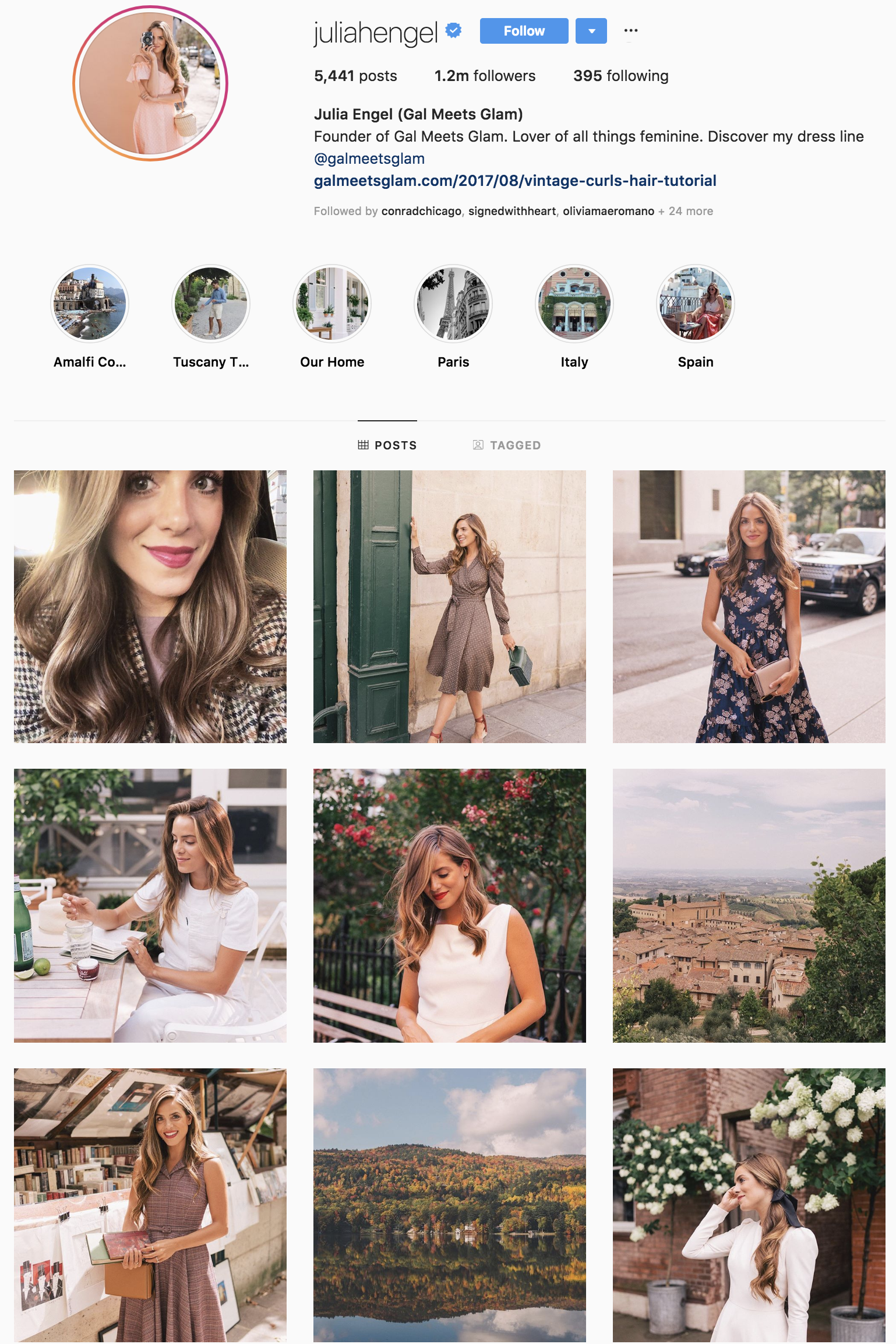 Julia Engel is one of the biggest Instagram influencers in the lifestyle and fashion realm. A reason she is so successful is because her brand has remained consistent through her growth.
This consistency is also seen in her carefully chosen, authentic partnerships. As your brand grows, you'll want to work with other companies either with co-branding efforts or through sponsorships. Choose companies to work with that are consistent with your brand's theme and growth plan.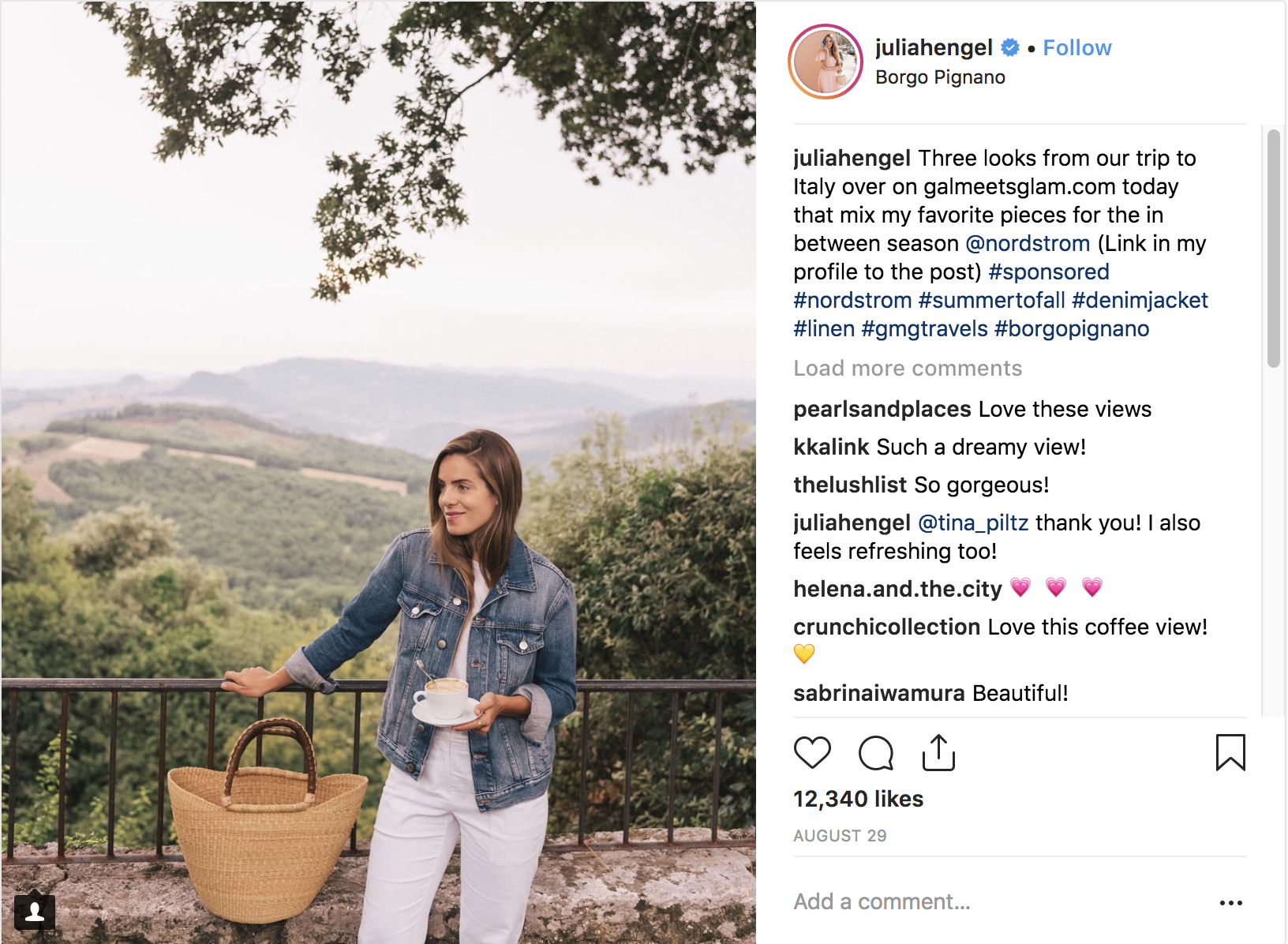 RMS Beauty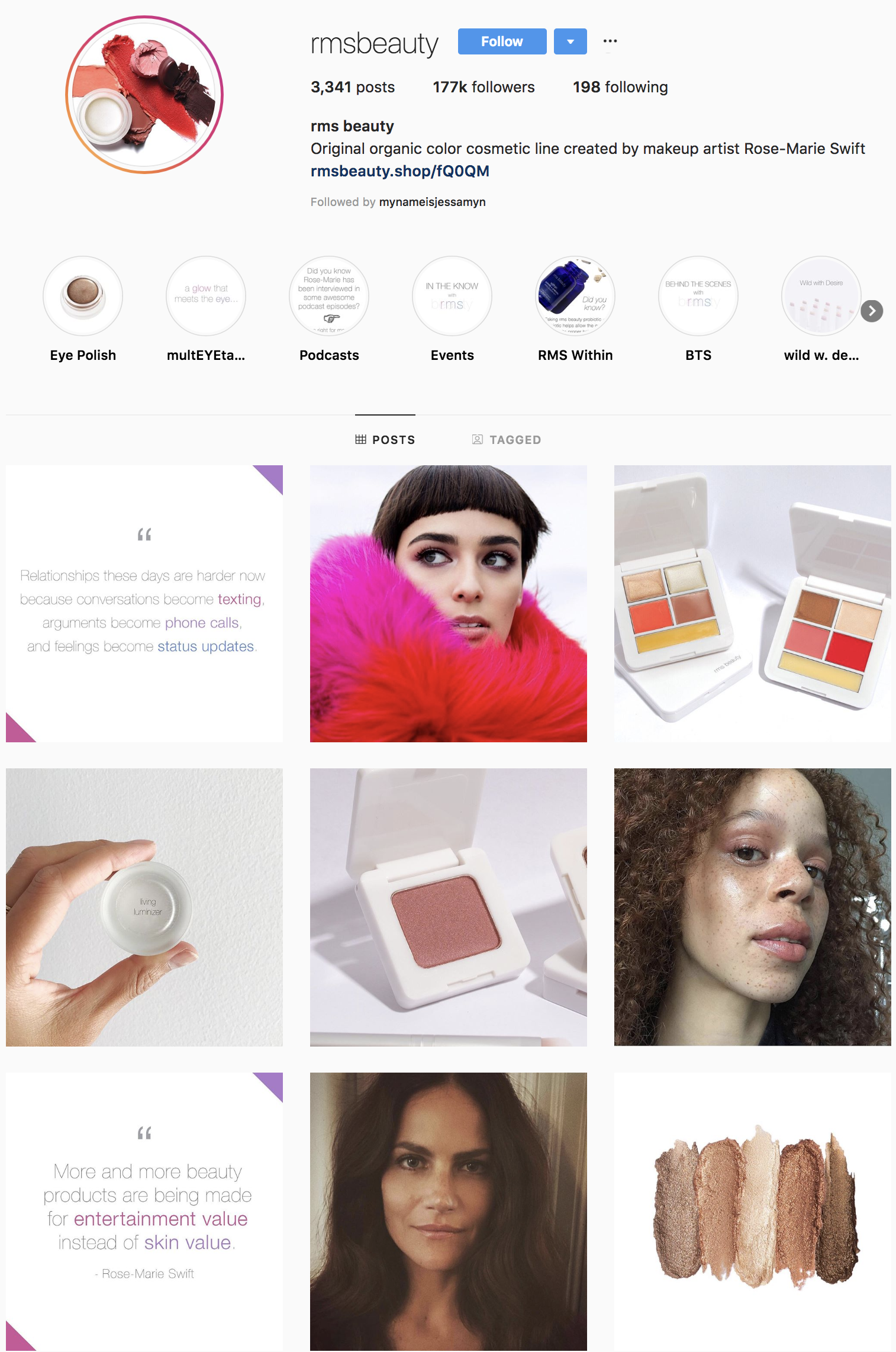 RMS is a newcomer to the beauty industry but has managed to grow a robust following on Instagram. Their account mirrors the simple, honest nature of their products.
This is done by sharing information on their founder, the products, and the lifestyle of the brand's consumer. RMS Beauty continues to increase its brand awareness through the use of a branded link in their Instagram bio.
They used Rebrandly to create this branded link and just update its destination (where it goes) while keeping the same branded link in their profile. This saves them the time of having to log into Instagram and update their bio link each time they share a new update.
Since this is the only clickable link allowed on Instagram, (unless of course, you're lucky enough to have more than 10,000 followers, then you can link within stories) RMS makes the most of it by showing off their brand, and where the link will lead.
How this can work for your brand:
When you have a consistent brand it takes less time for current and future customers to recognize and trust you. Once you have established your brand, why dilute it on Instagram and try to please everyone?
Introduce your brand to the world of Instagram by telling your story through the use of imagery, and captions, and in your bio. Always be critical when choosing influencers and partners as one that is not closely linked to your brand and your audience could lead to less trust.
Keep to being specific to what you do, and what your audience expects, so those following you can one day turn into customers.
Now It's Your Turn To Become an Instagram Influencer
When the topic of Instagram influencers is applied to marketing, blogs typically discuss how to choose or hire influencers, rather than how to become one. Brand building is crucial to any business, and when you understand what ways successful Instagram influencers do to connect with their audiences, you can apply their strategies to develop your own brand on Instagram.
For more examples of influencers, check out the strategy behind niche micro influencers on social media.
For companies looking to further their influencer marketing strategy, be sure to check out the best influencer marketing software in 2018 to help your brand hit its social media marketing goals.