Likes are going extinct.
Well not extinct, just incognito. The photo and video sharing platform announced that they're beta testing a like-hidden Instagram in six different countries before they take the plunge and hide like counts completely. What does this mean for influencers?
In the past decade, Instagram influencer marketing has skyrocketed as a legitimate way for aspiring social media tastemakers to grow their following, build their personal brand, and make a nice chunk of change on the side. Though for some, it's not a side hustle – it's their job. For these influencers, a like-hidden Instagram is likely to mean a shift away from the standard vanity metrics - such as likes and follower counts - and a more direct focus on conversions made on the app.
Instagram hiding likes: what you need to know
The first time Instagram highlighted the idea of a like-hidden platform was in April of this year.
Instagram claimed the idea started as a way to create a "less pressurized environment" for users. Accounts in the beta test group are able to see who liked their post, but not a total count of the likes someone else's post received. The head of Instagram, Adam Mosseri, said that this update is a way to make the app feel "less like a competition".

In other words, Instagram now believes that when you're able to see the number of likes a friend, family member, or celebrity received on a post, it holds too much power over you and the entire social community. Some people even say that if they don't get a minimum number of likes on a given post, they feel the urge to delete it out of embarrassment.
At F8 (Facebook's annual conference), Mark Zuckerberg said "As you scroll through your feed, there are no like counts. You can see who liked a photo of video, you can tap through to see [the list], and if you have the time, you can add them all up yourself."
Here is what a like-hidden post will look like to your followers: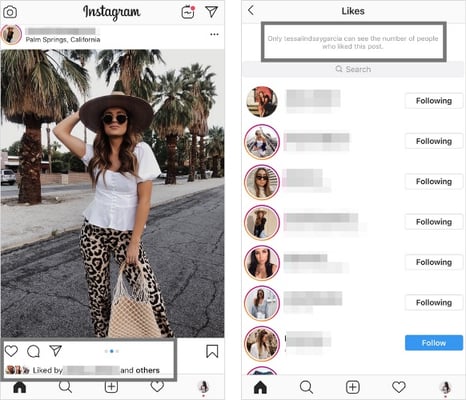 And here is what you'll see when you click on your likes below your post: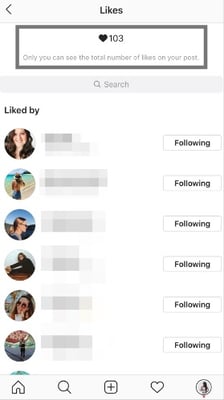 The like count doesn't just affect normal users, it also affects people trying to make a living on the app. Plenty of influencers have bought followers and likes to boost their presence and credibility on the social media platform. There are hundreds of articles that advise users about the best time to post on Instagram that will hopefully get them the most engagement and attention. At this point, the app has turned into a means of validation that people have become addicted to.
What hiding likes means for influencers
The motive behind this like-hidden update may be to create a healthier social environment on Instagram, but what does it mean for users who work in influencer marketing as a full-time job?
Marketing experts have been in talks about how this change could push brands to put paid support behind their influencer posts and focus on the opportunities that Instagram Stories hold. Although the feature was only launched a few years ago, it boomed in popularity, and guess what? No one can see your Story analytics but you.
Marketers also noted that everyone's follower counts will still be public but in the influencer game, that metric doesn't hold as much weight since it doesn't show how engaged a user's audience is.
It's obvious that in 2019, brands looking to work with Instagram influencers care quite a bit about reach and engagement rates than they do followers. Consequently, if a brand can't see an influencer's likes (the main engagement metric), they won't be able to see how engaged someone's following is. This update could potentially make being an influencer difficult going forward.
If you're an influencer and this update is freaking you out, maybe you're wondering how you can best track your metrics on Instagram. Have you thought about exploring social media monitoring software? It can help you get a better picture of how your content is performing online and even help you better personalize it for your followers. Read G2's unbiased user reviews and find the best software for you:
Why ditching likes can be a good thing
Hiding likes from the feed but still making them visible to the poster will still give influencers a look into how well their content is performing without the stress of having to worry about what others think. No one will be able to pass judgement on someone's post by basing their worth on likes.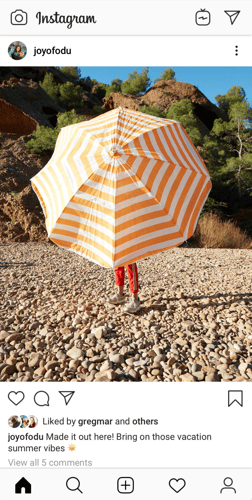 Think about it. If your like count is hidden, influencers will have more time to spend focusing on the quality of their content instead of assuming they'll get a certain amount of likes because it's what they average. This could motivate influencers to become more creative instead of hopping on trends that are "getting a lot of likes right now".
This update will also ease influencers' minds about when they should post to see the most engagement (although figuring out your best posting time will still be possible by looking at your Instagram Analytics). In addition, buying likes will likely see a steep decline if Instagram finalizes the update for all users. Brands will be less inclined to look at the number of an influencer's likes (a chunk of which may be falsified) and direct their attention to real engagement, such as the amount of people that click on a call-to-action and land on a buying page.
In addition, likes are often viewed as the most important metric, but oftentimes they're just an easy number to report when asked how specific content is fairing online. Getting rid of them may force brands to take a closer look at what's actually working. Metrics that may hold more power could include conversions (how many purchases were made from a sponsored post) and the number of comments, saves, and shares a post may get.
Don't worry
For right now, you don't need to worry about likes going away completely. Instagram's beta test is just opening the door to the possibility of likes going incognito. It will likely be a while before we get more news on how the testers are enjoying the update.
To leave you on a positive note, this could be a great thing for Instagram. The platform is already full of bots, overly edited photos, and an overall discouraging tone. Likes lend themselves to comparison and by hiding them from others, users can breathe easy and worry more about enjoying the app for what it was made for: sharing memories with your friends and family.
For influencers, this update may leave them with questions and make the immediate future seem hopeless. But as all updates, we all get used to it and soon enough, we'll be thinking about the next one.
Just don't sweat it. It's the internet after all. Nothing is real.
Still worried? Take some time to revamp your Instagram marketing strategy and make sure you're using the right tactics to reach your audience.
Want 30+ free social media resources? Of course you do. Check out our social media hub and become an expert on everything marketing, strategy, and analytics.