If you could wave a magic wand and change one thing about your Instagram page overnight…what would it be?
Most social media managers would wish for better engagement, higher click-through rates, or simply more Instagram followers.
Instagram giveaways are popular because they promise all those outcomes, and more. But they aren't completely magical: you still have to put in time and preparation! In this post, we will explain how to run an effective Instagram giveaway that will transform your social media presence from pumpkin to princess.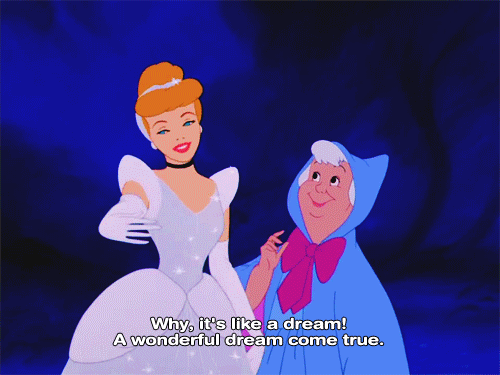 How to create an Instagram giveaway
One reason why Instagram giveaways are so powerful is that you have more options than on other social networks.
All social media giveaways start the same way. You publish a post on your feed and ask people to perform some simple steps to join the prize draw. The question is, which steps should you ask for?
Here's the essential guide on what you can and can't do on Instagram: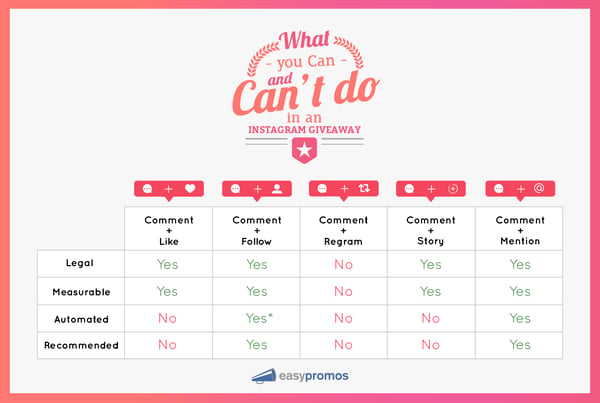 The ideal Instagram giveaway is based on comments and follows or comments and mentions.
All of these Instagram giveaway mechanics include comments. That's because you'll use the comments to retrieve a list of participants. Later, you can filter that list based on specific hashtags or whether people follow you.
So how do you count those Instagram giveaway entries? Well, you could verify and type out a list of users by hand. You could also spend the afternoon watching paint dry, or listening to your coworker reading out loud from their dream diary.
The point is there are better ways to spend your time.
Use an Instagram comment picker which will retrieve and filter participants automatically, instead. Ideally, the giveaway picker should also include tools to help you verify and contact the winners.
Be wary of platforms that lack fraud controls or only pick a single winner with no alternates. And make sure that you have an Instagram Business profile before you start so that the giveaway picker can connect to your account. Already use Instagram for your business? Great! Let other curious parties know how you like the platform.
Your initial post is the foundation of an effective Instagram giveaway campaign. In the next few sections, we'll talk about:
What the giveaway post should include
What else goes into a successful campaign
How to follow up after you pick a winner on Instagram
How to design an effective Instagram giveaway
The whole point of Instagram giveaways is that they're a quick way to achieve your goals. So you don't need to spend hours creating the perfect giveaway post. Follow a few basic guidelines, and you'll be fine.
Start with the image for your giveaway post. It's usually best to display the prize - although you can also share images and videos about your brand, special events, or the reason behind your Instagram sweepstakes.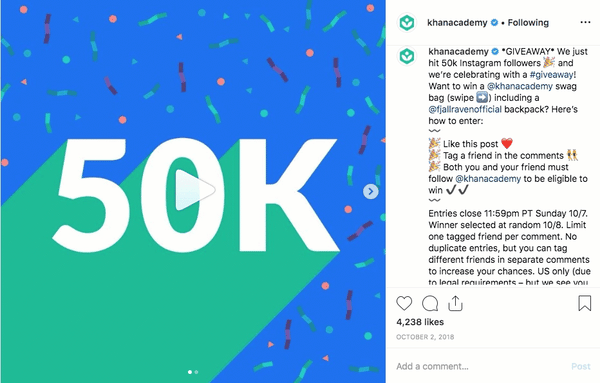 It's up to you whether you want to slap a "GIVEAWAY!" logo on the image. While this certainly grabs attention, the post caption and hashtags will ultimately have more impact on your giveaway's discoverability.
Keep the text short and informative. You know the style which your followers prefer, just be sure to include the following points:
Prize details
How to enter and contest rules
Competition start and end date
Hashtags relevant to your brand and giveaway
Age or location restrictions
Legal disclaimer(s)
A link to your terms and conditions
Don't be intimidated by those last two points! In the next section, we'll look at how to fill in the fine print on your Instagram giveaway.
Instagram giveaway guidelines and laws
First things first: when you run an Instagram giveaway, it's on your own responsibility. So you'll need to share a legal disclaimer.
Something that looks a bit like this: This promotion is not endorsed, sponsored or organized by Instagram. See? Easy!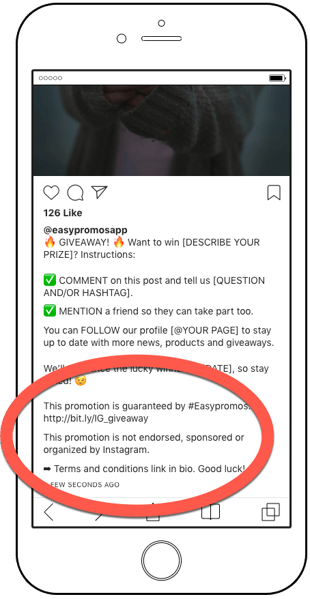 Terms and conditions are a bit more lengthy, but you still have to share them. That's why it's easiest to share them via a short link in your bio or Stories, or as the active link on a promoted post. There are a lot more ways to share links on Instagram than you might realize.
If you don't have legal counsel in-house, use an Instagram giveaway terms and conditions template, and just fill in the details that apply to your brand. Check the local laws for Instagram giveaways in your location: they're fairly lax in the United Kingdom, for example, but extremely strict in Canada.
Ready to take your Instagram to the next level?
Download The Beginner's Guide to Instagram and get started 🚀
How to promote an Instagram giveaway
How you promote your Instagram giveaway partly depends on your goals. Broadly speaking:
If you want to engage existing followers, use organic channels like Stories and IGTV
If you want to target new followers, use promoted posts and cross-channel messaging
If you want to get customers online, promote your giveaway in store, via email or SMS messaging
Let's examine each of those options in more detail.
How to promote an Instagram giveaway with Stories
With the current Instagram API, you can't actually run a giveaway based on your Story posts. But you can use them as a powerful promotional tool.
Stories are a casual, ephemeral medium, so use them for quick updates, such as:
Sharing a link to your giveaway post or profile
Sneak peeks or unboxing the prize
Live countdowns to when the contest opens and closes
Chat and question stickers to handle any queries
Sharing your favorite comments and reactions
Announcing the winner
Sharing posts from the winner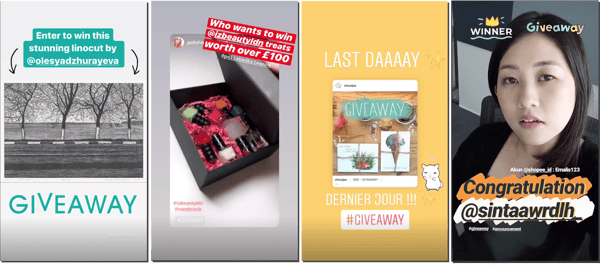 Just like your main giveaway posts, you can add hashtags to help more people find your Stories. If you're worried about cluttering up the screen, hide hashtags behind stickers or set the text color to match the background.
How to promote an Instagram giveaway with Ads
If you really want to reach new followers on a large scale, then promoted posts are the way to go. Use Instagram Ads to target specific interest groups, demographics and lookalike audiences.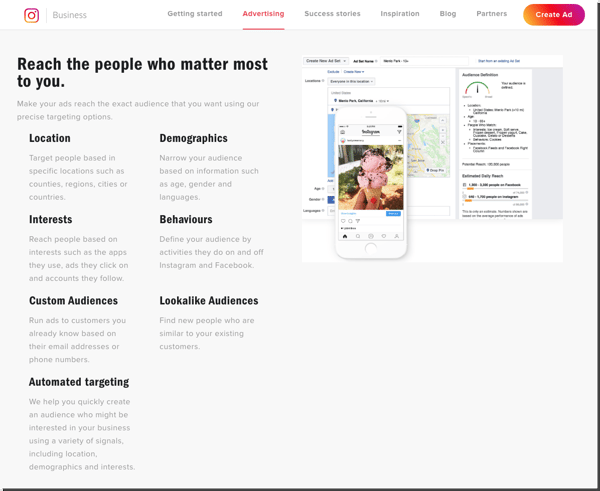 You can also use ad settings to manage age and location restrictions. Set your promoted posts to only target eligible users and prevent any issues with confirming winners.
Other ways to promote an Instagram giveaway
You can advertise your giveaway on other social networks and media channels, too. Just be sure to use consistent design and branding, so that people can spot the giveaway when they finally land on your Instagram page.
Whoever you're targeting, it's well worth saving your Stories about the giveaway in a dedicated Highlight on your page. Whether you want to activate current followers, or recruit new ones, the Highlight will serve as a permanent advertisement of the added value you offer to active users.
Finally, many brands get more attention for their giveaways by setting up partnerships with influencers or other relevant brands. This is a great way to reach new audiences and raise your reputation when used properly.
Research potential partners before you commit yourself to any shared promotions. Most importantly, you should only work with one partner in any giveaway. The unequivocal feedback we get from Instagram users is that loop giveaways actively worsen their attitude toward a brand. Instead, the most successful giveaways are ones where people can join in quickly and easily.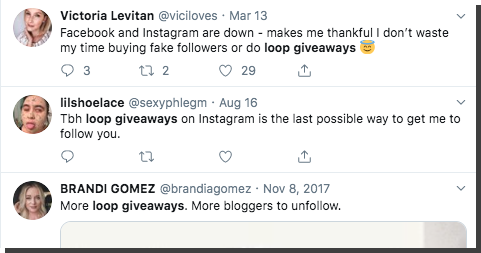 How to use Instagram analytics and follower feedback
By now, you should feel confident about running your first Instagram giveaway. But let's just take a second to think about your wider social media strategy.
This is the most overlooked benefit of Instagram giveaways: they aren't a one-off action. In fact, a well-planned giveaway can inform the rest of your content strategy and even social media scheduling.
TIP: With the right tools, you can use an Instagram giveaway to find the best times to post on Instagram, learn when your followers are most active, and which social networks they prefer. You can even identify super-followers, i.e. the people who engage with your posts more than anyone else.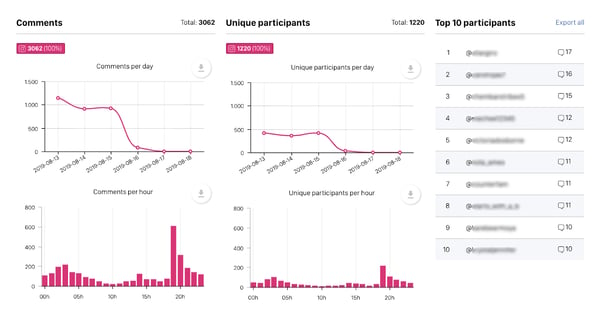 And on an individual level, you can use the giveaway to start genuine conversations with followers. React and discuss their comments on your giveaway posts, or reach out to specific users via DM. Instagram giveaways are an opportunity to add value for customers and show them how much they are appreciated.
Finally, you can use giveaways to evaluate your content. Are photo or video posts more popular? Are your followers asking for more giveaways, or suggesting specific prizes? If you see a sudden spike in participation levels, can you attribute it to a specific Story update or promoted post?
Use a blend of hard data and creative thinking to adapt, update and improve the content you share on Instagram. You'll soon see the impact on your follower and engagement numbers.
Now go create your own
An Instagram giveaway is so much more than just a blunt instrument for acquiring followers. With the right skills and approach, it can become one of the most versatile tools in your social media manager's kit. Have fun with it!
To add more value to your overall Instagram marketing strategy, make sure to download our free Instagram posting schedule that accompanies the guide on when to post on Instagram for maximum engagement!