Believe it or not, coming up with your app idea was the easy part.
You no doubt have a number of questions about your next steps. But before we start, ask yourself, "Am I ready to start an app business?" At this point, that may seem like a question you could answer in your sleep. It's important to keep in mind that app development takes a lot of time and energy, and the kicker is it's never really complete.
If you have something specific you need help with, feel free to jump ahead:
What to do next with your app ideas
So, you've committed. Congrats! Starting an app business can be daunting for anyone, whether it's your first or your fifth. We'll cover some of the most common questions and prepare you to hit the ground running.
Let's get down to business.
Is my app idea good?
Take a look at the market and see where your app fits in. From social media to productivity (or somewhere in between), yours will fall under one of the six types of mobile apps.
Before moving ahead, you should nail down your app's main function and your value proposition. There are millions of apps out there, and you need to differentiate yours from the competition. Whether it's through advanced features or better overall design, you have to create an exceptional user experience for your customers to stay a step ahead.
Should I build a mobile or web app?
Yes, there are different kinds of apps. There are also a lot of nuances between web apps vs mobile apps, including how they are built and how a user accesses them. Of course, there are advantages to both web apps and mobile apps.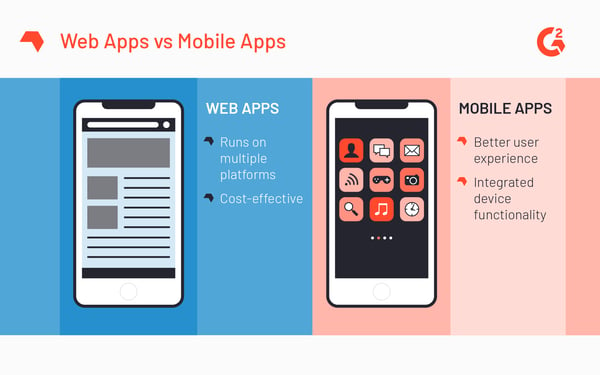 A web app runs through a browser, allowing it to work on a variety of different devices. These apps are not downloaded from the app store. A mobile app is what we typically think of when we're talking about apps on a smart device. Mobile apps are specifically built for each operating system, and therefore can generally be more expensive than web apps.
Which leads us to our next question.
How do I create a budget for an app?
For the most part, the old adage "time is money" applies here. When someone asks "how much does it cost to make an app?", what they really want to know is what affects the app development timeline.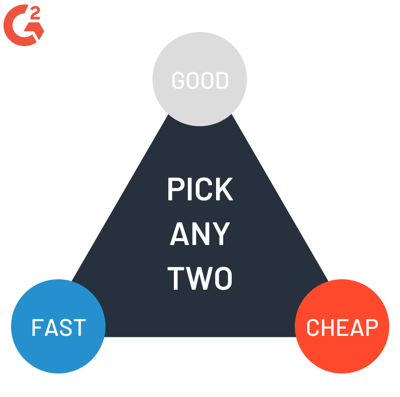 App cost can range anywhere from $5,000 to $500,000+. There are a number of factors to take into account before an accurate quote can be provided. There are upfront costs, like required manpower and project hours, that depend largely on the chosen app platform, features, functionality, design, and more.
Remember when I said earlier that app development is never over? There are hidden costs associated with the post-launch stage as well. These expenses include everything from regular updates to app marketplace fees.
How will people find my app?
If you decide to build a mobile app, your app will be accessible through an app marketplace, such as the App Store or the Google Play Store. This is where app store optimization (ASO) comes in. App store optimization improves your app's ranking through a variety of tactics to make it more discoverable for your customers.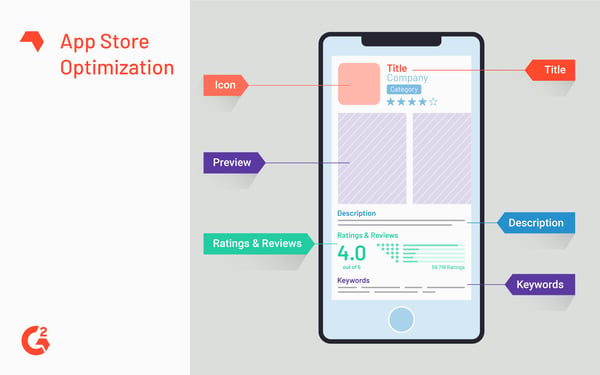 There are a lot of different ways to optimize your app store listing, like using keywords in your title and using screenshots in the preview section. The main goal of ASO is to increase app downloads directly within the app marketplaces.
If you're building a web app, you'll need to rely on other marketing tactics to drive users to your app's URL.
When should I start marketing my app?
At this stage, a lot of app businesses fall off the map. When learning how to market an app, it's important to keep your desired users in mind. Where are they shopping? What social media sites do they use? How do they want to hear from you?
Marketing often gets pushed to the wayside or completely forgotten. You should start developing your app marketing strategy before its launch date, and continue promoting your app even after it goes live.
Tips for success from the pros
But don't take it from me. Testing is crucial to every stage of the app development process, from brainstorming to launch. These app marketing success stories will take you through real-life examples.
For instance, offering an incentive makes sense for some apps, but it might not for yours. See how other app businesses are boosting downloads, and adapt it in a way that you can implement into your own strategy.
Full speed ahead
Now that you have a better footing, it's time to jump right in. My three cents: do your research, learn from your experience, and disrupt the market.