Managing the process of attracting, hiring, training and retaining top talent is no small feat for human resources (HR) professionals.

To avoid falling into costly potholes along the road to building the most engaged, diverse and qualified workforce possible (read: the best), we've compiled a slew of helpful HR statistics.
From how detrimental a negative candidate experience can be to your talent pipeline, to how vital it is to avoid unconscious bias during the hiring process, read on for insight into the benefits of developing people-focused initiatives.
HR professionals can use many methods for assessing problems that might be holding them back. It is highly recommended that HR professionals keep a finger on the pulse of workplace morale via pulse surveys (a survey of a company's employees to better gauge and evaluate their satisfaction, productivity and overall attitude). They should also look for guidance from other HR professionals and employees that have been surveyed about their experiences, both good and bad. These statistics provide an excellent starting point for improving HR processes as well as providing some statistical support to help HR professionals make the business case to buy HR software in 2019. Be sure to make an HR business case so that you can obtain the budget to boost recruiting efforts, increase retention rates, and provide employee recognition.
HR Statistics in 2019
Step confidently into the new year armed with the HR statistics you need to drive change at your company. This list of HR statistics provides insight into the following categories:
Candidate experience

Diversity and inclusion

Onboarding

Retention

Employee burnout

Corporate wellness

Employee engagement
Candidate experience on hiring stats
83 percent of talent say a negative interview experience can change their mind about a role or company they once liked, while 87 percent of talent say a positive interview experience can change their mind about a role or company they once doubted. (

LinkedIn

)
60 percent of job seekers have quit filling out an employment application due to its length or complexity. (

SHRM

)
72 percent of hiring managers say they provide clear job descriptions, while only 36 percent of candidates say the same. (

HR Dive

)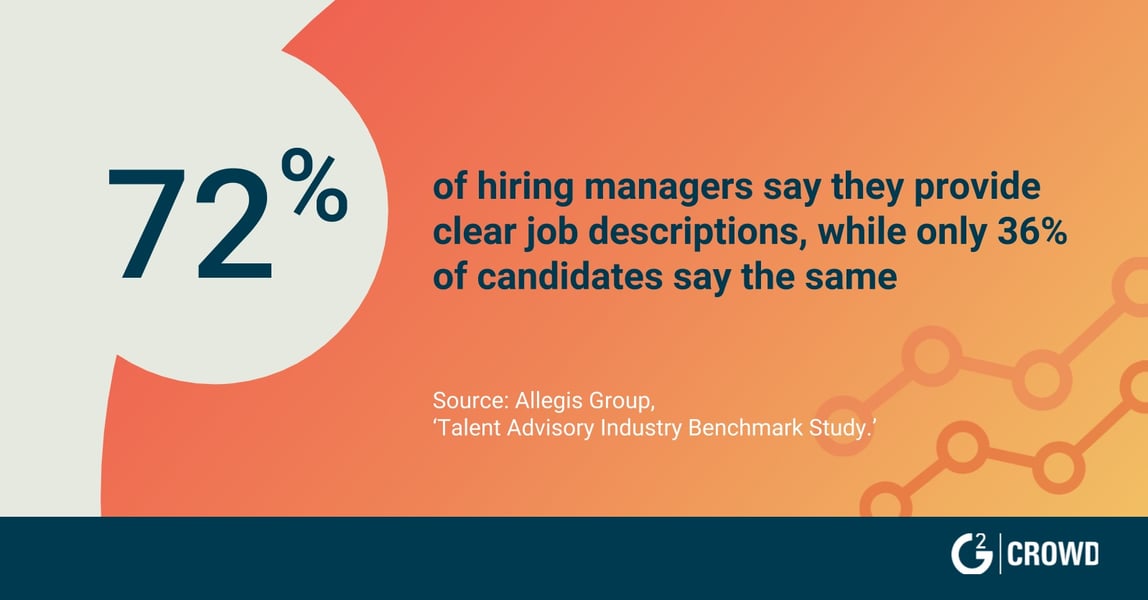 85 percent of the 13,000 job seekers surveyed from North America, EMEA (Europe, the Middle East, and Africa) and APAC (Asia Pacific) regions claim that consistent communication throughout the recruitment process is the top driver of candidate satisfaction. (

Allegis Group

)
Organizations that invest in a strong candidate experience improve the quality of their new hires by 70 percent. (

Glassdoor

)
80 percent of job seekers say they would be discouraged to consider other relevant job openings at a company that failed to notify them of their application status. Yet they would be 3.5 times more likely to re-apply to a company if they were notified. (

Workplace Trends

)
Diversity and inclusion in hiring statistics
67 percent of candidates want to join a diverse team. (

Glassdoor

)
Companies in the top quartile for racial and ethnic diversity are 35 percent more likely to have financial returns that are above the national medians for their industry. (

EY

)
Companies in the top quartile for gender diversity are 15 percent more likely to have financial returns that are above the national medians for their industry. (

EY

)
Diverse companies are 70 percent more likely to report that the firm captured a new market. (

Harvard Business Review

)
Inclusive companies have a 2.3x higher cash flow per employee over a three-year period. (

Josh Bersin

)

The percentage of non-binary workers who are managers did not vary significantly from the overall employee population - 22% versus 19%. (Namely)
HR onboarding statistics
61 percent of new hires do no get any training on company culture. (TalentLMS)

76 percent of HR leaders say employee onboarding practices are underutilized at their organization. (

Kronos

)
55 percent of organizations say they do not measure the effectiveness of onboarding programs, hindering accountability for success and preventing opportunities for improvement. (

Kronos

)
36 percent of HR professionals blame insufficient technology for their inability to automate and better organize onboarding programs, further inhibiting their ability to train managers in proper onboarding techniques. (

Kronos

)
53 percent of HR professionals say employee engagement increases when onboarding is improved. (

SilkRoad

)

There are over 220 onboarding software providers. (G2 Crowd)
Employee retention statistics
83 percent of employers believe attracting and retaining talent is a growing hiring challenge. (

Allegis Group

)
66 percent of millennials expect to leave their organization by 2020. (

Glassdoor

)
The top reasons why millennials leave their companies are because they received a better job offer from another company (30 percent), their career goals weren't aligned with their company (27 percent), or they saw a lack of career opportunities within the company (13 percent). (

Millennial Branding

)
The top reasons given by employees for leaving their jobs include lack of career development (22 percent), lack of support with work-life balance (12 percent), their manager's behavior (11 percent), unsatisfactory compensation and benefits (9 percent), and poor well-being (9 percent). (

Work Institute

)
Among HR professionals who claim difficulty in retaining older workers, 47 percent cite work location inflexibility as the biggest challenge, followed by career inflexibility (45 percent) and work hours inflexibility (44 percent). (

SHRM

)
78 percent of employees said they would remain longer with their employer if they saw a career path within the current organization. (

Mercer

)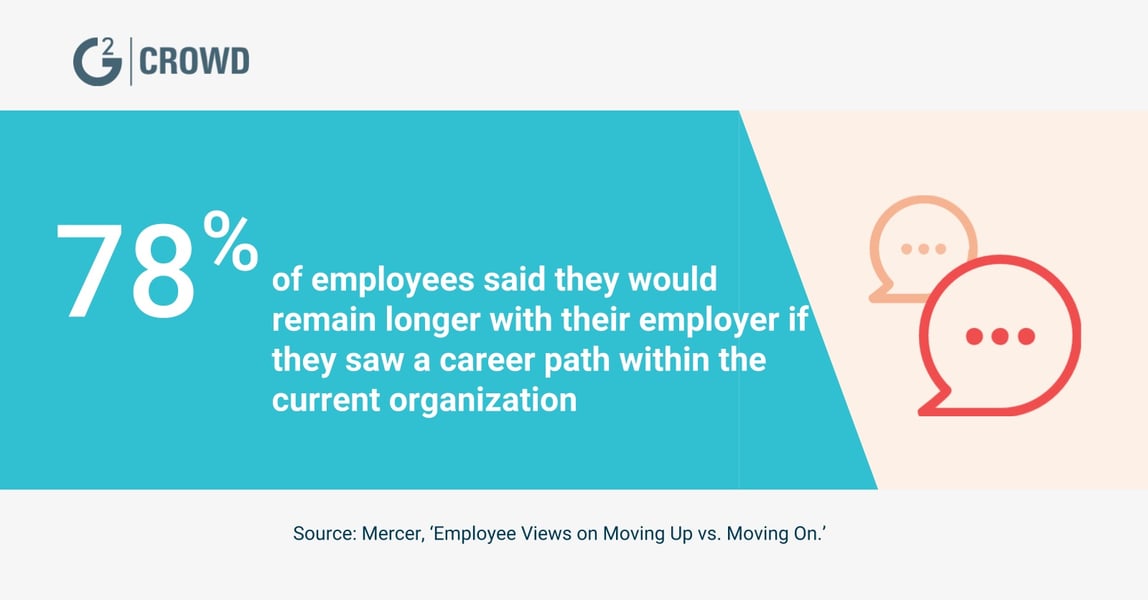 75 percent of employees would stay longer at an organization that listens to and addresses their concerns. (

Ultimate Software

)
Employee burnout stats
46 percent of HR leaders say employee burnout is responsible for up to half of their annual workforce turnover. (

Kronos

)
Nearly 10 percent of HR leaders blame employee burnout for causing more than 50 percent of workforce turnover each year. (

Kronos

)
The top three contributors to employee burnout are unfair compensation (41 percent), unreasonable workload (32 percent), and too much overtime or after-hours work (32 percent). (

Kronos

)



Corporate wellness statistics
51 percent of employers say using health and wellness benefits to maintain employee loyalty and retain talent will become even more important in the next 3–5 years. (

MetLife

)
87 percent of employees expect their employer to support them in balancing their life between work and personal commitments. (

Glassdoor

)
70 percent of employers have improved their physical environments to encourage healthy behaviors, including adding healthy foods to cafeteria menus, walking paths and campus bike-sharing programs. (

Willis Towers Watson

)
84 percent of companies say they now have financial security programs, such as access to budgeting resources, debt management tools or student loan counseling as part of their well-being strategies. (

Fidelity

)
61 percent of employees agree that they've made healthier lifestyle choices because of their company's wellness program. (

Aflac

)
78 percent of businesses say employee well-being is a critical part of their business plans. (

Virgin Pulse

)
Employee engagement statistics
66 percent of HR employees believe that employee engagement has increased over the past year, yet only 34% of non-HR employees feel more engaged over the same time period. (G2 Crowd)

56 percent of employees say additional paid time off would make them more loyal to an organization. (

Fierce, Inc

)
92 percent of employees believe showing empathy is an important way to advance employee retention. (

Businessolver

)
89 percent of HR leaders surveyed agree that ongoing peer feedback and check-ins have a positive impact on their organizations. (

SHRM

)

There are over 220 employee engagement software tools and apps. (G2 Crowd)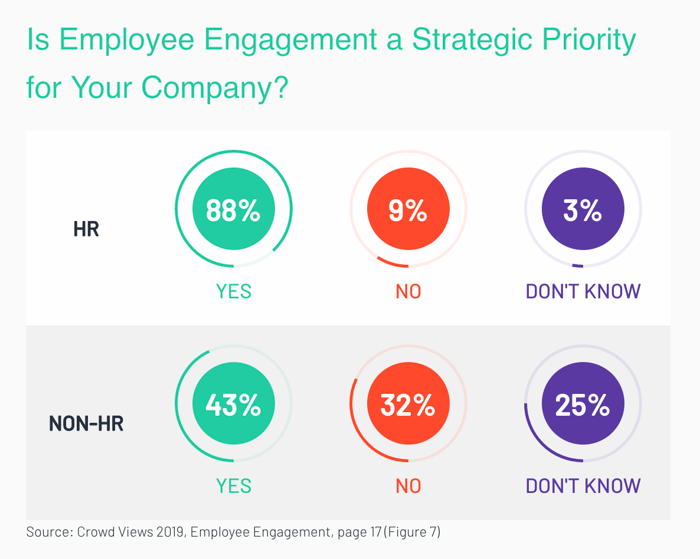 HR technology statistics
There are 83 different HCM software providers (G2 Crowd)
There are over 21 types of HR software including types such as employee wellness, employee benefits, and time tracking software, with over 25,000 reviews on G2 Crowd.
---
Next steps to improve your human resources in 2019
These statistics provide HR professionals with insight into the best and worst ways to recruit, hire and develop top talent. When used in combination with HR software, HR professionals are sure to improve all people-related processes. The business of creating HR solutions is booming, and HR professionals can access just about any solution they need to overcome personnel-related obstacles, from hiring through retention.
If you want to learn more about the HR technology that we here at G2 Crowd are most excited about for 2019, check out our predictions for 2019 HR trends. We're focused on solutions that will promote employee engagement, diversify companies, rethink sexual harassment training, expand corporate wellness solutions and employ AI to improve HR operations.