Decisions aren't always set in stone.
If you're looking for a second chance, then you've come to the right place.
An appeal letter is a note written to someone you want to reconsider a decision they made about you. Whether you feel you weren't properly warned about something or if you were treated unjustly, an appeal letter can be used in numerous instances.
Steps for writing an appeal letter
Review the appeal process if possible

Determine the mailing address of the recipient

Explain what occurred

Describe why it's unfair/unjust

Outline your desired outcome

If you haven't heard back in one week, follow-up
Following these steps will ensure that you properly address the situation at hand, and hopefully achieve your new outcome.
How to write an appeal letter
Writing a letter of appeal doesn't have to be as intimidating as you think. Common instances where you may be writing an appeal letter are to appeal an admission decision or to appeal a decision related to your career. These situations don't feel good, but instead of replaying the events over and over again, you can take action by writing an appeal letter.
1. Review the appeal process if possible
Most universities and companies have an appeal process in the fine print. It may take some digging, but when found you can determine the deadline and components needed for your appeal letter.
You can also dig into HR law to figure out if what you're appealing is cause for legal action. If you can take legal action based on your specific situation, then it's best to involve a lawyer so that you follow all the procedures correctly.
2. Determine the mailing address of the recipient
Whether the mailing address or the email address, you need to know where you'll be sending your letter so that it goes to the right place. The last thing you want is your letter getting into the wrong hands, or worse, not being received by anyone.
If you don't know where you should send the letter, talk to an HR professional or an admissions counselor.
3. Explain what occurred
The end goal of an appeal letter is to have a decision overturned. This part of your letter gives you the chance to explain the context behind the events that occurred.
In this paragraph, it is crucial that you stick to the facts. Your case becomes much stronger when you have evidence. This can be specific emails with times and dates, policies that weren't upheld, or other documents that will help establish what happened.
Lastly, admit any mistakes that you made. You may think it's good to shy away from your faults, but in an appeal letter, it's crucial to outline where you may have been wrong. Admitting to these faults may take away any grievances the recipient has about you because you're being self-aware in addressing your wrong-doings.
4. Describe why it's unfair/unjust
When stating why the decision was not fair, maintain a calm and confident tone of voice. In most cases, you feel passionate about how you were wronged, otherwise, you wouldn't be writing this letter. It's best to avoid being overly emotional.
Don't say: I feel like your decision was made to hurt me and stunt my career growth.
Say: Your decision stunted my career growth because it went against the company value of [specific value].
5. Outline your desired outcome
Keep this section brief. State the outcome you want and the date you expect it by. An appeal letter doesn't always have to be to overturn a decision. Instead, it can be used to add a clause to a contract.
6. If you haven't heard back in one week, follow-up
We all know people are busy, and sometimes you need to give the recipient an extra nudge. Kindly follow-up if you have not heard back within a week. The follow-up can be via email or phone call, it doesn't have to be as formal as the letter itself. Just be direct, confident, and professional.
Appeal letter format
Let's take a look at what your appeal letter should actually look like, plus what should be included in order to successfully change the recipient's mind.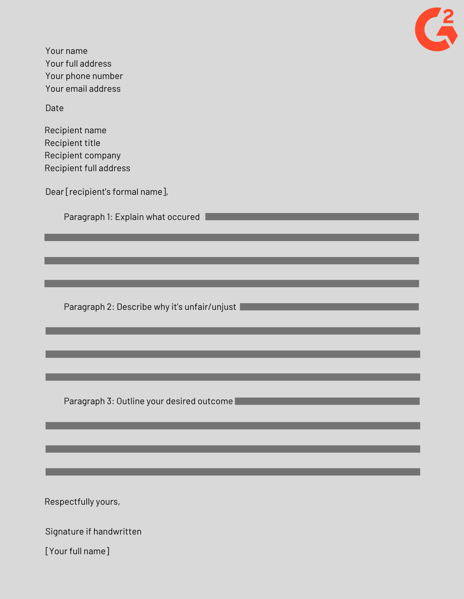 What not to include in an appeal letter
When proofreading your letter of appeal, which you should be doing multiple times, make sure that these things are not included in your letter.
Grammatical errors

Exaggeration

Lies

Emotional appeals

Subjectivity

Personal attacks

Misleading information
If you steer clear from the above points, you'll already be on your way to achieving your desired outcome.
Everyone deserves a second chance
So you've been denied benefits, a raise, or an educational opportunity. Remember, people are human just like you, and an appeal letter is one way to have that decision reconsidered. No decision is set in stone.
If you're on the receiving end of an appeal letter, you should quickly learn how to deal with a disgruntled employee.
Looking for a simple way to handle HR legalities? Check out HR compliance software to keep up-to-date with HR business regulations and compliance laws.