Two screens are better than one.
But, it's not always possible to have that set up and you're stuck with just your laptop. If you need to work in two applications at once, it can be annoying to toggle back and forth between them. You can now mimic the feeling of having two screens by using split-screen on your Macbook.
How to use split-screen on Mac
Split-screen on Mac sections your desktop into two halves to see two applications side by side in one view.
How do I use split-screen on my Macbook?
Hold down the green full-screen button in the top left of the selected window.
As you hold the button, the window shrinks. Drag it to the preferred side of your screen – highlighted in blue.
Release the button.
Select another application from the desktop on the opposite side to begin working in two applications at once.
Unfortunately you can't split-screen three ways on a Mac. But you could adjust the windows in a way that could show you more than two in your regular viewing mode, they just might be too small to read or work in.
Split View can be used for a variety of applications – even two windows of the same application can be seen at once. For example, you can split your screen in order to have two Microsoft Word documents side by side. Let's walk through this example together.
1. Hold the full-screen button on the selected window
Choose the first window you want to use for split-screen. It seems counterintuitive, but make this window full-screen by holding down the green button.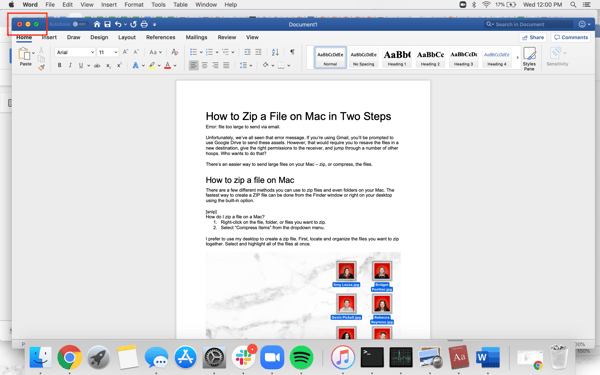 Interested in this article too? Learn how to zip a file on a Mac!
2. Drag window to one side of the screen
The window will shrink so that you can drag it to one side of the screen (highlighted in blue).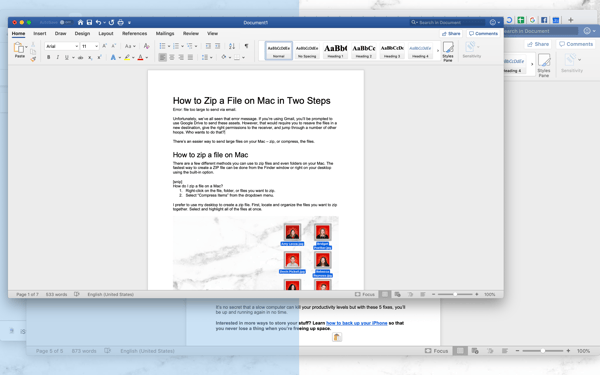 3. Let go of the window
When you have the window where you want it, simply release the button to drop it.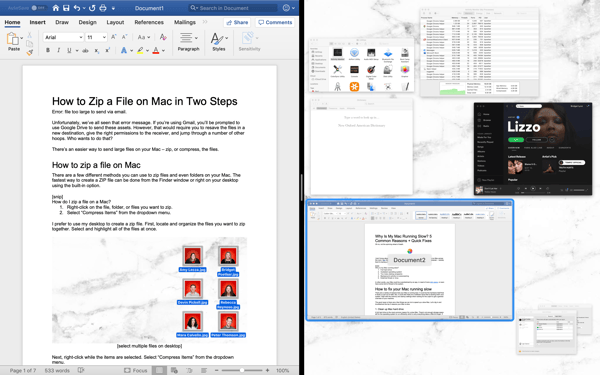 4. Select another window to display
From the smaller-sized desktop on the opposite side, select the other window you want to view side by side.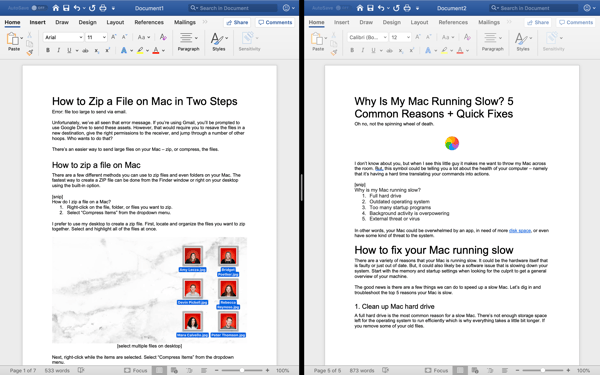 Check out 5 reasons why your Mac is running slow.
How to exit split-screen on Mac
There are a few different ways you can exit split-screen mode.
Press the "esc" button on your keyboard.
Hover your mouse at the top of the screen to show the window options. Click on the green full-screen button.
When you exit Split View, your second window will still be in full-screen mode on another desktop screen. To access it, switch to it with Misson Control or use the touch gesture on your trackpad to scroll over (swipe left to right with four fingers on the trackpad).
RELATED: If you need to use Microsoft World in split-screen, you must be using it a lot. Leave a review on G2 to let your peers know what your thoughts.
How to adjust split-screen on Mac
You can also adjust the size of the windows in split-screen mode. Simply grab and drag the black bar in the middle of the screen.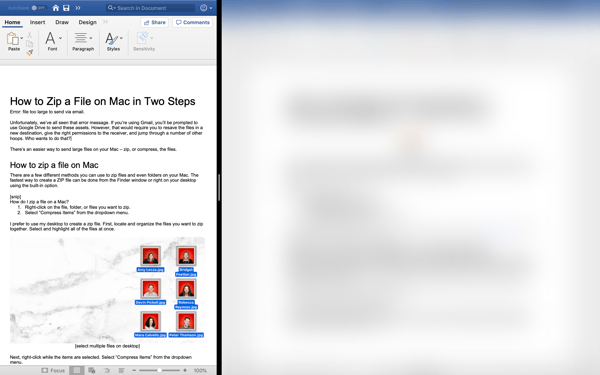 Multitask your heart out
Now you can simulate having two screens on one. Work in two applications side by side at the same time without having to switch back and forth.
Want more Macbook tips? Learn how to screenshot on a Mac and how to find them afterwards. Then, free up some space by force quitting some of your apps.