Believe it or not, Twitter can be used for more than just funny jokes.
Thanks to Twitter, you have the power to grow your brand at the tip of your fingers with a gigantic global user base - all for free!
Twitter is just one of the many social media marketing platforms you can harness for a huge boost to your marketing efforts. However, if you're not an avid user of Twitter yourself, it can be tough to know how to set up your account for maximum impact.
Whether you are practicing B2C or B2B marketing, Twitter is a valuable tool for connecting with customers and clients. According to a research report, 69 percent of users who follow small businesses have made a purchase because of something they saw on Twitter.
Here's a basic overview of the steps I'll be going over more in depth in this article.
How to Set Up a Twitter Account
Input your name, email, and phone number.
Add a profile photo.
Write a description.
Upload a header photo.
Follow other users.
Send a tweet.
Before we get too far ahead of ourselves, there are some things I should explain.
What is Twitter?
Twitter, at its core, is a way to stay connected. It allows you to stay connected to your friends, industry influencers, and business insights. At its essence, Twitter keeps your finger on the pulse of daily news and trends.
Twitter functions as the public forum of the 21st century.
It is built around user profiles and a newsfeed. People create profiles, share images, articles, or updates in 280 characters or less. These updates are posted to the newsfeed, an ever-updating feed of tweets from the people and businesses you follow.
Users have the ability to share links, photos, videos, and even conduct polls in the form of a tweet. When a user tweets (it is as much a verb as it is a noun), it appears on the newsfeed of that individual's followers.
The ability to directly connect with your followers and share updates is why setting up a Twitter account should be a part of your marketing plan.
Before you create a Twitter account
Before starting, it's important to consider what the purpose of your Twitter account is going to be. Are you creating a personal account to connect with friends or other professionals? Are you starting an account for your business to increase brand awareness and send updates to your target market?
A personal account should be created using a personal email or phone number, which you likely already have. However, it is better to set up a Twitter account you plan to use for a business using a designated email account. Something like social@[company domain].com is ideal for Twitter. This also applies to any other social media accounts you choose to create on behalf of your business.
Disclaimer: The screenshots included in this walkthrough contain dummy accounts I created to showcase the process of setting up a Twitter account. The account and email depicted are not active.
How to set up a Twitter account
Begin your Twitter journey by visiting the Twitter homepage. Here, you see an option to either sign up or log in. Click sign up and a small window appears, prompting you for more information.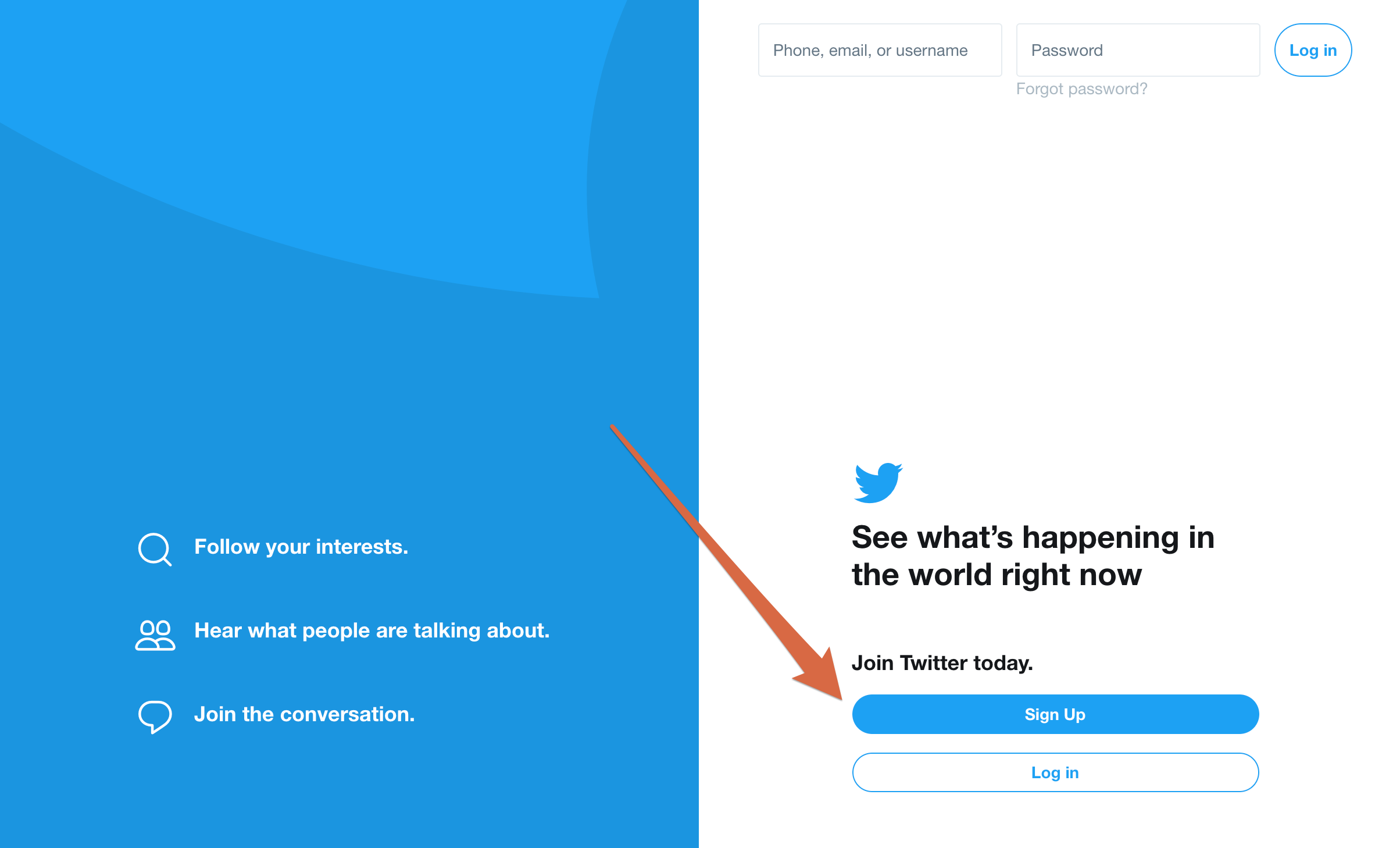 Within that window, there are two places to enter information. One asking for a name, and another asking for a phone number. If you are creating a business account that multiple people may have access to, I suggest using the designated email account mentioned earlier. Do this by clicking "Use email instead."
Double check both of these for accuracy, as they will be used to verify your identity and can be used to reset your password in the future.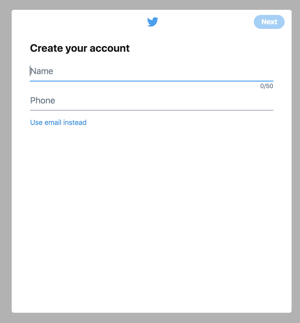 If you used an email to sign up, Twitter asks again for a phone number. You can skip this step if you wish. Although, linking a phone number allows for two-step verification. This means your number is used to get back into your account should you become locked out. Adding a phone number also serves to connect you with any of your contacts who are already Twitter users.
Click next once more and you are directed to create a password. Create a strong password to keep your account safe. It's incredibly important to maintain strong passwords on any social media account to reduce the risk of being hacked. In 2016, credentials to more than 32 million Twitter accounts were stolen. I recommend using one of the many free password managers to keep track of your passwords.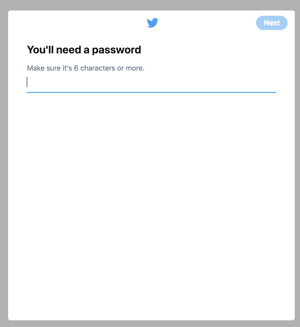 After creating a secure password, click next and the window shows you a space to create your username. Usernames (or handles, as they're sometimes called) are how Twitter users interact with each other.
Usernames should very simply be your name or the name of your company. For example, my personal account is @derekdoeing and G2 Crowd's is @G2Crowd. This makes it easier for any potential followers to find you. If this is already taken, try adding a middle initial or number for a personal account or, for a business, the city you're located in.
You can also get fun and creative with usernames. This is especially true if your full name is already taken. If you choose this type of username, you can choose for your actual name to also appear on your account, so there's less risk of confusing your followers. Keep it short and memorable so people can remember it if they want to tweet you.
First steps in setting up your Twitter account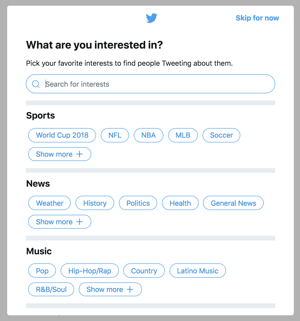 Starting out with an empty newsfeed can feel lonely. Twitter helps you out by prompting you to select interests and then showcasing a few accounts that you might want to follow based off these selections.
You can also search for your interests if Twitter doesn't suggest them. If you're short on time, this step can be skipped and returned to later.
After inputting this information, you are taken to your newsfeed. It may seem a little empty at first, but it's bound to fill up as you follow more people and start tweeting yourself!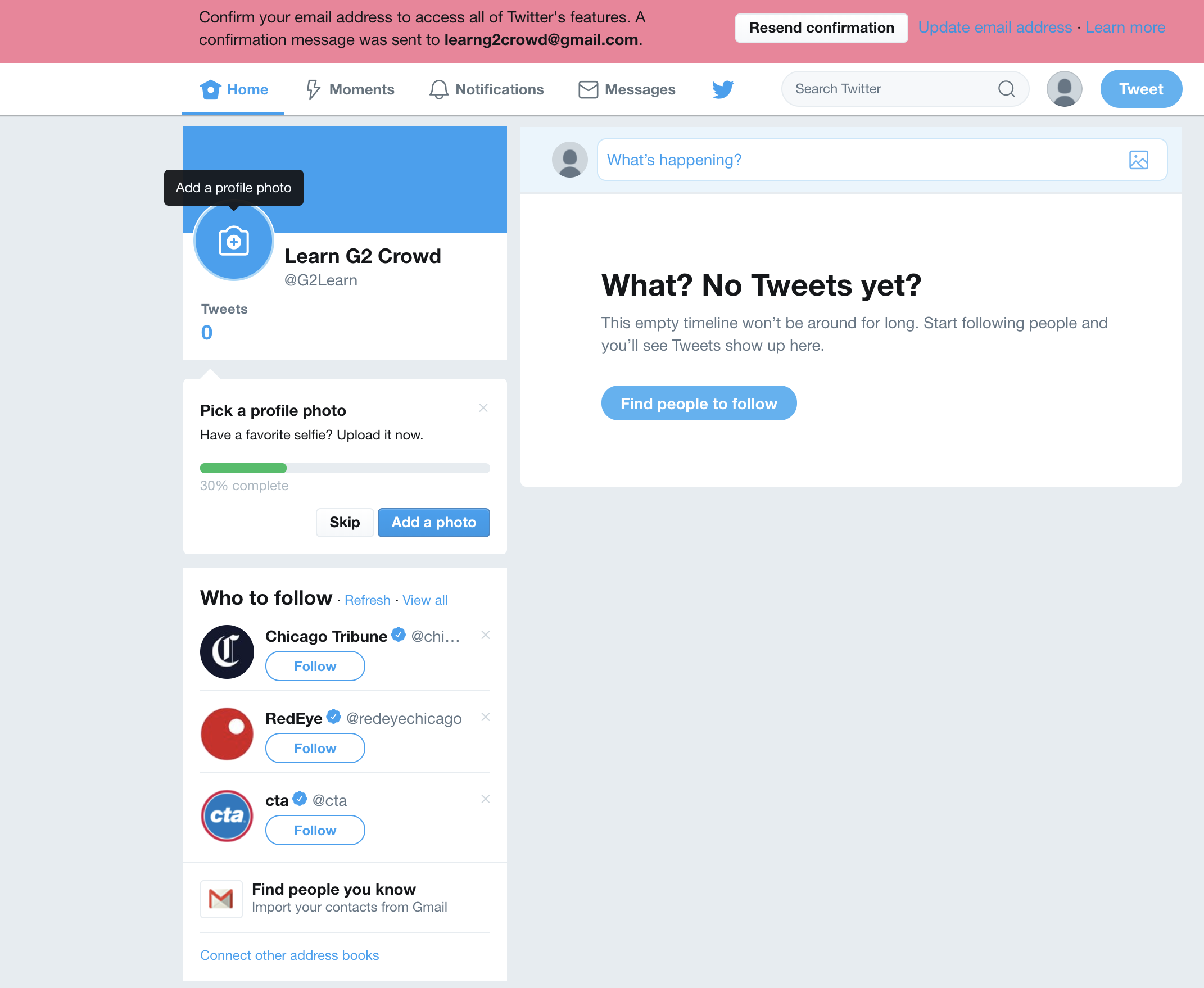 There are a few things you should do when you come to this screen. Let's begin at the top.
The red banner catches your attention as it prompts you to confirm your account through an email sent by Twitter. Find this email in your inbox and click on the link as instructed to verify your account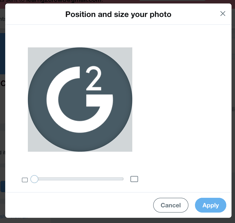 Next, add a profile photo. There are two buttons you can click to take you to this step. The first is in the top left corner and contains a camera icon with a plus sign in it. The second is a blue button midway down the screen that reads "Add a photo."
Both of these open a file selection window. A good profile image should be clear and represent you or your business. This is a great place to use your logo. Profile images should be square shaped and at least 400 x 400 pixels in size.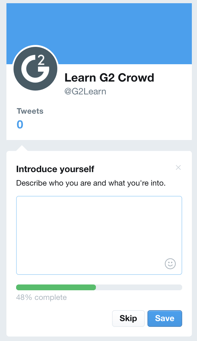 Upon selecting a photo, upload it and a new window opens containing a positioning tool for your photo. You may notice that while the photo should be square, Twitter crops it into a circle. Once you are comfortable with the image in the circle, click apply.
You are now taken back to the newsfeed, where a new prompt has appeared to write a description for your account. The goal here is similar to the profile photo. Craft a brief description that tells Twitter users about you or your company.
My own description describes my role here at G2 Crowd, the university I attend, and the fraternity I am a member of. A business or brand, however, may choose to link to a support account or other social media profiles.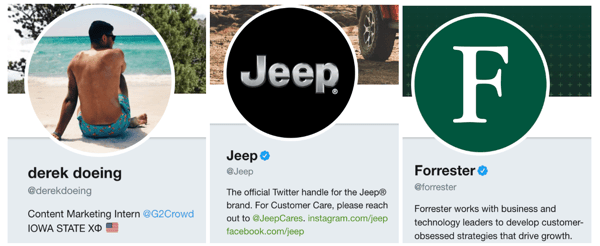 After writing your description, you are prompted to enter more details on your profile. Add in your location to allow customers in your area to find you and don't forget to include your website so they can learn more about you or your brand. If you're creating a personal account, this space is a great place to link your portfolio or another social media account of yours.
Feel free to change the theme color to match your brand, or leave it as Twitter's signature blue. Input your birthday next. (Twitter may surprise you with some virtual balloons when your day comes around.)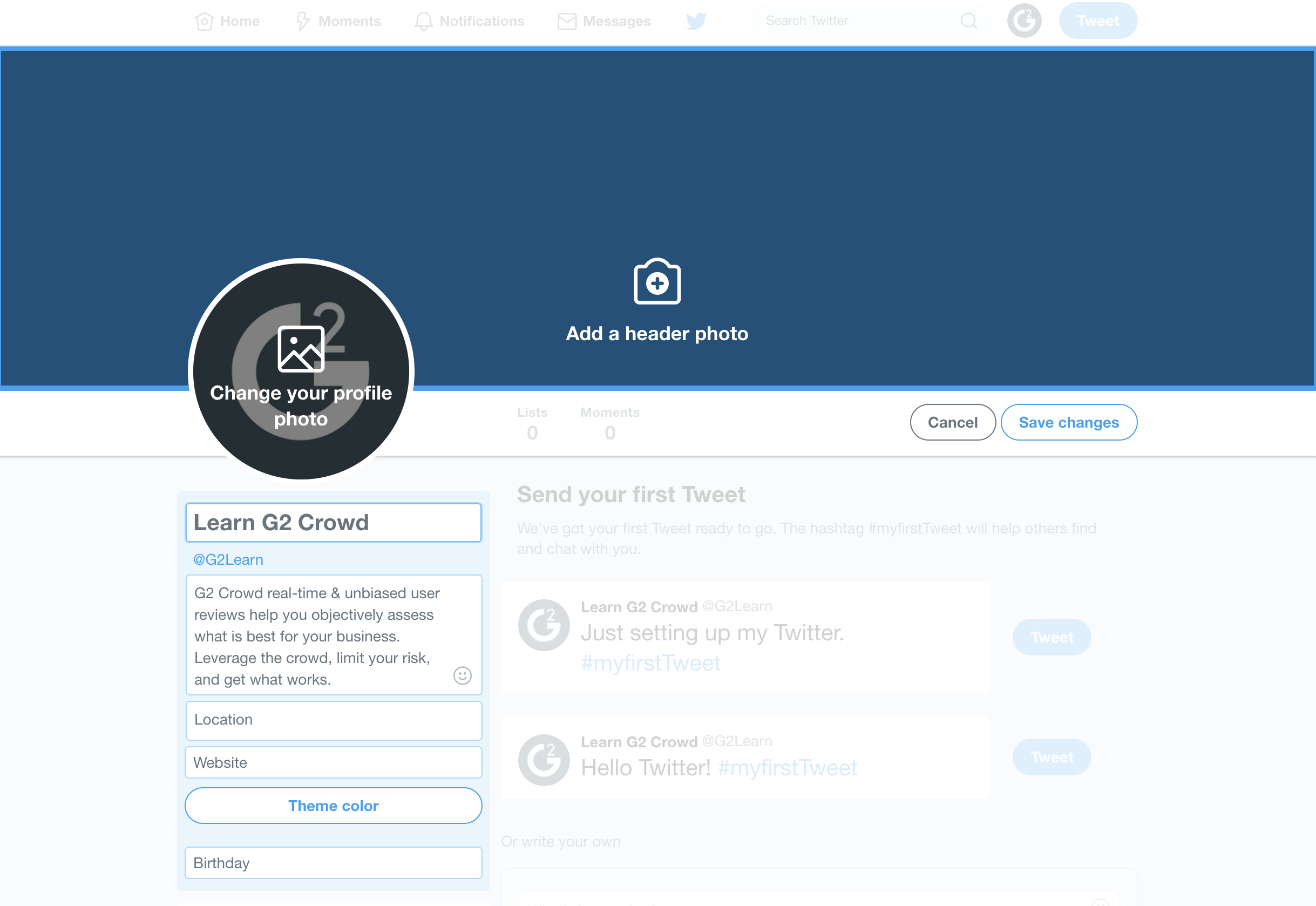 The final step is adding a header photo.
A header photo serves the same purpose on Twitter as a Facebook cover photo or a YouTube banner. Adding a photo here helps flesh out your profile and give it a professional look.
The header photo is an opportunity to express your personality or brand persona through an image. Businesses can use this space to advertise a new product, raise awareness for a cause, or showcase recent news and awards. An example of this is seen in the next screenshot. A band called Magic Man uses its header to alert users of its latest album release and where to purchase it.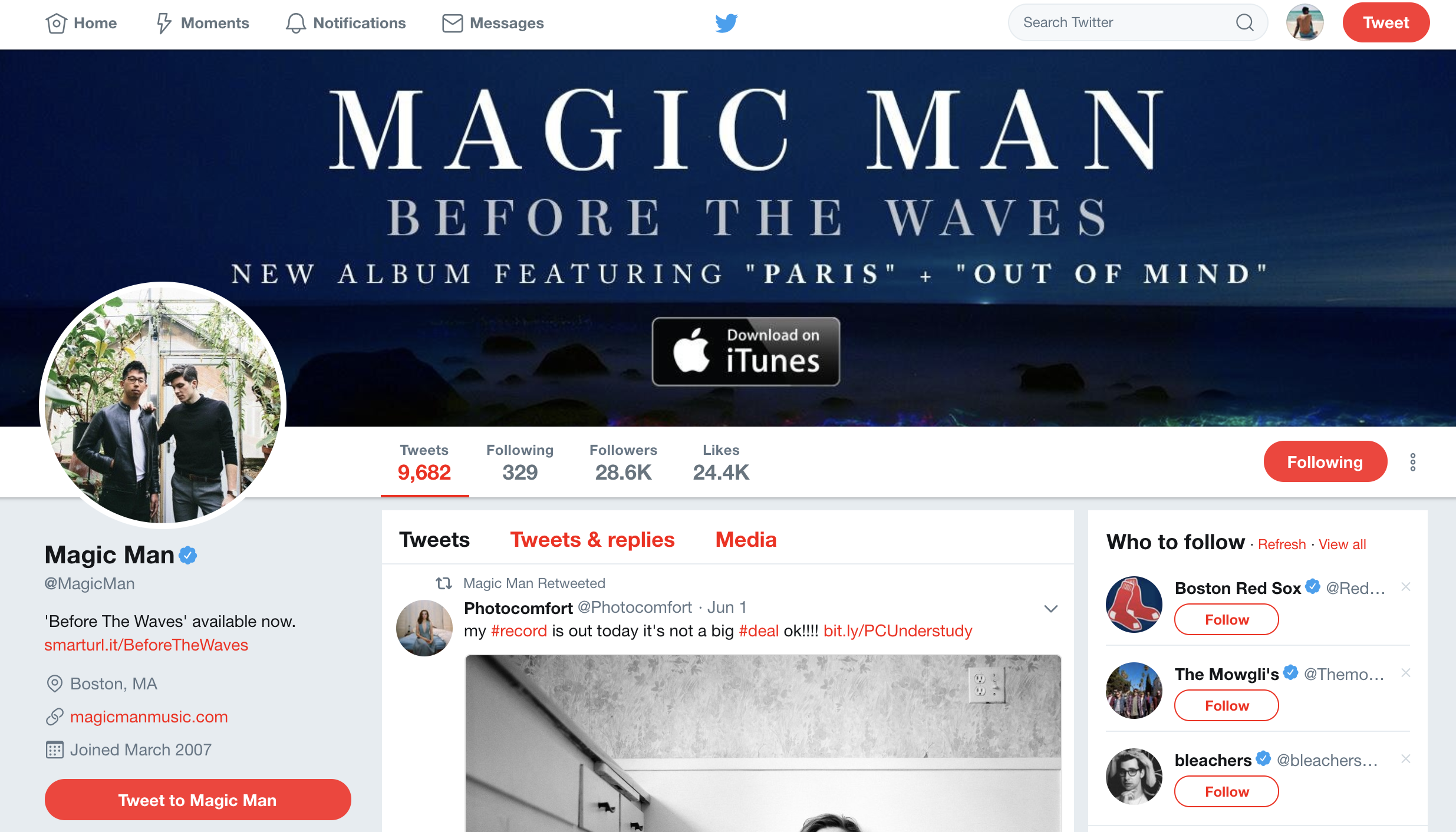 The dimensions of a Twitter header image is 1500 x 500 pixels. By using an image this size, Twitter will optimize your profile for viewing on both desktop and mobile devices.
Finalize all of these updates by clicking the save changes button and you can now start using your Twitter account!
Send your first tweet from your new account
You've successfully completed all the major steps to set up your Twitter account. Now it's time to add tweets to your account and interact with other users.
No matter where you are on Twitter, the tweet button always appears in the top right corner of the screen. Clicking this brings up a window, allowing you to start drafting a tweet with a friendly, "What's happening?" prompt. This box can also be found at the top of your newsfeed.

As you start typing your tweet, the circle in the bottom right of the text box begins to fill, telling you how close you are to reaching your character limit. (And, trust me, that 280 characters goes by a lot quicker than you think it will.)
The smiley face in the top right opens options to include emojis in your tweet. Beneath the tweet box, you see other choices to attach between one and four photos, a video, a moving GIF file, take a poll of your followers, or attach your location to the tweet.
You may be wondering what you should tweet about. Links to company blog posts, photos showing off the office culture, and announcements of new products are all great tweets to share with your followers as a business. On a personal account, you can tweet anything that sparks your interest. That might be a cool product you've been using, photos of you and your friends, or a link to an article.
When you're happy with your content, simply click tweet. All of your followers will now see your tweet on their newsfeeds and can view it on your profile.
Use your account to interact with the world
There are a number of ways to harness the community aspect of Twitter that go far beyond just posting updates to your account.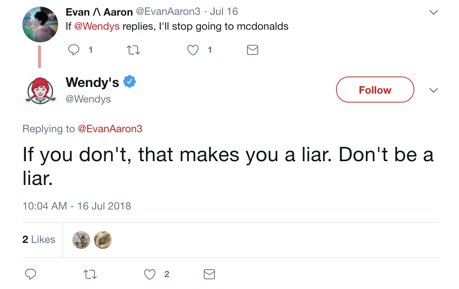 Users can reply to one another's tweets by clicking the speech bubble beneath the tweet. You can also mention them in a tweet by writing their usernames. Mentions and replies can be used to hold a conversation, respond to customer service requests, or even join in a bit of fun by responding to other brands. If you see a tweet you want to reply to, click the speech bubble beneath the tweet.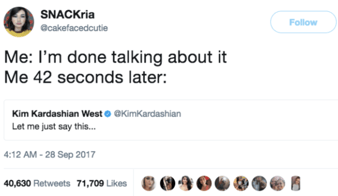 Next to the reply option, there is an icon of two arrows cycling around each other. This is the retweet option. Retweeting with allow you to share someone else's tweet verbatim on your profile. You can also quote a tweet, sharing the original content with your own added commentary included.
T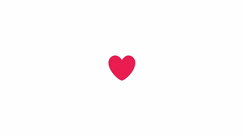 he heart icon directly to the right of the retweet is called a like. Likes are used to show, well, that you like something. A list of all the tweets you've liked are visible on your profile so liking a tweet can also be used to bookmark it for later.
The last option you'll see on a tweet takes the form of an envelope icon. This will open an option to directly message a tweet to another account. Direct messages, or DMs as they are commonly called, are private conversations not published to a profile or newsfeed. DM conversations can be great for responding to customer requests.
An important tool to use when tweeting is a hashtag. Hashtags are the "#" symbol followed by words or phrases. Hashtags are searchable ways to inform others what your tweet is about. They can, likewise, be used to see what others are tweeting about.
A great example of this is the popular hashtag #MondayMotivation. Users include the hashtag in their tweets and share motivational tweets with their followers. Hashtags are also useful for events. Amazon sees a lot of attention on #PrimeDay by advertising special sales to its prime users.
Another basic feature of your Twitter account is pinned Tweets. A pinned Tweet is a particular Tweet you're proud of or something you want more coverage for. Once you learn how to pin a Tweet you'll be on your way to maximizing your Twitter account.
Find your Twitter inspiration
By now, you're practically an expert on Twitter. If you're still looking for ideas while creating your account, check out some of the following screenshots to see examples of the difference between a business profile and a personal profile.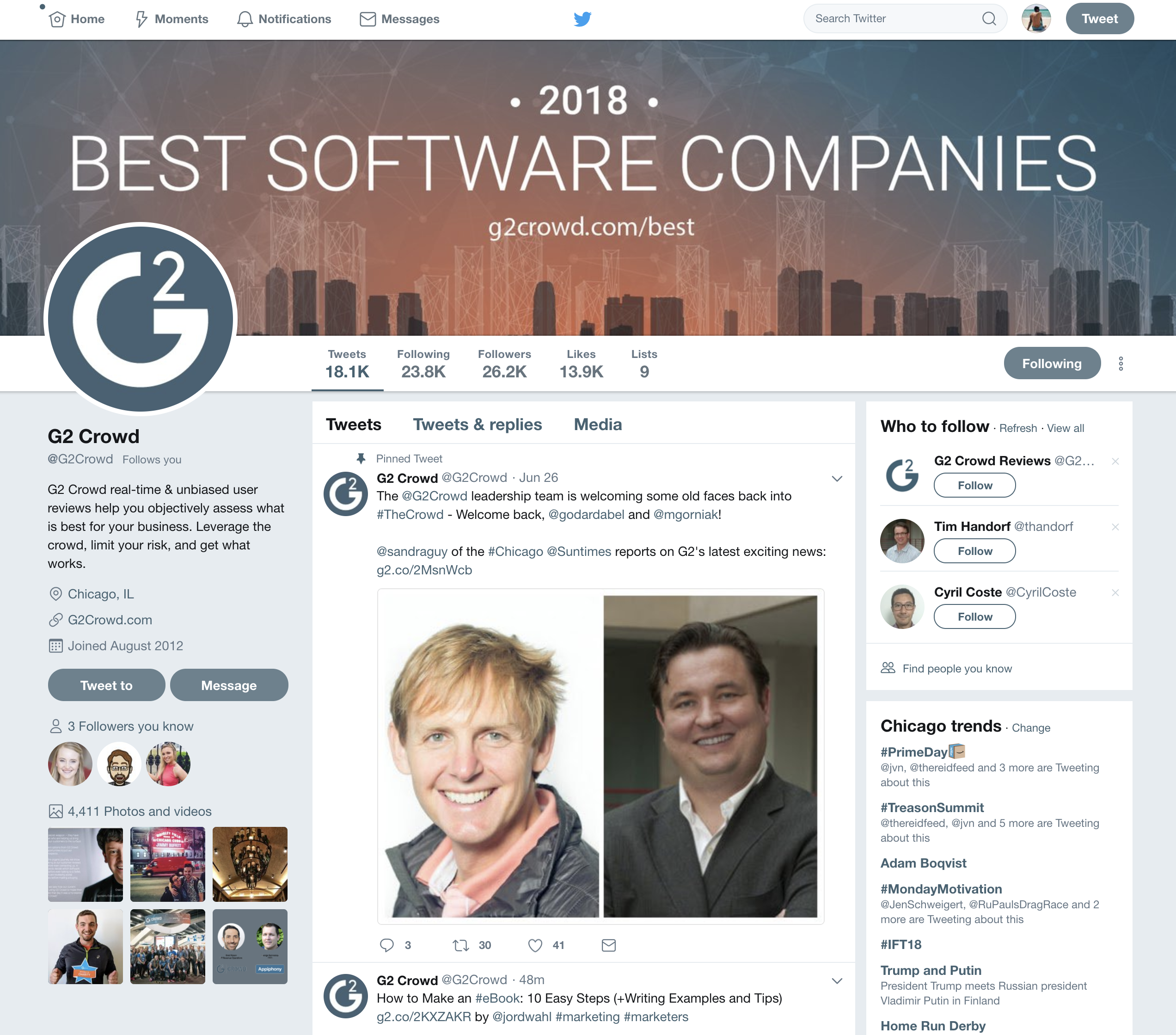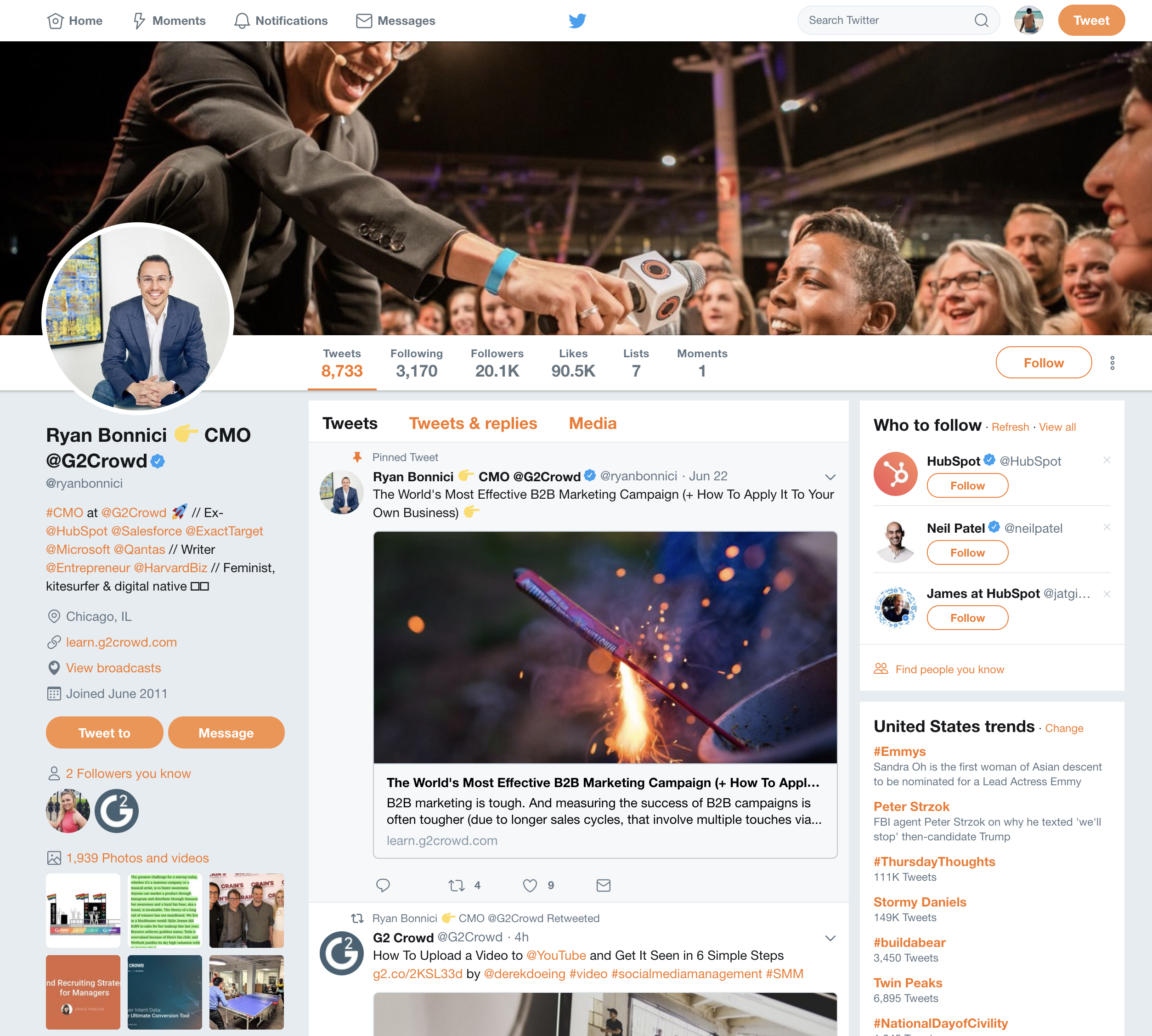 Some of the main differences you might see between these two accounts are the profile photo and header photo.
The G2 Crowd account has its logo serving as its profile photo and a graphic announcing the best software companies for 2018 in its header photo. Ryan Bonnici, G2 Crowd's Chief Marketing Officer (CMO), has a professional photo as his profile photo and a candid event photo for his header.
Another major difference is in the description. G2 Crowd's description clearly explains what the company does and who it benefits. Ryan's details his current role, some of his past roles, and other topics followers may see him tweet about.
The best way to ensure your profile is professional is to look at the profiles of influencers, competitors, and other industry leaders. See what works for others, but always keep your account unique to your brand or personality.
Enjoy your new Twitter account
You now have your account set up, your first tweet posted, and you're ready to dive into all Twitter has to offer. When considering your marketing goals and strategies, there are some simple Twitter rules going forward: be nice and have fun! The rest is up to you.
Don't want your tweets to be viewed by everyone? Learn how to make you Twitter account private here!