As a small or large-business owner, how many ways are you advertising your products and services to your customers?
You're most likely putting your brand out there in several different ways including a website, a newspaper ad, or even a commercial on television. While these are effective at showing off your company, it doesn't give people an opportunity to purchase what you're offering.
So, the question is, how many different ways are you selling your products or services? If you have a website where people can go to see what you have, you should also have a shop to add to your Facebook marketing strategy.
There are billions of people that surf through social media every single day. In order to get your name out to these potential clients from around the globe, you have to build them a place to go.
There are other e-commerce platforms and online marketplaces such as Shopify or Etsy that are made just for small businesses that want to sell their products. Facebook offers that same situation, but in a different way on a site that is also used for a plethora of different things.
How to Sell on Facebook Shop in 2018
Are you ready to get your shop set up so that you can give your followers a place to make a purchase? Here is a step-by-step guide that tells you exactly how to get it done.
Step 1: Add a New Section on Your Facebook Page
If you don't have a business Facebook page yet, you should. After you have that taken care of, you need to log into it and make sure that you have admin privileges. On your main page timeline, under your cover photo, look for the button that says "Add a Shop."
When you click on it, a pop-up window will come up asking if you want to add a section. Click on the "Add a Shop Section" button. You will be presented with a list of the merchant policies and terms. Review them and then agree and click on continue.
Step 2: Adding the Details of Your Shop
From this point, you will get another pop-up window asking for various kinds of information surrounding your business. There will be a spot to enter your business email first. Whatever email you want all of your Facebook shop requests to go to needs to be entered in there.
It is also recommended that you check the box that says to use that email for customer service inquiries. When people have questions surrounding your company, they will be sent directly to that email address.
On that same pop-up window near the bottom, there will be a place to enter your physical location. Put in all your current information including street number and name, city, state, and zip code.
Step 3: Setting Up Payment Configurations
In the middle of that same pop-up window, there will be a section that revolves around setting up your payment options. Currently, there are two options for Facebook shop users:
Pay through Facebook using PayPal or a Stripe Account

Customers get redirected to your website to make their payments
People generally want what is most convenient, so it is suggested that you use the pay on Facebook option, but essentially it's up to you what you want to do.
If you go with the Facebook payment option, you will be asked to provide further information about your business. If you already have a Stripe or PayPal account, you can link them directly to your Facebook Shop at this point.
For businesses that are physically located outside of the United States, you can choose different payment options like cash on delivery or using bank transfers.
For those that don't already have a Stripe account and would like one, you can request that from this pop-up. Stripe will send you an email with all the directions to get your account activated.
Through Facebook, you will also see step-by-step instructions on how to link your Stripe account and your Facebook shop account so that the payments can be processed successfully. Everything is pretty straightforward and easy to follow.
As of October 2018, the PayPal option was still being introduced into the Facebook Shop application, so you may or may not be given the option to use that quite yet. Be sure to research all payment gateway and processing tools to find the best platform for your online store.
Step 4: Shop Setup Completion
Business owners that have selected the Stripe method of payment will be sent back to their Facebook shop page after the setup has been completed. There will be an option to "Finish Setup" where any missing business information can be inserted depending on the type of company you have.
After those final details are filled in, Facebook will send your shop live and you will be able to start making sales to customers from around the globe if that's what you want to be able to do. You might be wondering how that's going to happen when your shop is empty, but that's the next step! Your page at this point if fully configured and you're ready to start collecting payments.
Step 5: Make Your Products Viewable to Customers
For some, this is the most exciting part of setting up a Facebook shop. You now get to share with the world what kinds of products you have to offer. On your business Facebook main page, there is a tab that says, "Shop." When you click on it, a window pops up giving you everything you need to advertise your products. Push on the "Add Product" tab to move forward through the process.
If you don't have clear images of your products yet, you need to take some photographs and store them on your computer. Then, you can upload them to the box where it says "Add Photos" just like you would when adding photos to any other web interface. After you choose the pictures you want to use, you click on the "Use Photos" option and they will be live for people to view.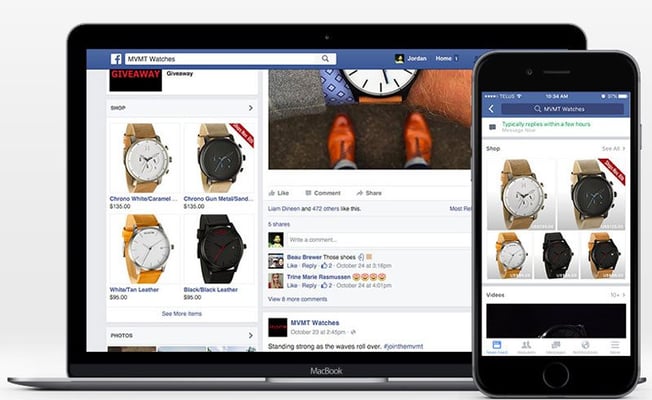 Just as important as the picture you use is the product description. You can cut and paste a product description that you've already created on your existing website, or you can come up with something completely new. This is where you have the chance of talking up what you have and really selling it to your potential customers. Tell them why your product is unique from others like it on the market and why it is something that they need.
The "Edit Variants" section is where you can go to put in all the different options for any specific product. For instance, if you are selling apparel, you can include the different sizes, colors, and styles that you have available. Other options that you will find in this section include:
Pricing

Shipping options

Product categories
Step 6: Organizing Your Products
After you have several of your products' images and details taken care of, you will be shown a list of them and given the option of modifying each if you need to. You will see a picture, the price, and the status as far as whether or not the public is able to see it.
If you want to, you can also input your inventory information in this area so that you can easily keep track of how many of each item you have in stock. When you run out, you can easily make the product invisible to the public so people aren't trying to buy something that you don't have.
It's a great way to avoid confusion and disappointment, keeping great customer service. If you have two different platforms for selling your products, you have to keep a record of items going out both places.
Final Step: Making the Sales
That's all there is to set up a Facebook shop and now you have the ability to sell anything that you would on any other e-commerce page right through your social media site. There are a lot of syncing features that Facebook doesn't have yet that business owners would like to have access to.
With the ever-changing options and technologies that are constantly being rolled out, it's likely that more of these will become available in the future. Leveraging other social channels such as selling on Instagram will also help you succeed with social selling.
However, in the meantime, if you have any questions about your shop or how it works you can go to the Shop Section Help Center. You can get information on everything from accessing the settings for your shop to creating different collections of your products.
Ready to take the next step with your Facebook Shop? Learn how
Facebook chatbots
can help your e-commerce store convert more abandoned shopping carts, or run a Facebook fundraiser.