You use Facebook to announce your engagement and share all the best shots from your vacation to Big Sur.
But did you know you can also use Facebook, and Facebook groups, to find and post jobs? Individuals can use Facebook to job search, while businesses can use it to track down and hire the best candidates for their open roles.
Ways to enhance your Facebook job post
Use images
Have intriguing copy
Include testimonials
Utilize visuals
In this article, we're going to walk through the steps of how to post a job on Facebook.
How to post a job on Facebook
Job sites such as Indeed, LinkedIn, and Monster are all obvious choices for where to list job openings. But why not meet potential employees where they're already at?
Posting job openings on Facebook is a great way to appeal to individuals who might not be actively job hunting. With the right copy and promotional settings, your listing could potentially pull a candidate right out of their current job and into your company!
Here are the various ways you can list your job openings on Facebook.
Use a promotional post
You're probably familiar with using Facebook ads to market your product or service, but did you know you can use it to share your job listings as well? There's no huge difference here except that instead of promoting the landing page to your product, you promote an ad to Facebook viewers prompting them to be taken to your open jobs or hiring page.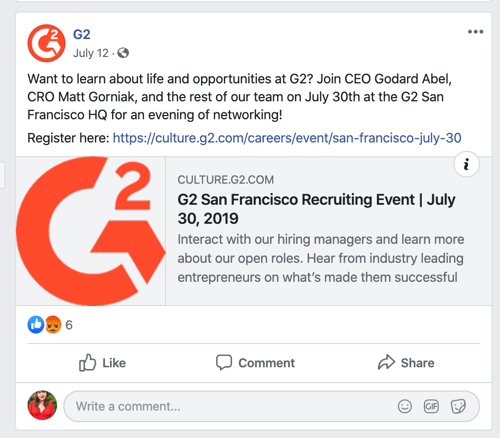 You can then post that boosted ad anywhere: your personal or business timeline, a Facebook group for professionals, or send it via private message to those you think might be interested.
Tip: Want to post your listing on other job boards as well? Check out the easiest-to-use.
One additional perk of using a boosted Facebook ad is that you can target people based on things such as location and interests. This ensures mostly people who are relevant to your company and/or the job listing are able to see the post.
Create a job listing on your business page
Facebook has recently rolled out the ability to put an entire "jobs" page on your business's profile. This means that whenever people come to your business page, they can search for "jobs" in the same tab they also go to for "photos," and "about."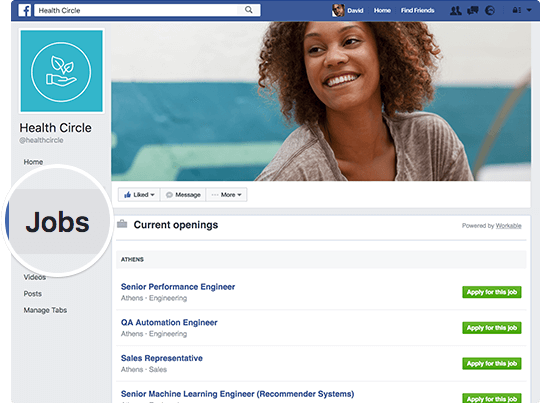 Image courtesy of Workable
As you can see in the image above, you can post which jobs are open and candidates can apply directly from your Facebook page.
In order to do this, you'll have to add the "jobs" page to your side menu in your admin settings. Then, you'll need to create the actual job listings. Make sure you keep them current so you don't have candidates applying to positions you filled a long time ago.
How to write a Facebook job listing
There are ways to present your job openings that are more likely to intrigue viewers and cause them to take an interest in your company. Let's talk about those strategies.
1. Using images
Pictures are more likely to draw the attention of people scrolling through Facebook. Whether it's a shot of your unique office space or a smiling image of the team, be sure to accompany your job posting with an image.
2. Intriguing copy
If you don't sound excited about the job, why should anyone else be interested? When posting a job listing on Facebook, be sure you write about your company in an engaging way. Why should people work for you? Answer that in the text!
3. Testimonials
If you have amazing quotes about what it's like to work at your organization, don't be afraid to use them in the posts. Hearing feedback from real employees is one thousand times better than reading a static post about benefits.
4. Visuals
A lot of companies have videos or pictures that could better portray how great a place your office is to work. If you've previously filmed a video asking your employees to talk about your company, no matter the original reason, think about using it in your Facebook listing!
Even more engaging than good copy is an interesting video that shows people what they could be getting into, instead of telling.
Post it up
Your organization has a lot to offer; you just need to be sure you're putting your best foot forward! Follow these tips and instructions for posting a job on Facebook and you're bound to have candidates knocking down your door.
Want more help finding perfect candidates? Check out our effective job descriptions checklist.