Pinning a tweet is an easy step which is often forgotten.
However, it is an important Twitter feature to utilize. By doing so, you ensure you are maximizing the opportunities Twitter provides.
Thankfully, this is a simple process you can do in just one minute.
The basic steps are as follows:
How to pin a tweet
Open your account on Twitter.
Scroll to the tweet you would like to pin.
Click on the "more" symbol; found in the upper-right corner of the tweet.
A drop-down menu will appear. Click "Pin to your profile page."
The tweet will now stay at the top of your Twitter profile.
What is a pinned tweet?
A pin on Twitter is the very first tweet that appears on your profile.
Imagine you have a print-out of something you want to see every day. It could be a picture of your family, a quote that keeps you inspired, or a goal you are determined to achieve.
Now imagine that next to your desk you have a bulletin board. What do you do? You pin that print-out to the bulletin board, of course. That act of securing the picture, quote, or goal signifies its place of importance.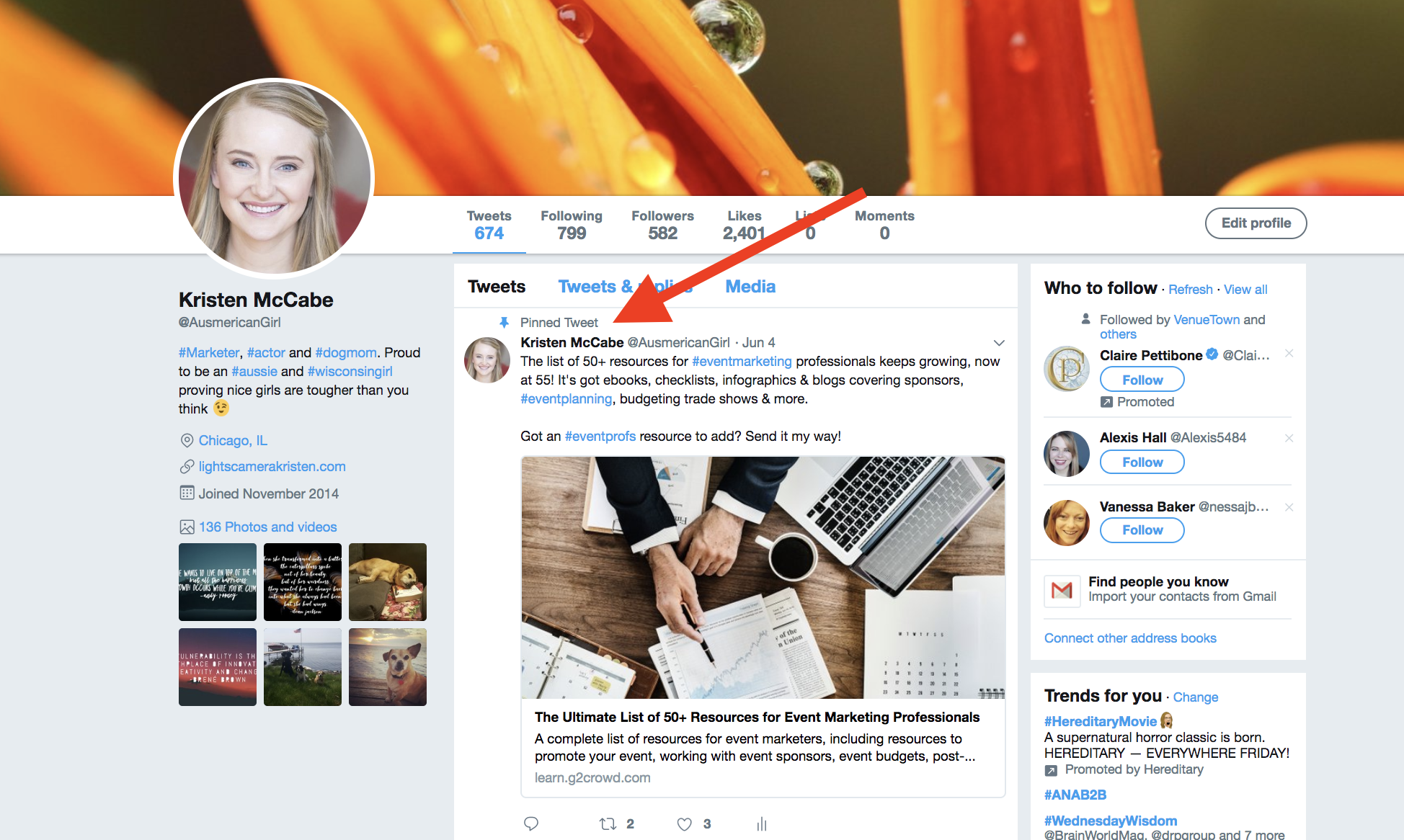 Pinning a tweet to your profile is the same thing. Think of your Twitter profile as the personal billboard you share with the world. Pinning that tweet secures it front and center – those who visit your page can't miss it!
How to pin a tweet in five steps
You can pin a tweet when using Twitter on your phone, laptop, or tablet. Here are each of the five steps broken down with visuals.
Step One
Open your account on Twitter. (If you're not logged in, hopefully you remember your password!)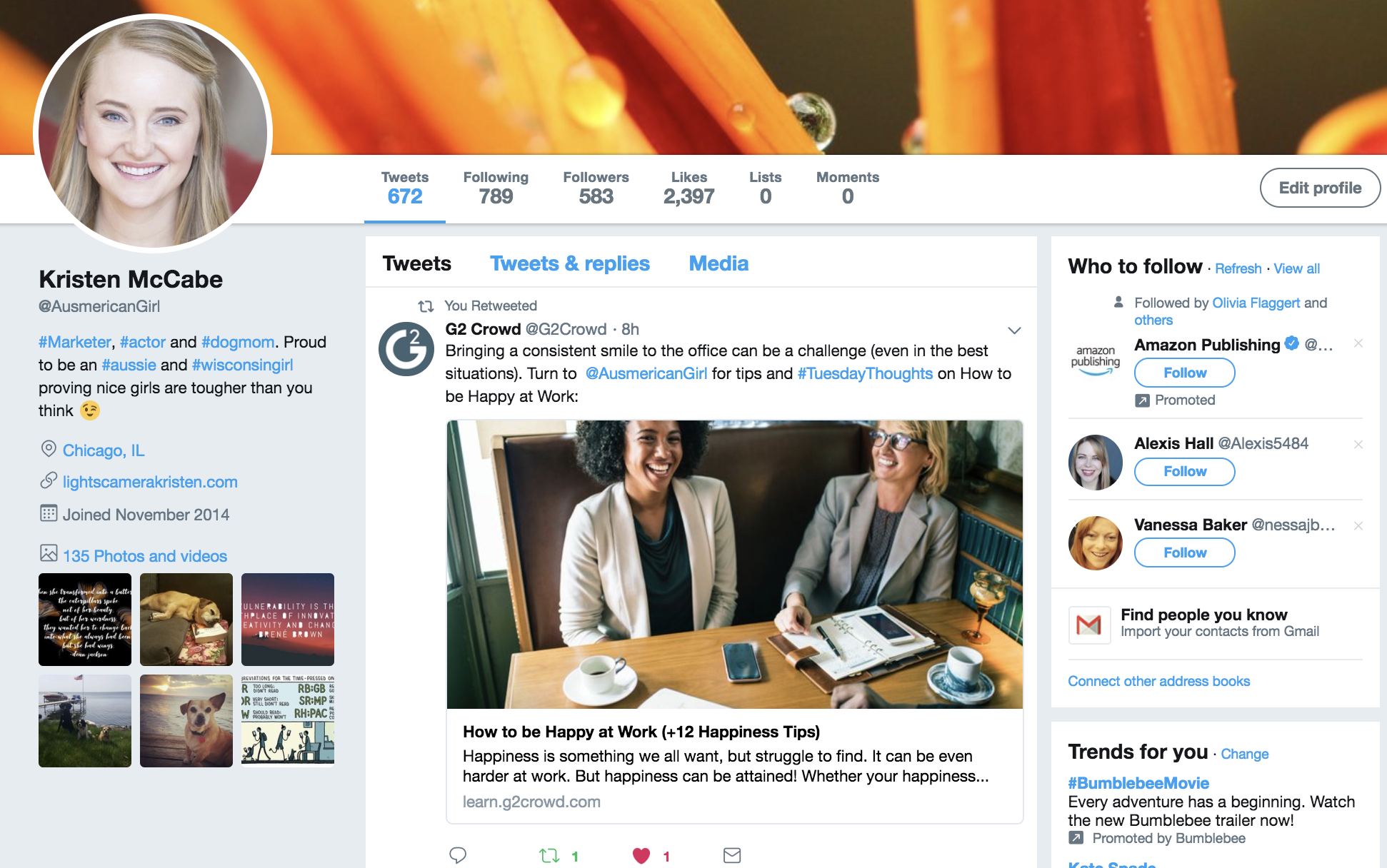 Step Two
Scroll down to the tweet you would like to pin.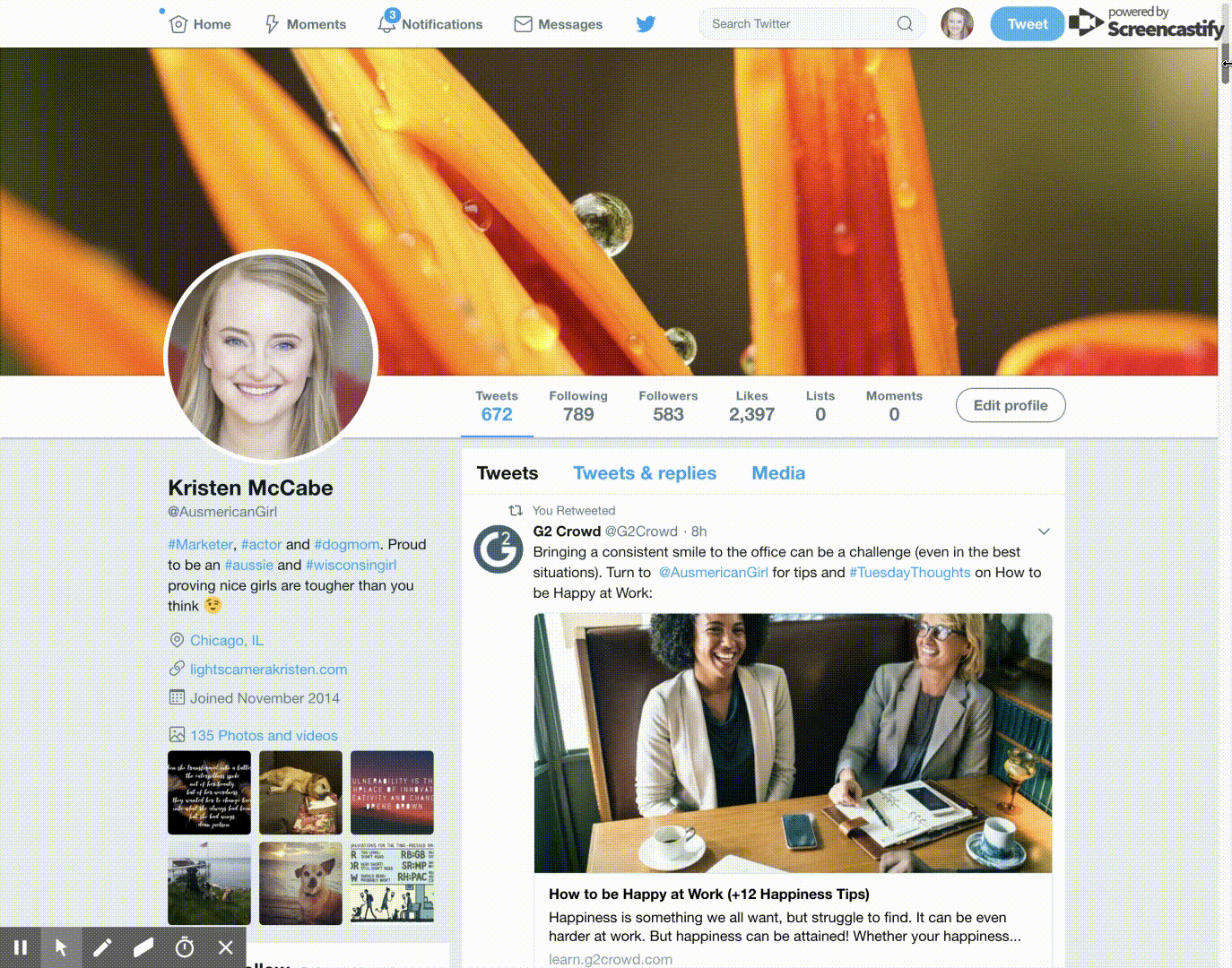 Step Three
Click on "more" symbol, located in the upper righthand corner of the tweet.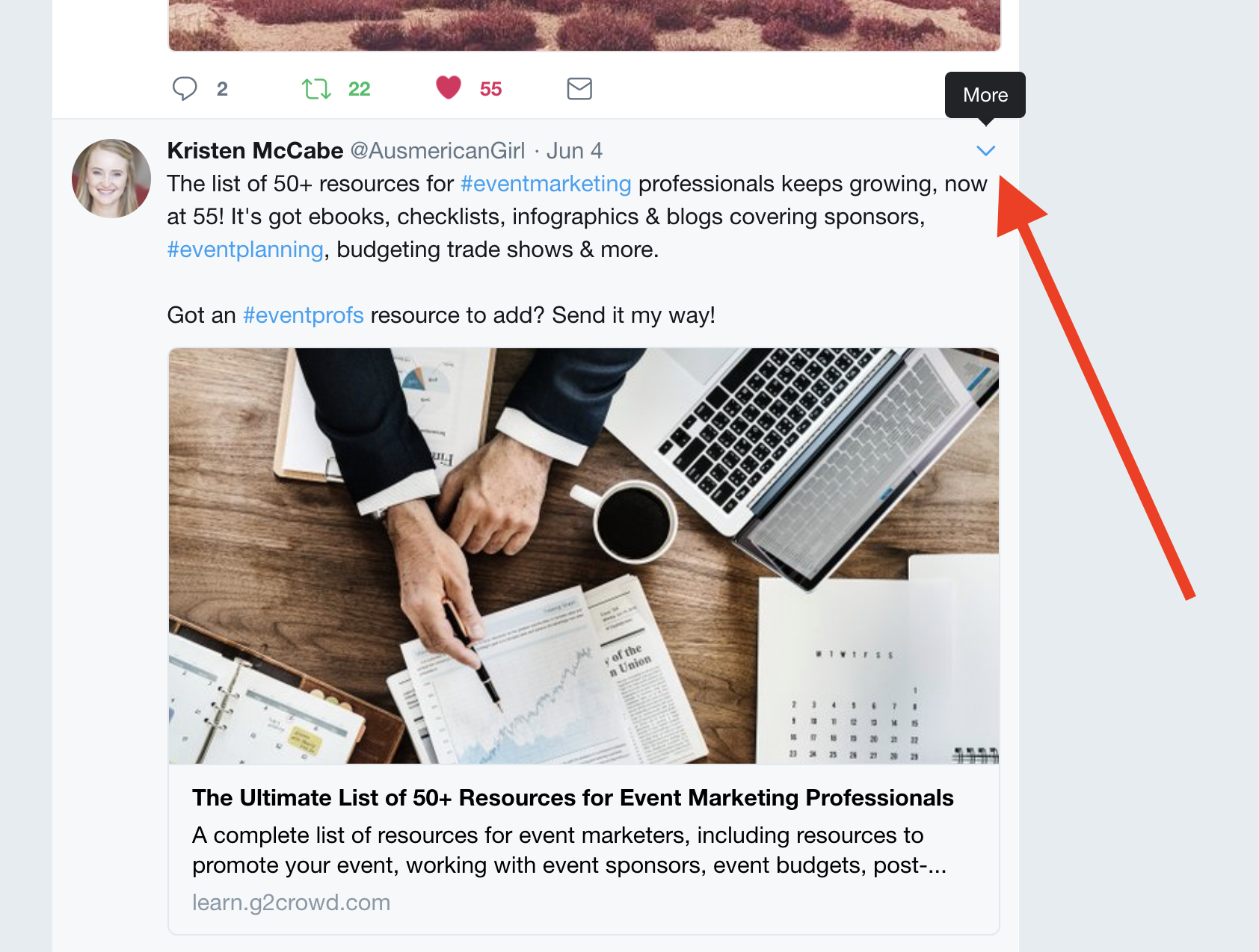 Step Four
A drop-down menu will appear. Click "Pin to your profile page."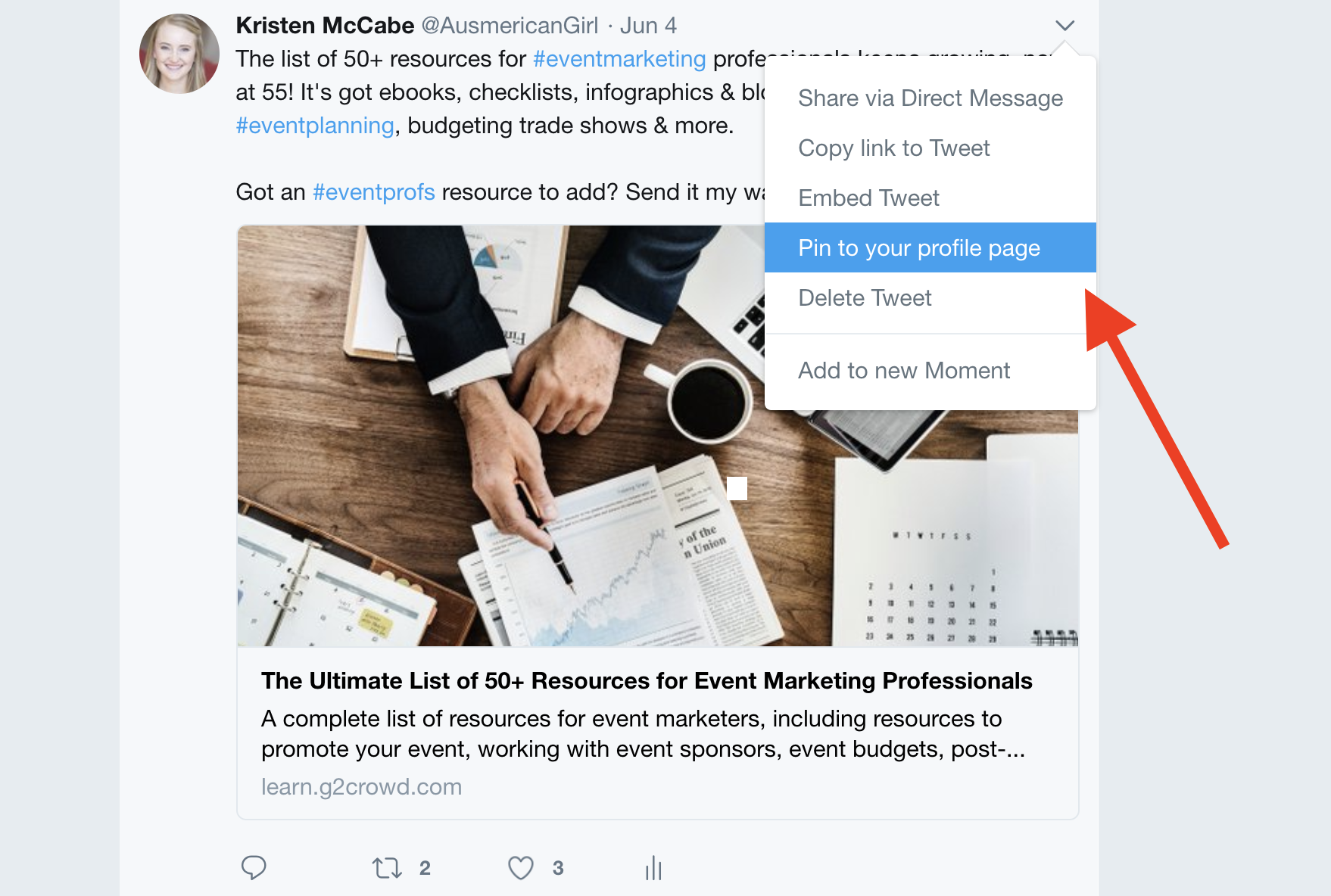 After you click the button, a pop-up box will appear, asking if you are sure you'd like to pin the tweet. Click the blue button which says "pin."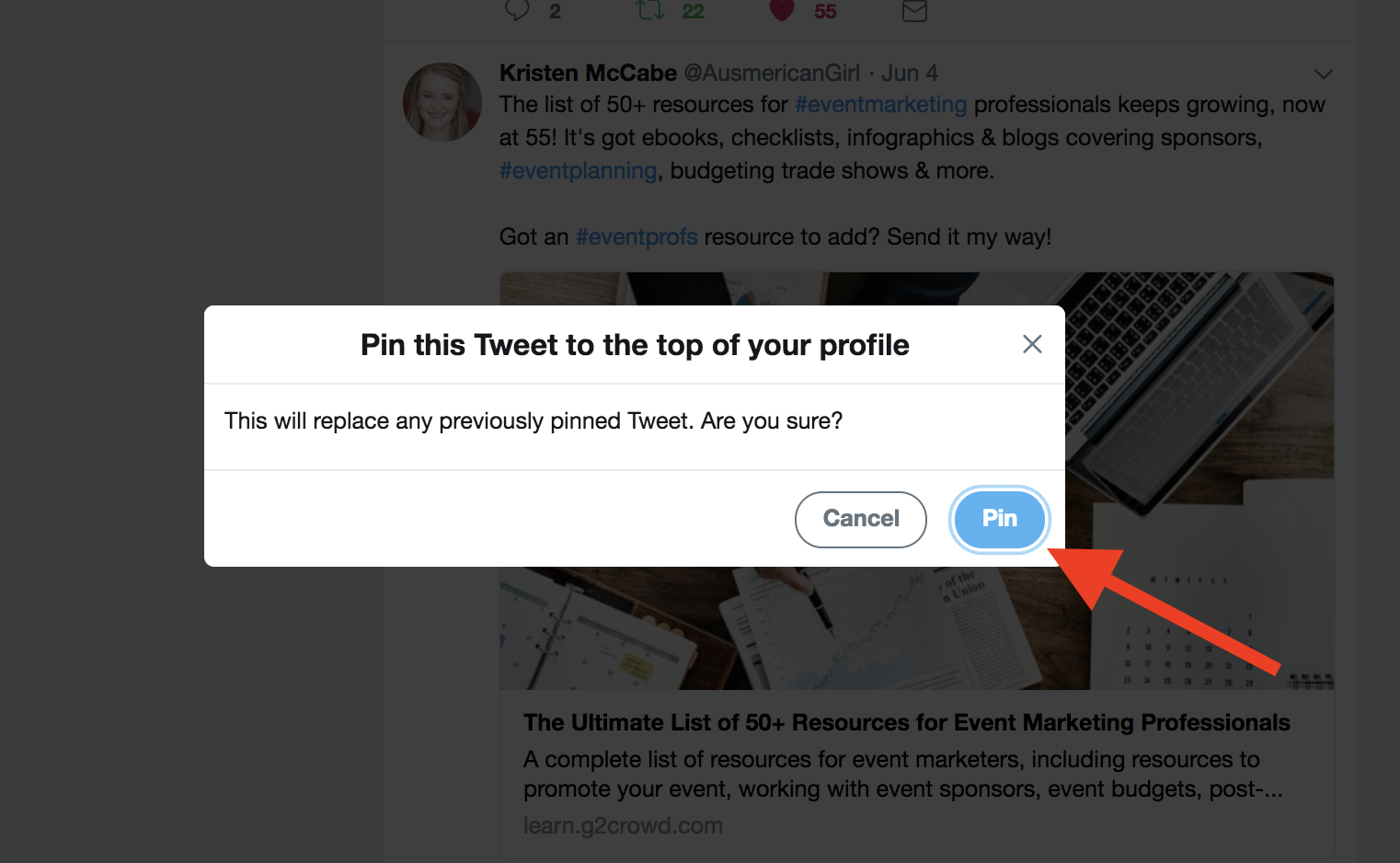 Step Five
The selected tweet has now been pinned to the top of your Twitter feed. This will be confirmed by a box that appears at the top of the page.
To view your updated profile, click the blue button that says "view now."

Congratulations - you have now pinned your first tweet!
Here is a video recapping the entire process: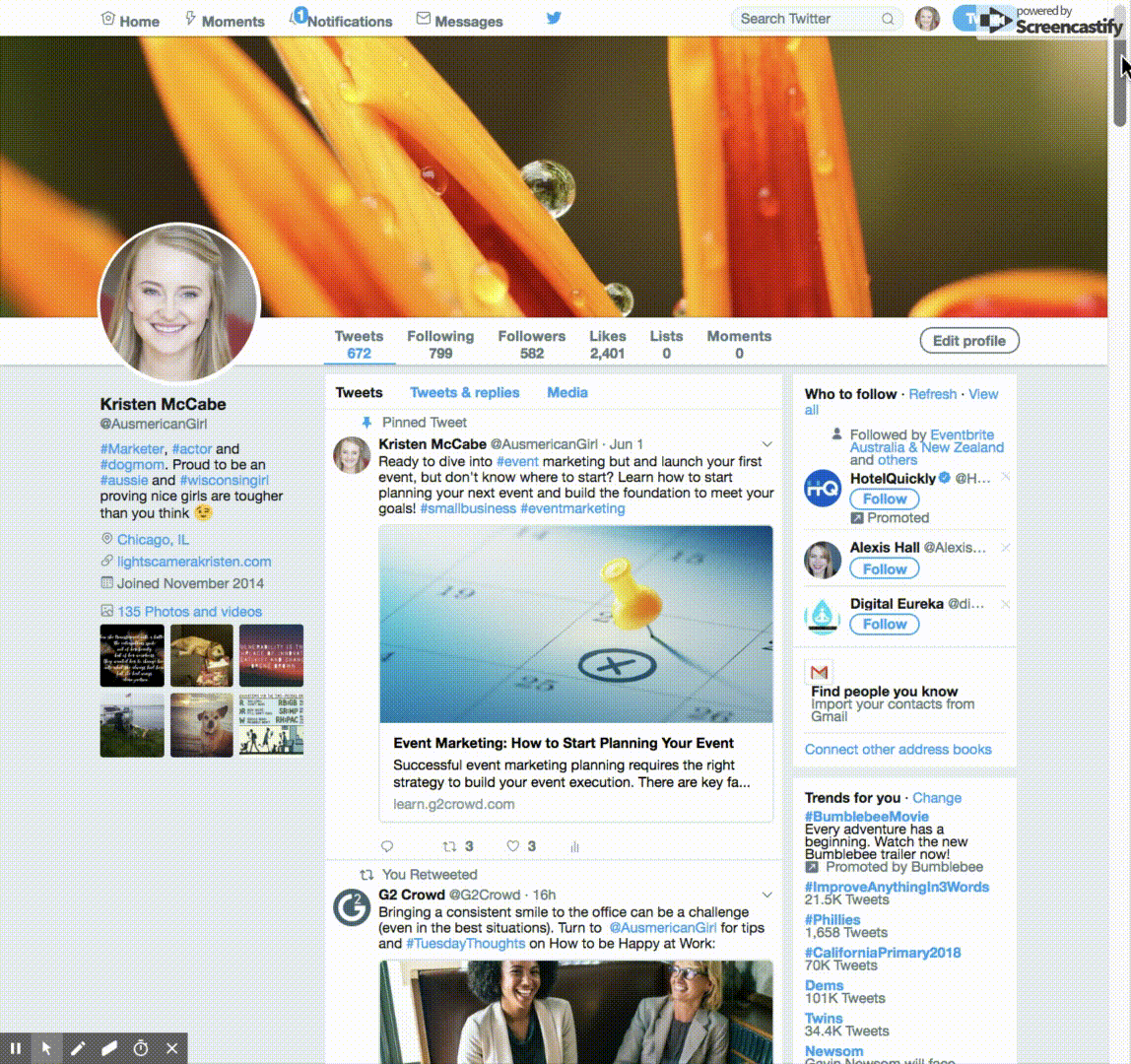 Pinned tweet best practices
Now that you know how to pin a tweet, let's look at why you should do so, and which content to pin.
What is the the benefit of a pinned tweet?
Pinning a tweet ensures your most significant content is not missed.
Most Twitter profiles have a substantial number of tweets. Think how easy it is to retweet – it literally takes one second. The number of posts on your profile can add up quickly.
Consider an influencer like Andy Crestodina. Author, co-founder and strategic director of Orbit Media Studios, he has almost 27,000 followers, and has tweeted 21,000 times.
With that many posts, a pinned tweet is the best way to ensure the most important tweet is seen by the followers who visit Andy's profile.
What should I pin to my Twitter profile?
Choose a tweet to pin that:
Best represents the brand of yourself or your company
Serves your goals
Perhaps you have a specific blog post you want to drive traffic to – this is an ideal tweet to pin. Or, you could have an upcoming event. In that case, assist event attendance goals by pinning a tweet that includes a link to the event registration.
Can I pin someone else's tweet to my Twitter profile?
If you are simply retweeting someone else's tweet, you cannot pin it to your Twitter profile. The option to "pin to your profile page" will not be in the drop-down menu.
However, adding a comment gives you the ability to pin a retweet: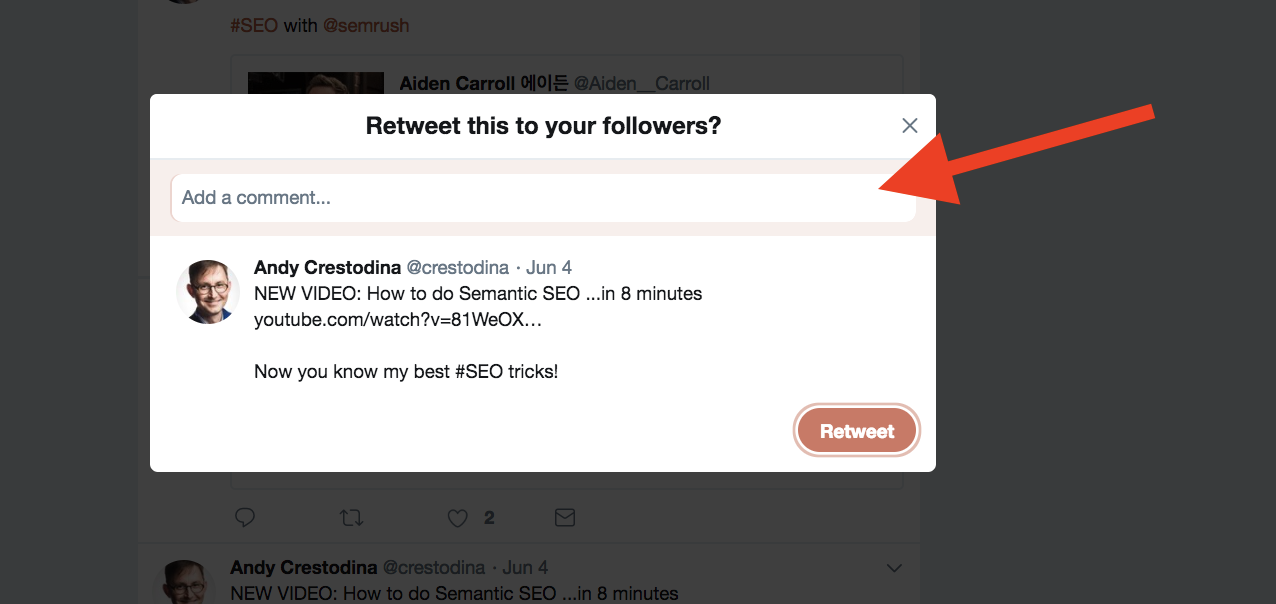 Once you have added a comment to the post you are retweeting, you can then follow the same steps and pin the tweet.
Pinning a tweet is an effective tool to promote your most important content. As your priorities change, you can continually update which tweet you pin to the top of your profile.
While growing your presence on Twitter, experiment with the tweets you pin. Try pinning a tweet for two weeks, and measure likes, retweets, and increased followers to your profile. Then, test a two-week period with a different tweet.
You can experiment with a variety of elements in your pinned tweets, including the text you use, hashtags, images, videos, or even gifs.
If you're just starting out on Twitter, it can take time to increase your followers. Knowing how to pin a tweet is a simple step to ensuring you maximize your social media presence.
Learn more about optimizing your Twitter and other social networks by exploring social media analytics and social media management tools.
Tell your Twitter story: Write a review and make your voice heard. Share your likes and dislikes, and give feedback your peers are sure to appreciate.