Eye-catching images can help make PowerPoint presentations engaging, but there's a fine line between what works and what's distracting to your audience.
Sometimes the difference between a distraction and a helpful visual is just a little bit of transparency. In this guide, you'll learn how to make a picture transparent in PowerPoint, and how to make a color transparent as well.
How to make a picture transparent in PowerPoint
PowerPoint has several built-in image editing options that allow users to easily change the look of the pictures within their slides. You can adjust the transparency of an entire picture or just one color within that picture (an easy way to make a transparent background)—whichever suits your needs.
How to make a picture background transparent in PowerPoint
Select the image
Open "Picture Format"
Click on "Color"
Click on "Set Transparent Color"
Click on the background color to make it transparent
If you're looking to make just one color transparent, jump ahead. Keep reading to learn how to make a whole picture transparent.
How to make a whole picture transparent in PowerPoint
Picture transparency is a convenient feature for PowerPoint users who want to quickly adjust the boldness of an image. Follow these steps to learn how to use it.
1. Select the image
If you haven't added an image to your presentation yet, there are two ways to do so. Either drag and drop a picture into one of your slides or add one by clicking on "Pictures," then selecting an image from the photo browser or adding a file from your computer.
Once you've done that, click on the picture.
2. Open Picture Format
When you click on the picture you want to make transparent, a "Picture Format" menu option will appear at the top of your window. Click on it to open the picture tools.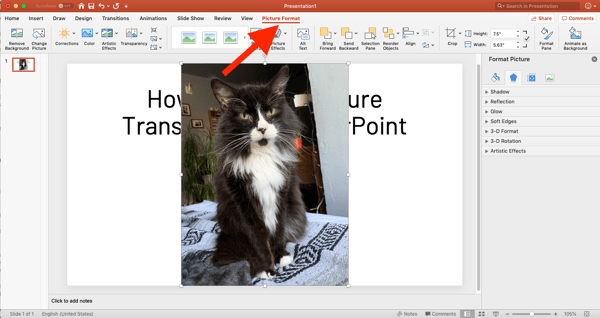 3. Click on transparency
Under the Picture Format menu, click on transparency to open the transparency options.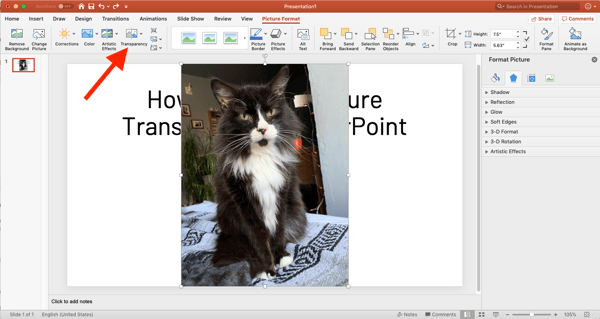 4. Choose a preset transparency or adjust to your liking
You may simply click on one of the presets from the transparency menu to automatically set the transparency of the picture to one of those options.

If you'd like to experiment with other transparency levels, click on "Picture Transparency Options." This will open a "Format Picture" menu on the right from which you can use a slider fine tune your picture's transparency.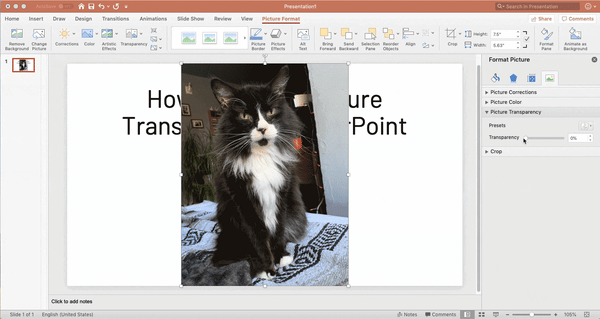 Tip: If you have an old version of PowerPoint that does not allow you to adjust a picture's transparency, you can still adjust the transparency of a picture using this method: insert a shape, click the drop-down arrow next to "shape fill," add your image as a fill, then adjust the transparency of the shape.
How to make a color transparent in PowerPoint
PowerPoint also allows users to choose a single color to make transparent. This is an easy way to create a transparent background in a simple graphic. Follow the first two steps in the process outlined above, then do this:
1. Click on Color
Select "Color" from the Picture Format menu options at the top of the window.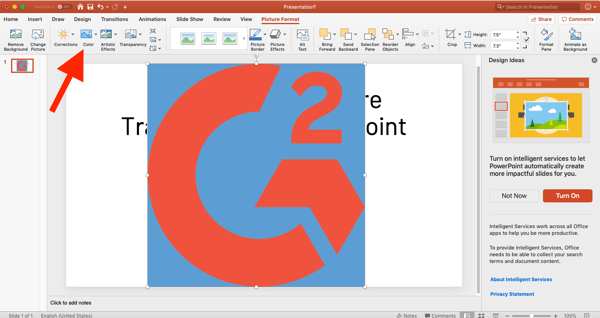 2. Click on Set Transparent Color
From the Color menu, click on "Set Transparent Color."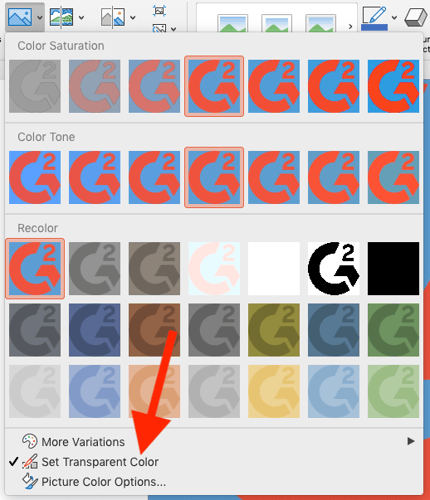 3. Click on the color you want to be transparent
Once you click on the color you want to be transparent, any part of the picture that is the color you selected will disappear.
Tip: You can only use this feature effectively with pictures that have clear-cut color lines. An image like a photograph that has several different tones and colors will not turn out well. Keep in mind, you may only choose one color per image.
You can do it in PowerPoint
Transparency is just the tip of the iceberg when it comes to image editing within PowerPoint, although in the end, the program is meant for presenting information, not editing images. If you're having trouble doing what you want to your pictures within PowerPoint, use photo editing software to alter your images before putting them into your presentation.