There is no denying that designing, creating, and preparing a new product is a massive undertaking.
With so many intricate details in play like a perfect branding and messaging strategy, target market awareness, launch party execution, and of course the product itself, it's easy to feel overwhelmed and a bit unsure whether you're doing everything right.
But, if you're confident in your product and you're ready to launch it to the world, that means the most difficult part is over. You have created a perfect product, and it's about time people know about it.
How to launch a product
Your actions leading up to launch day are almost as important as what comes after. Although you should have a perfect product marketing strategy in place by now, let's focus on all of the elements that are crucial for a successful strategy and longevity in the market.
What good are your efforts if nobody is excited about it, or worse, doesn't even know about it? Garnering the excitement and building anticipation is hard to do. On one hand, you're not ready to share all of the details of your product just yet, but on the other hand, you want your future customers to know just enough to be eagerly awaiting launch day so they can buy it.Hype up your target market
On top of that, you have to keep the momentum of the excitement they have going. As excited as they may be during the months leading up to the big day, come a few weeks before, many people could have completely lost interest, which would be devastating for you and your team. This type of intimidating task takes expert advice, and who better to take advice from than the industry professionals who have successfully accomplished this task on more than one occasion?
From building valuable relationships with your future customers and allowing them to make important, invested decisions, to offering free products and creating awesome contests and giveaways, there are plenty of creative ideas that you can take inspiration from for your new product introduction while learning the tricks of the trade from our ten industry experts.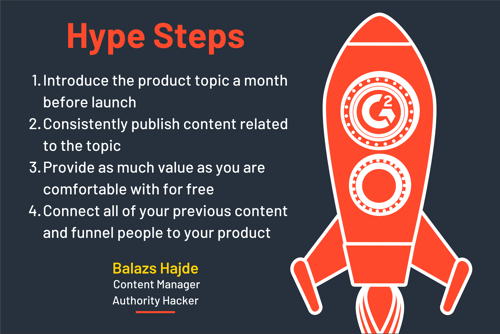 Follow a checklist and check it twice
Not that you've built up the proper amount of hype and you know your future customers can't wait to get their hands on your product, it's time to button up any last minute tasks and make sure everything is completed and accounted for.
The big day is approaching quickly, and tiny details are sure to have been forgotten. You'll want to have a pre-launch strategy and checklist in place so you can go over it once, maybe even twice before. Your list should include everything from assignments and responsibilities of your team members to ensuring you have a stamp of approval from your legal team.
If you follow everything on your product launch checklist, you will feel confident that you have all your bases covered, and your launch day will be executed exactly as planned.
Throw an epic launch party
It's now time for the fun stuff. Your hard work is finally paying off and you can celebrate accordingly. A product launch party is the best way to unveil your product to the people who are invested in it most and connect with them. Invite your future customers, stakeholders, and investors; these are the people who will be the most excited to celebrate with you and your team.
On top of curating the perfect guest list, there are so many other important elements that go into throwing an amazing launch party. Forget about the little details for a minute, and focus on the big themes that will make your party one to be talked about for weeks to come. Everything from the theme of the party to the gift you hand out at the end of the night as a 'thank you for coming' need to be thought about and executed properly. Use these fifteen best tips and real-life examples from newly launched companies to help your launch party go off without a hitch!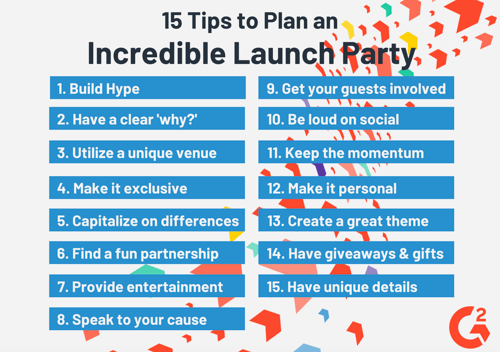 Ready for launch
Now that you know how to build proper hype and excitement, checked off every little detail, and have ideas for throwing an incredible launch party, you're officially ready to launch your product. It's a complicated endeavor, but feel confident knowing you have all the right tools to make it spectacular!
Are you looking for additional help with your product launch? Take a look at the best event management software to help you plan and execute your big day flawlessly.