Studies show that bosses like a funny employee.
Respectful, dependable, loyal? Sure, those are all great attributes. But knowing when to sneak in a good laugh is an underrated professional skill. It wins over your colleagues, and can liven up otherwise stale meetings and conversations.

Proof my boss thinks I'm funny
One easy way to make your colleagues laugh is by uploading a work-appropriate, relevant GIF into your next PowerPoint presentation!
Inserting a GIF into a PowerPoint:
Save the GIF to your computer
Open the PowerPoint to desired slide, click "Insert" > "Image" > "Upload From Computer"
Select the GIF from your files
Start the PowerPoint to animate the GIF
In this article, we'll cover how to insert a GIF into your PowerPoint presentation and ensure it formats properly for your stand-up comedy debut.
How to insert a GIF into a PowerPoint
Even if you're doing a presentation on the most uninteresting topic in the world, you can liven it up with a little GIF action.
Check out more presentation software with the link below.
Because I don't want to insult any of your professions, I'll take a dig at my own: content marketing. Follow the steps below to imitate our practice of using GIFs to lighten the responsibility of a full-team presentation.
1. Save the GIF
The first step is to ensure whatever GIF you're after is saved to your computer. One of the most popular GIF sites is GIPHY, if you need a good place to start.
2. Select "insert," "image," and "upload from computer"
Next, open the presentation and navigate to the slide where you'd like the GIF to go. Select "insert" at the top of the screen. Hover over "image" and opt to "upload from computer."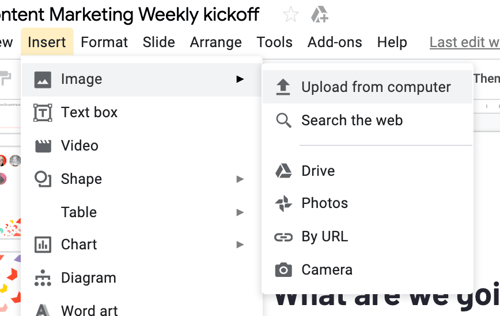 3. Select the GIF
Select the desired GIF, which you had previously saved to your computer. It will then insert into the slide, and you can opt to relocate it on the screen.
4. Start slideshow to animate
When the GIF first appears on your screen, it might show up as a static, unmoving image. To change this, opt to "start slideshow" from the current slide.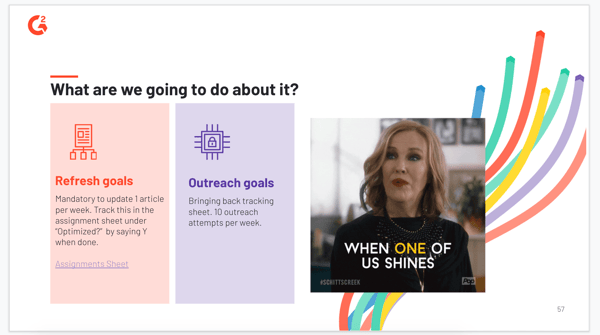 As you can see, some members of the content team use GIFs from their favorite TV show to encourage their colleagues in reaching lofty goals.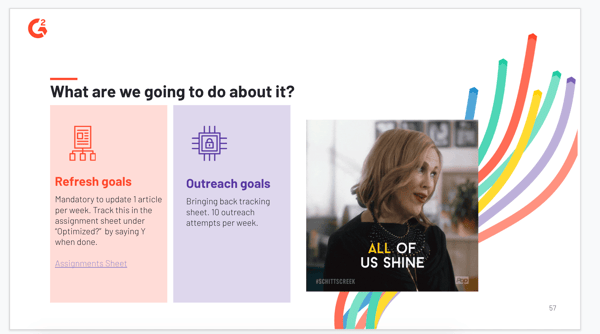 Additionally, instead of saving a GIF to your computer, you could opt to "search the web." Keep in mind that this may result in more limited options. GIF-specific websites are better wired to help you find what you're looking for.
You've got the power
See? It's an easy-enough process that isn't much different from adding a traditional image to your presentation. So add something fun to your Monday-morning meeting and show your colleagues you're #relatable.
And while this should go without saying, I'll say it anyway: only include GIFs if the subject material calls for it. There's no need to spruce up a presentation about the need for company-wide layoffs, ya know? Consider the message of your PowerPoint, and whether it's appropriate for you to include these silly visuals.
Want to do more with your presentation? Learn how to embed a YouTube video in PowerPoint.