I love seeing celebrities on social media.
It makes me feel closer to them, this genre of personal social media marketing. It's like we're friends and they want to keep me updated on what their kids wore on the first day of school.
How to get verified on Twitter in 2020
Have a profile photo
Have a cover photo
Use your real, official full name on your profile
Include a website that you have either for yourself, your business, your publication, etc.
Confirmed email address and phone number listed
Have a public account
Fill out the verification form and providing necessary identification documents, such as a Passport or other government-issued identification documents
Some of my favorite celebrities to follow are Mindy Kaling, Chance the Rapper, and Chrissy Teigen. They're fairly open about their lives, share the issues that ignite their passions, and seem like they enjoy engaging with fans.
TIP:

Read up on Twitter ads to learn how this platform is a marketplace.
Before social media platforms began verifying accounts, we kind of just had to guess whether a profile really belonged to a celebrity. I mean, just look at all of these fake Mindy Kalings on Instagram.
To help with this imposter culture, social media platforms began verifying Twitter and Instagram accounts to help us determine if we were following the official celebrity. Which was good, because if I'm reading a sappy post from Kristen Bell to her husband Dax Shepard, I want to make sure I'm crying because of the real Kristen Bell.
What is Twitter verification?
A verified Twitter account is most easily identifiable by the little blue checkmark alongside a celebrity, politician, journalist, or other official individual's name.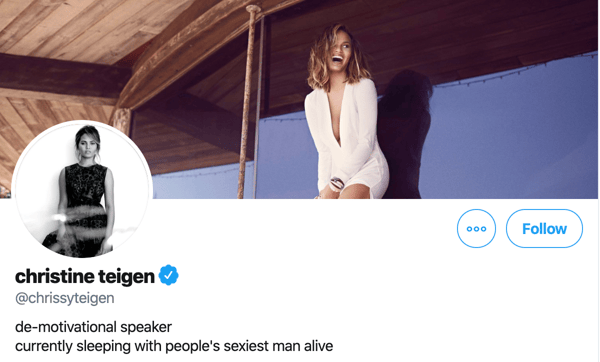 A verification checkmark is like having Twitter vouch for your identity. This does not mean it agrees with or endorses what you say. It just means Twitter has approved who you are.
According to the social media platform, "The blue verified badge on Twitter lets people know that an account of public interest is authentic. The badge appears next to the name on an account's profile and next to the account name in search results."
The verification badge helps prevent impersonation and confusion as to who actually said what, making it a necessity for big brands leveraging Twitter marketing.
With more than 335 million active users on Twitter, you can bet many of those profiles were created to imitate, satirize, or serve as fan pages for people of public interest. The verified badge confirms that all tweets coming from that profile are credible and can be reasonably linked to the main user or brand, unless otherwise stated.
Why do we need Twitter verification?
For some, Twitter is a place to genuinely share their thoughts with a network of friends, family, or acquaintances.
For others, it's a sort of online playground. Some users create fake social media profiles, joke profiles, fan profiles, and more to either pay homage to or make a mockery of the figures they love, or love to hate.
Take, for example, Elon Musk. The founder of SpaceX and Tesla Motors endures many imitation accounts on Twitter. So many, in fact, that account users who attempt to use his name on their profiles are often immediately locked out.
(Imagine having a name so powerful even Twitter thinks twice.)
One such impersonator was an account by the title of French Elon Musque, which satirized the entrepreneur's persona by using exaggerated and stereotyped French verbiage and implying the real Musk is somewhat detached from reality.
French Elon Musque amassed an impressive number of followers, reaching up to 38,000 following its first tweet.
One comedian took an Italian take on Elon Musk and ended up getting his verified checkmark removed.
Purportedly, the reason for cracking down so hard on these imitation accounts is to reduce the possibility of cryptocurrency scams. As mentioned in other articles, social media applications are attempting to increase the safety of their users' information.
Reasons Twitter can revoke verification
While this particular instance may seem silly, Twitter warns users in advance that there are instances wherein verification can be removed. Such instances are:
Intentionally misleading people on Twitter by changing one's display name or bio.
Promoting hate and/or violence against, or directly attacking or threatening others on the basis of race, ethnicity, national origin, sexual orientation, gender, gender identity, religious affiliation, age, disability, or disease. And, likewise, supporting organizations or individuals that promote the above.
Inciting or engaging in harassment of others.
Violence and dangerous behavior.
Directly or indirectly threatening or encouraging any form of physical violence against an individual or any group of people, including threatening or promoting terrorism.
Violent, gruesome, shocking, or disturbing imagery.
Self-harm or suicide.
Engaging in activity on Twitter that violates the Twitter Rules.
The opinions on whether Twitter should be able to block such parody accounts are mixed, but one thing is certain: fake accounts exist, and the "verified" checkmark helps us separate the real deals from the wannabes.
So, who can get Twitter verified?
The process of getting approved for verification is somewhat subjective. You know those sweepstakes commercials with the rapid-moving dialogue at the end saying, "Many will enter, few will win?" Think of that as a good way to describe it.
Twitter is ultimately in charge of accepting or rejecting requests for verification.
According to the verification FAQ, "An account may be verified if it is determined to be an account of public interest. Typically, this includes accounts maintained by users in music, acting, fashion, government, politics, religion, journalism, media, sports, business, and other key interest areas. A verified badge does not imply an endorsement by Twitter."
In short, not everyone has to be an A-list celebrity to get verified. Verification benefits public figures, such as journalists and politicians, because it tells users who they can trust in times of crisis.
How to verify your Twitter account
The actual process of getting verified on Twitter is much like an application for any sort of clearance.
First, you have to have the right information accurately listed on your profile. This includes:
Having a profile photo
Having a cover photo
Using your real, government name on your profile
Including a website that you have either for yourself, your business, your publication, etc.
Having a confirmed email address and phone number listed
Having a public account
Filling out the verification form and providing necessary identification documents, such as a Passport or other government-issued identification documents
Twitter will also ask for you to make your case for verification. You should be prepared to provide a reason why you think you deserve this level of clearance. You can also share links to websites that might help confirm your identity or your status as a public figure.
At the time of writing this, Twitter is not currently accepting applications for verification. Those interested should check back periodically to see if the floodgates have reopened.
How to get business verified on Twitter
Earlier, we said verifications are allotted to anyone of public interest. This applies to anything, as well. That's right, brands can also get verified on Twitter.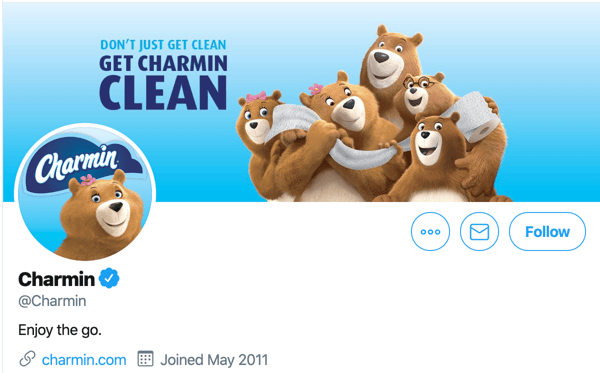 Why would a brand need to be verified? Surprisingly, for a lot of the same reasons a human might want to be. Reputation is everything, and brands spend a lot of time working on their reputations, as well as how they communicate with the public.
If false profiles are impersonating your brand, it's possible they could send out a message you did not approve.
For example, do you remember when kids were becoming fatally ill due to the consumption of Tide Pods? For the laundry detergent brand, this situation was no joke. Juveniles were misusing its product and seeing dire consequences.
However, Twitter meme culture thought the circumstance was all a big razz, and began photoshopping tweets from the company implying Tide thought the situation was humorous.
While this example is extreme, it proves the point for verifications. They ensure your brand is protected by impersonators and provide that only authorized social media specialists can tweet from the verified account.
Ultimately, verifying a business account does not differ much from verifying a personal account. Instead of having your profile pertain to an individual, it should pertain to a company.
Things you must have to get verified
You have to ensure a lot of the same information as mentioned above is clearly outlined on the account. As a reminder, that information consists of:
Having a profile photo
Having a cover photo
Having your bio completely filled out
Using your brand name on your profile
Including a website
Having a confirmed email address and phone number listed as your information (Sources recommend including your business email as opposed to your personal email, as a business email might help your case for verification.)
Having a public account
Filling out the verification form and providing necessary identification documents, such as a Passport or other government-issued identification documents
After you've filled out the documentation, you may also have to make your case for verification. Twitter will want to know why you deserve it over other brands or organizations. One way to prove your relevance is to provide links to recent media coverage of your company. For example, if your CEO is in the news for good reason, that could be worth sharing.
Once you have completed all of the steps, you simply have to wait for approval or denial.
Twitter Election Labels
The blue checkmark is, thus far, Twitter's only determining factor of celebrity status. Recently, however, they've rolled out a different type of verification created to benefit both politicians and voters in US elections.
The Twitter Election Label is also a symbol that appears on profiles and next to the tweets of those who are approved for it. It's a symbol that resembles the US Capitol Building and is relevant for politicians running for state governor, the US Senate, and the US House of Representatives.
This verification is different from the blue checkmark because it's specifically created for politicians. It affirms a user's identity, affirms that they are running for a certain position, and allows users to trust that any tweets from that account are verified as that politician's own.
The election label is also unique in that it is temporary. Candidates are only candidates until the election is over, at which time they either move into that position, or move on with their lives. The blue verified checkmark is an indefinite appointment, while the election label will come and go as election seasons do.
Those who are looking to get a Twitter election label on their profile need to follow a specific set of instructions that includes having a Ballotpedia page, among other requirements. If you're interested in this type of verification, you can check out our article mentioned above.
How long does it take to get verified on Twitter?
There is no set period of time it will take to get verified on Twitter. The entire process is fairly subjective, as Twitter goes through many requests and applications to determine who makes that particular cut.
The acceptance or denial will be emailed to whichever email is on file for the Twitter account. Make sure the email on file is one you check regularly. What could be more disappointing than getting approved for this elite club of brands and celebrities, only to miss it due to an ignored inbox?
If you are denied, the good news is it's not the end. Twitter lets you continue to apply with one caveat: you have to wait 30 days.
If you get rejected the first time, use those 30 days and make them count. Beef up your profile. Get a legitimate graphic or branded banner for your Twitter profile. Make some attempts to get in the news or have users write reviews for your brand.
How much does it cost to get verified on Twitter?
Becoming verified on Twitter isn't about how much money you have. It's about whether your identity, product, or content is noteworthy enough that it should require authentication.
It could be helpful to pursue Twitter marketing strategies that increase your follower count. This will beef up your profile and help you in the noteworthy department. Instead of pursuing monetary strategies, try various ways to make your presence worthy of verification.
Verifiably cool
Being verified is a privilege only a few possess. I'm proud to say I know a verified professional myself: my former roommate who is now on staff at the Wall Street Journal. Verification means Twitter trusts that you are who you say you are, meaning others are more likely to trust you.
If you want to become verified, either for yourself or your business, follow the instructions above. If at first, you fail, or they're still not accepting applications, try, and try again.
Read more on verification and social media:
Curious about Twitter dark mode? Learn how to use in on mobile and PC here!