Some things are meant to be shared.
Like a milkshake in a diner or a large popcorn at the movies, you can also share an email that is sent to you by forwarding it to another person. If you're using Gmail and aren't sure how to forward an email, you're not alone. Keep reading for step-by-step instructions.
How to forward in Gmail
There is so much you can do in Gmail, from blocking someone to changing your theme, Gmail strives to be as user-friendly as possible. That being said, some things can still be confusing, like knowing how to forward an email. Let's break that down.
Forwarding in Gmail:
Open the email message you want to forward
Click the three dots in the upper right-hand corner
Click forward
Type the email address of the person you're forwarding the message to
Click Send
For more details around each of these steps, plus screenshots, keep reading.
Are you a frequent Gmail user? Leave a review for your peers on what you think of this popular email software.
Option one: Click the three dots
First, open the email message you'd like to forward. Then, click the three dots in the upper right-hand corner.

Tip: In the Gmail app, these three dots will be horizontal instead of vertical.
In the drop-down list of options, click Forward.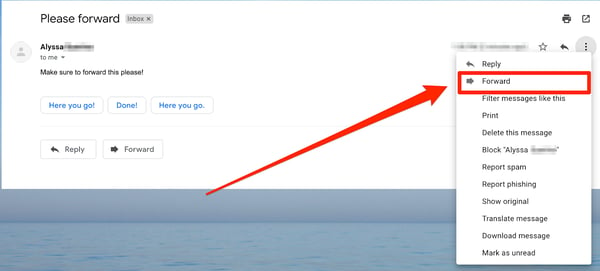 Next, enter the email address you're forwarding the message to in the top of the email box. When you're done, click Send.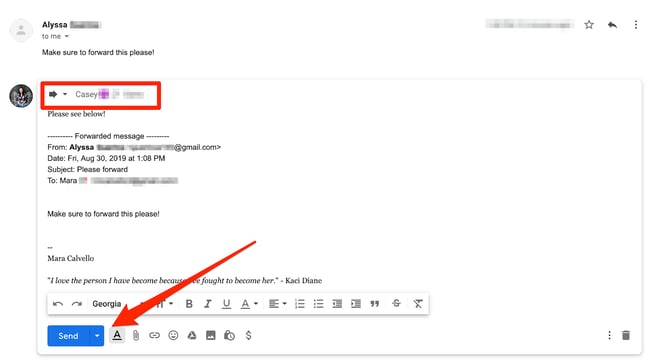 Option two: One-click action buttons
One of the ways that Google has made Gmail easier to navigate is by adding one-click action buttons to email messages.
When you open an email, you should see one-click action buttons that say Reply and Forward. Click the Forward button to forward the email.

Just like in option one, you'll then type in the email address you're forwarding the message to. Then, click Send.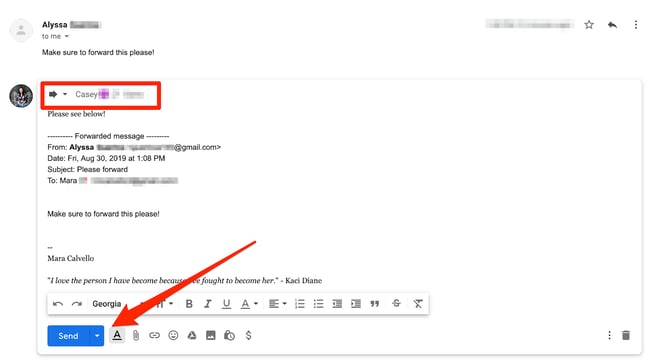 Option 3: Automatic forwarding
If you know that emails from a specific address will always need to be forwarded, you can make the process automatic. To do so, log into your Gmail account and click the gear icon in the upper right-hand corner and click Settings.


From the top menu, choose Forwarding and POP/IMAP. Then, click Add a forwarding address.


From the pop-up, enter the email address you want to forward messages to. Click Next, then Proceed, then Okay.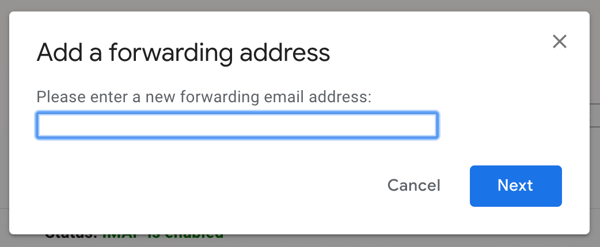 A verification email will be sent to that email address. In that email account, click the verification link. In a new window, click Confirm.
Refresh your browser and then set up what you'd like to happen with the copy of the emails. In the example below, I have chosen to keep a copy in my inbox. Scroll to the bottom and select Save Changes.

Tip: To undo automatic forwarding, click Disable Forwarding and then Save Changes.
Option 4: Forwarding multiple emails in Gmail
Need to forward multiple emails at once and want to save yourself some time? You can do it simply with the Multi Forward for Gmail Chrome Extension. Once it's downloaded and installed, you'll see the black arrow at the top of your Chrome browser.
In Gmail, select the emails you would like to forward, then click the black arrow next to the Trash Can icon.

In the pop-up window, type the email address you'd like to forward the emails to. Then, click Multi-Forward. Those emails will then be sent in bulk.

Pass it on
When an email is sent to you that you'd like to share with someone else, knowing how to forward in Gmail is bound to come in handy. No matter which of the options you use to do so, once you hit send, it's outta sight - outta mind!
Not a Gmail fan? No worries – there are plenty of other free email accounts you can sign up for.