Sometimes, you can't express yourself in words and numbers alone.
Sometimes, you need to express yourself through art. Luckily, Microsoft Word recognizes this need and gives users the option to draw on a document.
If you want a new way to showcase your ideas, give drawing a try! It's easy, adds some flair to your document and might be a more effective way to communicate your thoughts.
How to draw in Word
In the 'Insert tab,' click the 'Shapes' button, and in the drop-down menu select 'Scribble'
Click and hold down your mouse to draw the shape you want
Release the mouse when you've finished drawing
Go to the 'Shape Format' tab to edit your shape
How to draw in Word
For all my visual learners in the house, follow along as I go through the drawing process step-by-step. I also include some formatting and editing tips and tricks to consider.
1. Click the 'Shapes' button and select 'Scribble'
Open up your Microsoft Word document. It can be an empty document or it can be filled with an essay — you can draw over words if you want.
Navigate to the 'Insert' tab. From there, select 'Shapes.' A drop-down menu will appear. Under the 'Lines' options, select the very last button. It looks like a scribble and is aptly named 'Scribble.'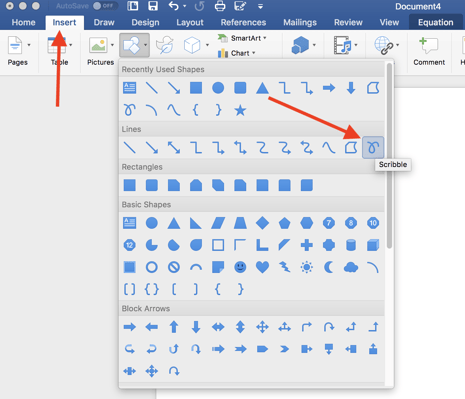 2. Hold down your mouse to draw
Click and hold down your mouse to draw. Admittedly, this isn't the most intuitive thing in the world and your drawings probably won't look like they do on paper. That's okay, you do get a chance to tweak and sculpt your drawing later — as well as adjust the line coloring, width, fill color, and more.
Here's the strange shape I chose to draw (don't ask me what it is):

3. Release the mouse
As soon as you release your mouse, the drawing will be finished. You'll no longer be able to continue drawing, like you would if it were pen and paper.
If you released the mouse too early, you can delete the shape and start over. If you want to add another shape to complement the one you just drew, go ahead and click the 'Scribble' button and go through the drawing process once more.
If you have the basic idea of the drawing done but it's not exactly what you wanted, you can tweak the lines a bit. Double-click on the drawing. Click on the small 'Edit Shape' button in the top left corner. Then, select 'Edit Points.'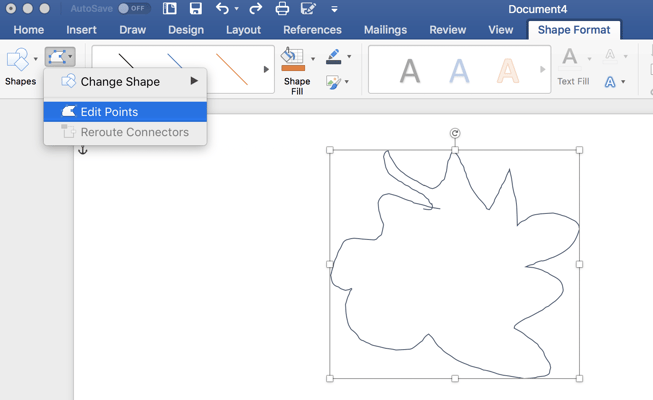 A bunch of, you guessed it, points will appear on your drawing. Dragging a point out, in, or sideways effectively drags the line of the drawing with it. When you click off of the point, the drawing will be altered accordingly.
4. Edit your drawing
Double-click your drawing. A new tab will appear in the menu banner called 'Shape Format.' Now you can resize your shape by dragging the corners of the box around it. You can use the 'Shape Fill' button to add color inside your shape.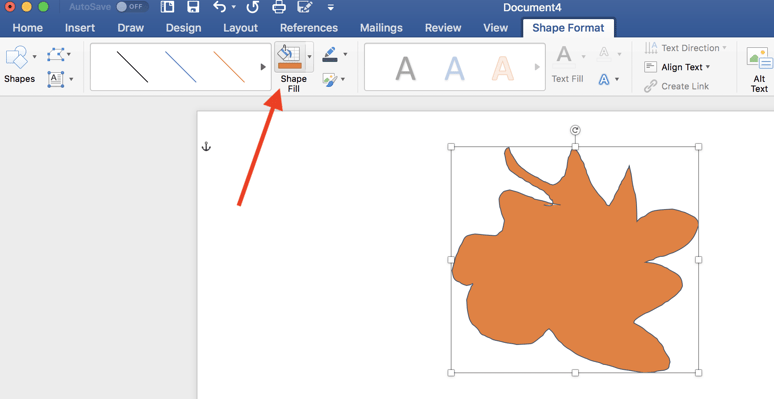 You can change the color of the outline by clicking the pencil button, located next to the 'Shape Fill' button. You can also choose to have 'No Outline' if you want.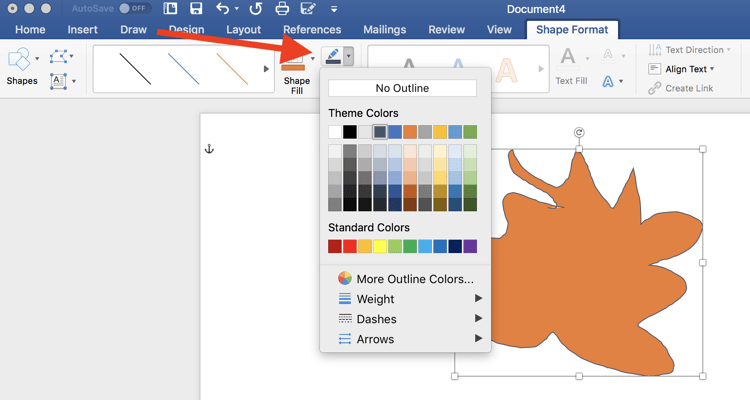 Another way to make your drawing stand out is by adding text to it. Click on the 'Draw a Text Box' icon located next to the 'Shapes' button.
Drag your mouse over where you want the text box to live inside your shape. You can play with all the text editing options and include hanging indents, if you want.
To unlock more editing options, select the 'Format Pane' on the far right. This will open a sidebar where you can edit the line type of the outline, play with color effects for the fill color, and more!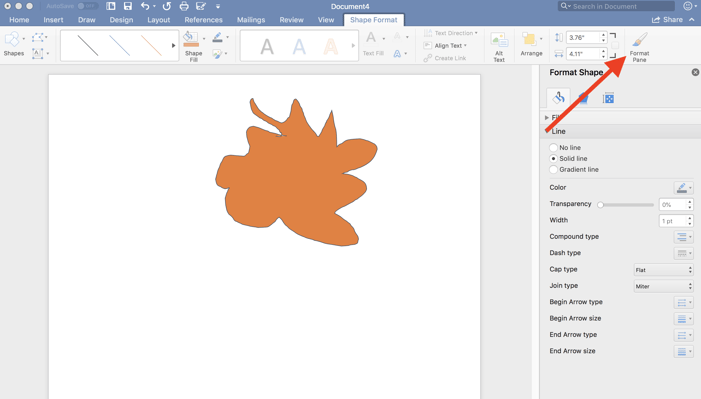 Once you've manipulated your shape into a final product that you're happy with, go ahead and 'Save As.' Now you're ready to share your creativity with the world!

Other things to know about drawing in Word
It will be very difficult for you to draw straight lines in Word. That's simply due to the impossibility of dragging a mouse precisely. If that's frustrating you to no end, there are work arounds.
How to draw a line in Word
If you want to have a very straight line, maybe the 'Scribble' tool is not the right one for you. Go back to the 'Shapes' drop-down menu under the 'Insert' tab and go through the different line options available to you. Select what's best for your vision and go from there!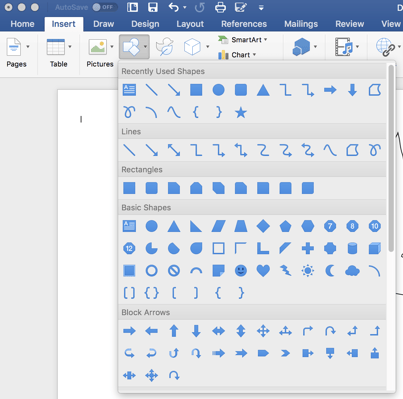 You'll also notice that Word offers a variety of pre-made shapes to choose from. If you're struggling to draw a star that doesn't look like a sad blob, maybe try select the pre-made star shape. You can still play with the coloring, size, lines and more.
Tip: If you are dead-set on drawing freehand but Word isn't working out for you, try drawing in Microsoft Paint. You can always insert that image into Word later on.
Want to put your artistry to the test in other ways? Here's how to make a brochure in Word.