The other day I came across a tweet that made me giggle a little bit too loud on public transportation. Immediately, my first thought was to send it to one of my best friends in hopes of brightening their day.
Thankfully, sending a Twitter direct message (DM) has never been easier.
Millions of Twitter users send DMs every day to have one-on-one conversations outside of the public feed. "Sliding into the DMs" as it's sometimes called can be used to share tweets with friends, have a one-sided conversation with your favorite celebrity, or even get in touch with potential clients or customers for marketing purposes.
This article will cover how to DM on Twitter. At the end, look out for some tips and tricks on how to use Twitter DM to interact with customers and professionally communicate.
How to DM on Twitter:
Select the "Messages" tab on the bar at the top of the screen
Select "New Message"
Select a user or group to DM
Type your message and hit "Send"
How to DM on Twitter
While @-ing someone's Twitter username to reply in the feed is one way to have a conversation, a Twitter direct message is more private and immediate. Some users may send a DM welcoming their new followers for instance. Certain accounts may enlist the help of a Twitter bot in order to DM accounts.
To begin sending a Twitter DM, find the messages tab in the top bar of the website. This will open a panel containing all of your direct messages and allow you to begin a new conversation.

2. Either select the new message button or an existing conversation to continue it. It's important to note that a user will only immediately receive the message if they are currently following you. If they are not following you, the direct message will be filtered through a requests box, where they have the option to read it and accept or decline.
Almost all businesses or professional accounts should change their settings to receive direct messages from anyone. Doing so means anyone can interact with you and keeps you open to potential customers or clients.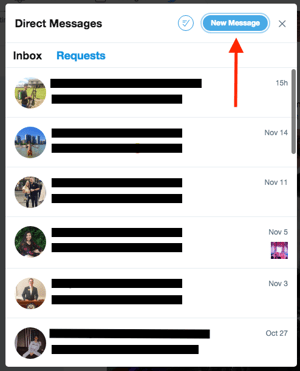 3. After selecting this, a list of other users you may wish to DM will appear. You can select from this list or begin typing to find your desired recipient. You can also select more than one user and begin a group Twitter DM. After selecting a user or users, hit next and you'll be brought to a chatbox.
4. Type a message and hit send – voila! You just began a Twitter DM conversation with someone. Unlike a tweet to your profile, a DM does not contain a word count limit. You can also include links, gifs, photos, or videos to send to people.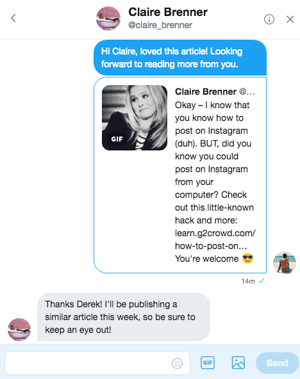 After sending a DM, a gray checkmark will appear below your message to show it's been successfully delivered. This check mark will turn blue after the recipient has seen it.
You are now equipped to send direct messages to your favorite Twitter users or brands.
Being professional in Twitter DMs
While you now may know how to send a Twitter DM, you also need to know how to do it right. If you're communicating from a business or customer-facing account, you especially should focus on being professional.
Here are a few strategies I've seen that to ensure the account you're messaging will take your brand seriously.
Send a direct message to new followers
Getting a new follower on a business page can be exciting and shows you're on the right track! Follow up with the new follower by sending a direct message that welcomes them to your page and includes a possible call to action (CTA) for them to further fit into a social media marketing strategy.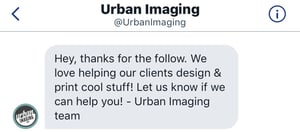 Deal appropriately with complaints
Unfortunately, you can't always please everyone. There's a fair chance you might receive a complaint either mentioning you or directly in the DM inbox. If you get a complaint in your mentions, follow up by directly messaging the account. This will take the conversation out of the public eye and allow you to resolve it. If the complaint comes to your inbox, handle it quickly and effectively. Let the other person know their complaint is heard and help them in any way you feel equipped. Take some cues from these social media customer service examples.
Social media management
One of the worst things you can do is lose track of a message or forget to follow up with a customer. Using top-rated social media management software will allow you to keep on top of all the DMs and tweets for your business. The users you interact with will appreciate how prompt and thoughtful you are.
You can now use Twitter DMs to boost your business
Sending a direct message to a friend or colleague can make for a fun conversation, but using Twitter DMs for your business or brand is essential to finding success!