"We should probably have a newsletter, don't you think?"
You look up from your Monday morning third-cup-of-coffee to see your boss waiting for a response. "Oh yeah," you say, hoping your eyes aren't as wide as you think they are. "Definitely."
Steps to Make Your First Email Newsletter
Develop a newsletter strategy
Create content for the email
Browse email newsletter templates
Determine an outreach strategy
Make your email legally compliant
Include an unsubscribe option
Sent a test email
Send your first email newsletter
Your boss smiles, nods and walks away, leaving you in a state of caffeinated panic.
Note: If you already know how to create a newsletter, you can jump to tips for email newsletter success. Otherwise, we will go over how exactly to get a newsletter off the ground.
What is an email newsletter?
An email newsletter is a regularly occurring email - either daily, weekly, bi-weekly or monthly - sent to subscribers. This powerful marketing tool can contain a variety of content, including but not limited to announcements about products and services, company-related information and upcoming events.
Email newsletters are great ways to deepen audience engagement, enhance brand advocacy and improve sales.
This article will help you not only create a newsletter from the ground-up with an email marketing software, but it will also prepare you to be an authoritative voice guiding the strategy from the beginning.
How to create an email newsletter
You've never created a newsletter before, but clearly, that innocuous "we should probably have one" means that you're about to. Maybe your boss assumes you're an experienced newsletter junkie, or maybe he or she believes in a sink-or-swim philosophy.
Regardless, it doesn't matter because you're here now. And I'm thrilled to tell you that not only are you capable of sending out a newsletter, but you're capable of sending out a knock-your-boss'-socks-off newsletter.
I was once where you are and trust me, it is possible to go from nervous uncertainty to cool confidence.
Here are eight easy ways to create an email newsletter that will impress your boss. Let's get started with the big picture.
1. Develop a newsletter strategy
What is the goal of the newsletter? Why does your boss suddenly want one?
Setting a goal in advance is important. It will not only help you craft content, but it will decide which results you should use to measure the success of the email newsletter.
Each email should include a strong call to action — by strong, I mean typically a large, impossible-to-miss button — encouraging recipients to do whatever will help you achieve your goal.
Potential email newsletter goals could be:
Recipients registering for an event
Driving traffic to your website
Recipients interacting with you on social media
The number of times an asset is downloaded
Click and/or open rate
Types of newsletters
I've created a comprehensive list of different kinds of emails and the marketing strategy behind them. Choose the one that best matches your goals.
One-off email
If you're announcing a special event or massive sale, let your customers know by sending out a one-off email. If you're like me and accidentally accumulate emails from all the retail stores you enter, you're very familiar with these. They're short, sweet and to the point, and they're designed in a way that is visually stimulating and engaging.
The goal of a one-off email is to have recipients register for an event, interact with you on social media, buy from a sale or download an asset.
News blast email
Did your company just accomplish something really cool that everyone should know about, like winning an award, launching a new product, or hosting an event? (If an event, consider these event promotion tips!) In addition to sending a press release, blast out the news via an email to make stakeholders, fans and followers aware of the success. This will boost your click-through and open rates, resulting in driving traffic to your website and attaining social media interaction.
Be careful not to inundate people with these emails – send selectively or else people may feel harassed and annoyed. This leads to hitting the unsubscribe button, which is never the goal. According to a HubSpot study, 78 percent of consumers have unsubscribed from emails because a brand was sending too many.
Subscription newsletter
If your company has a constant stream of activity happening every month – whether it be events, useful content, or promotions – consider a subscription newsletter. It will keep followers abreast of and engaged with the goings-on of the company, and it will feel less intrusive because they personally opted in to receiving information from your company.
Depending on the platform that hosts your website, it's generally fairly easy to add a simple form that collects user data and exports it into an email marketing platform or CRM software system.
For example, Unsplash – a database of free high-resolution photos – sent out a newsletter detailing important accomplishments and news that happened in the month of February.
Below is just one of the many announcements they made in their newsletter. They split up each announcement with a button inviting readers to learn more about the news. Your newsletter should always leave a little mystery, too, so your recipients want to know more.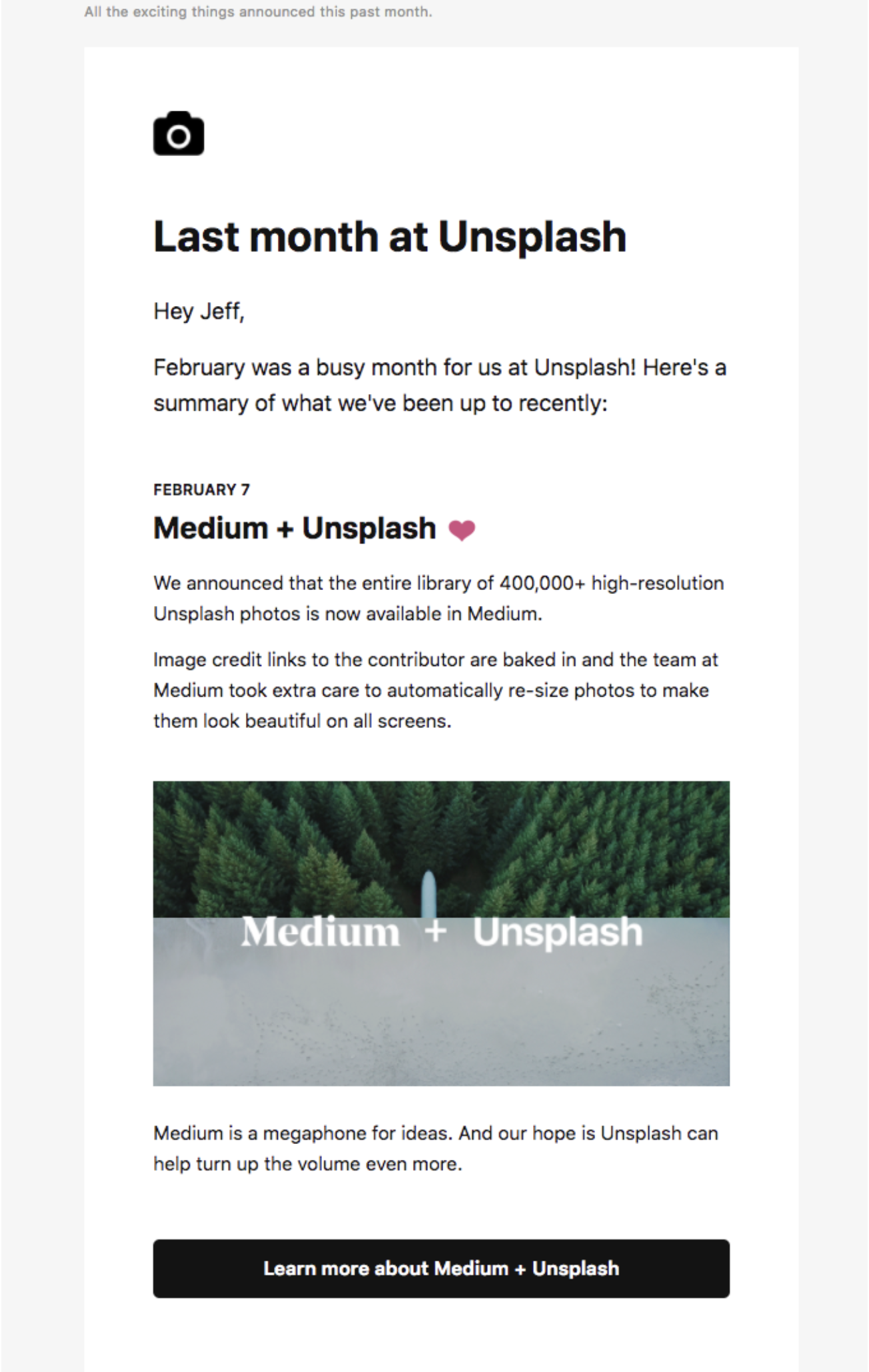 Digest email
Have a killer blog with new content posting every day? Digest emails will inform recipients of the latest and greatest pieces of your company's content in a quick, easy-to-manage way. You can also share content you've found around the internet that your audience will find relevant and useful.
This sets your company up as a trusted source of knowledge. It's a great way to guide traffic to your content and website, and also establish a pattern of regular communication with your followers.
2: Create the content for the newsletter
Now that you know what you want, you're probably wondering how you make it happen. The first step is content - you can't have an empty newsletter.
If you're creating a digest email, I have great news – you have content you can repurpose! Write catchy introductions of the articles you're featuring that will make readers want to know more, and consequently follow the links to your website.
If you need to hustle for new content, consider setting up a hub on your company's intranet, Slack, or another common space, for you to aggregate news. Encourage your colleagues throughout the company to contribute. This will help unearth news and ideas that you might not have known about otherwise, and will give individuals within your organization a sense of ownership and pride for the content going out to the masses.
Keep in mind what your recipients want. If you haven't created customer profiles yet, I highly recommend doing so. This will help you decide what content will be relevant and interesting to your audience(s).
Remember, the average person has an eight-second attention span. No matter what kind of content you're including, it has to be a quick, interesting, enjoyable read. If your brand has a recognizable voice or tone used throughout your website and communications, be sure to incorporate that in your newsletter content as well.
3: Browse email newsletter templates
One of the benefits of email marketing software is the templates these platforms provide. Do some exploring and choose the one that's the best fit for your newsletter.
Some benefits of email newsletter templates include:
You can repurpose the same template for future emails
You don't have to worry about design elements as much because most of the work has already been done for you
An email newsletter template, once mastered, makes the process so much faster
Most programmed-in newsletter templates are entirely customizable meaning that when the time comes, you can add in photos or videos that can be displayed within the body of the email, or move things around to fit certain themes
When choosing an email newsletter template, remember that you're dealing with people who receive (potentially) hundreds of emails a day. Make sure the email template you choose is sleek, appealing and easy to navigate – especially on mobile devices.
TIP: Email template building software gives you a bounty of pre-made templates you can use, or create your own with simple drag-and-drop editors. Some of the highest rated email template builders on G2 include Constant Contact, BEE, and Campaign Monitor.
Next, insert the wonderful copy you've created.
Now, add attention-grabbing graphics that relate to your content. Incorporate your brand where you can, including in the email's color scheme. This is a great way to help boost brand recognition in the future.
One thing to keep in mind: some recipients' devices are not photo friendly, or they have settings on that block images from loading right away. Your alt-text is the words that will appear in place of the photo in these cases. Make sure your alt-text explains what the photo is so people feel comfortable – and intrigued – loading it. This can also be helpful for customers who may have impaired vision and use translation programs for emails.
I'll pause here and add that I often draw inspiration from other newsletter examples. If you need inspiration for either content or design, here is one of my favorite newsletters: The National Wildlife Federation's (NWF) monthly subscription newsletter.
In this example, they do several interesting things that you could play with in your own newsletter.
The first item is a fun engagement opportunity that people will want to click on – and then it gets them to the NWF site, where they might wander around after taking the quiz. Magical.
The content is also broken up with a call to action – or in this case, a call for entries. It provides a break from the text blocks and again, is a different way to entice readers to the website.
Lastly, each piece of content drives NWF's mission, which "works across the country to unite Americans from all walks of life in giving wildlife a voice." This newsletter informs recipients of the latest news about American wildlife, while also educating and engaging them with the information so they can spread the word
This merging of fun and mission-driven content is what all newsletters should aspire to.
4: Determine an email outreach strategy
Now that the newsletter is created, it's time to think about how you'll send it.
Most likely you already have a database of customers, stakeholders, and/or potential clients that you can send to. Instead of sending in bulk to everyone, consider using marketing automation software. This will help you segment that list of customers in your CRM. Ways you can segment include by interest, purchasing behavior or demographic. This segmentation allows you to strategically personalize the email.
For example, if you know certain groups of people will be more interested in the cocktail event than in the blog about recruiting tactics, put the event information at the top of the newsletter. Keep in mind that such an event will probably only be relevant to customers who are local to the venue. Here's some other event marketing strategies you can implement to reach those folks that are most interested in events.
If you are sending to a group of new or potential customers, consider tweaking the newsletter introduction paragraph to include more about who your company is and why they should care.
For example, best-selling author Ann Handley's newsletter includes this introduction. It welcomes new readers, offers the option to learn more about the newsletter's purpose through an external link, and says hello to return readers.
Personalization will result in going back through your content and design, making adjustments here and there. If you're rolling your eyes and groaning – you've already spent so much time perfecting the content and now you have to go back?! – trust me, it's time well spent. A little personalization will make readers pay more attention and feel appreciated.
TIP: Personalize your emails with email marketing software. This software will enable you to build and manage your email lists, and segment those lists to targeted groups of your database.
Speaking of personalization, now is the time to think about your subject line. Look back on which emails pop out within your inbox – you decide whether it's worth clicking based on the subject line, right? How funny, snappy, and interesting it is?
When possible, include your recipient's name in the subject. This will immediately grab their attention. Next, think about what your audience's wants and needs are, and what the newsletter is hoping to accomplish (refer back to the strategy). Considering the personality of your brand and your audience can help in crafting the perfect title, too. Just make sure it's short!
Again, the subject line can be different for each segmented list. In fact, I would encourage A/B testing software so you can get a feel for what kind of content your audience will click on.
5: Don't forget about legal compliance
Take some time to read through this compliance guide. We're trying to make a good impression on your boss, and a legal oopsie won't help matters. Especially when penalties can be up to $41,485 per email. Yowza.
The law that guides these rules and regulations is called Controlling the Assault of Non-Solicited Pornography and Marketing (CAN-SPAM).
Once we're all done feeling weird about pornography being lumped in with marketing, let's go over the important things you need to check off before you hit the big Send button, according to the Federal Trade Commission.
Don't use false or misleading header information.
Don't use deceptive subject lines
Do identify the message as an ad
Do include your valid physical postal address so recipients know where you're located
Do tell recipients how to opt out of receiving future email from you
Do honor opt-out requests promptly
Do monitor what third-parties you hire to handle your email marketing (you're still responsible for being legally compliant)
So basically, don't be sketchy or harass people.
Keep in mind these rules are subject to change, and everyone is responsible to keep up to date with any legal compliance issues. For example, General Data Protection Regulation (GDPR) has kept marketers on their toes with changes the past year. Always double check you're being compliant!
6: Offer an unsubscribe option
I know we just went over this, but this is a trap you don't want to fall into. Make sure "unsubscribe" is easily accessible and visible. Don't make people work for it. We've all been there, and it just creates brand animosity. And, as mentioned above, could get you in legal trouble.
Create a spot for "unsubscribe" in your email newsletter template - if there isn't one already - so it is always there every time you begin a new one.
7: Send a test email
You're so close and your newsletter is looking fabulous!
Don't get overconfident – the best-laid plans can still go awry. Make sure it isn't because you didn't test the email thoroughly.
Test on different devices. Androids, iPhones, tablets, desktops, etc.
Test on different browsers. Google Chrome, Internet Explorer, Safari.
Test on different mail clients. Outlook and Gmail, for example.
Test your links (make sure they work and go where they are supposed to!)
Test fields/personalization of names
At this point, you're probably going cross-eyed every time you look at this darn newsletter, so send it to a few colleagues as a test. Also ask them to read it and provide any feedback. Now is the time to find typos, awkward spacing and areas that need strengthening.
8: Send your email newsletter
Take a deep breath. Say a prayer.
Just kidding, you don't need prayers because you nailed it!
Sit back and relax. Most likely, your boss is probably thinking you're a low-key newsletter guru. Maybe you'll even get another desk fly-by congratulating you on an excellent creation. I hope so because you deserve it!
Now, give the newsletter a few days to live in the wild, and then use data to showcase how well you achieved your goal. The data results, such as the open rate and click rate, can also help guide you as you build the next newsletter.
Curious as to how you can keep strengthening your email newsletters? Here are 10 quick tips for creating a successful newsletter.
Tips for Email Newsletter Success
A stunning email newsletter can help build your brand identity and create more awareness, which in turn can lead to a stronger customer base. If you already know how to create a newsletter, here are tips and tricks you should keep in mind every time you begin the process.
If you're having a hard time with your first newsletter, email marketing software companies are constantly adding new features to make creating stellar email newsletters even easier. So whether you are a beginner or expert, email marketing tools can help you design and deliver newsletters that will take your marketing game to the next level.
Looking at newsletter examples you know and love can also help inspire your next newsletter. Those brands have it figured out, so consider emulating them when it comes to design, content, call-to-actions and more.
Following are email newsletter basics to always keep in mind.
1. Know your audience
As with most things involving content, it's important that you know your audience. The majority of email marketing tools have the ability to integrate with other systems, such as CRM systems, to help you understand your customers better.
Use the information provided by a CRM software or contact management system to create a newsletter that is catered toward the people who are more likely to subscribe. Design plays a big role in this as well, but the content within the newsletter has to be relevant and interesting to the people you are trying to target.
2. Write tantalizing subject lines
It doesn't matter how amazing the content of your newsletter is; no one will open it if the subject line is dull and unclear. Be straightforward about what the newsletter contains, convey the benefit it will have on the reader, and keep it short and snappy.
Focus on coming up with something inspiring, clever, funny or eye-catching to hook people in when writing a subject line. Also be careful to avoid words and punctuation that could flag your email as spam; the words "free" or "limited time," or excessive exclamation points, could lead to your newsletter missing inboxes entirely.
3. Make a great header
A well-thought out header image is important because, well, it's at the top of your newsletter. It's the first thing people see, meaning it's not something you want to rush. You want to make sure your brand is represented the way you want, and that it meets the needs of those you're sending it to.

Take this header image by IS Design + Digital, for example. The color and contrast grab the reader's attention fast, making reading the headline almost voluntary. The box around the text draws the eye and creates a memorable message. Good spacing, clear messaging and strong contrast are all effective elements working for this header image.
Since the header is basically your make-or-break section, take the time to craft a beautiful image that not only aligns with your brand's identity, but also forges an emotional connection between you and your subscribers. You want those reading your newsletter to feel as though they are receiving a nicely packaged gift, not a piece of unwanted spam.
4. Focus on the format
Formatting your newsletter in a way that speaks to your current and potential customers helps keep things consistent. The message you decide on needs to be relevant to a specific group of people, and it should be formatted in a way that caters to their needs. Ultimately, this means a large part of deciding on the format of your newsletter will be dictated by your target audience's interests.
Pulling customer data from a CRM or similar system comes in handy here. It is essentially a hub for all customer-related information, giving you detailed knowledge of who your ideal customer is. Using this data can give you a clear understanding of what your customers want to see and how they want to see it. From there, all you have to do is produce a design that accommodates them.
5. Stack your content
Most email marketing tools provide you with some templates to use as a starting point, making life easier for those who are less interested in design (or small businesses that simply don't have the time or money).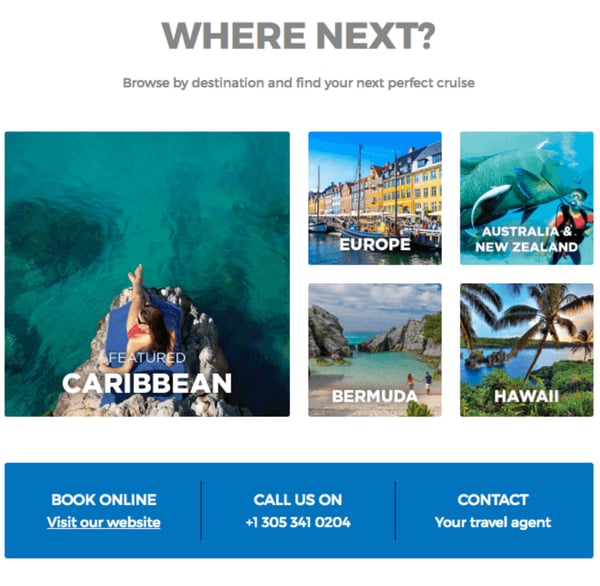 Email newsletter templates allow you to organize and stack content into neat boxes, like the example from Really Good Emails above, making for a much better user experience. Instead of starting from scratch, templates provide an easy way to quickly create a newsletter that is visually appealing and easy for your subscribers to navigate.
6. Balance information with promotion
Yes, your email newsletter's main focus should be on helping your customers by providing valuable information relevant to them. However, it's still perfectly fine to promote your own products and services, as long as it doesn't dominate the newsletter.
Your newsletter template can certainly help you balance the right amount of targeted information with your own call-to-action (CTA) and materials worked in throughout.
7. Stay on schedule
Sending out your email newsletters on a consistent schedule helps readers know what to expect (and hopefully look forward to). There is definitely a science to determining what day and time newsletters sent via email perform better, which also depends of who you are writing to.
Once your readership knows what to expect, they can work reading your material into their schedules. That being said, it's still important to give them something interesting to chew on in order to keep them coming back. This starts by religiously updating current offers and promotions that provide up-to-date, impactful information.
8. Stay on brand
This has been mentioned a little bit throughout, but staying on brand is critical for marketing success. If you're a marketer, you know how important developing a consistent brand is. This certainly holds true when producing your newsletters.
Just like feeding people content at the same time each day, week or month, keeping your brand message the same helps with recognition and engagement. As discussed above, people like knowing what to expect, and creating a consistent newsletter can help retain subscribers.
9. Have a clear call-to-action
Having a clear CTA helps you better understand if your readers are engaging with your content in the way you would like. Once you decide on the single most important action you want your newsletter to encourage, come up with a CTA that prompts readers to take that action.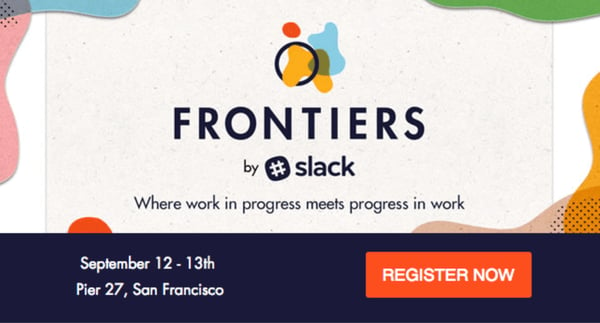 (Image via Really Good Emails)
That being said, it's not unheard of to have more than one CTA in a newsletter. It is critical the reader knows, however, which CTA you want them to act on the most. Design plays a large role in this, using size, color and other elements to help direct readers to the primary action you want them to take.
10. Test it!
There is only one way to know if your email newsletter works on your target audience: You have to test it! Send it out to your friends, relatives and focus groups for initial reactions. View it on different browsers and devices to look for flaws. Do anything you can to make sure your message is clearly and correctly conveyed.
Email marketing tools, with the help of A/B testing, can help you determine which version of your newsletter people are more likely to click. Even if you think you've created the most incredible, visually stunning email newsletter of all time, it's not worth much if people aren't opening it. After running through all manner of testing, simply take the feedback and improve.
Ready to dive in and design your first email newsletter? Leverage the best free email marketing software in 2018 to help you send a great first newsletter. Learn more about business communications by reading our guide on business letter format, types and strategies.