Sometimes, in life, you just need a little space.
Especially if things are starting to feel a little cramped or slowed down.
If you've noticed that your Mac is running slow, or you aren't able to download the latest app or update, it could be because you're almost out of storage space. To know for sure, you'll need to check how much storage is still available on your Mac.
Doing so is easier than you think, and you'll be able to see exactly which program is hogging more storage than others.
Let's get started!
How to check storage on Mac
One thing about the storage on your Mac is you can't add more, you can only make the most of what you have. Because of this, it's best to keep an eye on the amount of storage that's left for you to use.
Why is my Mac running slow?
Your Mac could be running slow because of a lack of hard drive space. By checking the storage on your Mac, you can see which programs and applications are taking up too much space.
For a visual guide, just keep reading!
Step 1: Click the apple icon and click About This Mac
At the top of your screen, you'll see the apple icon in the left-hand corner. After you click that icon, choose About This Mac.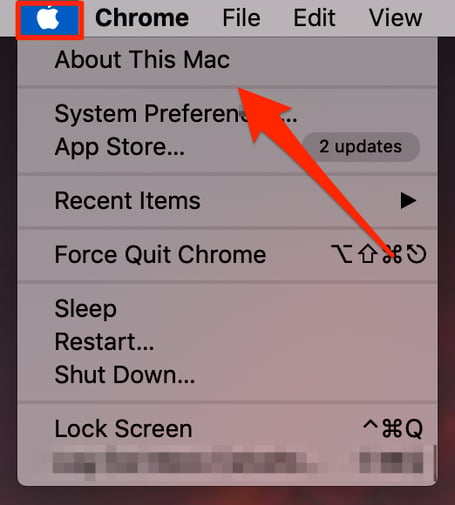 Step 2: Click Storage
You'll then see a screen providing more information about your Mac. From the five options at the top, click Storage.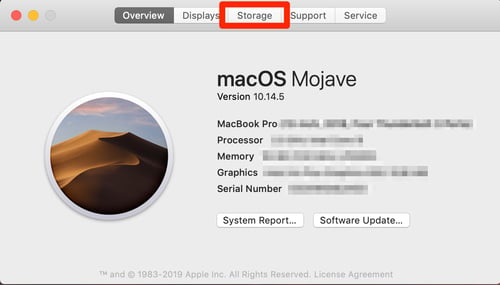 Next, you'll be given a breakdown of the storage you have used and what is still available. In the screenshot below, you'll notice that I have 207.35 GB still available to use of the 250.69 GB of storage on my Mac.

If you hover your mouse over each colored section, you'll see more information about your storage use. When I hover over the red portion I am shown that Apps are using 12.52 GB of storage.

You can also click on Manage to see exactly which programs and applications are using the most storage and if you can delete anything to free up some storage.
You can never have too much
But you can have too little. Make the most out of the storage space on your Mac by knowing how much you have left and what you can delete off your Mac to get a little more. Because, after all, no one likes running out of space when there's a new update with fresh features to enjoy!
Want to learn more? Discover what cached data is or how to see what's currently running on your Mac with the task manager. Then, make logging in easier when you turn off two-factor authentication.