Most workplaces strive to promote a culture of cooperation and teamwork.
The advent of online word processors has made it easy for professionals to foster a collaborative work environment. Whether you want instant feedback or need to work with your team remotely, the chat feature on Google Docs enables users to converse in real time.
If you're wondering how you can boost collaboration in your office, learn how to chat on Google Docs with this step-by-step guide:
How to chat on Google Docs
Unlike other collaboration tools such as Slack or email, Google Docs chat feature allows users to work and communicate in one place. By eliminating the inefficiency of going somewhere else to chat, you can save time and increase productivity by communicating in Google Docs. Luckily, Google has made its chat tool simple to implement.
How do you use Google's chat feature?
Share your document
Click on the "Chat" icon
Enter your message in the chat box
1. Share your document
Since the chat tool isn't available if you're the only person on the Google Doc, start off by sharing your document. Click the "Share" button in the top right corner.

From there, enter the email addresses or names of the people you'd like to share it with and click "Done."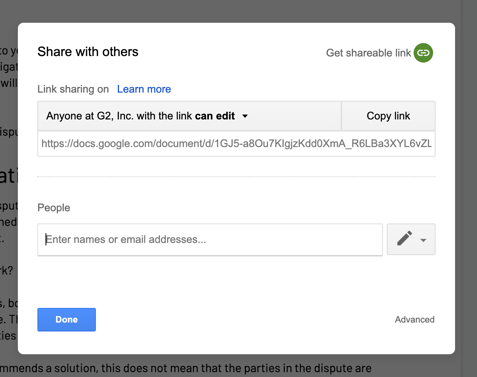 2. Click on the "Chat" icon
Once you've shared your document, each user that is online will be represented by a circle icon at the top right of the screen. Next, click the chat icon next to the list of users.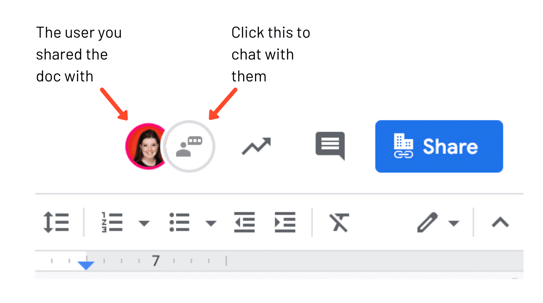 3. Enter your message in the chat box
After clicking on the chat icon, a chat window will appear on the right of your screen. You can craft your message here. As soon as you send your chat, each user active on the document will receive a notification, and they too will have to click on the chat icon to view the message.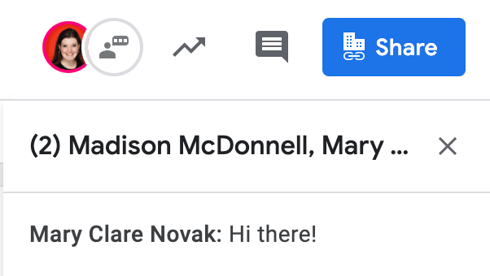 To see how many members are active in the chat, look at the number in the chat window title.
If you appreciate how Google's chat feature has benefited your work, then find out about more document creation software here.
Now start talking!
Even if you're just a few desks away from one another, the chat feature on Google Docs is a great way to work efficiently with your team.
TIP: Help your peers! Leave a review for Google Docs on G2 to share your insight.