So, you're having an identity crisis and want to learn how to change your name on Facebook?
Maybe only the second part of that is true, but either way, you've come to the right place.
Back in 2009 when everybody was creating their profiles on the still up-and-coming social media site, you'd see your Friends using all sorts of variations of their names. Last name first, replacing their last name with their last initial, and more.
Perhaps you too were using your middle name (to avoid your parents finding you, of course) and now you're finally ready to become official Facebook friends with mom and dad. On the other hand, maybe you've been using your real name and want to change it up before you dive into your job search.
How to change your name on Facebook
Visit Facebook and login to your account
Navigate to your Facebook general settings
Click "Edit" and type in your new Facebook name
Preview change and click "Save Changes"
No matter your reason, you need to learn how to change your name on Facebook. We've got you covered.
How to change your name on Facebook
Whether you've taken on the last name of your spouse or are simply trying to revamp your personal brand, you need to change your name on Facebook. Luckily, the process is simple. Follow along and I'll walk you through the steps.
1. Log in to Facebook
First things first – head on over to Facebook and log into your account using your email address and password. And speaking of, if you're changing your name on Facebook for privacy purposes, you may want to consider learning how to change your Facebook password, too.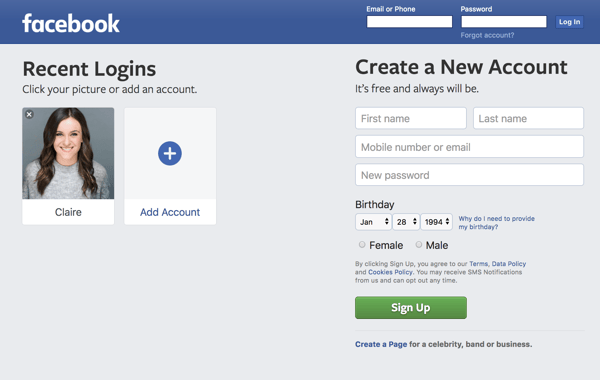 2. Navigate to your settings
Once you're logged in to your account, navigate to your account settings. You can do this by clicking the blue arrow in the top right corner and selecting the "Settings" tab. This will open up your General Account Settings, which is where you'll find the option to change your name.
At this point, you'll also have the option to edit your username. If you're interested in that, consider learning how to change your Facebook username as well.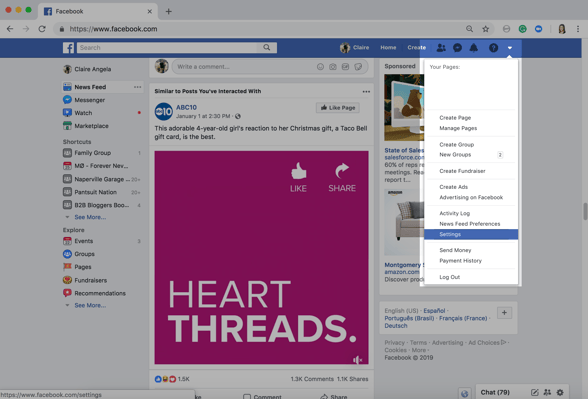 3. Change your name
Your name will be the first thing listed under your General Account Settings. Click the "Edit" button on the right of the screen and you'll see the options to change your name.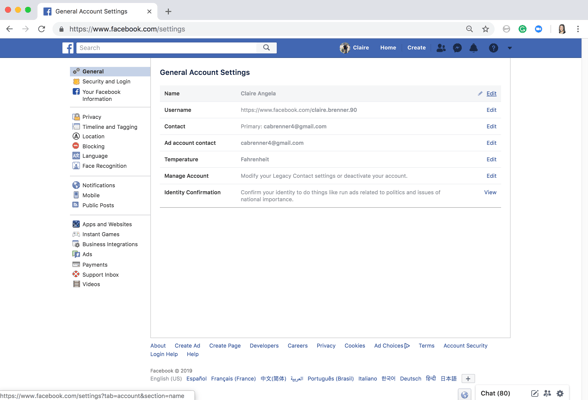 At this point, you can change your first name, your last name, or a middle name, as well as add other names. Make whatever changes you would like, and click "Review Change."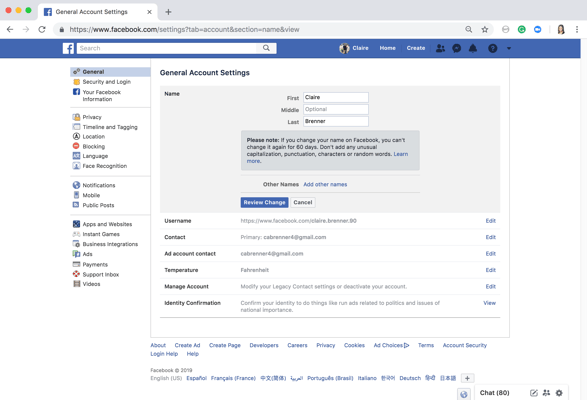 4. Preview change and save
From here, you can preview your name and choose how it will appear on your profile – basically, you'll choose the order in which your first and last name will appear. If you're happy with your Facebook name, then you can enter your password (for security purposes) and click "Save Changes."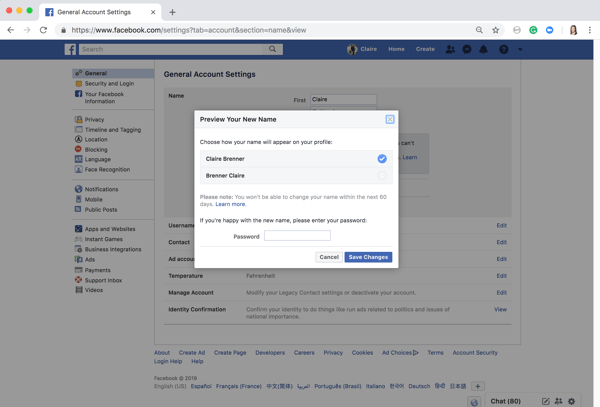 Choosing your new Facebook name
When it comes to changing your Facebook name, be sure to review Facebook's name standards beforehand. You can't change your name within the next 60 days, so you'll want to be sure before you make the switch!
Facebook has a full list of guidelines, but to summarize, your name can't include any symbols, numbers, repeating characters, punctuation, or unusual capitalization. Additionally, you'll need to stick to characters from one language.
You also can't include a title of any kind – only names. This means no professional titles, religious titles, etc. On a similar note, you can't use any words or phrases in place of a name, and any offensive or suggestive words are a no-no.
As a general rule, the name on your Facebook profile should be the name that your friends refer to you as in real life. If the name on your birth certificate is William, but you've gone by Billy your entire life, then you can be Billy on your Facebook profile. The point here is that the names don't have to match exactly, but the display name does have to be a variation of the actual name that Facebook has on file for you.
Last but not least, keep in mind that profiles can only be for an individual – not a company. If you're looking to use Facebook for business, you'll need to create a separate Facebook business page.
Enjoy your new Facebook name
You've officially updated your Facebook name and can be found (or not found) by whomever you'd like.
Interested in optimizing your Facebook profile even further? Be sure to check out our additional resources.