There are many ways you can stand out from the crowd.
Whether you choose to wear bright yellow eyeshadow to work (guilty) or dye your hair a funky color, some ways are easier than others.
Something else that can make you stand out? A unique and witty Gmail signature – the perfect sendoff to even the most boring email.
Unsure how to change your Gmail signature? It can be done in three easy steps. Let's get started.
How to change Gmail signature
Gmail makes it easy to do a variety of tasks, like forwarding an email to a friend and blocking someone who isn't. Changing your Gmail signature is easy too, and can be done in just three steps.
How do I change my signature in Gmail?
Click the gear icon and open Settings
In the Signature section, add a signature in the text box
Click Save Changes
For further instructions, including screenshots, keep reading!
Step 1: Open Settings
Once you're logged into your Gmail account, click the Gear icon in the upper right-hand corner and choose Settings.

Step 2: Add your signature in the text box
Next, scroll to the "Signature" section, about halfway down the page. In the text box, enter what you'd like your Gmail signature to be and uncheck the No Signature box.

You can have some fun here by changing the font, size, and even the color of your signature.
Step 3: Click Save Changes
Once you're happy with your Gmail signature, scroll to the bottom of the page and click Save Changes.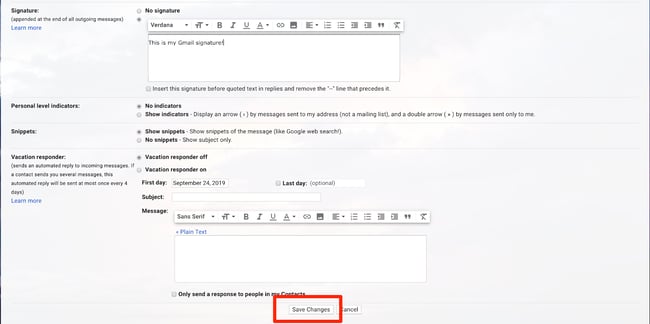 It's time to say goodbye
Or at the very least, it's time to end your email with some flair, so make sure your Gmail signature says something about you. Whether it's something work-related or your favorite quote, choose something that stands out!
If you frequently use Gmail, leave a review for your peers on what you have to say about this popular email software.