As you build your marketing strategy, your website design is bound to be a key element.
Without a well-constructed website, your brick-and-mortar store wouldn't survive. A company's website should make it easy to reach a broad audience, and an impeccably designed site is how that audience converts to customers, fans, and followers of a brand and its products.
Deciding to build a career for yourself in web design is exciting, especially when you consider all of the web design elements a website can possess. If you're interested in learning more about the path you'll need to take, keep reading or jump ahead to:
How to become a web designer
As a web designer, you'll plan out the overall look and feel of a website, in addition to considering the cost of actually developing it. You will need to be able to create something that catches the attention of the viewer, keeps them glued to the screen, and makes them want to come back for more.
Sure, that's easier said than done, but let's dive into the steps to get there.
Getting started as a web designer
Before you can land your dream job as a web designer, there are some fundamentals that you'll need to master.
Basic drawing
You're probably thinking "I won't be using a pen and paper to design a website," but you will need an element of illustration as you show your ideas to potential clients and peers. Web designers typically work closely with graphic designers to create graphs, grids, layouts, and more. Having a concept of drawing shapes, creating menus, and drafting logos will come in handy during multiple projects as a web designer.
Layout and structure
Websites are all about structure, as each page should be both unique and cohesive to the others. Whether you're building a website from scratch or implementing a re-brand, web designers need to know what makes each page appealing from start to finish.
The layout and structure of these pages also need to incorporate SEO as they connect to the visitors buying experience of a product or service. Elements to keep in mind will be images, links, CTAs, typography, and more.
Web design theory
Web design theory, or the principles of web design, goes beyond design and into appeal, navigation, and coding. If you want the ability to advance in your career and climb the corporate ladder, these are skills you'll need to master.
As technology changes, so will your job as a web designer. The same can be said for a potential target audience and the goals of a company. How will you incorporate web design theory into each new project that comes across your desk? It's all about staying agile!
Additional elements of web design theory include knowing how to make a website, well, beautiful. A client is most likely going to want features that "pop," which you will have to translate into adjusting colors for ideal contrast, reshaping patterns, exploring depth and texture, and more.
User experience
A website with an impeccable design will make users want to stay on the site and explore all that it has to offer. As a web designer, understanding user experience (UX) principles and a user centered design are a must. Without both coming together, a potential customer of your client might end up on their competitor's website instead.
This encompasses everything from page load time, its responsiveness on varying screens, an easy to understand menu, and more. You want the visitor of a website to jump through as few hoops as possible to find exactly what they're looking for.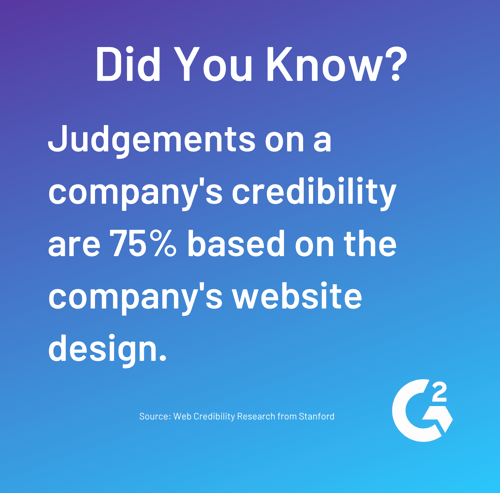 Web designer skills
Once you have mastered the basics, there are some skills that you'll need to have on your resume in order to get hired. For instance, an understanding of HTML, CSS, and JavaScript will allow you to code both the front-end and the back-end of the site. You'll also need to master web design software, like Adobe Photoshop and Dreamweaver.
In addition to these specific programs, you'll need to understand how to design a website for varying screen sizes and SEO.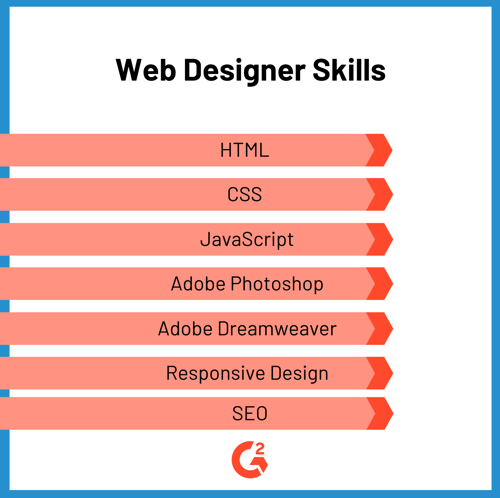 Web designer job titles
Like most careers, there are different paths you can take on your journey of being a web designer. Once you have a few years under your belt as a web designer, will you move into a senior role? Will you venture out into a speciality of either UX or UI?
It's going to depend on your personal list of skills and strengths, openings at various companies, and where you think you'll excel. Keep your options open and be ready to make some changes if needed to move up in your field.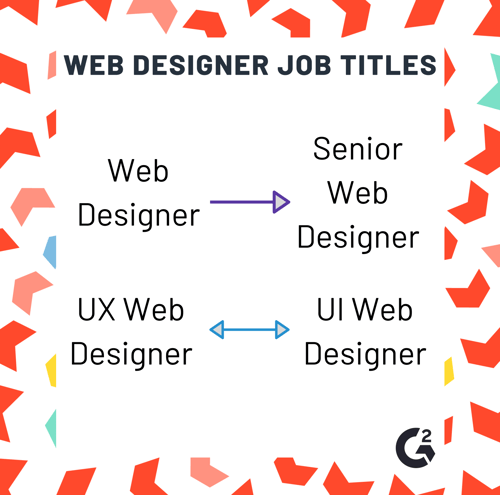 Choose a path in web design
Ready to apply to your dream job of being a web designer? First, you should narrow down if you're looking to freelance your talent, work for an agency, or be a company's in-house web designer.
If you go the agency or in-house route, you'll most likely have regular clients, a consistent paycheck, and the support system you need to succeed. On the other hand, deciding to be a freelancer allows for flexible hours, potentially higher pay, and the advantage of working remotely.
Once you decide on your direction, you'll be able to refine your portfolio and list of skills to be exactly what is needed to appeal to the right kind of people. Building your brand is important as it will assist you in standing out to clients and apart from the competition by being a visual representation of what you can do. Don't forget to utilize word of mouth, social media marketing, and a snazzy business card, too!
Design your career on the web
Your career will be what you make it, so make it one that you love. Turn your passion for design into a career as a web designer. Keep the hard work and creativity flowing, be ready to adapt and learn new things, and never settle for less than perfection.
Need some help from the professionals? Check out these six tips from other web designers and nine web design tips from the experts.