It's always good to dream big.
As a kid, you might've said you wanted to become an astronaut, an artist, or a veterinarian when you grew up. However, as you got older and began seriously thinking about what you wanted to do with your life, you started to realize you really just wanted to land a job that was secure and well-paying. Perhaps you've considered pharmacy as a career path (after all, isn't that why you clicked on this article?)
A pharmacist is a health professional that practices in pharmacy, the field of health sciences that focuses on providing safe and effective medication use. Pharmacists dispense drugs to patients according to a prescription written by a physician or clinician.
So how can you begin your journey of becoming a pharmacist?
Qualifications to become a pharmacist

Complete two years of undergraduate and pass your PSAT

Enroll in a PharmD program

Complete a pharmacy internship

Complete your allotted clinical rotations

Graduate with a PharmD degree

Pass your licensing exams: the NAPLEX and the MPJE
In this article, we'll dive into more detail about these qualifications as well as necessary training and education, and how you can get licensed.
Looking for something specific? Feel free to jump ahead:
What does a pharmacist do?
Required education to become a pharmacist
Pharmacist qualifications
How long will it take to become a pharmacist?
How to become a pharmacist
The road to becoming a pharmacist can be daunting considering how complex the healthcare operations industry is. Rightly so. Most professions in medicine require an extensive amount of training and preparation. Becoming a pharmacist is no different.
A pharmacist has comprehensive knowledge of the chemistry of various drugs and knows how they react in humans as well as how they react with other drugs. A large portion of their job is to accurately measure and package medicine for patients, ensuring the prescribed dosage is safe.
Note: A pharmacist does not typically select medications or write prescriptions for the patient. A pharmacist assists with any questions the patient might have about said medicine such as how to take it and potential side effects.
What does a pharmacist do?
There is more to a pharmacist's job than just filling prescriptions. Pharmacists will typically assist with the following tasks:
Package and fill prescriptions, making sure each is filled with the correct amount of medication for the patient
Answer any patient questions about how to take the prescribed medication and side effects they may experience from taking it
Check each patient's current prescribed medications to ensure the filled prescription won't interact negatively with the medications or with any medical conditions they may have
Administer flu shots when permitted and, in most states, other vaccinations
Fill out insurance forms and communicate with insurance companies to ensure that each patient gets the medication they need
Advise patients on health topics such as exercise, diet, and stress management as well as give suggestions on what supplies or equipment would best help to treat a health issue
Discuss the best medication course for a patient with other professionals
Oversee pharmacy technicians and pharmacists in training
Conduct health and wellness screenings
Keep prescription records and complete various administrative tasks
These responsibilities are subject to change depending on whether the pharmacist works in a retail pharmacy or hospital. It's also common for pharmacists to own their own pharmacies and take on added business management responsibilities.
Required education to become a pharmacist
When starting your education, you can enroll in a four-year pharmacy program once you've completed two years of undergraduate coursework and earning a passing score on the Pharmacy College Admission Test (PCAT). The PCAT consists of seven different subtests that measure writing ability, reading comprehension, verbal ability, quantitative ability, and biology and chemistry knowledge.
Your PharmD program will likely consist of classes in subjects like: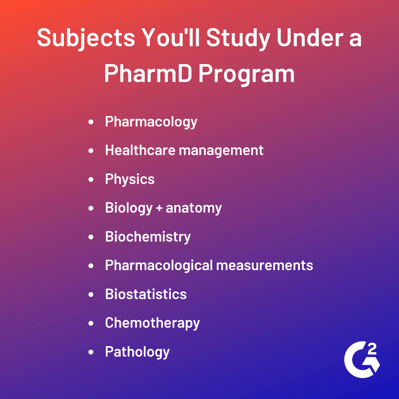 In addition to your courses, you'll need to complete a formal internship at a pharmacy during your time at college. The hours and requirements needed will depend on your state's licensing requirements.
Toward the end of your program, you'll be assigned to complete a series of clinical rotations in a variety of settings such as hospitals, physicians' offices, and pharmaceutical companies. These rotations offer students the opportunity to work closely with physicians, patients, and other pharmacists working in the field. The length and quantity of rotations will vary, but the typical program requires 7 - 10, each of which is four to six weeks in length.
Pharmacist qualifications
To practice pharmacy in the United States, you must earn a PharmD (Doctor of Pharmacy) degree from an accredited institution. This degree program requires a minimum of two years of specific undergraduate study followed by four academic years of professional pharmacy study. The vast majority of students begin a pharmacy degree program after completing three or more years of college.
Pharmacist licenses
In addition to earning your PharmD degree, you'll also have to pass a state pharmacy licensure exam. All pharmacists in the United States must obtain a license to practice. Pharmacist licensure typically requires you to complete an accredited PharmD program and pass two licensing exams: the Multi-State Pharmacy Jurisprudence Exam (MPJE) and the North American Pharmacist Licensing Exam (NAPLEX).
Note: Your state's licensing board will brief you on which exam you need to take.
Applying for a license
Once your exams are complete, you'll apply for licensure. Depending on your state, there may be other requirements. These could include:
Submitting proof of internship to your state's board
Passing a background check
Taking added tests or training for certification in other areas (such as vaccination)
Even after you earn your license, you'll need to maintain it by renewing your background check and continuing your education.
How long will it take to become a pharmacist?
The length of time it will take to become a pharmacist depends on when you decide to pursue the career. Most PharmD programs take four years to complete. If you earn a bachelor's degree before entering your program, it will take eight years to become a pharmacist. Many college students don't decide to become a pharmacist until later on and end up completing eight years of school.
However, if a student decides to pursue pharmacy early in their college life, they could potentially graduate with a PharmD in roughly six years. These programs are called "0-6" programs and there are currently only seven of them listen on the American Association of Colleges of Pharmacy (AACP).
There are also early assurance programs and accelerated programs. Early assurance programs allow high school students who enrolled and completed the first two years of pre-professional study. These students are guaranteed admission to a four-year pharmacy program. Accelerated pharmacy schools offer a degree in three years rather than four. Currently, there are 13 accelerated programs on the American Association of Colleges of Pharmacy (AACP) website.
Is pharmacy in your future?
The time is now to consider a career in pharmacy. The demand for trained and certified pharmacists has increased in recent years due to the boom in both the healthcare and pharmaceutical industries. Once you complete the necessary education and training, you can start looking for a position online.
Job boards collect job listings from various sources and organize them in an easy-to-use database for people seeking employment. Freshly graduated? Start browsing the top job boards and apply to relevant positions.

Want to learn more? Learn what the highest paying tech jobs are or how companies are integrating AI in healthcare.