Pursuing a lengthy degree isn't the only path towards making a difference in the medical field.
Medical assistants have an enormous impact on patient experience in healthcare, and they usually only require a year-long certificate program to get started. Job prospects are sunny, too - the Bureau of Labor Statistics (BLS) expects the employment rate of medical assistants in the United States to grow by 23% from 2018 to 2028, which is far faster than the average growth rate of 5%.
How to become a medical assistant:
Have, at a minimum, a high school diploma
Enroll in a certificate course or associate degree program, or find a medical facility that offers on-the-job training
Obtain certification from one of five accredited certifying organizations
Read on to discover what steps to take towards starting this promising career, or use the links below to jump to a particular section.
What is a medical assistant?
A medical assistant is a medical professional who is responsible for working alongside physicians in outpatient and ambulatory care facilities, such as medical offices and clinics. Some medical assistants also work in private or public hospitals.
Regardless of the location, their clinical responsibilities may include interviewing patients, checking vital signs, and preparing patients for examination. Medical assistants also take on a variety of administrative duties, from maintaining patient records and scheduling appointments to bookkeeping.
What experience is needed to be a medical assistant?
One of the attractive aspects of choosing a career as a medical assistant is the relatively low barrier to entry. A high school diploma is usually the minimum experience necessary, but further education or job training will set you up for success.
Educational requirements
While most states have no official educational requirements to work as a medical assistant, completing a degree program will make you a more attractive job candidate, as well as prepare you for the day-to-day responsibilities of work.
Aspiring medical assistants can prepare for their career with a year-long certificate course from a community college, vocational school, or university. Associate degree programs that take two years to complete are also available, and may lead to a higher-paying position.
Which option you choose may depend on whether your priority is entering the workforce faster or laying a foundation for further education and advancement.
Coursework includes topics related to both the clinical and administrative aspects of the job. Students will learn about medical terminology, pharmacology, and anatomy, as well as bookkeeping, medical coding and insurance.
Externships
Many medical assistant programs require completion of an externship to provide hands-on experience. If your school offers externships, they should place you with a local medical facility where you will be able to get a real taste of life as a medical assistant under professional supervision.
Externships typically last between six and twelve weeks and while they are unpaid, they are an invaluable opportunity to ask questions, learn, and make contacts that can help you in your career. Performing well in an externship can lead to a job at the same facility or a letter of recommendation to help land a position somewhere else.
Professional training
While many medical assistants opt for classroom-based training, receiving on-the-job instruction is also a possibility. Some employers are interested in medical assistants who have been trained to meet the specific needs of their facility, and offer on-the-job training for applicants who have a high school diploma but have not completed an MA program. On-the-job training programs may be paid or unpaid and the length of time varies, but will likely take at least several months to complete.
Medical assistant certification
The requirements for working as a medical assistant vary from state to state. Although most states don't require certification to work as a medical assistant, many employers give preference to certified applicants. Certification usually requires completion of an accredited MA education program or equivalent work experience, as well as passing an exam.
The following medical assistant certifications are all accredited by the National Commission for Certifying Agencies:
Certified Medical Assistant (CMA) from the American Association of Medical Assistants
Registered Medical Assistant (RMA) from American Medical Technologists
National Certified Medical Assistant (NCMA) from the National Center for Competency Testing
Certified Clinical Medical Assistant (CCMA) from the National Healthcareer Association
Certified Medical Administrative Assistant (CMAA) from the National Healthcareer Association
Some states also require extra training and certification for performing specific clinical tasks, such as drawing blood or administering injections.
Key medical assistant skills
Because medical assistants spend most of their day interacting with patients, soft skills like interpersonal communication and empathy are imperative to success. An ideal medical assistant also needs to be detail-oriented, analytical, and have strong organizational skills and the ability to multitask.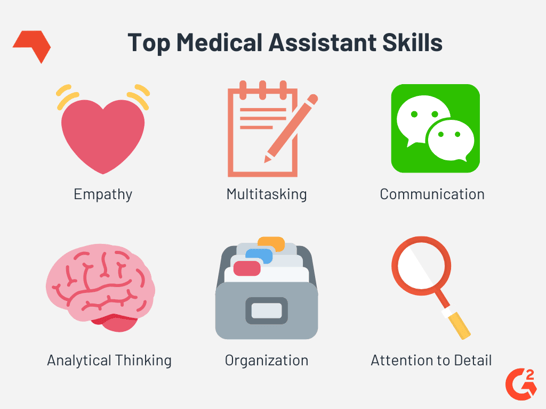 Average medical assistant salary
According to Salary.com, the nationwide average salary range for a medical assistant falls between $32,699 to $38,302 per year.
On the high end, the BLS found that the top 10% highest-paid medical assistants earned more than $47,250 per year. Pay rate is dependent on a number of factors, such as location, level of education, years of experience, and additional skills and certifications.
Need career advice? Check out more resources for tips on everything from job hunting to perfecting your resume.
Assistant, heal thyself
While becoming a medical assistant may not be as expensive or take as long as some other career paths, that doesn't mean it's easy. Medical assistants need a blend of hard and soft skills that many people don't possess, but with an aging population and more medical facilities opening every day, skilled assistants are needed more than ever. Will you be one of them?
Not sure if becoming a medical assistant is right for you? Explore other lucrative jobs that don't require a degree.