As we move through life, the way we spend $5.00 changes a lot.
At age ten, that money might go towards candy.
At age 20, that money might still go towards candy. At age 30 towards rent, at age 40 towards your 401k, and so on. The older we get, the more difficult the decision of where we spend that money becomes. Do we put it towards this or that? Do we spend it or save it?
Luckily, people don't have to make these decisions alone; they're assisted by heroes that happen to be really great at math.
How to become a financial advisor
Assigned with the task of helping clients make smart decisions about their money, financial advisors are those heroes. Whether it's assisting someone with their investments or starting a retirement fund, financial advisors can work anywhere from large financial institutions to being self-employed.
Rated the 9th best business job of 2019, financial advisors help their clients plan for their future in a reasonable and logical way, and are turned to when unexpected events arise. When financial troubles arise, advisors make sense of the situation and guide clients on the right path.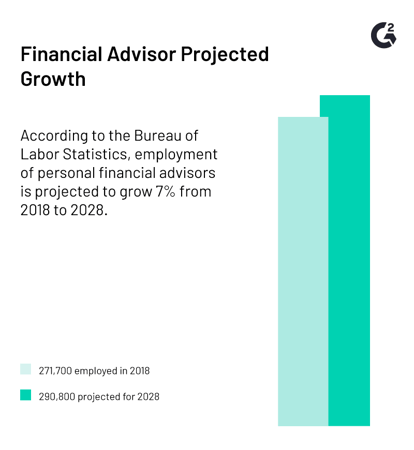 If you're looking to advise others about their financial future, look no further. Below, we've outlined the steps you need to take to make your way into this rewarding role.
1. Earn a degree
We know this is much easier said than done, but earning a degree is vitally important for someone who wants to become a financial advisor.
Finance, accounting, economics, or other business-related majors especially help students prepare for this job. As the job market changes, financial advising is becoming an increasingly popular career choice, meaning that some universities have gotten so specific with the concentrations that they've begun to offer degrees like financial planning.
Courses like advising and investing will also go a long way if the university you attend offers them.
If you're a student and absolutely aching to become a financial advisor, don't suffocate yourself with spreadsheets. Taking up a more creative minor like marketing or general communications might be a smart move, especially if you're planning on becoming an independent advisor.
How will people hear about you without any marketing or networking skills?
2. Educate yourself outside of the classroom
While attending class is important, most of us know that getting some hands-on experience is just as valuable (if not more).
Take the time to research internships available for people who are simultaneously earning their degree. Interning with a firm will help you get a better idea of how the subjects and concepts that you're being taught in classes are applied in a day-to-day situation.
Internships not only give you a chance to experience what your future might look like, but they might be the very door to it. Working in the field that you're interested in means meeting people that might have friends, colleagues, or family members who could be hiring someone in the near future.
Finally, you'll likely want to find a job after you graduate, which won't be easy to do without at least a little experience in your back pocket. Finding an internship, even if it's over the summer, will help you fill out that white space on your resume and fill in the blanks that your classes may have left.
3. Find a job
After hours and hours (and hours) of classes, assignments, projects, and commuting to and from your internship, it's time to actually get paid for the work you're putting in.
Write a resume that reflects who you are and be sure to include your most relevant experiences. When listing your skills, don't just regard the software that you spent a majority of your time in; talk about the soft skills that will help prove that you're both technical and a great communicator. Punching numbers is only half of the work.
At the same time, don't undermine the importance of knowing your way around financial analysis software. While some firms have their own software, remember that those may not be the firms you end up working for.
"Financial advisor" is a general title for an umbrella of topics that financial advisors can specialize in, including stocks, retirement, taxes, insurance, real estate, financial planning, and education. If one of those areas is one you'd prefer to focus on, make sure you specify that in your resume and throughout your search.
3. Earn certifications and licenses
Depending on the services you want to provide as a financial advisor, certain certifications and licenses may be required. Often, states require that those who want to buy and sell stocks and bonds as well as insurance policies obtain a license.
These certifications and licenses aren't free, and they are by no means easy to earn. While some employers may set aside time for you to study, others will expect that you work during the day while you prepare for your exam at night. These exams don't just take time to prepare – eventually, they'll take your money, too. Make sure that you do your research and are aware of the journey that awaits.
Below, we've listed out some of the types of licenses that certain financial advisors are required to have:
Series 6 License
The Series 6 is administered by the Financial Industry Regulatory Authority. Passing the Series 6 enables financial advisors to sell a limited set of investment products. The Series 6 does not enable a financial advisor to sell stocks or bonds. The exam consists of 50 questions (as of October 1, 2018), and can be retaken if failure occurs 30 days after the first exam date.
Series 6 is often obtained by financial advisors before the Series 7 as a means of dipping their toes into what passing the Series 7 will allow for.
Series 7 License
The Series 7 is also administered by the Financial Industry Regulatory Authority, and is considered the golden ticket to financial advising. Passing the Series 7 enables financial advisors to sell stocks and bonds along with the passing of the Series 66 (see below). As of October 2018, the exam is 125 questions (instead of 250) with 3 hours and 45 minutes to complete (instead of an agonizing 6 hours). This test is notorious for its difficulty to pass.
Series 63 License
In addition to the Series 6 or 7, every state in the U.S. requires that financial advisors pass the Series 63 to advise within state borders. The exam only lasts 75 minutes but covers difficult questions regarding laws and regulations.
Series 65 License
The Series 65 is required for financial advisors who specialize in investments. The exam covers laws and regulations, ethics, and topics like portfolio management. The exam is 130 questions and passing the exam (with a 72.3% or higher) provides the test taker with the title of an investment professional and may act as an Investment Adviser Representative in certain states.
Series 66 License
Along with the Series 7 exam, the earning of a Series 66 license means that a candidate can then register as a financial advisor in a state. The Series 7 can be taken before the Series 66 or vice versa – the order does not matter.
4. Get an advanced degree
Remember how we mentioned that financial advising careers were becoming more popular? That means that competition is getting tougher. In order to differentiate yourself from the crowd and get the clients you deserve, it might not hurt to take some time to earn your master's or doctorate.
Pursuing further education not only enhances your knowledge but shows others how serious you are about advancing in your career.
You're in high demand!
While we only listed four steps, they all take an awful lot of time to get through. It may take more than seven years before you can call yourself a financial advisor, but it's worth the wait.
Financial advising can go in many directions. Learn more about how you can map out your career path.