So you're considering advertising on Facebook, huh? Well you've come to the right place.
Ever since its creation in 2004, Facebook has proven to be a social media giant. Whether you use the site to connect with family and friends or use it as a business owner, the platform has also become one of the best places for companies and entrepreneurs to practice Facebook marketing and advertise their product or service.
So what exactly are Facebook Ads and how do you create them? Let's start by going over what they actually are.
What are Facebook Ads?
Facebook Ads exist all across the site whether it's right on your newsfeed, displayed on the sidebar, or in your Messenger app. They're one of the most effective ways to promote your business, product, or service. Facebook Ads come in a variety of shapes and sizes and each type of ad accomplishes something different.
This article will cover everything you need to know about Facebook ads, and examples of how businesses are using the feature.
Types of Facebook Ads
Advertising with Facebook Ads Manager
How much do Facebook Ads cost?
Best Facebook Ad examples
How to advertise on Facebook
Before we get into how to create an ad, let's first cover the different types of Facebook ads you can utilize.
Types of Facebook Ads
With nine different advertisement formats to choose from, business owners can tailor their ads however they'd like. Trying out a couple different formats can help you determine if one performs better than another (helping you to engage with your audience more effectively).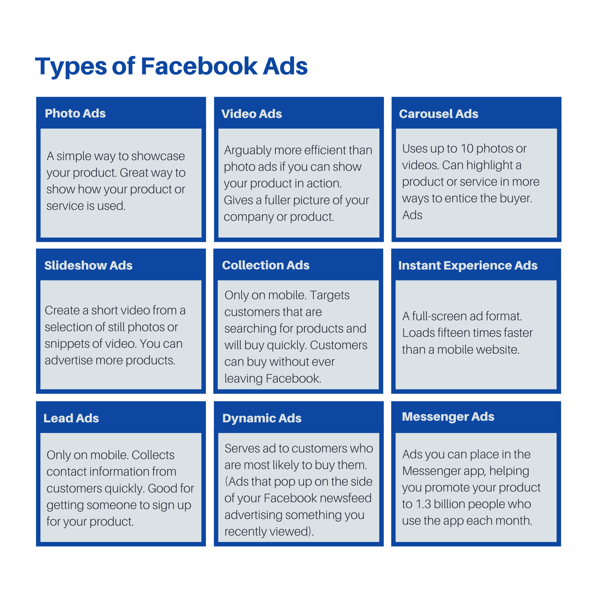 That's all great but how do you actually go about creating an ad campaign?
Advertising with Facebook Ads Manager
To get started, the first thing you'll need to do is create a Facebook business page. All ad campaigns on Facebook run through the Facebook Ads Manager tool which you can find here: facebook.com/ads. You can also create an ad by clicking any of the CTAs on your business' page.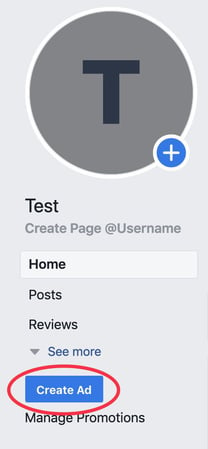 Once in the Ads manager, you're going to select the objective that fits your product, company, or service best. Facebook offers 11 different marketing objectives depending on what you'd like to accomplish. It's crucial to pick the objective that best fits your campaign needs.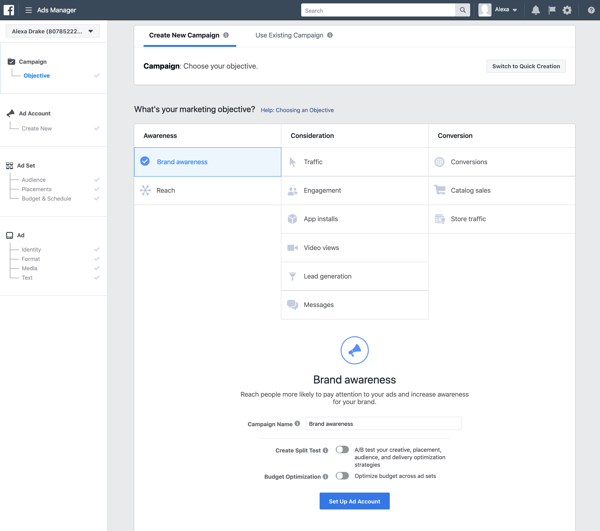 Which campaign objective to choose
Choosing between nine different campaign objectives is overwhelming but selecting the right one is important and will determine your Facebook advertising success.
Brand awareness: Introduce your brand to a wider audience.
Reach: Show your ad to the maximum number of people.
Traffic: Send more people to a specific web page on or off Facebook.
Engagement: Get more people to see and engage with your post or page. Engagement can include comments, shares, likes, event responses, and offer claims.
App installs: Send people to the app store where they can download your app.
Video views: Promote videos that show behind-the-scenes footage, product launches or customer stories to raise awareness about your brand.
Lead generation: Collect lead information from people interested in your business.
Messages: Get more people to have conversations with your business in Messenger or WhatsApp to complete purchases, answer questions, or offer support.
Conversions: Get people to take valuable actions on your website, app, or in Messenger, such as adding payment info or making a purchase. Use the Facebook pixel or app events to track and measure conversions.
Catalog sales: Create ads that automatically show items from your catalog based on your target audience.
Store traffic: Drive visits to your physical stores by showing ads to people who are nearby.
Keep in mind that some of the options in the next steps will differ depending on which objective you choose. For this example, we'll take you through a step-by-step guide on how to create a great ad with the brand awareness objective.
Setting up your marketing campaign
Once you've chosen a campaign objective based on your business' goals, you'll need to name your campaign. You can also set up an A/B split test and budget optimization but for now, we'll leave those turned off.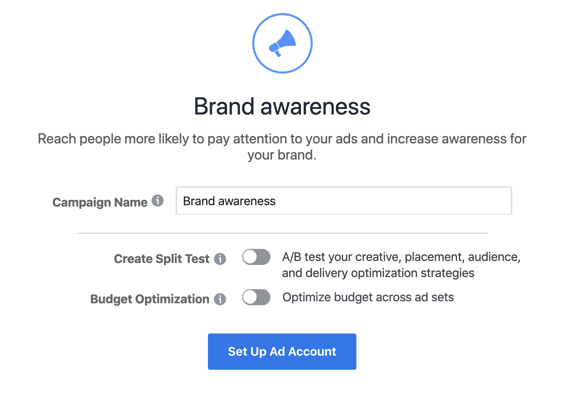 If you haven't set up an ad account, you'll need to do this now. Click Set Up Ad Account and enter your country, currency, and time zone. Click continue. At the top of the page, name your Facebook ad campaign in the Ad Set Name box.
Define your audience
It's time to target your audience! Finding your core audience is important and will determine the success of your Facebook Ads campaign. You can customize your audience based on their location, age, gender, language, interests, behaviors, and connections. You can customize even further by using custom audiences to retarget customers who interacted with your business in the past.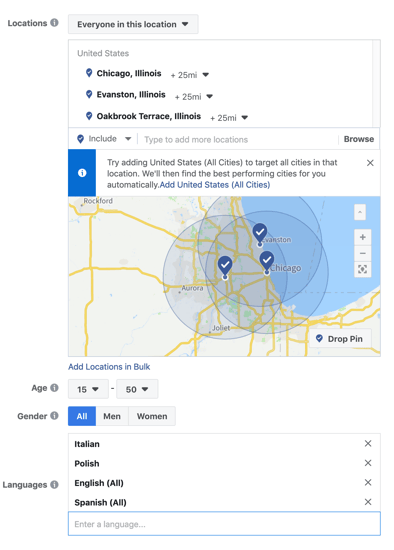 Always keep an eye on the Audience Size indicator on the right side of the screen. This tells you the potential size of your audience as you enter in information.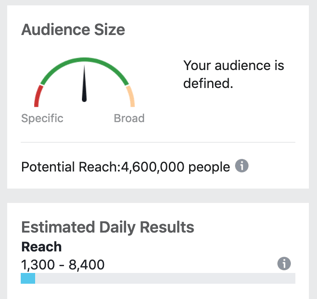 Don't forget to take advantage of the Connections feature. You can include or exclude specific people who are already connected to other pages, events, or apps related to your product/service. On the contrary, if you'd like to reach an audience who's never interacted with your page, you could select the "Exclude people who like your Page" option.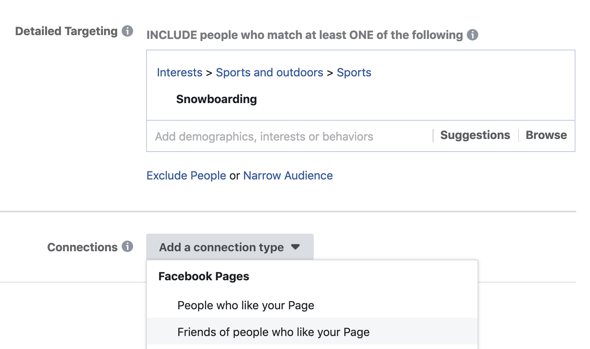 TIP: Learn more about converting website visitors with Facebook retargeting ads.
Placing your Facebook Ads
Keep scrolling to select where you want your ads to appear. If you're new to Facebook advertising, choosing Automatic Placements is your best bet. You'll maximize your budget and reach more people. Facebook's delivery system will allocate your ad's set budget across multiple placements based on where they're likely to perform best.
Once you have a better understanding of the Facebook Ads Manager, you may decide to place your ads in specific locations. Here are your options:
Device Types: Mobile, desktop, or both.
Platform: Facebook, Instagram, Audience Network, and Messenger (with the ability to choose where they appear on each platform).
Mobile Devices & Operating Systems: Android, iOS, or both.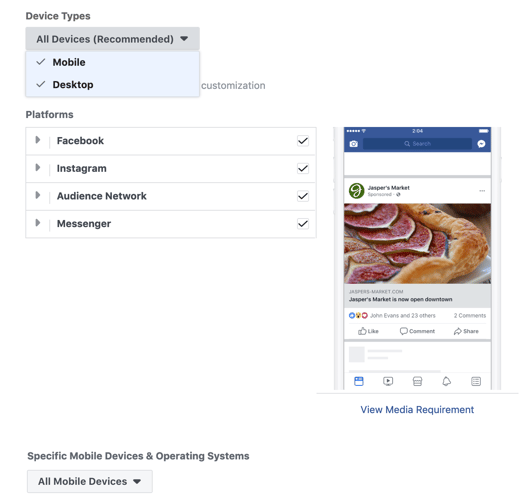 These are all highly customizable so make sure to take advantage of them when you see fit!
Setting a budget and schedule
Now that you've set up your target audience, it's time to decide how much you're going to spend on your ad campaign. You have the option to choose a daily or lifetime budget and set specific start and end dates if you want to start your campaign now or in the future.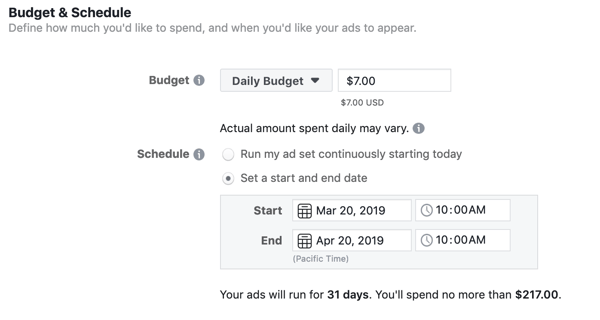 Additionally, you can flesh out your ads in greater detail with the advanced options. Remember that even if you set your bid amount high, you'll still end up paying the lowest amount possible in the auction to place your ads (we'll get into the auction process later).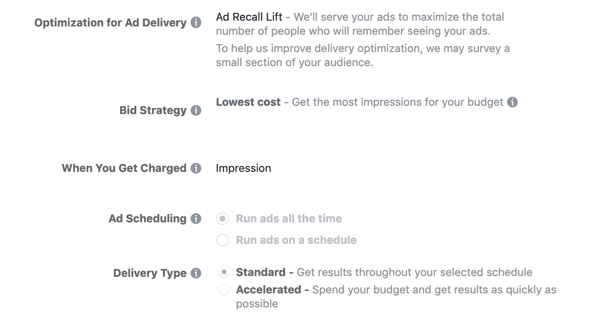 Once you've decided your budget, click Continue.
Create your ad
This is where it gets fun. First, choose your ad format (carousel or a single image or video). Each of these options changes the Media tab below. For this example, we'll choose the single image or video option.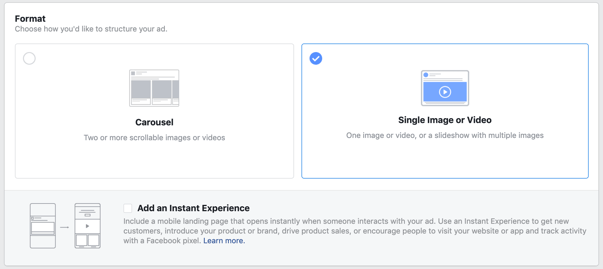 Note: The available ad formats will vary based on which campaign objective you selected earlier.
Once your format is selected, you'll upload a photo or video. Having clean and professional looking content is crucial to how eye-catching your ad will be (and how successful the campaign is)! Facebook allows you to create up to six ads with unique images at no additional cost. Usually, the image and video specs will be listed to the right, but for quick reference:
Image Specs:
Recommended image size: 1080 x 1080 pixels
Aspect ratio: 1:1
File type: .jpg or .png
Video Specs:
Format: .MOV or .MP4 files of .gif
Resolution: 600px minimum width
File size: 4GB max
Aspect ratio: vertical (4:5)
Recommended Facebook length: 15-60 seconds
For a comprehensive list of Facebook Ad sizes, check out this Hootsuite cheat sheet.
After you've chosen your ad format, uploaded necessary photos and videos, and entered in the text to go along with it all, the creative process is complete. Now you sit back and watch the Facebook Ads campaign unfold. But what if you want to know exactly where your money is going and how it's being used?
How much do Facebook Ads cost?
The short answer is: it depends on a lot of different things (I know, it's an answer you've heard already). Just remember that it'll never cost you more than you want to spend. It's all up to you. The amount of detail you can add to your personal ad campaign (like customizing your audience or your bidding plan) is endless. It's no secret that every single campaign will be different and yield different results. Of course, you know how much you'll spend because you set the amount but having the insight on how it's being spent surely gives you peace of mind that you're not shelling out money blindly.
The advertising auction
The first thing you should know is that Facebook essentially works like an auction. This is why there will never be a solid answer as to how much Facebook Ads will cost. When you pay Facebook to promote your business through an ad, you're entering a bid with every other business that uses the Ads Manager. With plenty of competition, Facebook can only advertise so many things so it limits the number of ads a user sees.
Facebook stated:
"The best way for us to create value for advertisers and provide relevant experience for users is to hold an auction in which both interests are represented. That way, advertisers are reaching people receptive to their ads and users are seeing something they're interested in. This is different than a traditional auction because the winner isn't the ad with the highest monetary bid, but the ad that creates the most overall value."
If there is ad real estate up for grabs, Facebook will consider three things: the advertiser bid, the ad quality and relevance, and estimated action rates. It'll combine the three factors and give the ad with the highest overall value the ad spot. This is important because it means you don't necessarily need to bid the highest to have your ad shown if your ad is more relevant and valuable than your competitors. After it's all said and done, the winning ad will be charged the minimum amount that's required to win the auction. This means you won't always be charged your max bid!
Other factors
Bidding with thousands of businesses is not the only thing that can affect how much your Facebook Ads will cost. Some other factors are the day of the week, the hours you choose to run your campaign, even the time of year. When the ad competition is fierce, costs will go up. Things determined before like your target audience and ad placement also hold weight. Different placements will have varying costs. If other advertisers are trying to reach the same audience demographic, costs increase. Newsfeed space is not unlimited after all!
There's also the relevance score which is calculated by the types of engagement you get. This can include clicks, page visits, and app installs. Your score can affect how much Facebook charges you.
Estimated Action Rates
In short, the Estimated Action Rate is Facebook estimating the likelihood that someone in your target audience will interact with your ad. For example, if you're running an ad for your wine subscription service, Facebook will show your ad to people it thinks will likely click on it or sign up. This is determined on previous actions that person took on Facebook (if they signed up for a monthly food subscription service) and how well your ads have been doing (the amount of people you've managed to convert to customers).
In the end, it's hard to predict how the money you spend on Facebook will be used to advertise your product or service. AdEspresso has analyzed over 300 million dollars of ad spend in great detail. For quick reference, here are the basics:
The average Cost Per Click (CPC) is about $0.35 globally and about $0.28 in the US.
The average cost per like is $0.23 in the US.
The average cost per app install is $2.74 in the US.


Best Facebook Ad examples
Here, We've put together a short list on some ads that really work.
NatureBox photo ad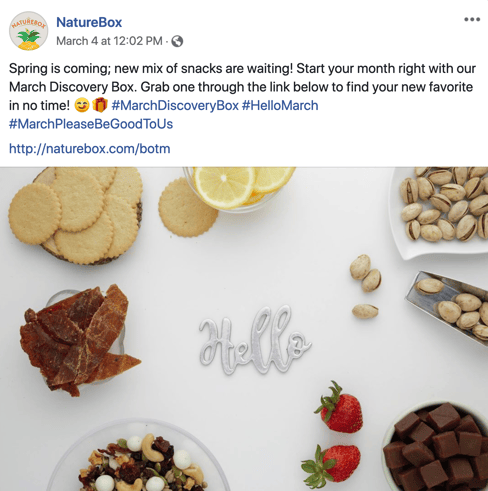 Why it works
It's visually appealing. You get a good sense of what the company does and some of the snacks you could get in your NatureBox.
There's a convenient link to their website. People know where to go if they want some of the snacks they offer.
Starbucks video ad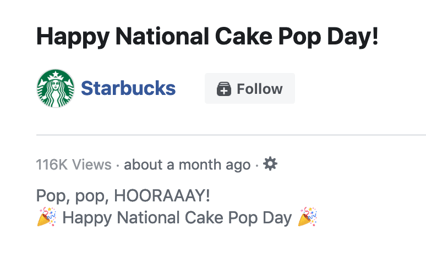 Why it works
Eye-catching! The video is short and sweet (boomerang style) which doesn't require the viewer to sit through a minute long ad. The more to the point your ads are, the more effective they'll be.
It clearly showcases they product they're trying to sell you. It'll probably even make the consumer hungry. If they're stopping into their local Starbucks, they'll remember the ad and have a higher chance of trying out the cake pop.
Planet Fitness photo ad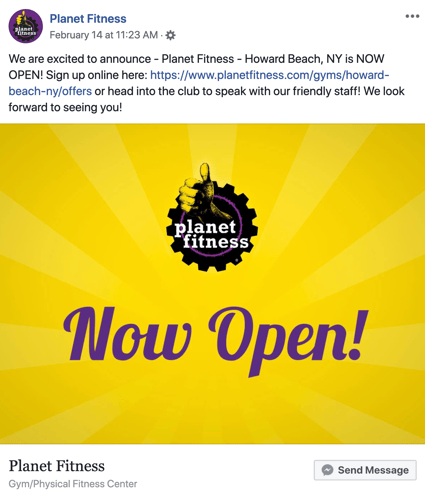 Why it works
Simple and clean advertising. The bright yellow will grab the scroller's attention and if they're looking for a gym to join in NY, they may consider joining Planet Fitness.
There is a direct call to action. The link to sign up is easy to find, creating a simple, quick, and easy experience for the consumer.
Shutterfly offer ad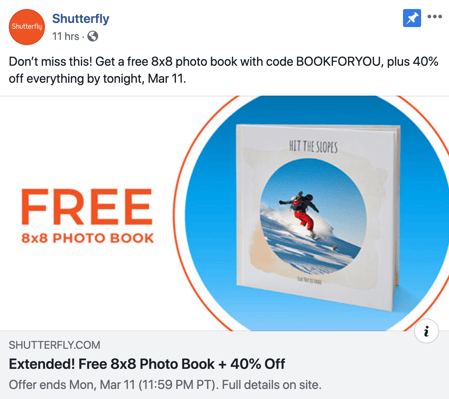 Why it works
FREE. The first thing your eye notices is the "FREE 8x8 PHOTO BOOK". Consumers included in Shutterfly's target audience will likely be tempted to buy just because there is something they can get for free.
It's valuable. If you're looking to buy photo books or related items, there is now added value because Shutterfly is offering something for free. It creates motivation to buy.
It's visual. I may sound like a broken record, but a clean and simple ad design is a great way to get eyes on your product/service. Choosing two or three main colors (including the logo color) will keep your ad design pretty and clickable.
Allbirds video ad
Why it works
It's visual (if I haven't said it enough). The animation is fun and quick, making the ad super interesting and exciting. The bright colors of the cake stand out amongst other ads.
The style of shoe is only available for a limited time. Previous Allbirds buyers will have more motivation to purchase a product that won't be available in a couple weeks/months. This is a great way to attract old and new customers at the same time.
It's relevant. People who fall into Allbirds' target audience are already fans of the brand. Diehard Allbirds fans will appreciate the homage to their original launch colors.
It casts a wide net. Who could say no to a beautiful limited edition grey running shoe? The product is simple enough to attract a wide array of buyers. We all need a good pair of running shoes.
At the end of the day, Facebook is a visual platform. People log on to scroll and "see" rather than do. Additionally, relevancy is key. Playing around with your target audience will help you reach the right people who will actually care about your ad. Lastly, get creative with your ads! More times than not, people will interact with your page more often if it looks good.
Extra tips and tricks
Finding your perfect target audience won't happen right away. Try advertising with a narrow audience first, and then broadening it slowly by adding an interest or category every time you pursue a new campaign. You could be advertising "Montana horseback riding lessons" and then open it up by adding "horseback riding lessons". Doing this will give you a better idea of how expanding your audience affects your results.
No one will click on a messy or boring ad so making sure your photos aren't blurry or just plain uninteresting is of top priority. Check out this list of sites that offer some of the best free stock photos.
These sites are great for sourcing stock photos, but taking photos of someone using your product or reacting to your service will translate much better to consumers. People want to see your product in action and just how great it is!
Don't miss out
So there you go, a look into how to advertise on Facebook. The platform is constantly changing and there will always be more to learn so make sure to keep learning as you go. No matter where you choose to advertise, the Facebook Ads Manager is a powerful tool and shouldn't go overlooked. Millions of businesses use it every single day.
Check out our social media marketing hub to learn everything you need to know about social media, content creation, analytics, and current best practices.