Ever sat through a not-so-exciting and seemingly never ending presentation?
You're sitting in a meeting and the presenter is flipping through a generic set of slides while you're fighting to stay focused on the subject matter. I think it's safe to assume almost everyone has been there at some point.
Slideshows are dull by nature, but that doesn't mean yours should be. If you're taking the time to prepare for and give a presentation, you should design it in a way that keeps your audience as engaged as possible. One way to do this is through audio.
How to add music to your PowerPoint presentation
In the main window, select the "Insert" tab from the toolbar
On the right hand side, select "Audio," followed by "Audio from File..."
Find the audio file you want to play, and select "Insert"
PowerPoint makes it easy for users to add music to a presentation. In this article, we'll walk through each step more in-depth and share some useful tips along the way.
How to add music to a PowerPoint presentation
Before we get started, It's important to decide what you want the music in your presentation to do. PowerPoint gives you multiple options when it comes to adding audio. Users can add audio to a single slide or have music throughout the entire presentation.
Let's get started.
Step one: Select the Insert tab, then click "Audio"
From the main window, click on the tab labeled "Insert."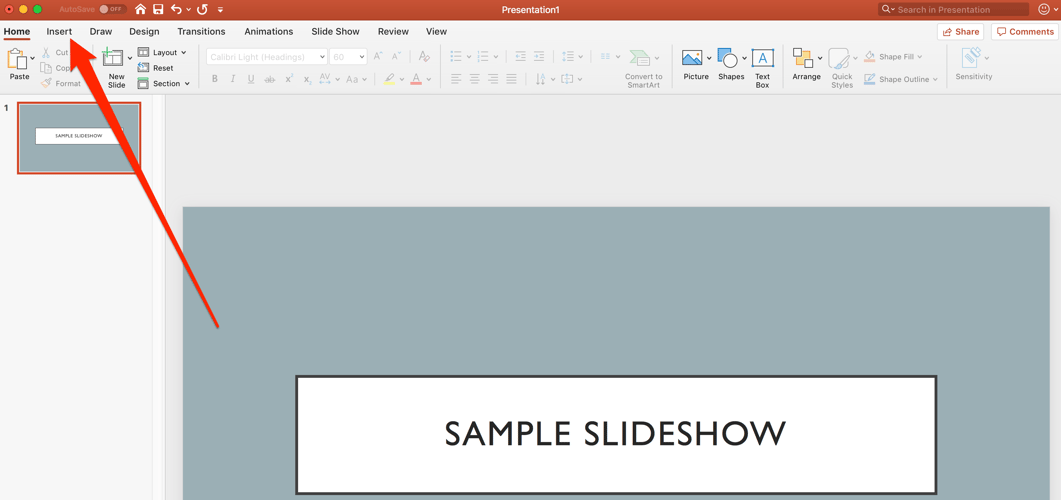 From there, click the gray audio symbol on the right-hand side of the page.

Step two: Select "Audio from File.." to locate the audio file
Next, select "Audio from File…" to locate the audio file you want to add to your presentation. This button will lead you to your audio library.
TIP: Make sure the file is saved as an MP3 or WAV. These are the only two file types that will work on powerpoint.


If you'd like to record audio for your presentation, you can do this by selecting the "Record Audio…" option instead. This allows you to record an audio file on the spot and add it to your presentation.
Step three: Find the desired audio file and click "Insert"
On this screen, you need to find the audio file that you want in your PowerPoint presentation. Once you've located it, simply click "Insert" and it will appear on your slide.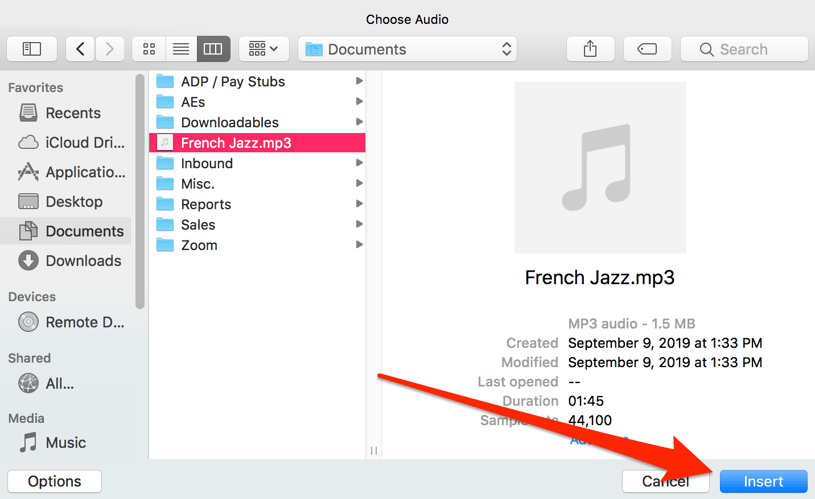 Once you have inserted the audio file onto your slide, you can make changes to it using the Audio Format and Playback tabs. These tab will automatically appear if you click on the audio speaker icon.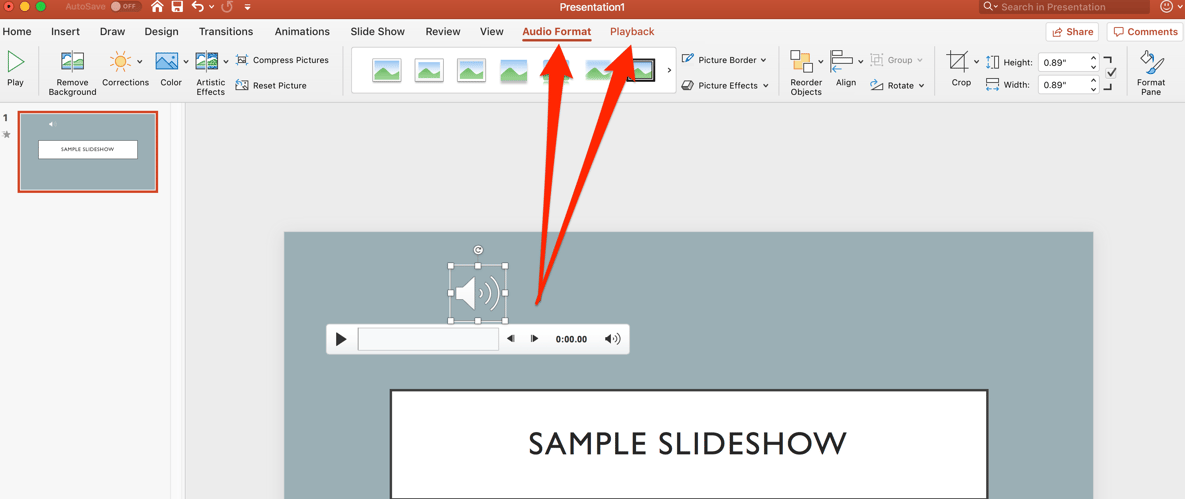 How to play an audio file automatically in PowerPoint
The default setting on PowerPoint will only play the audio when you click on it. If you want to change this so the music plays automatically, here's what you need to do:
Click on the audio clip
Select the "Playback" tab
Click on "Start", then select "Automatically"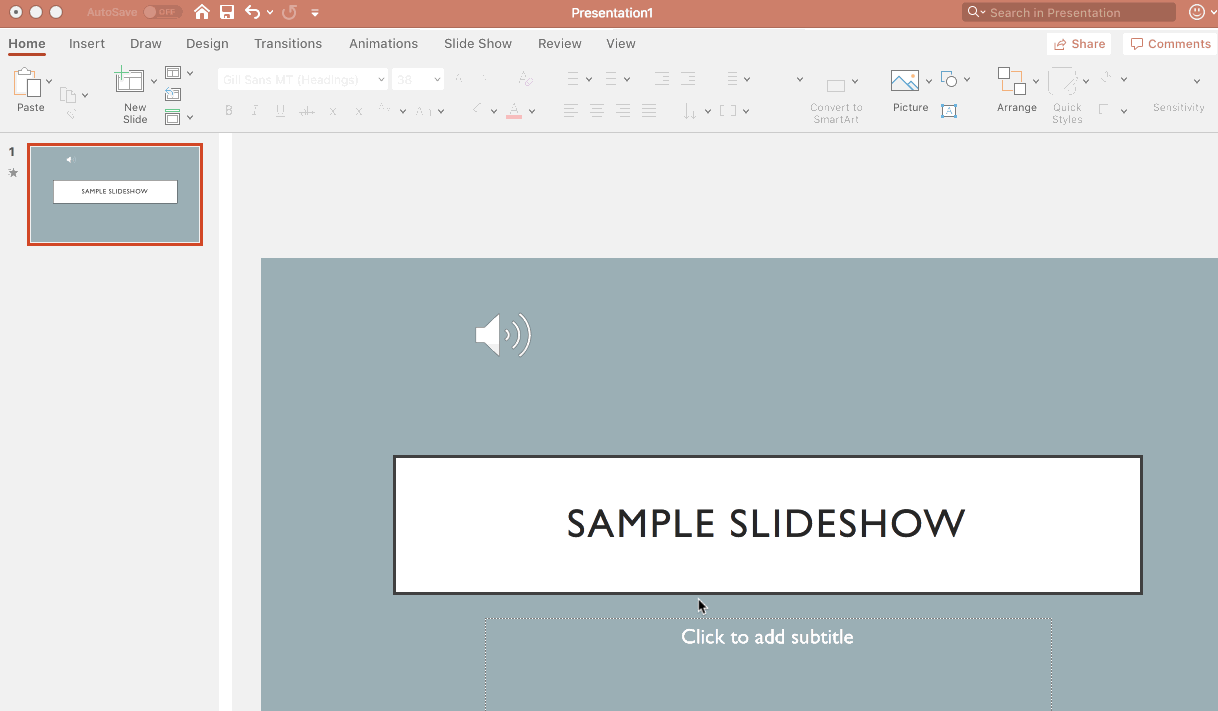 With this setting, you won't have to worry about clicking the audio file. Instead, the music will play automatically when you open this slide in presentation mode.
TIP: Don't like the way that audio icon looks? Good news - you can hide it. In the Playback tab, simply check the box that reads "Hide During Show."
How to add audio that plays throughout the entire PowerPoint presentation
You might run into a situation where you need music to play throughout the entire presentation, not just one slide. Setting this modification up is easy!
Click on the audio clip
Select the "Playback" tab
Check the box that reads "Play Across Slides"


Music to my ears
There you have it - adding music to spruce up your PowerPoint presentation is as easy as that! Audio is a simple way to take your slideshow to the next level and keep your audience engaged. If you ever feel that your presentation might be a bit dull, you now have this trick in your back pocket.
Is Microsoft PowerPoint a useful tool for creating presentations? Share your honest thoughts by writing a review on G2.