Missing old-school social media with MySpace music?
Thanks to Facebook, that distant memory is the new reality.
Making social media headlines, the company officially announced the newest ways to "share and connect with music on Facebook."
How to add music to your Facebook story
Open your camera on Facebook. Take a picture or video, or upload an image from your camera roll.
Tap the sticker icon, then choose the music sticker.
Choose the song you would like to add to your story.
Select which part of the song you would like to use, then add the sticker to your story.
Add any other stickers or features, then share the story to your profile.
The announcement comes with three updates: adding songs to your Facebook profile (not yet released), adding songs to Facebook stories (available now), and updates to Lip Sync Live.
In addition to adding lyrics to Lip Sync Live songs, artists are now able to add this feature to their Facebook page.
Here we'll look at what these musical announcements mean for you, including:
How to add music to your Facebook stories
Stickers have become a trend across social media platforms that feature stories. (If you're still getting used to the newest social media language, stories are pictures and videos that live on your profile with the short life-span of just 24 hours.)
Snapchat Stories was the original pioneer in social media stories, with Instagram and Facebook jumping on the bandwagon shortly after.
If you're already using stickers in your Facebook stories, you're in luck – a simple sticker is all you need to add music to your Facebook story!
These are the five simple steps to add music to your Facebook stories. Follow these steps if you are using the full version of the app or you saving phone space using Facebook Lite.
How to add stickers (and music!) to your Facebook story
If you're not familiar with using stickers and creating Facebook stories, here's all the instruction you'll need.
Follow these three steps to add a story to your Facebook story that is complete with stickers. (And now, music!)
1. Open your camera on Facebook
As mentioned in the instructions above, you'll first need to create the story you want to add to your profile.
To do so, begin by opening your Facebook app.
Then, click on the camera icon; you'll find it in the upper-left hand corner on your phone's screen.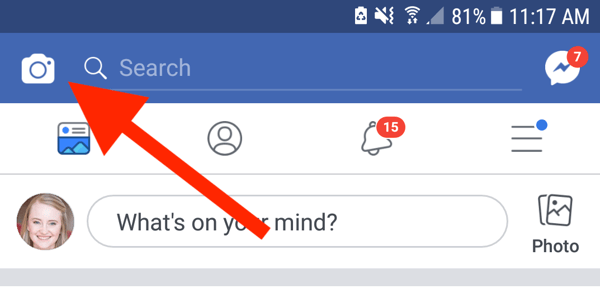 2. Add your picture or video
Once you click on the camera icon, take a picture or video to add to your story. Your phone will be on the "normal" setting when you open the Facebook camera. Tap the white button to take a picture, or tap the word "video" (left of the word "normal") to add a video.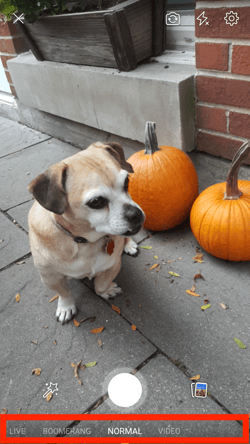 To create a Facebook story with pictures already in your camera roll (also known as your phone's gallery), click the icon showing two rectangles.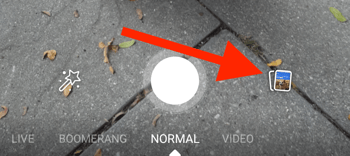 Your images and videos will appear; simply select the image you'd like to use in your story.
3. Add the music sticker and publish
Once you have created your Facebook story, click on the sticker icon – it's the one that looks like a folded smiley face. 😉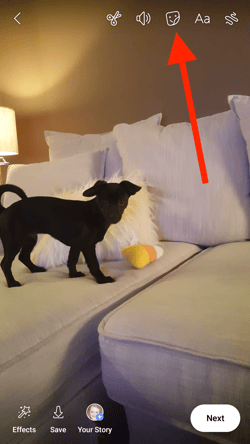 From here, choose the music sticker. You'll then follow the above steps of selecting the song and the portion you'd like to use in your story.
When you're done, feel free to add any other stickers you like.
Then, don't forget to add it to your story!

This button will ensure you send it to your Facebook story, where it is live for 24 hours, instead of your profile.
Here you can see how the music sticker will appear on your Facebook story: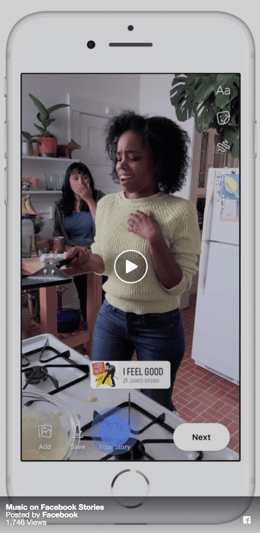 Image source: Facebook newsroom
As you can see, the sticker is customized to include the details for the song you're using. In this one, you can see the song title, "I Feel Good," and artist's name, James Brown.
Not sure how to add stickers to your Facebook stories?
At the bottom of this article, you'll find detailed instructions with pictures to walk you through the process.
Adding music to your Facebook profile
If you're familiar with MySpace, you're aware that not everyone was a fan of music immediately playing when viewing profiles.
Remembering this, Facebook created the music profile feature a little differently.
The new music section of Facebook will enable you to share what music you're listening to. But, instead of the songs playing automatically, your friends can click on the song to hear a portion of it. While the song clip is playing, an accompanying video will show album art and pictures of the artist.
When Facebook launched, a huge element of the platform was keeping friends updated on your current mood. Now, in addition to the music section, users can pin a song to the top of their profile.
When friends play a song on your Facebook profile, they can either visit that artist's Facebook page or add the song to their own profile.
Related: Not pleased with your current music selection? If you have extra time on your hands, consider creating an original tune for your Facebook story using free music making software.
While there is no word yet as to the official release date to add music to your profile, Facebook has shared a preview of how this pinned song will appear: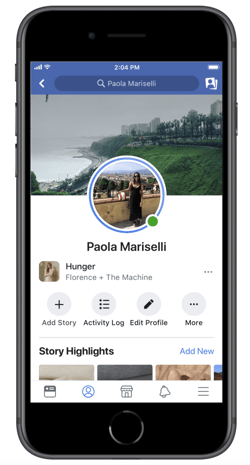 Lip Sync Live - Lyrics and Facebook pages
We can't forget about the third Facebook music announcement; Lip Sync Live.
The same way Facebook emulated Snapchat in the creation of stories, the company is now following the example of Musical.ly. A platform loved by teens (and even tweens!), Musical.ly now goes by the name Tik Tok.
If your Instagram experience is anything like mine, you'll see plenty of ads for Tik Tok when scrolling through every day!
So, what exactly is Lip Sync Live?
Lip Sync Live gives users the ability to share videos of themselves singing and dancing to their favorite music, adding another element for Instagram marketing campaigns.
Here you can see a demo of how Lip Sync Live works:

Part of the announcement involves the ability for artists to add Lip Sync Live to their Facebook pages. Singer Jess Glynne was one of the first to add a Lip Sync Live song to her profile:
If you're not a musical artist yourself, you can still appreciate the addition of lyrics to Lip Sync Live.
Lyrics create a karaoke experience wherever you and your phone may be; a feature that users are sure to appreciate. Like Phoebe on Friends, it is far too easy for any of us to get those iconic song lyrics wrong!

The lyrics that are currently available include the songs "New Rules" by Dua Lipa, "Better" by Khalid, and "Girls Like You" by Maroon 5, with the promise of new song lyrics coming soon.
Facebook plans to use Lip Sync Live to give artists real-time interaction between artists and fans. One of the first examples happened this week; the band Why Don't We used the platform to give their fans a performance of the song "8 Letters" through a Facebook marketing campaign.
Here's the video the Lip Sync Live video Why Don't We shared on their profile. (You can turn the sound on using the
icon, found within the video's bottom right corner.)
In addition, there are reports that Facebook will be creating a new stand-alone app based on this feature, with the project named "Lasso."
Why Facebook is adding music to profiles and stories
It's true Facebook is always updating their product features. Social media platforms are in constant competition for user's time.
However, there's another reason Facebook is so eager to add the audio element.
In the past, it was hard to share a video with any copyrighted music on social media platforms. Artificial Intelligence software helped platforms to immediately recognize the sharing of videos with an artist's music and remove your video.
As the first major social media platform, Facebook recognized the emotional connection people have with music, and the element this brings for video professionals and how to edit videos. As a result, last year Facebook signed a deal with Universal Music Group (UMG). This deal allows users to use Universal licensed music in Facebook videos they share.
Facebook Sound Collection was officially launched on Dec. 8. In this section of Facebook, you can find the available songs and sound effects to add to your videos.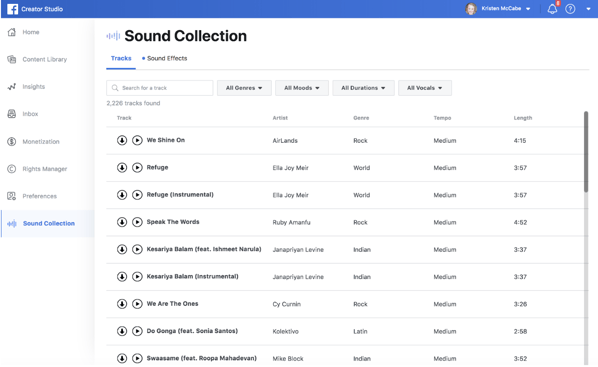 Time will tell if Facebook continues to work with music services such as Spotify and Apple music to allow full-song streaming on Facebook profiles.
Want to stay on top of more social media trends?
Learn how to post Facebook 3D photos, unlock Snapchat trophies, or enable YouTube dark mode. And, don't forget to check out our ultimate guide to social media marketing and how to set up Facebook Payments!