Did you know that plagiarism is considered fraud?
Although it's not a criminal offense, there are serious legal ramifications that can arise from plagiarism, and you'll be surprised to know how easy it is to unknowingly commit. To avoid plagiarism, it's smart to implement footnotes into your writing. Footnotes, which can be found at the bottom of the page, provide additional information about the text. They can come in the form of a citation or provide more information about a specific topic.
Instead of falling into an intellectual crime, follow this guide to learn how to add footnotes in Google Docs.
Since footnotes are a crucial part of most academic writings, Google has made it simple to implement them.
Rushing to meet a looming deadline? I've provided a short-cut below:
Shortcut to adding footnotes in Google Docs
Windows: Ctrl + Alt + f
macOS: ⌘ + Option + f
How to add footnotes in Google Docs
Are you more of a visual learner? Follow this step-by-step guide:
1. Place your cursor
To start, place your cursor after the string of text that you want the footnote to refer to.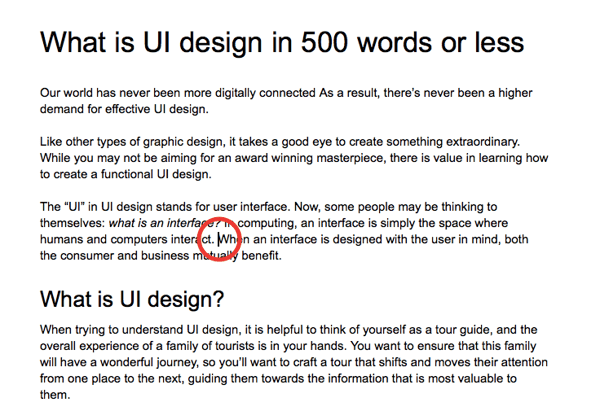 2. Click "Insert", then select "Footnote"
From there, locate the menu laid out horizontally across the top of your document and click "Insert." Then, a drop-down menu will appear and select the option labeled "Footnote."
3. Type your desired text and press "esc" on the keyboard
Once you select "Footnote," a superscript number will be placed in the body of the document, and at the bottom of the page. Use the designated space at the bottom of the page to type the text necessary for your footnote. When you're ready to return to the body of your document, press the "esc" button in the top left-hand corner of your keyboard.
Congrats, you've successfully added footnotes in Google Docs!
Not only do footnotes help prevent the author from plagiarism, but they benefit the reader as well by making the text they're reading more comprehensible.
Interested in learning about other applications like Google Docs? Find more document creation software here.