Discover and listen in perfect harmony.
That's the tagline for one of the biggest players in the listening industry: Apple Music. As of April 2019, Apple Music has the largest number of paying users at over 95 million in the U.S. alone, but it's still second in market share to Spotify.
As the "sequel" to iTunes, Apple Music has risen to prominence thanks to artists like Drake, Taylor Swift, and Frank Ocean releasing their music exclusively on the platform. If you're looking to get started with a top-notch streaming service (or make a switch), there's likely one big question on your mind: what's the cost?
How much is Apple Music?
An individual Apple Music subscription costs $9.99 per month before taxes for an annual total of roughly $120.
This monthly price is dependent on the subscription plan you can choose, which varies on what suits your situation best.
Apple Music price
Because it offers a variety of subscription plans, Apple Music users can find a price point that suits their individual needs. Whether you're a business owner looking to create a specific environment for your guests, a student trying to focus and study, or a family with a love for music, there's an Apple Music plan out there for you.
TIP: Apple Music offers a free trial of all its subscription plans to test out before you buy.
Apple Music plans
There are three major offerings from Apple Music: student, individual, and family. Check out the chart below to see the differences in features offered.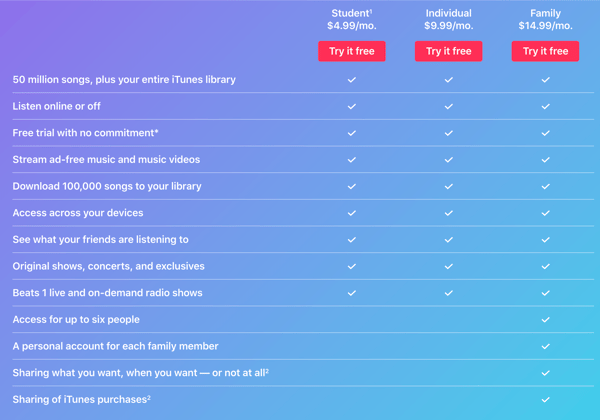 As you can see, there is virtually no difference besides price between the features offered for an individual and student subscription. To get the student subscription, your status as an enrolled student must be verified by Apple.
The family subscription has quite a larger offering. Users pay $14.99/month for access for up to six people who each get their own personal accounts. Purchases made on iTunes by one family member can be shared with anyone else under the family subscription.
Apple Music, no matter the subscription can be used on both desktop and mobile devices, which are constantly being updated with new features.
Best Apple Music plan for businesses
As of right now, Apple has no subscription model specifically for businesses. Your best bet is to purchase the individual subscription as it is cost effective and you will likely only be using one device at a time. Chances are, you can share the plan's use between your home and business.
Want a subscription service but not sure Apple Music is right for you? Read our guide on YouTube Premium.