Lost mail causes stress, wastes money, and takes up time.
PO Boxes relieve most of the worries associated with receiving mail. A PO Box, or Post Office Box, is a locked mailbox that can only be accessed by key or personal code, making it more secure than a mailbox located at a home.
The cost of a PO Box
The cost of renting a PO Box depends on three variables: size, duration, and location. Small boxes and short rental durations ensure a lower cost. PO Boxes are more expensive when they're located in densely populated areas with high demand.
If you're looking for specific information on PO Boxes, feel free to use the links to jump ahead.
How much is a PO Box?
I wish there were a simple answer, but as with any aspect of the USPS, there are many factors that go into the pricing of a PO Box. There are three elements that together determine the specific price of the PO Box in which you're interested— size, duration, and location. Together these variables determine the cost of a PO Box.
Professional tip: 54% of people say they want to receive direct mail from brands they like, so start building customer relationships that last with a USPS direct mail campaign.
PO Box size
The size of the PO Box you choose can be the biggest factor when figuring out the price. There are five sizes, ranging from extra small to extra large, however not all post offices have all of these sizes. Additionally, the depth of almost all PO Boxes is 14.75".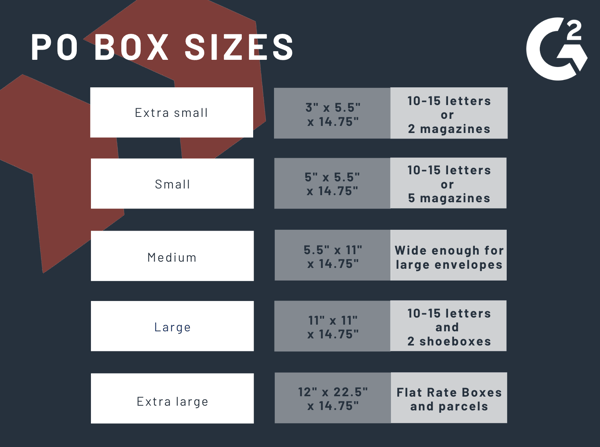 PO Box rental length
You can get a PO Box and pay for it in three, six, or twelve-month periods. The longer you choose to have your mailbox, the lower the cost per month. In order to get a PO Box, you have to pay in full upfront. Be sure to consider the duration period when calculating how much your PO Box will cost.
PO Box location
PO Box prices depend on the location of the post office. PO Box prices are divided by zip codes and then given a specific fee group number. If the post office is small and located in a densely populated area where PO Boxes are in higher demand, then the price will increase. Large metropolitan areas pose a greater need for PO Boxes because apartment buildings are typically less secure than homes.
Why do I need a PO Box?
Now that you know what a PO Box is and the variables that go into the cost, it's time to figure out if you can benefit from purchasing one. There are two main reasons for getting a PO Box – security and permanency.
Secure
Most mailboxes in a home are located outside the building.are for mail to get delivered directly into your home. If it does, then you're lucky, but if not, a PO Box is a mail location you can depend on. Another plus is that since the PO Box is physically located in a post office, it's monitored and only accessed with your key or combination.
For people who run businesses out of their homes, or if you're just a more private person, a PO gives you the ability to keep your home address private. A PO Box comes with an entirely new address so you don't have to worry about the wrong person getting your personal information.
Permanent
I've lived at five different addresses over the last 4 years. This has made it particularly tricky to keep updating every different account I have to the new address. A PO Box takes this stress away by providing you with a permanent address, even if you're away from home a lot, or moving you'll always have a place to come get your mail.
How to rent a PO Box
Renting a PO Box is the easy part. Use these three steps and you'll have a PO Box before you know it.
1. Determine the size, duration, and location
This is the most important step as it will establish the price of your PO Box.
2. Visit the USPS PO Boxes Online page to sign up
The link above will have you enter your address, from there you pick a store. After, you click on the box size you'd like and the duration. Seriously, it's that simple. From there you'll be directed to make an account and prove your identity with the Form 1583.
3. Change your addresses
Now you have a PO Box and can go ahead and update your address to redirect mail to your new address.
TIP: If you're on the other end of the spectrum and looking to ship products to PO boxes, try using shipping software to streamline and coordinate your shipments.
Premium PO Box Service
This may come as a surprise, but premium PO Box services aren't something you pay more for, it's actually just premium services that the post office offers when you purchase a PO Box.
Here are the free premium service options:
A real street address included
Signature kept on file so you don't always have to sign for packages
One month of free service when you pay for a 12-month rental period
No key deposit for the first two keys
Access to the PO Box lobby for extended hours
Earlier pickup times
Do your research
Long story short, PO Boxes vary in price depending on size, duration, and location. As long as you do your research and take these three things into account when inquiring about a PO Box, there will be no surprises, only security.
Sending snail mail? It's time you learn the answers to how much is a book of stamps and how much is a forever stamp worth.