Diamonds are forever. And so are the USPS Forever Stamps.
Sending mail can get pricey, especially when sending in bulk. The price of a Forever Stamp is locked in at the time of purchase and can be used for an infinite amount of time.
Cost of a forever stamp
Forever stamps don't have a dollar amount printed on them and are worth whatever the first-class postage rate is the current day that's in question. In 2020, the cost of a normal-sized, one-ounce, First-Class Forever Stamp is $0.55.
All of this information used to be common sense, but with email, text, and social media platforms, it's become less imperative to know about stamps. However, snail mail isn't going away and knowing the information will only help you when you inevitably have to mail something.
How much is a forever stamp worth?
Almost every year the price of stamps increases. The Forever Stamp incentivizes people to buy stamps in bulk because they never expire and the price you pay will be less if you wait another year.
For example, if you bought a Forever Stamp in 2006 you would've paid $0.39. Say you never used the stamp and now, in 2020, you're looking to send a thank you note to a friend. Since Forever Stamps don't expire, you can use it. You also save $0.16, since the Forever Stamp is now worth $0.55.
Sure, $0.16 doesn't seem like a lot, but when mailing thousands of letters, that number adds up fast. Knowing how to save money on shipping will only help you in the long-run. Most commonly Forever Stamps come in books.
TIP: Are you wondering, "how much is a book of stamps?" Round out your knowledge by learning about the price of a book of stamps and how much the price has changed since 2001.
Forever Stamps have been around since 2011, they save you money by never expiring and they save the post offices money because they don't have to collect and destroy old stamps and create new ones.
How do forever stamps work?
Forever Stamps are most commonly used to mail normal-sized, one-ounce letters within the United States. If you have more than just a card in the envelope, weigh the piece of mail and purchase additional postage.
TIP: Don't just put another Forever Stamp on the envelope, instead you can pay per additional ounces which is $0.15 per ounce.
Forever Stamps are simple to use. All you have to do is stick your Forever Stamp on your one-ounce piece of mail and boom, you're good to send you mail on its merry way.
Other forever stamp rates
As you've read, the most common Forever Stamp use case is for the normal-sized, one-ounce letter. But the post office offers more Forever Stamps for different types of mail.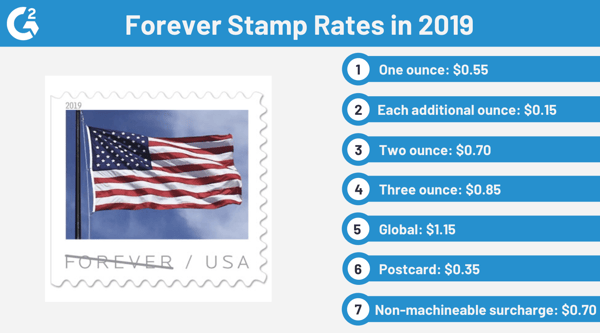 These rates are especially important to e-commerce business owners. Once you've learned how to sell on Etsy, or use other e-commerce platforms you can invest in shipping software to track and manage your orders.
You've got (snail)mail
Learning the logistics behind the prices of stamps will help you save money in the long-run. It may seem like no one uses snail mail anymore, but truth is, it's not going away.
Want to launch your very own e-commerce website? Get started by learning the answer to an all too common question– what is Shopify?