There's nothing wrong with snail mail.
Opening up your mailbox to find a hand-written note is one of the best feelings. People used to have a book of stamps on hand for sending things like checks, bills, and thank-you letters, but now with email, there's less need for stocking up on stamps.
Stamps are required to send anything via postal services. A book of stamps is what people commonly buy because it has 20 stamps and makes for less frequent trips to purchase more.
Price of a book of stamps
The cost of a book of stamps (20 stamps) is $9.80, while the cost of a single stamp is $0.55.
The price of stamps changes year-over-year, so if you're asking someone who's older they'll tell you the price of stamps is outrageous, while younger generations only know the most recent prices and other things like how to sell on Amazon.
How much is a book of stamps
On January 27, 2019, the U.S. Postal Service implemented new postage rates. Previously, a book of stamps cost $9.20. After January 27th, it cost $9.80. The First Class Mail Letter (1 oz.) postage rate is $0.55. In other words, a single stamp is 55 cents, five cents more than it was in 2019. The last time the USPS increased rates this much was more than a decade ago.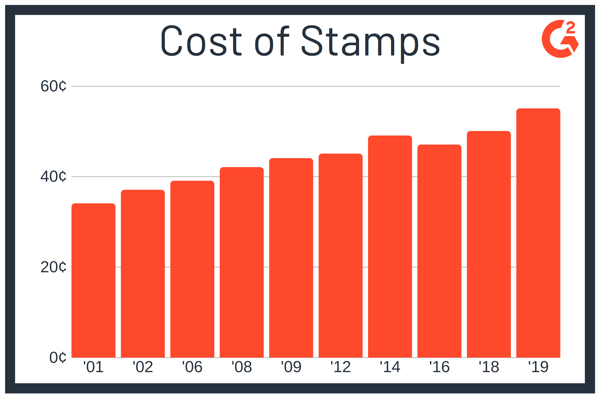 Source: USPS
Where to buy stamps online
There are truly endless places to buy stamps online, but there are several popular options.
It's funny to think about shipping something that you're buying for shipping, but the convenience of having stamps delivered to your door is hard to beat.
TIP: If you're a business looking to streamline outgoing shipments to customers, check out some of the best shipping software on the market. Compare prices, print labels, and custom track orders all in one place.
Where to buy stamps in person
I have to admit, in college, I called my mom and asked this exact question. I ended up going to a Walgreens and didn't even know what a book of stamps was. So for those of you who, like me, are curious about buying stamps in person, here's a list to help.
Post office
Pharmacies
Grocery stores
Walmart
Banks
Gas stations
Office supply stores
Signed, sealed, delivered
There's just something special about writing a letter. With a book of stamps, you can make 20 people really happy for just $9.80.
Sure, digital ads are an important part of the marketing mix, but direct mail marketing isn't dead. In fact, 87 percent of customers who redeem coupons do so with a printed version.