Sometimes you just have to get away. Far away.
Whether it's for business, leisure, or bleisure, if you're a citizen of the United States and you want to leave the country, that means you're going to need a passport.
But how much is it going to cost you?
U.S. Passport Cost:
Not including photo costs, a passport book for a first-time adult applicant costs a total of $145 and an adult passport book renewal costs $110.
That's the short answer. The long answer is that the cost depends on the type of passport, applicant age, and whether it's a first-time passport or renewal.
So, how much does a passport cost?
It can get a little complicated. See the chart below for a breakdown of the fees involved: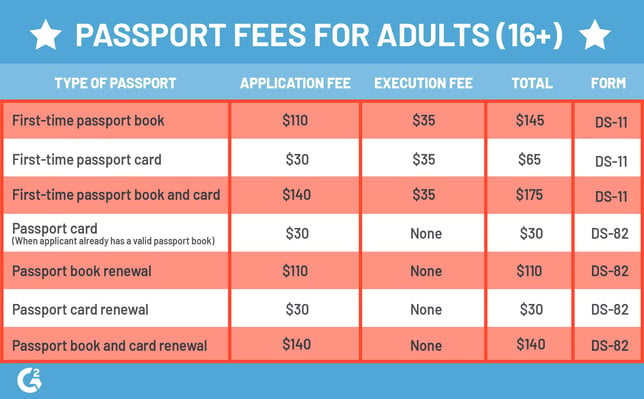 Note that the application fee is paid to the Department of State, the execution fee to the acceptance facility, and each fee needs to be paid separately. Adult passports are valid for 10 years, at which point they must be renewed.

For minors under the age of 16, the application fees are lowered. Any passport issued to a minor is only valid for five years and can't be renewed, so the $35 execution fee will apply every time a minor needs a new passport.
Passport forms
First-time adult applicants and those applying on behalf of minors need to fill out form DS-11 and submit it in person at an authorized acceptance facility.
Passport renewals must be done by mail using form DS-82, which will save time but add on the cost of postage to your total. Payment by mail can only be in the form of a check or money order - see here for more about payment methods.
If you aren't sure which form you need, you can find out by answering a few questions at the Department of State website.
Passport book or passport card?
You're probably familiar with the image of a foldable passport book filled with stamps from foreign countries, but what's a passport card?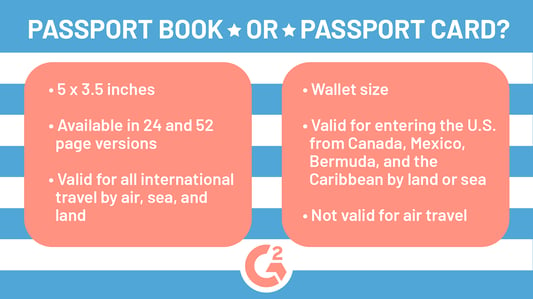 Like a traditional passport book, a passport card is issued by the U.S. Department of State and can be used as identification and proof of citizenship. It fits in a wallet, costs less than a passport book and can be used to cross by land or sea between the U.S. and Canada, Mexico, Bermuda or the Caribbean.
Passport photo
Applicants are required to provide their own 2-by-2-inch photo with their application. Some post offices take passport photos for $15, and a number of businesses offer passport photography services for slightly less. For the cheapest option, it's possible to take a digital photo at home (no selfies, though!), have a 4x6 photo printed, and cut it down to the required size. However, if you go that route, make sure your photo meets the many requirements for size, lighting, and clothing.
Optional fees
Perhaps unsurprisingly, a little extra cash can grease the wheels of bureaucracy. If you need your passport faster or can't provide the necessary documents, the Department of State has kindly agreed to take your money in the following amounts:
Expedite fee
For $60, an application can be processed in 2-3 weeks instead of the standard 6-8 weeks. In certain emergency circumstances, the processing time can be as little as 72 hours.
1-2 day delivery
The expedite fee doesn't include faster delivery, but an additional $16.48 will get you 1-2 day shipping. This is only offered for passport books, not cards.
File search fee
If you can't provide primary or secondary evidence of U.S. citizenship but have been issued a passport or Consular Report of Birth Abroad in the past, the resultant "File Search" will set you back an additional $150.
The road goes ever on and on
Don't let yourself get caught without a passport when you need to travel internationally! Allow plenty of time for processing and delivery, and I promise it won't be too painful. Or if it is, at least you won't have to do it again for another 10 years.
Do you or your employees travel for business? Read up on the best travel management software here: