Shipping and handling provoke a lot of uncertainty.
What if your package never arrives at its destination? How much is a PO box? How long does Priority Mail take to deliver?
Finding the answers to these questions can ease some of that uncertainty. When using UPS (United Parcel Service) ground to ship and receive mail, there's an average amount of time you have to wait for the package to deliver depending on where you are in the United States.
How long does UPS ground take?
UPS ground shipping takes one to five days to deliver depending on the departing location and delivery destination.
How many days does UPS ground take?
Let's take a step back to talk about what UPS ground actually is. UPS ground is a cost-effective, day-definite delivery method that is best used for routine shipments. As the name indicates, the shipments are transferred on the ground, meaning they're transported by truck.
Tip: If you're sending a large number of packages for a business and need help streamlining and coordinating all of your shipments, consider using shipping software.
UPS ground shipping is available across the entire United States. The delivery date is determined by the departing location and destination. As one can conclude, the further you're shipping, the longer it takes UPS ground to deliver.
If I'm shipping from Chicago, IL. to Milwaukee, WI. UPS ground will take one day to deliver. If I'm shipping from Chicago, IL. to Nashville, TN., it'll take two days… Chicago, IL. to Naples, FL. is three days, and so on and so forth.
With guaranteed delivery based on the starting and ending zip code, you can know in advance when your shipment will arrive. Of course, there are instances when it takes longer for a package to arrive, or it doesn't arrive at all. In these cases, contact the sender and they should follow up with UPS on the progress of your shipment.
UPS ground map
When figuring out if your delivery will take one day or five days, use the UPS ground map. This map illustrates the number of transit days for your UPS ground package within the United States and Puerto Rico.
Simply enter where the package was shipped from and click submit. Below you'll see what the map looks like when shipping from the Chicago, IL. 60614 zip code.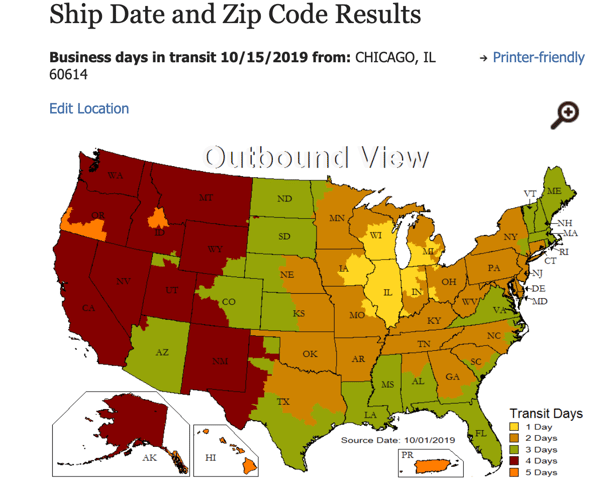 Source: UPS
When in doubt, use the UPS ground map to estimate the arrival of shipments.
Can you track a UPS truck?
Yes. You can track a UPS truck throughout your packages' transit. If you choose to sign-up for UPS My Choice®, members can use a live map to view an almost exact location of their package. This system updates every two to three minutes, so they're not lying when they say it's live.
If you do not want to sign up for UPS My Choice® you can still track your shipment by pasting the tracking number into the designated field on the UPS website.
Your answers, delivered
Most people use UPS ground for routine shipments because it is a cost-effective method with guaranteed shipping between one and five days. The further you are shipping, the longer it'll take, so use the UPS ground map to determine if UPS ground is right for your needs.
Sending snail mail? Learn the answers to questions like how much is a book of stamps and how much is a forever stamp worth.