Hosting a Twitter chat is an excellent community-building exercise.
Not only do you humanize your brand by becoming more accessible to your fans and followers, you also enter the fast track lane to grow your tribe.
Annie Keller, social media and promotions strategist at Brafton agrees: "For us, Twitter chats have been a great way to build community with other marketers, writers, and digital enthusiasts." She notes that building connections through chats helps gain "additional exposure and fans for brands."
For that matter, TwitChats also "give you a golden opportunity to establish expertise in your niche and be seen as influencer," says Madalyn Sklar, Twitter marketing expert and host of the #TwitterSmarter chat.
Sklar explains: "Twitter chats allow you connect and engage with people in your industry and be seen as an expert, thought leader and connector in your community. All eyes will be on you as you lead the discussion each week (or however often your chat meets). You'll be providing a platform for yourself and your participants to discuss topics that are important to the community."
Best of all, you're able to reach a group of people who much like you are invested and interested in the same topics and willing to share expertise and advice for free. Keller notes: "Twitter chats are a great way to get insight on common questions, misconceptions, or points of confusion. It's provided fodder for a lot of our content"
However, as easy or doable as it sounds, throwing a blockbuster TwitChat party isn't child's play. In order to get you off the ground, let's discuss the basics as well as take a look at what experts have to say.
What is a Twitter Chat?
A Twitter chat is a conversation between people who gather around a specific time, to talk about a specific topic, using a specific hashtag. For example, at G2, we huddle biweekly for the #G2Fireside chat on Thursdays at 10 a.m. CST.
Speaking of the format, any TwitChat host or the industry expert you collaborate with generally starts off with breaking the ice before tweeting a series of questions. Once the chat begins, other than answering questions, participants can often be seen interacting with each other, too.
How often should you host a Twitter chat?
The answer is simple: whatever works for you. Still, it's better if you host them at least once a week so that the community stays deeply involved and participates as often as they can.
When should you host your Twitter Chat?
To ensure maximum participation, zero in on a time that's most convenient for a majority of your audience. For example, if they can make it around noon, why force them to join post work? Point being, it's useless to do a roll call when it's likely you'll have few attendees.
Next, find out if other chats are scheduled around the same time. This way you'll avoid putting people in a catch 22 situation where they have to pick one chat over another.
Why should people join your Twitter Chats?
While in the beginning we spoke about how Twitter chats help brands, it's equally important to know why people care about joining Twitter chats.
For starters, they get a platform where it's easier to talk about stuff that interests everyone attending the chat. Though that's not all.
Twitter chats give people a fantastic opportunity to network and be seen and heard. It's a virtual hangout space, where everyone can exchange valuable tips, other people's' work, share a joke or two, and bond over GIFs.
For the members of the freelance community, it's particularly interesting how these benefits shine through.
Robyn Santa Maria, business writer and editor notes:
"Twitter chats are like office watercooler chats for freelancers. I get to break my routine, speak with interesting people and share ideas for growing my freelance business."
Talking about growing business, Dave Smyth, an independent web designer and founder of Independent Work, a community for freelancers says:
"I've been able to grow my following through Twitter chats and secured work through connections I've made over a period of time."
But the path is not linear, of course. People must consistently build social proof by sharing useful content, tips and advice, interact with peers, and be active in the chat circuit.
Highlighting the mental health aspect of participating in chats, content marketer and host of How do you know, a decision-making podcast, Andra Zaharia said,
"In particular #ContentClubUK has helped me discover an incredibly open and supportive community of freelancers. It's become one of the highlights of my week. Being part of such a group is incredibly important for mental health and professional growth. The questions in the chat help me reflect on my work, learn from other people's experiences, and gain clarity and focus."
Clearly, you have an audience that loves being a part of a supportive community. If you can host an inclusive and welcoming chat and make a difference in their lives, their word of mouth marketing will get you closer to enjoying the benefits we talked about earlier.
Moving on, let's talk about everything that'll prepare you to become one of the best Twitter chat hosts.
Hosting Twitter chats like a pro
First, decide on a topic. To trigger a conversation, Lauren Pope, content marketer at G2 says:
"Topics have to be relatable. It guarantees a buzz and gets more people talking." She further adds, "You need them to be accessible so that anyone can join and feel as though they are contributing to the conversation."
But for that to happen you must touch upon the right subject matter and not merely beat around the bush? Sklar discloses a foolproof brainstorming strategy. "First and foremost, I focus on what my community is interested in. I ask them this periodically to get a pulse on what is important to them. I also ask my team as well as my guests to share topic ideas."
Michelle Garrett, writer, PR consultant, and #FreelanceChat founder and host echoes the same sentiment: "I try to have a variety of topics that are of interest. I ask for input from the community."
If you're lucky, the Twitteratis might end up suggesting a topic:

Another fantastic way to mine chat topics is by keeping an eye on new trends and burning topics that are sure to grab your Twitter audience's attention. The easiest way to discover trends is through tools such as Google Trends, BuzzSumo, Agorapulse, Quora, and Reddit.
But trends backfire when your peers spot them before you do. So double-check if your TwitChat topic has been discussed recently, otherwise you run the risk of having a similar discussion, if not the same one as someone else.
It's also beneficial to actively take note of comments on your blogs and other social profiles where your audience might have asked questions or touched upon topics that make for an excellent Twitter chat theme.
Though all that, Pope warns: "Be prepared to fail and don't be hard on yourself when you do. It's tricky, but totally worth it." There's no 100% success rate, after all.
Annie says, "We've definitely had some topics that received low participation. That's okay, it happens! It's a great reminder to make sure you're asking your audience, and thinking of your audience when you're choosing a topic. What might seem interesting to our teams, might not necessarily be important or top of mind for our Twitter chat frequent flyers."
Collaborate with experts and your peers
One of the surefire ways to amplify your reach is to get industry thought leaders to partner with you and guest host your TwitChats. It adds to the credibility of the chat and boosts the possibility of maximum participation.
Does that mean you should only collaborate with industry superstars? They have a massive fan following, correct?
Garrett says: "Yes, I am a bit choosy about who we have on as guests. I vet them personally. Most I find and invite. I'm not worried so much about follower count, but I do think they should be experts on their topic – or at least demonstrate knowledge that will help our community. Even so, the expertise comes as much from the attendees as the guest, in many cases, so the topic and/or guest provide a jumping-off point for the discussion, but our attendees are the 'hive' mind that really provides the value."
Kelly believes the same: "We focus more on their expertise than their follower count. It's sort of the if you build it they will come perspective."
That answers the burning question. But regardless of who you approach to guest host your chat, your request has to stand out. For all you know, their plates might already be full.
Jennifer Chin of Unbounce notes:
"As a part of the Campaign Strategy Team, I assess these opportunities against what we've currently got in our pipeline and how it aligns with our goals. For instance: will it help generate more new trial starts? Will it help increase awareness within our key audience segments? Or is this a good chance for us to showcase our thought leadership?"

We'll also look closely at the engagement of the chat itself. In particular, looking at chat activity, audience, brand alignment, and the proposed topic. One major consideration is asking yourself whether your company has the expertise to contribute valuable insight to the topic of conversation.

If it's too much outside of your area of expertise, it may not be a great fit and good use of your time. In our case, our expertise lies in landing pages and getting you the most conversions possible, so when SEMrush approached us under the topic: "Creating Landing Pages Users & Google Will Love" it was a no brainer!"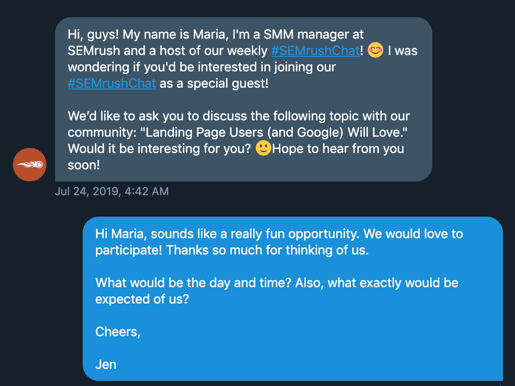 Nicole Osborne, social media and personal branding coach and co-founder of #GoWithThePro chat shares that she too turns down offers where a topic is "not relevant" to her audience or is "too self-promotional".
Next up, beyond the chat topic and brand alignment, it's also important to consider the timing of your request. Chin admits: "Giving back to the community is very important to Unbounce, so we do our best to say yes as often as possible. That said, if the request is very last minute we may have to decline the opportunity."
Worried that you're a new chat host and brands and experts wouldn't entertain your request?
Chin has something reassuring to say:
" We love getting involved in the community and having the opportunity to share our knowledge with others! While we do consider chat activity and engagement to be important, we'll also consider guest-hosting for a newer chat if it's a unique take on a topic that we consider ourselves an expert in, and/or the chat is reaching a specific audience of marketers. Interested? Follow us on Twitter @Unbounce and send us a DM!"
Now let's say you got a yes from your dream guest host, the onus lies on you to iron all the creases and make collaboration process smooth.
For example, for the #GoWithThePro chat, Osborne says:
"We agree on a topic and questions with the guest. The guest receives a Google document with an introduction to the topic and an estimated timing for questions. We schedule a call if the guest needs some Twitter coaching. Not only do we design the questions with the needs of our audience in mind (what do they struggle with most?), but we also want our community to enjoy the guest's replies. So, we take the time to make guests feel at ease with Twitter chats. For example, show them how to use GIFs and how to cope with the fast-paced nature of Twitter chats."
Create a pre-chat buzz
Equally important for any Twitter chat success is timely promotion so that maximum people dial in for the discussion.
Garrett notes:
"I promote the chat about once/day on Twitter, and sometimes I'll promote it on other social media platforms, like Facebook and LinkedIn. Sometimes guests also promote it, which can help drive visibility."
Sharing the same strategy, Keller says, "We try to tweet out images and flyers for our Twitter chats a couple of weeks ahead of time so people can block off some time on their calendars. We'll also tag people on these posts to make sure it's on their radar." In fact, it's what we do too for our #G2Fireside chat. Ends up working as a gentle reminder to those who we know are likely to chime in with their expert advice.
Talking about designing flyers, you can choose from several marketing design tools. Adobe package, Canva and BeFunky Graphic Designer are a few popular ones. But you can always get designers to work the promotion material.
Sklar recounts:
"When I first started the #TwitterSmarter chat back in July 2015, I created my own promo and question images in Canva. Nothing against Canva. I love them, but the images didn't look as professional as I would have liked. So for week 2 I hired a graphic designer and it was night and day. It's not that the images you use during a chat will be the difference between success and failure. But why not have them look as great as they can be?"
For those planning to launch a TwitChat, there's no harm spending money on ads to boost awareness. Consider it as seed investment that'll pay off with time. Once you have enough audience, like us, you can send a quick reminder through your newsletter: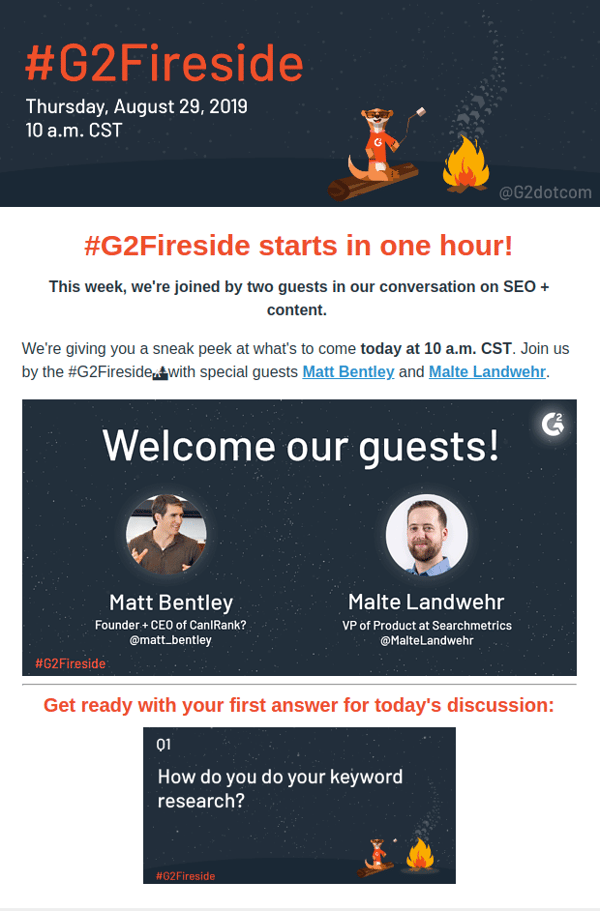 Over a period of time, you'll have a bunch of engaged participants. It's a good idea to add them to a Twitter list. Like, share, retweet, and respond to their tweets. Doing so you'll activate the principle of reciprocity, prompting them to talk about your chat and boost your reach.
Check out a similar list created by the folks at SEMrush: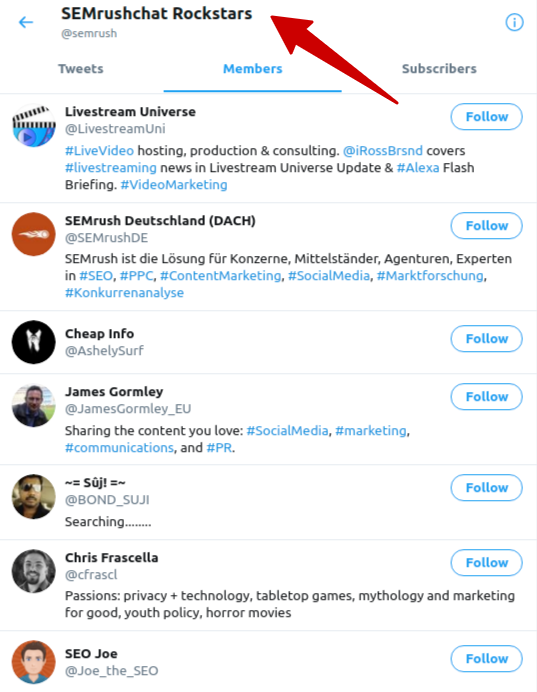 Dos and don'ts during the TwitChat party
Being an organized host is all that matters. Find out what you can do to be one.
1. Divide your chat into segments
For instance, if your chat is an hour long, the introduction/warm-up session can be 5 minutes, Q1 to Q5 can take 10 minutes each and conclusion and thanks can take up the final 5 minutes.
2. Use a social media monitoring tool
It's the best way to do to monitor and stay atop the whirlpool of notifications. Besides, most Twitter chat tools allow you to schedule your questions and answers, freeing up your time to interact with with everyone joining the chat.
TIP: Make this process a breeze by using the top-rated social media monitoring tools – they make keeping track of notifications much easier than manually tracking.
3. Remind participants to use the hashtag
This makes tracking hashtag and chat performance easier. At the same time, it also ensures that conversations are documented and anyone wanting to look it up later can do so with ease.
4. Retweet best answers and never stop engaging
Shine the spotlight on exceptional advice and answers. This seemingly tiny reward for participation can go a long way in building their eagerness to participate in chats more often. Also comment and retweet as a means of keeping the community engaged.
5. Summarize question responses
During the #SEMrushchat you often see the moderators filter the best responses and recap answers before moving on to the next question. Here's what it looks like:
6. Keep things going with an afterparty
Pope notes: "Assuming the chat will happen on its own. Even seasoned chats need to continue building excitement and hype to reach new people." So let's go over a few things you can do to keep the chatter alive.
Write a roundup post about your recently concluded chat. Mention the best answers. On the Content Marketing Institute, for example, they've been doing it for long and even have a special category on their blog for the #CMworld chat.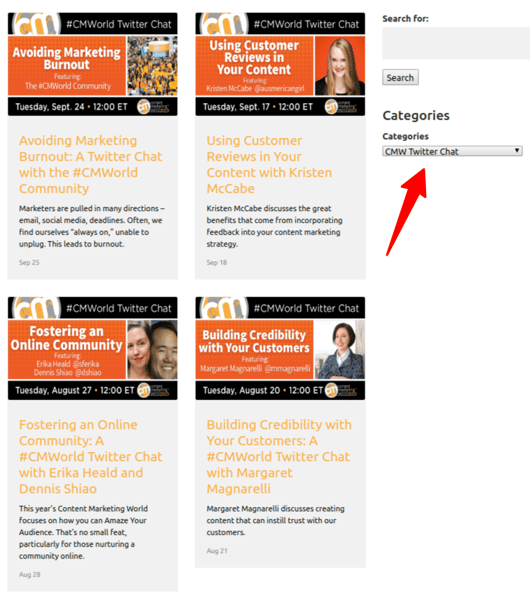 Remember to mention your chat's hashtag in the title.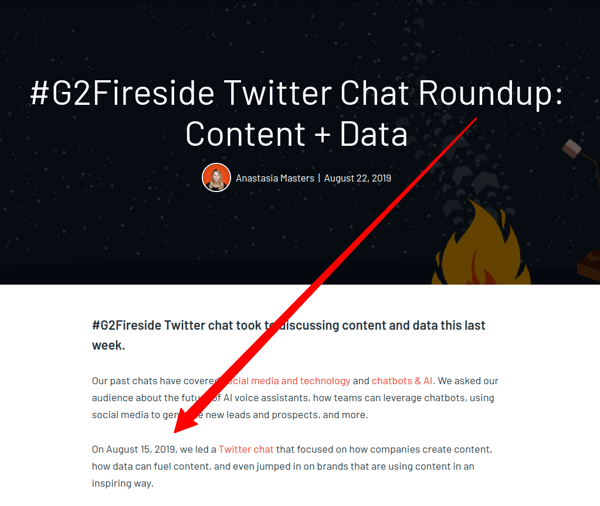 We must add that blogging isn't enough. Include the link in your newsletters and share the post on Twitter using your chat's hashtag like Sklar does on her Twitter account: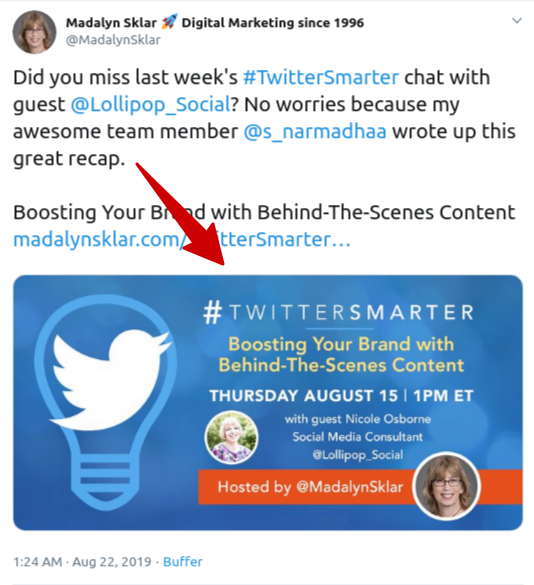 And since we're talking about sharing the post on Twitter, remember to tag whoever's answers have been included. Their RTs can help you and your chats gain more exposure. Melissa Fach, blog editor at SEMrush does exactly that.
It's also a good practice to announce your next chat and pin the tweet in the days leading up to your chat. To build excitement, include a fun fact about your guest host. If your topic and guest are intriguing people will accommodate participating in your TwitChat in their calendars. For inspiration, take a look at how the founder of #BrandChat, Maria Elena Duron, promotes the chat schedule and topic:
Tools to track Twitter chat and community growth
Putting so much time and effort and not measuring whether your chat is yielding any results and making an impact isn't wise. But what tools can you bank upon and what do you exactly measure?
To start with, use Twitter analytics, but there are other third party tools you can try out too. Overall, they help you gain access to insights, such as tweet impressions, reach, top contributors, influencers to name a few. At G2 we use "TweetReach, it helps us track how many people participated, used the hashtag, and saw our tweets," adds Pope.
Skylar uses Socialert to track the #TwitterSmarter chat growth. She says, "It's an excellent hashtag tracking tool. The metrics I check each week are the number of posts and users plus total reach and impressions. This gives me a well-rounded picture of the chat."
Keller writes: "Obviously we measure engagement, but I think the qualitative data can be more important. It's all about whether you actually got people discussing the topic. Generating conversation is the real goal!"
Suffice it to say that whatever tools you use and whichever metric you measure, use those figures to fine-tune your TwitChat strategy. You'll end up building a deeply engaged community that takes time out for you and their peers consistently.
Over to you
You're now in the know of ace tips from the experts on how to use Twitter chats to build a community. After all, as you all know, community creates a sense of belonging. You feel less alone and take immense pride in being connected to and accepted by your peers.
By now, you're a Twitter chat expert. But if you want to learn more about G2's #Fireside Twitter chat in particular, browse our knowledge hub to get you well-prepared for the next Fireside chat with G2!