Between the 11th and 7th century in ancient China, merchants would play their bamboo flutes and sell candy.
People heard the sound of the flute being played, became intrigued, flocked over, and exchanged whatever they had in their pockets for the candy. That flute player successfully grabbed the attention of strangers and was ultimately able to provide them with something they didn't even know they wanted.
This was the beginning of advertising. And the rest is history.
The 7 people who changed the history of advertising
We don't have the names of those flute players, but we do have the names of the people that followed their lead in changing the way advertising was done – forever.
Jump down to read how each of these figures changed the face of advertising:
Johannes Gutenberg
Benjamin Franklin
Phineas Taylor Barnum
F. Wayland Ayer
Helen Lansdowne Resor
William Bernbach
David Ogilvy
1. Johannes Gutenberg: the printing press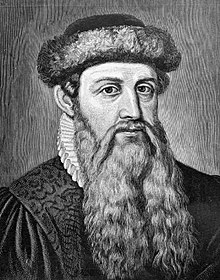 Source: Wikipedia
Before the printing press, there was "block printing", which involved carving a character into a wood block. After one use, it was trash.
The gift that Gutenberg left behind is one that is priceless: the printing press. Invented around 1440, the printing press allowed people to spread knowledge around their community faster than ever before. Before this invention, advertisement was mostly a word-of-mouth (or flute playing) industry.
Gutenberg's invention paved the way for any printed materials we use in business and advertising today: magazines, business card designs, billboards, and posters. Without him, who knows what the first form of mass-media publishing would be?
Hint: it's newspapers.
2. Benjamin Franklin: magazine and design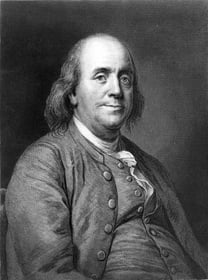 Source: Wikipedia
That's right, our founding father and the guy that figured out electricity also made huge contributions to the advertising industry.
Benjamin Franklin published the first magazine to contain an advertisement in 1741: The General Magazine.
Advertising hardly existed at the time, which gave Franklin more room to be an innovator. It's been said that the copy he'd written for local retailers was excellent, and the experimentation with the redesign of the Pennsylvania Gazette (illustrations, typography adjustments, and white space) were revolutionary.
3. Phineas Taylor Barnum: fake news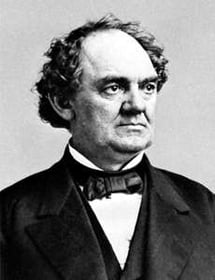 Source: Encyclopedia Britannica
P.T. Barnum was a clown, even before he founded the Barnum & Bailey Circus. In the 1840s, Barnum began to show the world of advertising what the tricks up his sleeve could do to change the industry – not necessarily for the better.
Prior to the circus, Barnum owned a museum in which he used to display human oddities. One of his most famous gags was the sign in his museum which read "This Way to the Egress". Those who did not know what the word "egress" meant followed the sign curiously expecting to see something exotic, only to be led to the exit. They had to pay a second admission fee to re-enter.
Clever, yet misleading, Barnum was one of the first to demonstrate the effect the English language can have on us when used (in)appropriately in advertising. Using deception and exaggeration became alarmingly popular in advertising, and it still shows today.
4. F. Wayland Ayer: the ad agency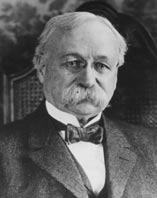 Source: Advertising Hall of Fame
In 1869, at the age of 21, Ayer used his entire savings ($250) to found N.W. Ayer and Son. Although this was not the first advertising agency to exist, it was the first to dramatically change the functions that an advertising agency would have.
Prior to N.W. Ayer & Son, the primary role of ad agencies was to buy space in newspapers and magazines for as little money as possible and then resell to advertisers for a profit. Ayer did this too, but took things a couple of extra steps by overseeing the planning, design and copy for advertisers, much like advertising agencies do today.
Ayer also developed the "open contract" in 1875 which guaranteed that his clients would get the lowest possible rates, while the agency would make their money with a 15% commission.
The 15% commission is still standard today.
5. Helen Lansdowne Resor: first ad using sex appeal
Source: Advertising Hall of Fame
Resor was an advertising executive with J. Walter Thompson Co. and is said to be the greatest copywriter of her generation by the New York Herald Tribune. Resor was the first woman to be successful in planning and writing ad campaigns that were released across the nation and even around the world, rather than locally.
Most notably to some, her Woodbury Soap campaign in 1910, "A Skin You Love to Touch" is often referenced as the first advertisement to use sex appeal. J. Walter Thompson Co. acquired the Woodbury soap account in 1910, and by 1921, the company was selling 20 times more of their product.
Shocking back then, we're almost desensitized to the advertisements that use sex to sell a product; they're quotidian. Nowadays, sex advertisements are almost all we see.
6. William Bernbach: the original mad man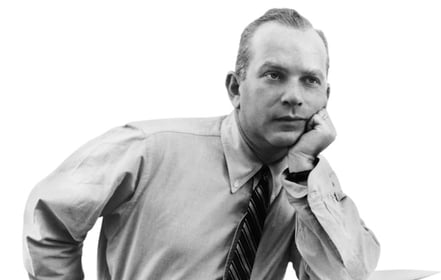 Source: Print Magazine
Bernbach changed the approach of advertising by breaking the rules in place and writing his own. For example, instead of long copy that every other advertiser was using, Bernbach believed that copywriting should be as short as possible in order to make the messages memorable and clear.
In an interview, he credited his enormous success to his lack of education around advertising: "I think I...had the advantage of not knowing too much about advertising, and therefore I could be fresher and more original about it. As soon as you become a slave to the rules, you're doing what everybody else does; when you do what everybody else does, you don't stand out."
7. David Ogilvy: the father of modern advertising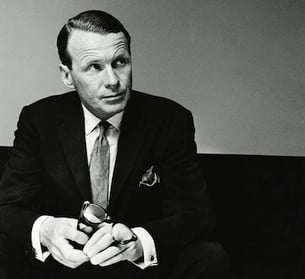 Source: Copyblogger
Known as the father of advertising, Ogilvy founded agency Ogilvy & Mather in 1948 based on the idea that the singular objective of advertising was to sell. Ogilvy's enormous success came from learning from the innovators of the past and adding his own touch to make his ideas truly unique.
Ogilvy & Mather, now Ogilvy, is an international success and became the first foreign advertising agency to gain access to the Soviet Union. Ogilvy wrote a plethora of books about advertising, several of which are now staple texts and used in classrooms, alongside his principles.
Don't be afraid to break the rules
Which innovator on this list followed all of the rules and kept their thoughts to themselves?
None of them.
Each and every one of these advertising legends pushed the envelope, crossed the line, and took risks, which in turn led to an incredibly successful industry.
How successful? Read more about 2019's advertising statistics.