Peanut butter and jelly. French fries and ketchup. Oil and parmesan cheese.
You can't have one without the other. Okay, you can, but some things just go better together.
Like computer hardware and software.
You may have heard these two cyber security terms tossed around almost interchangeably, but there's actually a pretty major difference between the two. Unsure if you're using the terms correctly? Just keep reading for a breakdown of what they both mean and how they're used.
Hardware vs software
A lot goes on inside your computer, so let's dive into what constitutes hardware or software.
What is the difference between hardware and software?
When it comes to computers, the hardware is the physical and tangible part, like the monitor, keyboard, and speakers. Software is the programs and operating systems that need to be installed.
Think of hardware as what you need to make your computer work. And software as something that you install onto your computer that has its own code, like a specific program.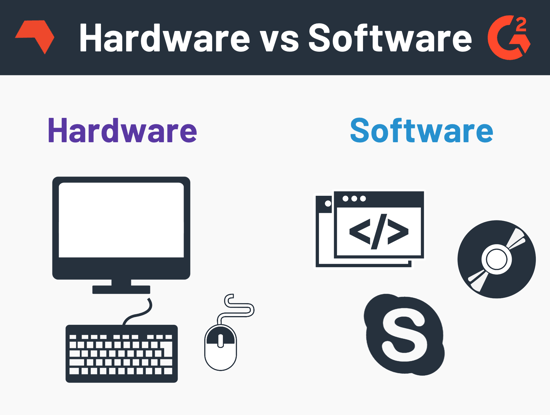 Can you have one without the other?
Now that you know the difference, your next question is probably whether you can have one without also having the other.
While a computer can't run without hardware, it can run without software, but where's the fun in that? For instance, software needs hardware in order to operate how it is programmed to. Your favorite video game or video conferencing platform are both examples of software that needs computer hardware, like memory, processors, video cards, and sound devices, to work how you want it to.
No matter if the software is for the operating system, a program, or a new application, it needs some hardware component to reach its full potential. What good will that computer game be if you didn't have a monitor to play it on? Or speakers to hear the sound effects?
When it comes to the hardware of your computer, can you imagine trying to get through the workday without your mouse, keyboard, or power source? Chances are you probably won't get too far without them.
Because of this, you want to have secure networks in place to protect both your hardware and software from hackers and malware. It's vital that you make sure your firewalls are impenetrable for top-notch cyber security efforts. Unsure which firewall software to use? Check out our roundup and learn more about which tool is best for you.
It takes two to tango
And it takes both hardware and software working together for there to be an enjoyable experience using a computer. You wouldn't want a computer without a monitor, or without your favorite word processing program. Just like you wouldn't want french fries without ketchup.
Now that you fully understand the ins and outs of your computer, learn all about cloud security and how you can use it to keep your data safe. Then, check out how far we've come with the history of computers.