Hanging indents can drive you nuts.
You're already nervous you used italics incorrectly in your Works Cited page in Microsoft Word, and now you can't figure out the stupid indent for the second line.
Don't worry – I got you.
Create a hanging indent in Word
Highlight every citation
Right-click your mouse on the highlighted text
In the menu that appears, select 'Paragraph'
Under 'Indentation,' open the drop-down menu next to 'Special:' and select 'Hanging'
The 'By:' field next to it should be .5"
Hit 'OK'
Hanging indent in Word
I suggest writing out your entire bibliography, highlighting it all at once, and then following the above 6 steps. Easy-peasy.
If you're more of a visual person, following are screenshots of each step.
1. Highlight your entire citation
Here's a version of a bibliography I created for an old Spanish essay (it still needed edits at this time, don't judge me).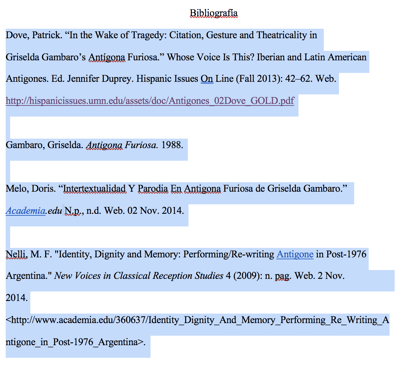 2. Right-click your mouse
Or if you're using a Mac laptop, press ⌘+ctrl+mouse click.
3. Select 'Paragraph'
In the menu that appears after you have clicked, select 'Paragraph' about two-thirds of the way down.
4. Under 'Indentation,' in the 'Special:' field select 'Hanging'
In the pop-up window that appears, look to the fields under 'Indentation.' In the 'Special:' field, select 'Hanging' from the drop-down menu.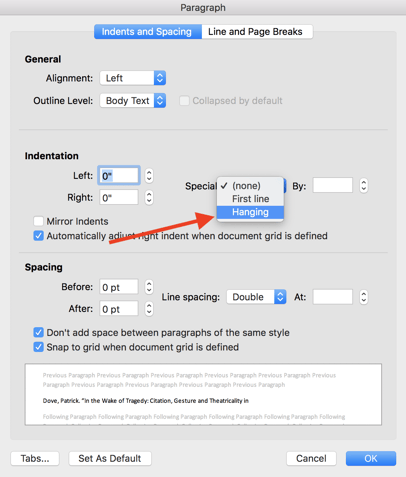 5. Enter .5" in 'By:' field
Sometimes, after you select 'Hanging' the 'By:' field will automatically populate with .5". If not, fill it in.

6. Hit 'OK'
Afterward, your bibliography should look like this!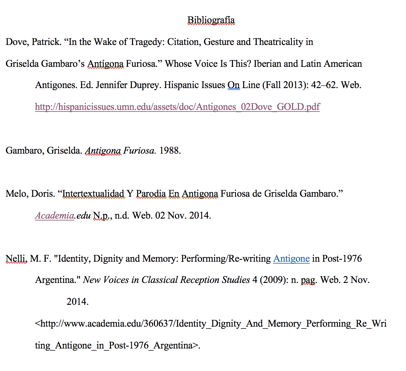 Have some experience with Microsoft Word? Leave a review to help others with their software search:
Hanging indents made easy!
Now your Works Cited page is clean and correct. No points will be knocked off for those indents!
What more Word Hacks? Check out:
What are some other roadblocks you're running into on Word? I'd love to hear from you.
Having a hard time getting rid of an extra page after your Works Cited page? Here's how to delete an extra page in Word. And hey, give yourself some space and learn how to double space in Word.