Writing a lengthy document can be difficult to manage.
If you have a document that is dozens of pages long, you don't want to be spending too much time jumping around from one section to another. Luckily, the Google Docs outline tool makes navigating long documents a breeze and allows users to quickly find the sections they need.
How to use Google Docs Outline tool
Need a shortcut? We've got you covered:
How do you make an outline in Google Docs?
Click "View" in the toolbar
Select "Show document outline"
Format your document
To make your work more manageable, follow this step-by-step guide:
1 . Click "View" in the toolbar
To start, find the toolbar that is placed horizontally across the top of the page. Move your cursor to the "View" button and click.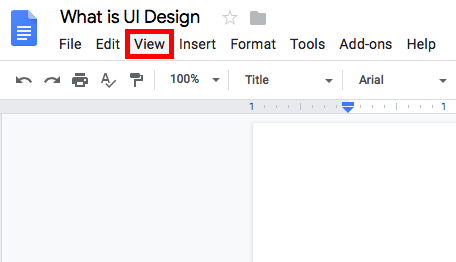 2. Select "Show document outline"
After clicking "View," a drop-down menu will appear. From the menu options, choose "Show document outline."
3. Format your document
Once you select "Show document outline," the outline of your document will appear on the left-hand pane of your document. However, without using format tools such as headers, foot notes, the bold and underline option, Google Docs is not able to detect the organizational structure of the document.
On the toolbar, find the button labeled "Normal Text" and click. From there, a list of header options will appear. Use "Heading 1" to begin outlining your document and continue to use "Heading 2, 3, and 4" to create subsections.
Now what?
Congrats, you've successfully implemented the Google Docs outline tool. Structuring your document is a valuable asset when writing and by using this tool you are on your way to working more efficiently.
Want to learn more ways to keep your documents organized? Check out how to add and remove headers on Google Docs and how to add page numbers in Google Docs. And don't forget to write a review about Google docs while you're at it!