In a world of remote workers, telecommuters, virtual project management, and virtual assistants, it can be difficult to keep terminology for the unconventional employee straight.
Freelance definition:
Freelancers are self-employed individuals who offer their services to clients for an hourly rate, or an agreed-upon overall payment.
Allow me to help you out by clarifying the definition of one such term: freelance, free-lance, or free lance.
Spoiler alert: they all mean the same thing.
Be sure to check out our career advice hub for resources on professional development, and more!
Freelance definition: the basics
To freelance is to be self-employed, and offer your services for a set rate. Freelancers can serve corporations, groups, or individuals. They can be paid hourly or can agree on an overall rate with their other parties.
While a freelance contract might hold a freelancer to one particular project for the duration of six months or, in some cases, longer, the freelancer is still considered to work for themselves.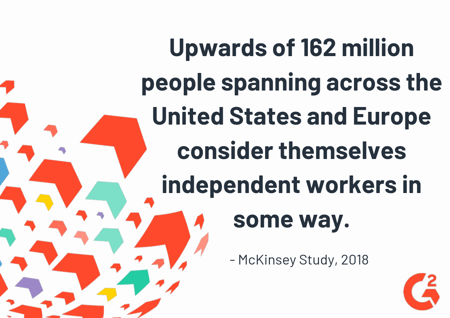 Some freelancers are placed with work opportunities through temporary agencies. In this scenario, freelancers are considered to be employees of the agency, as opposed to being self-employed.
One important thing to understand is that freelance work can be full-time, or part-time. That means people who hold down a traditional 9 to 5 role can still be freelancing in their spare time; and many are!
TIP: If you want to learn more about the various industries it's possible to freelance in, check out What is Freelance (+Common Freelance Roles).
Demographics of freelance work
Even before technology, freelancers have always found ways to find and maintain a steady clientele.
Consider roofers, who may have gone door to door, pitching their services to homeowners whose property they believed needed work. Consider Mary Kay consultants, hosting makeup parties to sell products to friends and family.
But as technology has evolved, the ease with which freelancers can find work has grown, as well. Online job boards make it simple to list your services and apply for work. As such, the number of individuals who consider themselves freelancers has grown significantly.
While it's difficult to get a hard and fast count on the number of freelancers in the world, one thing is for certain: it's growing every year.
According to a McKinsey Study completed in 2018, upwards of 162 million people spanning across the United States and Europe consider themselves independent workers in some way. Another interesting fact is that freelancing is a female-dominated industry.
According to the Freelance Industry Report conducted in 2012, higher than 71 percent of freelancers are women between the ages of 30 and 50.
Let freelance ring
Hopefully this information has cleared up any confusion as to what freelancers really do. The answer? Everything! Just on their own time, and for the companies and individuals they want to work for.
Want to learn more? Check out these 50 freelance statistics in 2019.