Screens are a huge part of our lives. From mobile phones to work computers to televisions, screens are (sometimes unfortunately) everywhere.
Our screens hold so much information, but sometimes we want to share that information with others quickly and easily. Whether it be for work or entertainment, screen recording software can prove invaluable.
For many organizations, screen recording software can improve customer service by allowing sales representatives to create software product demos and enabling customer service representatives to create tutorials and other learning resources. Many learning management systems have some kind of screen recording capabilities, though screen recording software helps users create content for their knowledge management software platforms or help desk software tools.
While there are many business applications for screen recording software, it also allows individuals to record and stream content such as video games, live coding and live drawing. Platforms like the live video hosting site Twitch (which receives more than 100 million monthly unique users consuming content from 2.2 million monthly broadcasters) have risen to become media powerhouses.
The top streamers have millions of subscribers and thousands of simultaneous viewers. The top streamer, Ninja, pulls 80,000-plus average viewers and has almost 9 million followers. The remaining top-five streamers (shroud, DrDisRespectLIVE, loltyler1 and LIRIK) each have between 1 and 4 million followers. Currently, the top-streamed games are Fortnite, League of Legends, PUBGg and Dota 2, each of which have tens of thousands of players streaming the game (Fortnite has an average of 144,000 streamers).
Luckily for those looking to explore screen recording — either for business or entertainment — it's not as intimidating as it might seem. There are many free screen recording tools available to try out. Like free screen capture software, many have editing and audio mixing features to make it easy to create polished content.
We've compiled a list of free products that work well for streaming and another list of free products ideal for business use. Regardless of your needs, you can find something to help you start creating content.

---
Best free screen recorder software
The lists we've outlined here include any screen recorder solution with an available free offering. It should be noted that this does not include products that are only free on a temporary basis, such as limited trial versions for new users. They may only support one user or one project, but they're truly free offerings. Scaling, however, will often require full investments.
These products alone have well over 50 validated user reviews on G2 Crowd as of June 28, 2018, and only represent a small portion of the 40-plus screen recording software offerings listed on our platform. Whenever possible, the products are ranked by user satisfaction score.
Free screen recording products for streaming
Streaming may seem easy to set up, but it actually requires a lot of equipment. In addition to screen recording software, streamers will need a microphone, a capture card to record footage from consoles, a webcam if they wish to include a facecam, some kind of video editing software (many free video editing software tools are on the market) and some kind of audio editing software software. (A computer is an obvious must.)
Some free screen recorders include video and audio editing capabilities, but that may be more common in paid versions of these products. Many screen recorders also support sharing video to platforms such as YouTube, so you don't necessarily need to worry about live streaming content if you'd rather create something more polished.
1. ShareX Screen Recorder
Image courtesy of ShareX
ShareX is a free and open-source screen recording software that can easily upload to a variety of image and video websites. ShareX also can capture customized regions of a screen and provides a variety of annotation tools. ShareX is only available for Windows.
Free option:
Paid option:
Features:
Capture or record a screen or a region of a screen
Annotate recordings and screen captures

Upload files to a wide variety of destinations

Productivity tools

---
2. OBS Studio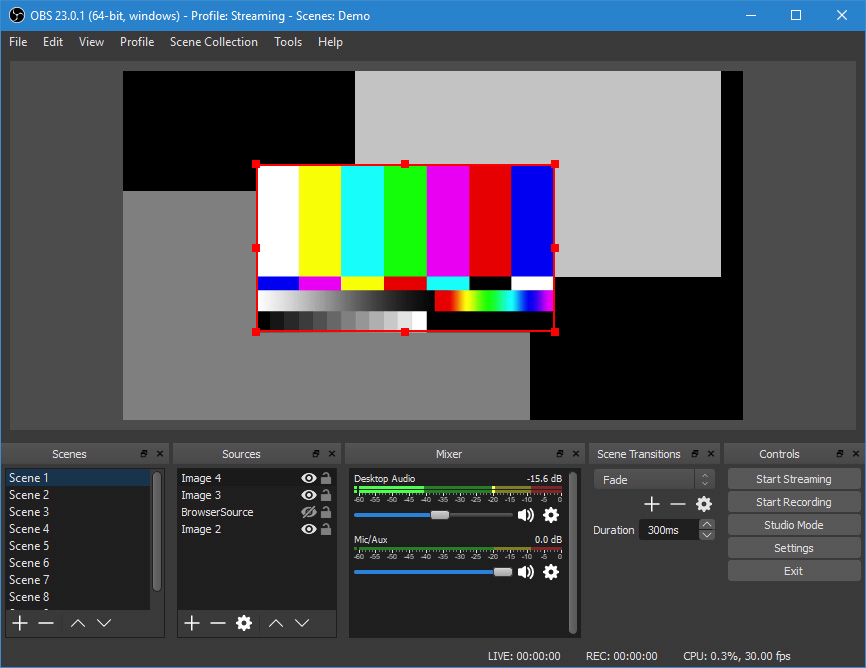 Image courtesy of OBS Studio
OBS Studio is a free and open-source platform for video recording and streaming. With a robust set of features, many professional streamers such as Ninja, Summit1g, PewDiePie and shroud use OBS Studio in their setups.
Free option:
Paid option:
Features:
Real-time video and audio capturing

Unlimited scenes

Audio mixer

Modular UI

Broad configuration options

Transitions

---
3. Bandicam Screen Recording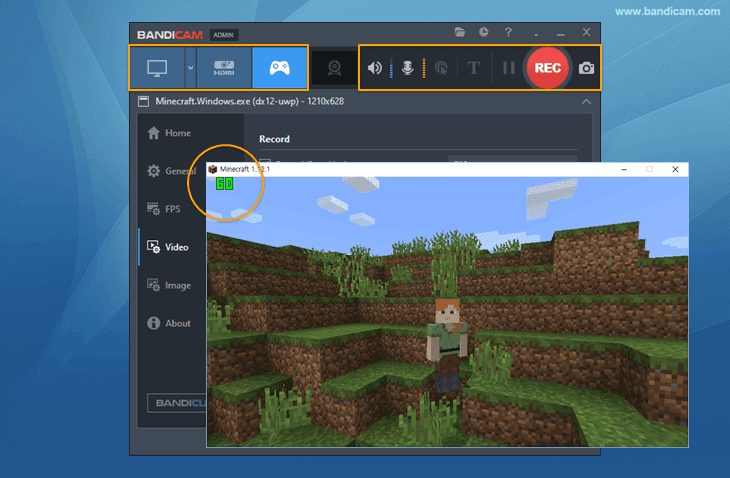 Image courtesy of Bandicam
Bandicam is a free screen recorder tool that can support HD recording of games and other media. Users can record either their computer screens or an external source, such as a game console, as well as add webcam overlays perfect for VODs.
Free option:
Paid option:
Lifetime license: $39 for one PC
Features:
Select area to record

Real-time drawing

Add webcam overlay

Audio mixing

Add logos to videos

Mouse effects and animation

---
4. FBX free game recorder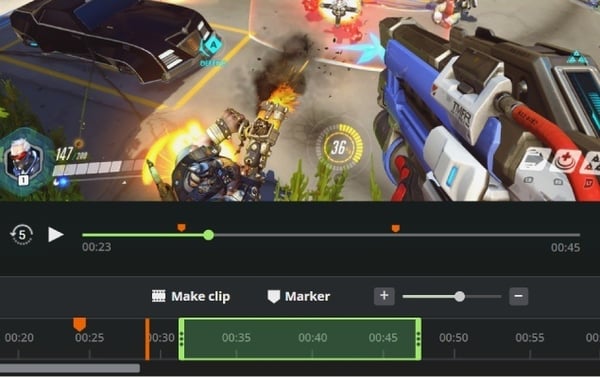 Image courtesy of FBX
FBX is a free game recorder that allows users to record commentary and insert webcam footage. Streamers can capture HD video up to 120FPS and easily create highlight clips and screen captures. Currently, FBX does not support streaming, but they are committed to adding streaming capabilities. FBX is only available for Windows.
Free option:
Paid option:
Features:
Hardware acceleration on NVidia and AMD cards as well as Intel CPUs

Screen and webcam recording for video and audio

HD capabilities

Capture screenshots

Save a clip using hotkeys
---
5. ApowerREC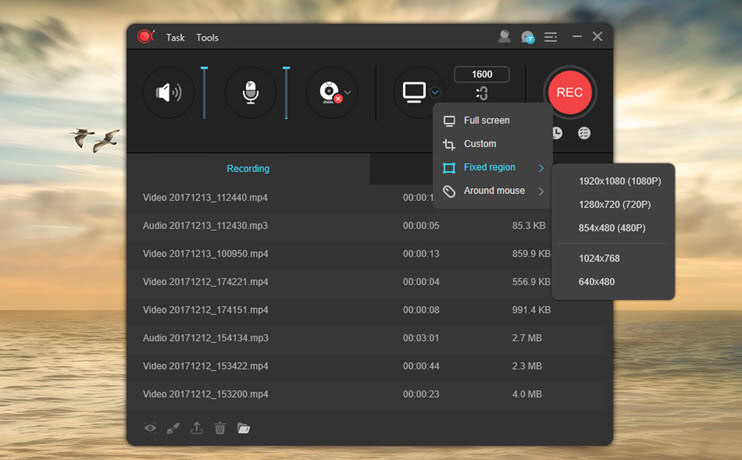 Image courtesy of ApowerREC
ApowerREC is a screen recorder and editor that also allows users to record webcam footage and schedule recordings. ApowerREC can also live stream videos, making it ideal for YouTubers. By simultaneously recording audio and video, users can easily create and edit content for uploading. Footage can also be recorded on mobile devices.
Free option:
Paid option:
Features:
Record screen or webcam footage

Record audio

Edit videos with annotations and effects

Convert videos to a variety of file types

Take screenshots

Record PCs and mobile devices

Upload to a variety of video sites
---
6. XSplit Broadcaster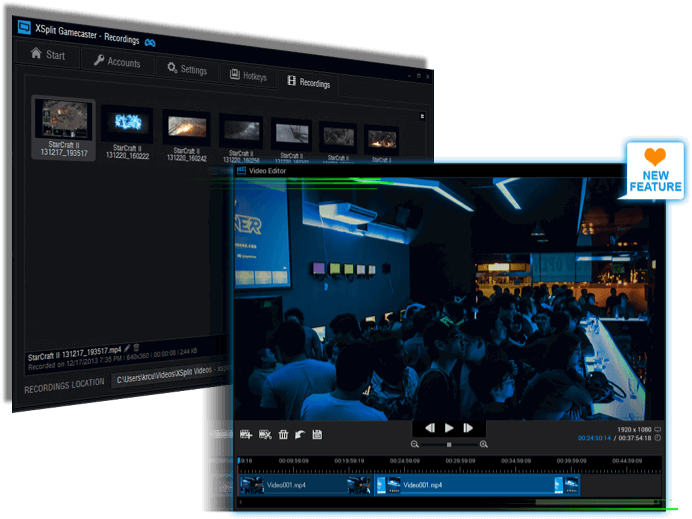 Image courtesy of XSplit Broadcaster
XSplit Broadcaster is a free live streaming and recording software that can stream or upload directly to Twitch, YouTube or Facebook. Users can capture a screen, game or webcam and create effects, macros or other annotations. XSplit also offers a dedicated game recorder that is free as well.
Free option:
Paid option:
Lifetime premium license: $199

36-month premium license: $4.17/month

12-month premium license: $5.00/month

3-month premium license: $8.32/month
Features:
Supports all capture cards

Display webcam and remove background using green screen

Professional after effects

A variety of plugins and integrations

Built-in editor and uploader

Chat and follower notifications
---
Free screen recording

products for business

Screen recorders that cater to businesses are often lightweight and may even be cloud based. The equipment requirements are typically just a microphone or webcam, which is much simpler than those for streaming software.

Depending on the nature of the project, users might not even need that much since some screen recorders can support the addition of text. However, some users may want to utilize their screen recorder with a web conferencing software to conduct live product demos or webinars.
1. Screencastify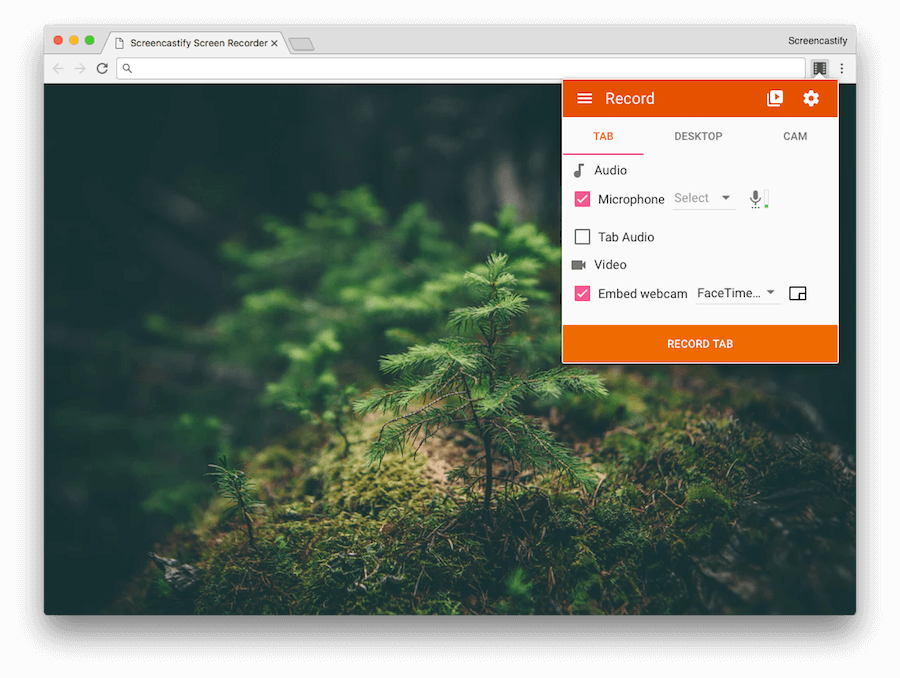 Image courtesy of Screencastify

Screencastify is a free screen recorder extension for Google Chrome. Users can record their entire desktop, a single application or just their webcam. With the ability to embed webcam images anywhere in the recording, users can easily create tutorials and other learning content.
Free option:
Paid option:
Features:
Multiple recording options: entire desktop, application, current browser tab or webcam

Embed webcam and narrate with a microphone

Offline recording

Annotation tools

Cropping and trimming tools

Export directly to YouTube

Export as gifs

---
2. iSpring Free Cam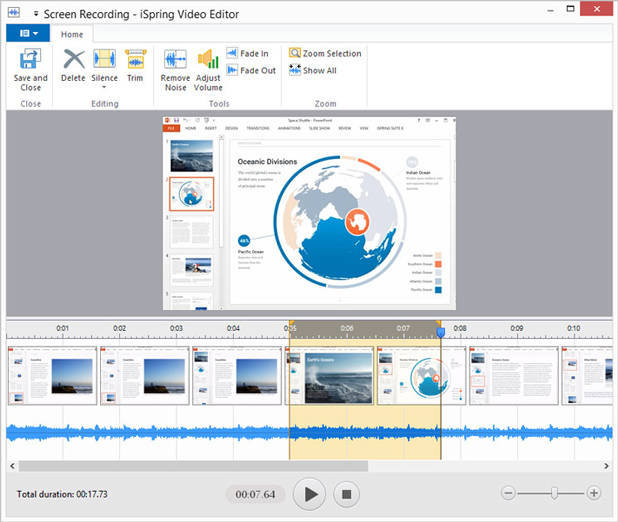 Image courtesy of iSpring Free Cam
iSpring Free Cam is a free screen recording and editing tool specifically designed for creating video lessons and eLearning presentations. Users can customize their recording area, record voiceovers and edit their presentations. With sharing features, users can upload directly to YouTube or save as video.
Free option:
Paid option:
Pro: $197 for a lifetime license
Features:
Customizable recording areas

Record voiceover and/or system sounds

Highlight the mouse cursor

Video editing

Audio mixing

Direct uploading to YouTube

---
3. Flashback Express Recorder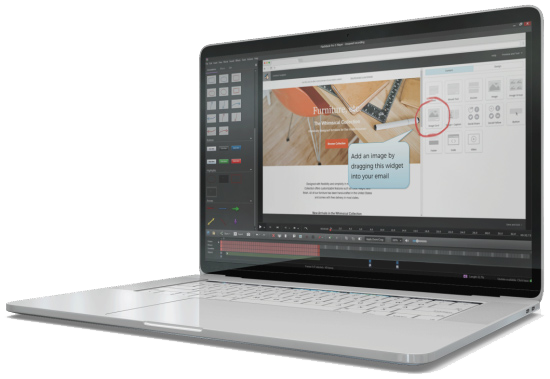 Image courtesy of Flashback Express
Flashback Express is a free screen recorder that can capture screens, from webcams and sounds. Users can enhance recordings with annotations, text, images and effects as well as add commentary and music. Flashback Express is ideal for product demos and tutorials.
Free option:
Paid option:
Flashback Pro: $49 for an individual lifetime license, $99 for a business lifetime license
Features:
Screen recording

Webcam and mic recording

No recording time limits

Multi-monitor recording

Scheduled recording
---
4. TinyTake
Image courtesy of TinyTake
TinyTake is a free tool for screen capture, video recording and sharing. Users can also annotate their screen captures and easily share online. Videos of up to 120 minutes can be recorded or captured from a webcam. While not ideal for streaming, TinyTake is perfect for creating learning materials and product demos.
Free option:
Paid option:
1-Week Pass: $9.95
Standard: $29.95/year
Plus: $59.95/year
Jumbo: $99.95/year
Business: $199.95/year
Features:
Capture screenshots of a screen or from a webcam

Annotate or blur images or video

Capture videos from a screen or webcam up to 120 minutes

Share files online or via email

Directly upload to YouTube
---
5. Icecream Screen Recorder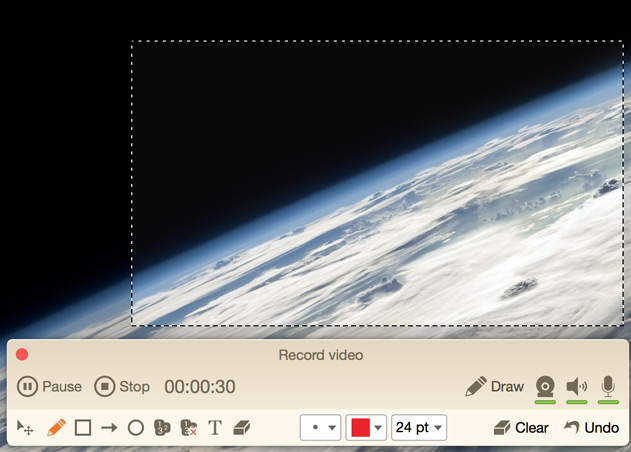 Image courtesy of Icecream Screen Recorder
Icecream Screen Recorder is a free tool for screen recording that allows users to easily select a recording area, add webcam footage and draw on the video as it is being recorded. Users also can add in step markers so their video tutorial is clear and easy to follow.
Free option:
Paid option:
Screen Recorder PRO: $29.95 lifetime license
Features:
Area selection

Drawing panel

Project history

Add watermark

Add webcam

Zoom in while recording

Record around the mouse cursor

Step tool

Audio mixing

Hotkeys

Scheduled screen recordings
---
6. Screencast-O-Matic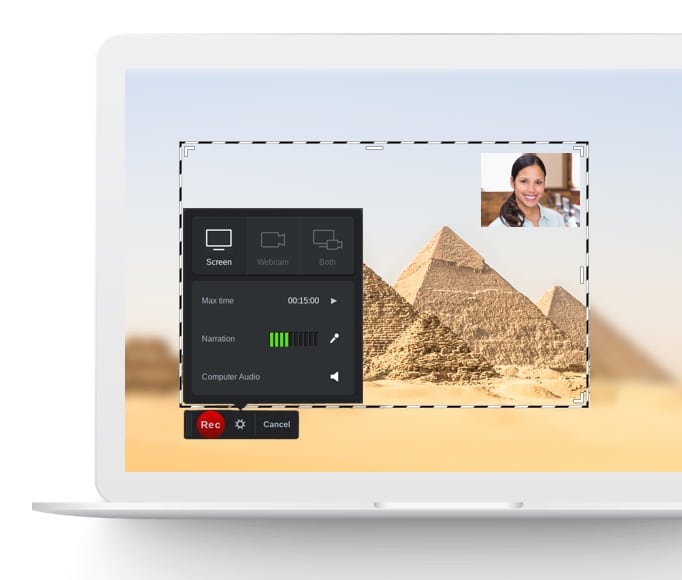 Image courtesy of Screencast-O-Matic
Screencast-O-Matic is a screen recording tool that can capture either screen or webcam footage and add audio. Users can record part of their screen and insert additional audio or video to create product demos, training courses and more.
Free option:
Paid option:
Deluxe: $1.50/month for individuals, $9.50/month for teams
Premier: $4.00/month for individuals, $17.50/month for teams
Features:
Record screen and/or webcam
Record window or full screen
Zoom in while recording
Trim recordings
Captions
Publish to YouTube
---
Next steps for selecting the best free screen recorder software
Screen recorders can be used for a variety of reasons, and powerful ones don't necessarily need to be expensive. Whether you use your screen recorder for business or entertainment, there's no reason not to give a free one a try.
In many ways, it's a great way to learn basic video editing and sound mixing skills. Depending on your use case, you may also be interested in free music making software to use along side a free screen recording software.
* Please note: Reviews may have been edited for spelling and grammar.