There are a few things you need to start a business.
1) Something to sell
2) Somewhere to sell it
3) Something to manage the transactions
4) A dream (optional)
Back in the day, that meant a storefront, a cash register and whatever inventory or supplies for the service you were hoping to provide. Today, pretty much all you need is a smartphone or laptop with internet access and some inventory.
It's easier than ever to set up an e-commerce business that runs out of your home with one of the many e-commerce platforms, but some entrepreneurial people want to set up something like a restaurant, a booth at a convention or a stand at a farmers market. For these people, restaurant POS software and retail POS software are a necessity to process in-person credit card payments or other transactions.
To help you find the perfect free POS system for you, we've compiled a list of 10 free POS systems to help you start or expand your business.
Ideally, a restaurant or storefront will have a full cash register setup with a cash drawer, card reader and maybe a barcode scanner. However, for a business just starting out, this hardware paired with a fancy POS system can be extremely expensive. For those just starting out or running a mostly e-commerce business with occasional face-to-face interaction, free POS software provides just the right amount of functionality for no cost.
---
Best free POS software
The list we've outlined here includes any restaurant or retail POS solution with an available free offering. It should be noted that this does not include products that are only free on a temporary basis, such as limited trial versions for new users. They may only support one user or one project, but they're truly free offerings. Scaling, however, will often require full investments.

These products alone have well over 300 validated user reviews on G2 Crowd as of August 17, 2018, and only represent a small portion of the 400-plus restaurant and retail POS software offerings listed on our platform. Whenever possible, the products are ranked by user satisfaction score.
Here is an in-depth review of the best free POS software in 2018.
1. Square POS
Image courtesy of Square
Square has created a truly mobile POS system that works with nearly any mobile device. By using Square's small magstripe reader that plugs into any phone's headphone jack, users only pay 2.75 percent per swipe. Without any additional hardware, the service is completely free at signup.
Free option:
Reader for magstripe that plugs into a mobile device's headphone jack (2.75 percent fee per swipe)
Paid option:
Reader for contactless and chip: $49 for the hardware, plus 2.75 percent per dip or tap

Tablet stand for contactless and chip $169 for the hardware, plus 2.75 percent per dip, tap or swipe

Register: $999 or $49/month for 24 months for the hardware, plus 2.5 percent + 10 cents per dip, tap or swipe
Features:
Analytics and sales reports

Inventory management

Integrated payment processing

Invoicing

Employee management

Payroll

Marketing

Loyalty programs

---
2. Imonggo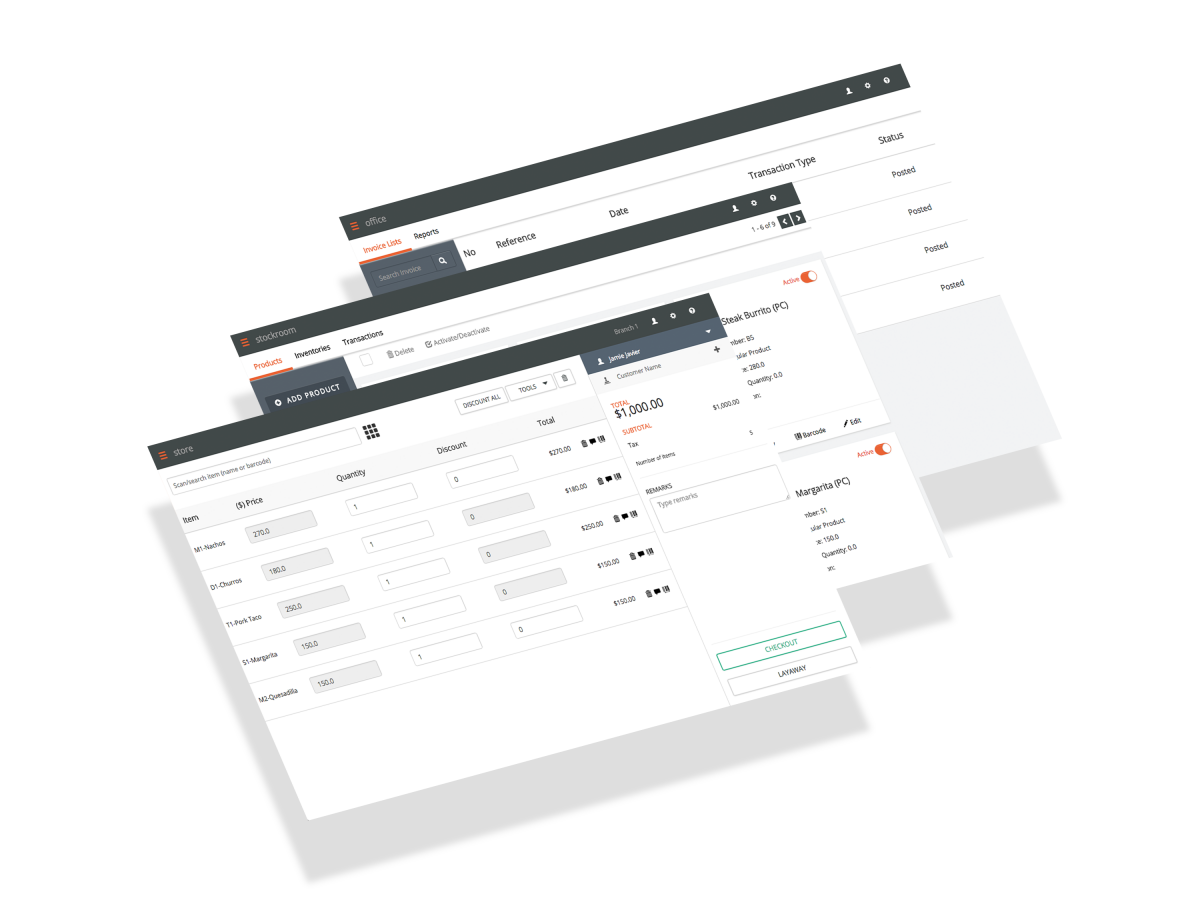 Image courtesy of Imonggo
Imonggo is a free POS software solution that does not require any hardware aside from a computer or mobile device. Suited particularly for retail stores, Imonggo is also available as an iPad app and can be integrated with Xero, an online accounting tool.
Free option:
Standard version: one branch, one user, 1,000 product limit, integrated inventory management
Paid option:
Features:
Sales analysis

Inventory management

Reward promos

Customer membership

Work offline

Email receipts

Customer and supplier management

---
3. Floreant POS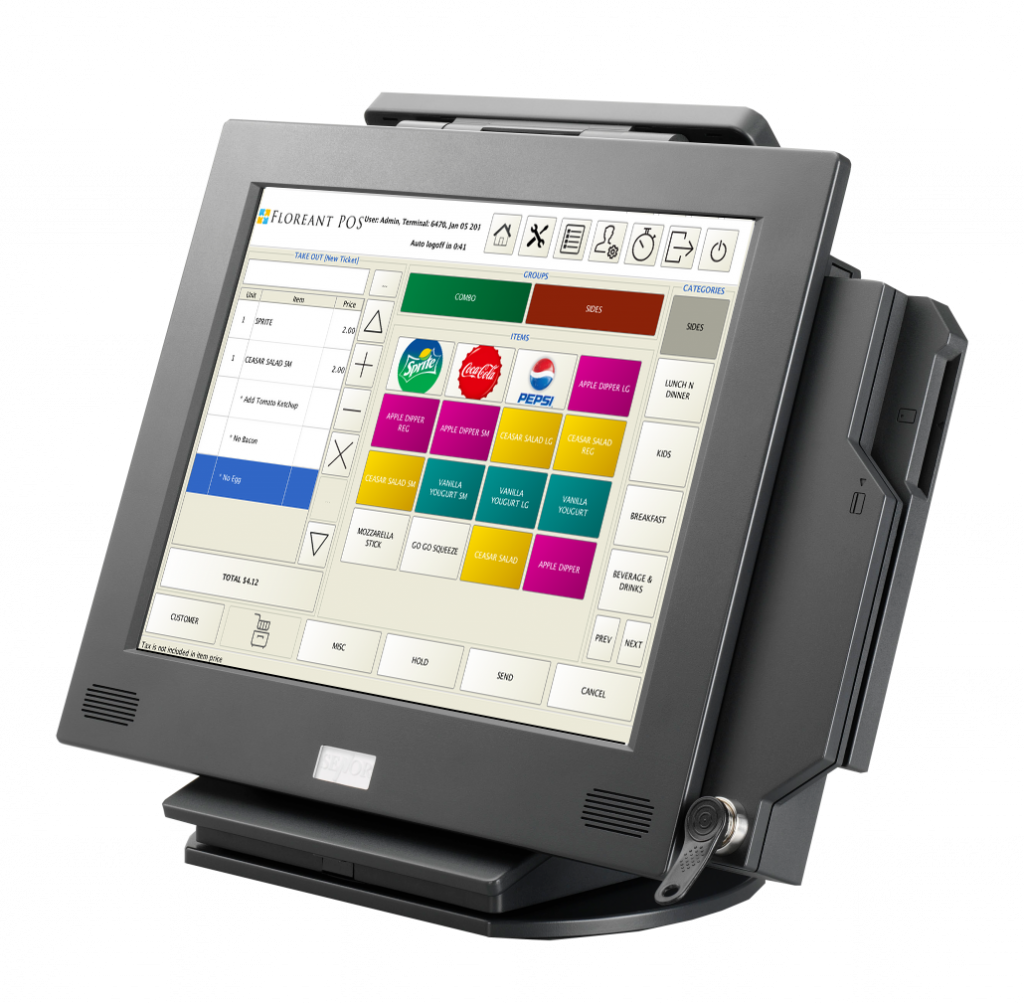 Image courtesy of Floreant POS
Floreant POS is one of the first free and open-source restaurant POS systems able to handle enterprise-grade restaurants. Floreant was created in 2008 when a Denny's restaurant hired the Floreant team to upgrade its database.
Free option:
Available for Windows, Mac and Linux
Paid option:
Floreant is open source; the developer welcomes donations
Features:
Menu builder

Payroll

Advanced reports

Kitchen display options

Plugins

Mobile support

---
4. Loyverse POS
Image courtesy of Loyverse POS
Loyverse POS is a free POS system for mobile devices. Loyverse offers its own hardware and integrates with a variety of POS hardware and card readers. The platform can also integrate with a variety of payment providers.
Free option:
Available for iPhone, iPad and Android systems
Paid option:
Employee management optional add-on: $5/month per employee or $50/year per employee (or $50/month or $500/year for unlimited employees)
Advanced inventory optional add-on: $25/month per store or $250/year per store
Features:
Printed or electronic receipts

Refunds

Cash management

Discounts

Open tickets

Item modifiers

Offline mode

Manage multiple locations

Credit card payments

Inventory management

Employee management

Sales analytics

Loyalty programs

---
5. Chromis POS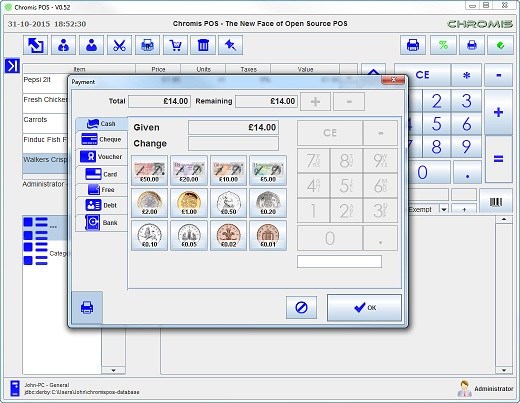 Image courtesy of Chromis POS
Chromis POS is a free, open-source POS software that was initially created for a tropical fish shop operated by a friend of one of the developers. Since that first build, the platform has expanded to include restaurant functionality with kitchen display screen software.
Free option:
Paid option:
Chromis POS is open source; the developer welcomes donations
Features:
Multiple sale modes

CSV import for product list

Barcode supported

Built-in reporting

Support for USB printers

Remote kitchen printing

Kitchen screen support

Customer database
---
6. eHopper
Image courtesy of eHopper
eHopper is a free POS software built for small businesses. The product is supported on a variety of platforms, including the Poynt terminal offered by eHopper. eHopper also offers an e-commerce platform that integrates with the company's POS solution.
Free option:
Essential package: one register, order tracking, inventory management, tip management, reporting, and more
Paid option:
Freedom package: $3.99/month per register
Features:
Order management

Order tracking

Customer management

POS payments

Split payments

Receipts

Inventory management

Employee management

Tip management

Tax management

POS reporting

Apps and integrations
---
7. Linga
Image courtesy of Linga

Linga is a cloud-based POS platform available on the Apple App Store. Linga is primarily used on iPads and can easily integrate with iPad enclosures, EMV credit card readers, printers and cash drawers. Linga also includes many features for restaurants in addition to those for retailers.
Free option:
Starter: single user, 25 products, barcode scanning, and more
Paid option:
Basic: $19.99/month paid annually per register or $39.99/month per register

Pro: $49.99/month paid annually per register or $69.99/month per register

Enterprise: $89.99/month paid annually per register or 109.99/month per register
Features:
Discounts

Gift cards

Split payments

Refunds/returns

Integrated credit card processing

Barcode scanning

Employee dashboard

Reports

Email marketing
---
8. ProffittCenter
Image courtesy of Pinterest
ProffittCenter is a free POS platform that has been available and receiving updates since 1999. The standard hardware integrations are a barcode scanner and a printer.
Free option:
Paid option:
Features:
Inventory management

USB printer integration

Reports

Ordering system

Multiple currency support
---
9. SlickPOS
Image courtesy of GNU Emacs
SlickPOS is a free POS that is dedicated to helping startup businesses get on their feet. It is available for desktop, iPad, iPhone or Android devices and can also work offline. SlickPOS can be used for both retail stores or restaurants, depending on which features you choose to utilize.
Free option:
Available for Windows and Mac
Paid option:
Smart: $19/month or $199/year

Perpetual: $999 for a lifetime license
Features:
Works offline

Table management

Discounts

Inventory management

Recipe management

SMS and digital receipts

Customer feedback

Dashboard and reporting

API integration
---
10. uniCenta
Image courtesy of uniCenta
uniCenta is a free and open-source POS system initially created as a hobby project in 2010. The platform has become a commercial-grade product that has been downloaded more than one million times in more than 150 countries since 2010.
Free option:
Paid option:
Base: $76.39/year

Plus: $173/year
Features:
Barcode scanning

Multi-payment

Restaurant mode/retail mode

Voucher management

Discounts

Table management

Inventory management

Supplier management

Customer information

Employee management

Reporting and analytics
---
Next steps for selecting the best free POS software
Free software doesn't always need to mean you need to sacrifice quality or features. While many of these products don't have the robust features that you would find in a paid POS tool, they are great jumping-off points for either starting a new business or testing out new systems.
If you're looking to break out into e-commerce as well, check out these 10 great online marketplaces.
* Please note: Reviews may have been edited for spelling and grammar.